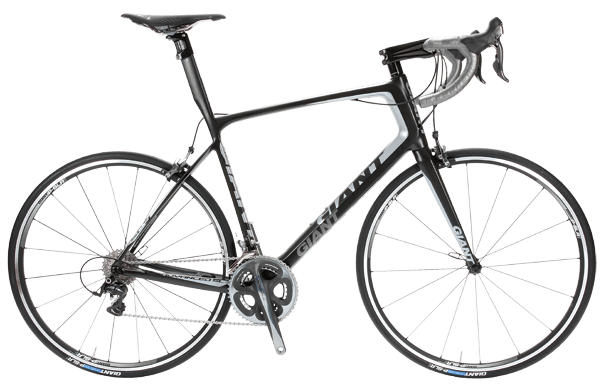 Sixty-five million years ago last Wednesday, at the end of the age of the dinosaurs, a man walked into his local bike shop. "I want a bike that looks good, that I can race on. I want it to be stiff and I want it to be comfortable. I don't want to have an aching back if I ride it all day. But I want it to go fast up climbs and help me keep up on the down hills. And, I want it to be the same as the bikes ridden in the ProTour." "Sorry sir," the owner said. "They don't make that kind of bike."
Well they do now…
Giant re-released their road bike fleet in 2011, once again to a fair bit of acclaim. I say 'once again' because 2008 was the previous launch, a big one for the Taiwanese manufacturer. At that time Giant made some pretty big leaps with their range. It was out with the old and in with the new. They kept their TCR flagships but replaced their OCR range with a new model called Defy. Put simply, OCR model bikes were designed to have a more upright geometry than the out and out racing TCR models. Upright geometry has been around for a long time, but whether it was a problem with marketing, design or public perception, the OCR series never quite took off. This was something that Giant intended not to happen again and the replacement of the OCR with the Defy signalled this. Improved quality of carbon, better paint jobs and more effective marketing did the job to a certain extent. There was a significant technological improvement in the carbon lay up which resulted in lighter and stiffer frames. This combined with better compliance, making bikes that had performance, but were still comfortable. In fact those 2009-2010 Defy bikes, particularly around the Shimano 105 level, were some of the best value bikes on the market. But somehow there was still something lacking. Enter the Defy Advanced SL.
The Defy Advanced SL takes bikes with a higher front end to a new level. This frame has everything that the Team Rabobank TCR bikes have. Both use Toray's T800 carbon fibre, which Giant claim has 'the greatest stiffness to weight ratio on the market'. Both are also made with Giant's new 'Continuous Fibre Technology' process. What does that mean in non-marketing speak? Well, put simply, it means fewer pieces of carbon in the lay up. The process of building a carbon fibre frame like this one is very interesting. To the bystander it looks like a combination of patchwork and papier mache. Technicians sit at benches with boxes and boxes of carbon fibre cut out into various shapes. They have a pattern in front of them and they fit the shapes onto each other, each one slightly overlapping, to eventually form a frame. In its unbaked state it is slightly floppy but still recognisable. Now it stands to reason that everywhere that these pieces overlap adds extra weight. So if you could make a single piece of carbon do the job of four or five overlapping pieces then you would be able to make a significant weight saving. This is exactly what Giant has done. On the Defy SL they have also replaced aluminium parts such as the bottom bracket sleeve and the rear dropouts with carbon versions, used a moulding process that leaves no excess fibres and changed the shape of the seat stays from a wishbone to separate tubes. Giant have also changed their cooking process to a system they call 'Fusion'. This is a double mould process which requires the frame to be baked twice. It means that less carbon is needed on the joints, all adding up to a significant weight loss. The medium size Defy Advanced frame weighs in at 799g, 20 grams less than the equivalent TCR model, which is quite something considering the longer head tube.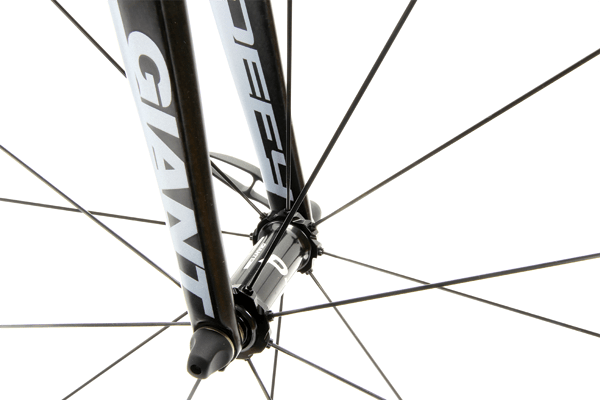 Even a quick look at this bike will show two things. The oddly shaped seat mast and the huge front end. Called 'Overdrive 2', this top tube uses a new 1 ¼-1 ½ inch tapered headset. Whether this becomes yet another new standard remains to be seen, but Giant have anticipated the complaints from bike shops by ensuring there is a large range of available parts. You can get stems for these bikes from FSA, Syntace and Ritchey as well as Giant's own brand. The Giant stem on our test bike is quite simply enormous, like something a Theo Boss might use, but a more standard looking model is also available. Bothe versions have 10 length options. Giant claim this new set up gives a whopping 40% increase in steering stiffness. More about that later. You'll also notice that the cables now go into the front of the head tube instead of the side to make a straighter line for better shifting. It also comes ready for Shimano's Di2 groupset, with fitted ports for that inevitable upgrade.
The seat mast is very quirky looking indeed. The idea here is to give extra compliance for rough roads or longer days in the saddle. Indeed this, as far as I can see, is the only point of having an integrated seatpost. This look has been achieved courtesy of the 'Fusion' technique mentioned above and Giant claim that it has 15% more compliance than the adjustable seatposts in the lower models. The saddle clamp has been given a makeover and now has considerably more adjustment. This combined with the lower position of the seat stays, longer chainstays (15mm longer than TCR) and shorter top tubes (10mm less than TCR) make for a very comfortable all day ride. In fact Rabobank used these frames in some of the Spring Classics, particularly those with long stretches of pave. Matti Breschel riding the Defy Advanced in the E3 Prijs Vlaanderen stayed in the front breakaway group all day, finishing 11th overall.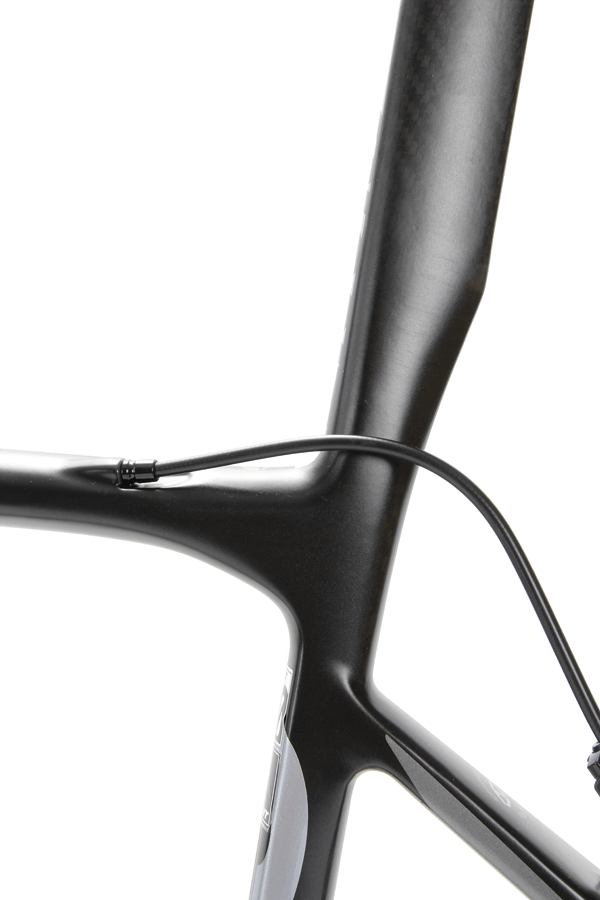 Giant were the first bike company to introduce integrated seat masts and one criticism I have always had with them is the difficulty of finding suitable saddle bags and tail lights. Often the straps on these accessories are too short so I was pleased to find that Giant manufacture or at least, have somebody else manufacture these products to suit. Actually, it would be nice to see some bike manufacturers simply supply some of this stuff with the bike. I know it's probably not done so that bike shops can sell them as extra, but I bet plenty of shops end up throwing them in free to help clinch the deal. It could be a nice feelgood exercise if they were to be supplied as standard with the bike.
Home Brand Parts
Giant have been pouring a lot of money into creating their own parts and accessories line in recent years, with good results. Apart from the Fizik Arione saddle and Fizik bar tape, everything here is Giant's own brand. I was impressed by the choice of handlebars. This carbon fibre model is called the Contact SLR and in keeping with the 'all day' theme is an aero style, with a nice flat area for resting your hands. Much better than a standard round bar.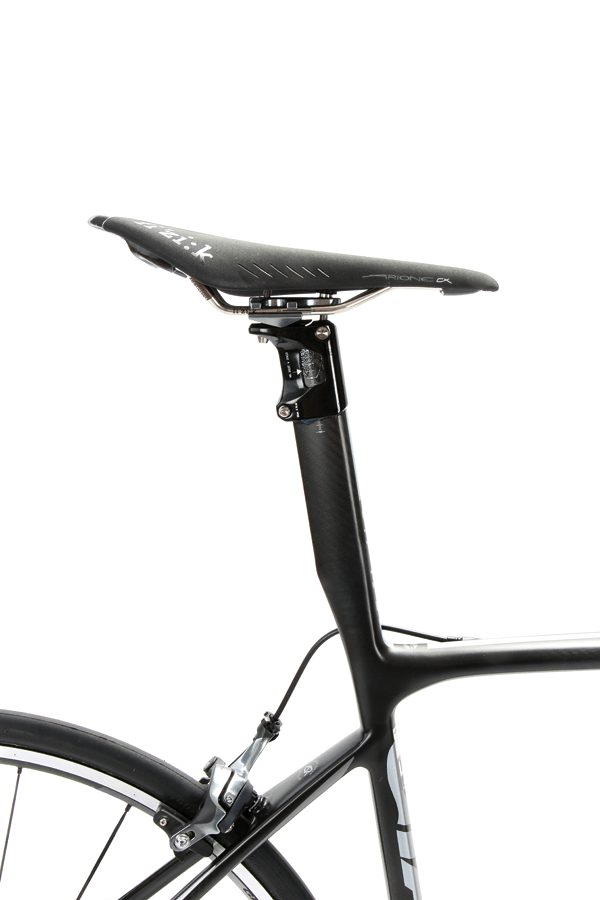 I was similarly impressed with the Giant branded wheels and tyres. When I was first told that Giant were going to be making tyres I gave a kind of inward groan. I suspected that these would be a cheap commuter-style tyre. How wrong I was! These tyres are extremely good. Called P-SLR1, to match the wheels, these are a front and rear specific, 120TPI combo. They're foldable race clinchers and extremely fast and I would have like to have had them when we did our tyre shootout a few years ago. I am a big fan of tyres with a round profile and that is exactly what these babies have. They also, as a useful little aside, have wear indicators embedded along the centre. Once the tyre gets down to the point where you can no longer see these, then it's time to change to a new pair. The good news is that they are also available as aftermarket items.
Also available aftermarket are the Giant PSLR1 wheels. Like the tyres, these are Giant's first foray into the wheel market and are only available to suit Shimano and SRAM. I don't know how many non-Giant owners will have bought them yet, but they're an impressive wheel. They're designed to be lightweight (1,390g for the pair) but still give good handling courtesy of the 21.6mm rim width. A certain amount of the technology on these wheels comes from DT Swiss, including the Tricon straight pull spokes, hub internals and skewers. Giant have supplied their own hub shells which include a wider flange for increased stiffness. Personally I wasn't a fan of the skewers, though I did think they were better than the DT ones we had in the previous issue of Bicycling Australia. The Giant ones have a section which sticks out on the drive side of the skewer and hooks into the dropout. You then don't need to hold it there. It stays in position while you simply turn the lever around until it goes tight. On the one hand I like the lever action because it's a simple one-step action, no having to open and close until you get it where you like it. But I wasn't a fan of the other side because in my experience most people are standing on the left hand side of the bike when they're putting the front wheel in. In this instance you have to reach down and hold the skewer in position as you slide the wheel in. It would be a breeze if you were a pro rider holding the bike while the mechanic changes a wheel I guess, but doing it yourself in the dark on a cold morning is a little more awkward.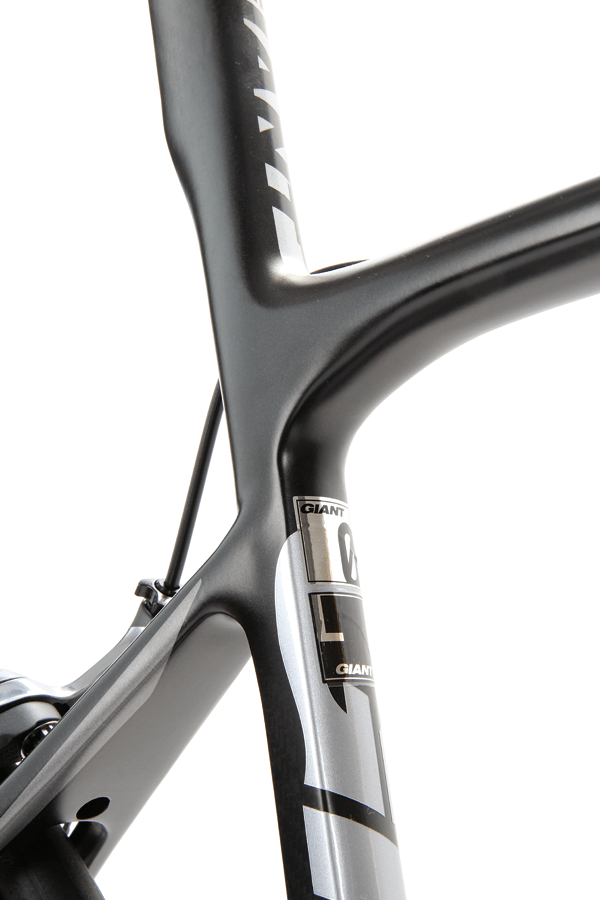 Stop Talking and Ride It!
So we've talked a lot about the technology and given you a lot of marketing speak names such as 'Fusion' and 'Overdrive 2', but what was it like to ride? Well, it was good. Straddling the top tube and grabbing the bars while clipping that first foot in, I was immediately reminded of how high the bars are. It's extremely noticeable and my first thought was that I should have a basket up there. We get a lot of bikes on test with varying degrees of bar height and my practice is to first ride them as they come and then start mucking around with spacers. As a rule, you adapt pretty quickly, but it was noticeable that the Defy took longer than most. However, once I did adapt (and drop the bars a bit) it was perfect.
One of the results of this type of set up is that I spent a lot more time in the drops than I usually would. This made for a more aggressive style of riding. I found myself wanting to push all the time, even when I was still up on the hoods. Adding to this was the level of comfort (read: no lower back pain), which meant that even when 'cruising' in the hoods I still had a tendency to push hard. And the Defy certainly repays whatever you put in. As you'd expect from a frame used by a professional team, the response is spot on.
Since returning from a trip on the cobbles in Europe I've figured that almost any road is fair game. So this bike has been tested on hot mix, rough chip, council budget pothole filling and dirt and I can say it has come up trumps on all of them. It is comfortable (courtesy of the ISP seatpost) and I'd like to tip my flat cap to whoever at Giant had the good sense to spec an 11-28T cassette on this bike. That is the perfect range for the target market of the Defy and also the intended use of the bike. And while you can race this bike no problems at all, I find that most serious racers will have a set of extra wheels with a closer-spaced cassette.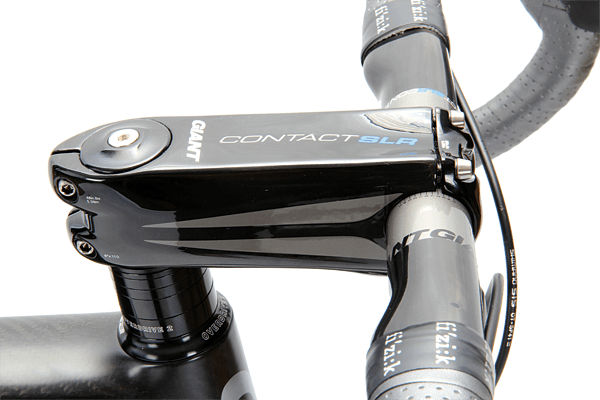 So after all this feel good stuff, was there anything I didn't like? Well, yes, the aforementioned skewer is one and I also had one or two issues with the seat clamp, which kept coming loose. Not super loose, but enough to make an annoying creak. I would tighten it, the noise would go away and be back again 100km later. Presumably some Loctite would solve the problem, though I'm disinclined to do this on bikes that aren't mine. I spoke to Giant about it and they indicated that it wasn't a common problem. I also double checked with a couple of dealers who backed it up. Perhaps I just had a rogue one…
I also felt that cornering on steep descents had to be slightly learned again due to the high front position. I don't put this down as a criticism but still think it's something for buyers to be aware of. There is a period of adaption required with this bike if you're coming from a more race-oriented geometry. Descending on the hoods, something I'm used to doing, made me feel a bit overbalanced on the Defy because of the extra height. The plus side of this is that moving down to the hoods puts you in an extremely secure position. A perfect position really, because you're still aero, but have better vision. And with that super-stiff front end it's easy to nail the sharpest of corners. In fact I would defy anyone riding this bike not have dramatically improved their cornering technique and descending speed after about three months. The front end and the whole bike for that matter, is that good.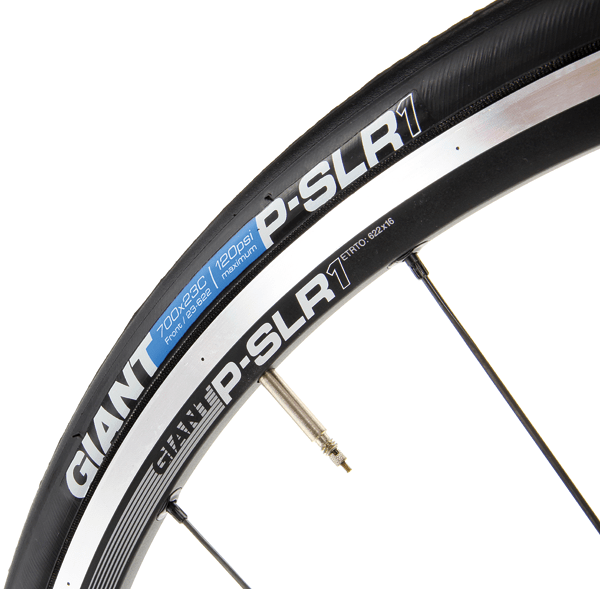 So have Giant created the perfect bike for our buyer in the first paragraph? Maybe not yet, but they and to be fair, one or two other brands, are certainly getting closer. The bar has been raised yet again.
Quality
Really, every box you might care to put out there has been ticked with the Defy Advanced SL. Top of the line carbon. Quality components. Comfort. Race-ready responsiveness. Quality components. They're all there.
Performance
Excellent, as you would expect from a bike used by a World Tour team. The Rabobank-Giant combination has been a good one for everyday cyclists, as has the Rabobank-Shimano one for that matter. The Dutch squad have plenty of input with Giant and it shows with the quality of bikes coming out of the factory.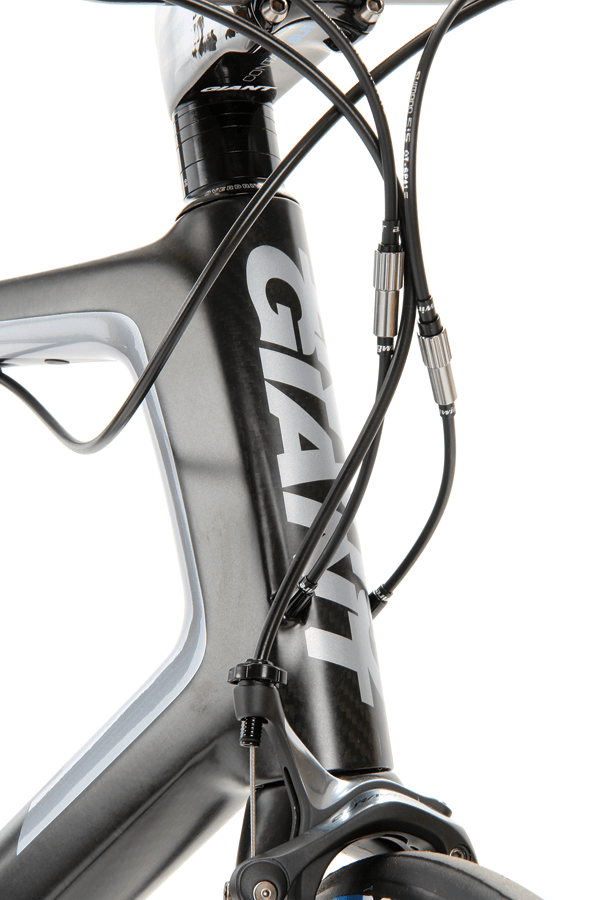 Value
OK, so the Rabobank boys probably use different wheels and Di2. But it's the same frame. So we're looking at a pro level frame with mechanical Dura-Ace and 1,400g wheels for under $6,000. That's hard to beat.
Overall
Good looks, performance, top of the line gear, affordable price and a combination of all day riding mixed with racing, the Defy Advanced SL ticks a lot of boxes. It's part of my job to be constructively critical about bikes, but I would have a hard time doing it here. Giant have been one of the big boys of bike sales for a long time now and the Defy Advanced SL will well and truly entrench them there for some time to come. If you are someone who finds riding your current bike difficult or painful, then you should take a look here. It might just bring back that level of enjoyment that cycling is supposed to be about.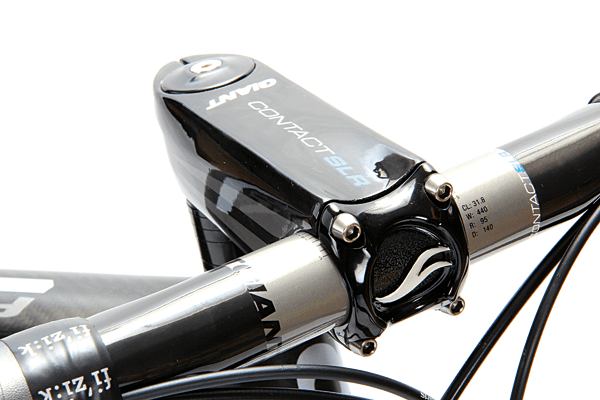 SPECIFICATIONS
Frame: Advanced SL-Grade Composite (T-800), Integrated Seatpost 

Fork: 
 Advanced SL-Grade Composite, Full-Composite Overdrive 2 Steerer
Front Derailleur: 
Shimano Dura-Ace 10sp.
Rear Derailleur: 
Shimano Dura-Ace 10sp
Brake Levers: 
 Shimano Dura-Ace 10sp
Shifters: 
 Shimano Dura-Ace 10sp
Crankset: 
 Shimano Dura-Ace 53/39T
Brakes: 
Shimano Dura-Ace
Cassette: 
Shimano Dura-Ace 5700 11-28T 10-Speed
Chain: 
Shimano Dura-Ace
Handlebar: 
 Giant Contact SLR, Composite, 31.8
Tape: 
Fizik
Handlebar Stem: 
Giant Contact SLR Composite Overdrive 2
Pedals: 
N/A
Wheels: 
Giant PSLR-1
Tyres: 
Giant PSLR-1
Saddle: 
Fizik Arione CX
Seatpost: 
Integrated
Bottom Bracket: 
Shimano Dura-Ace press fit
Headset: 
Tapered Integrated Aheadset 1-1/4″-1.5″
Chain: 
Shimano Dura-Ace
Price: $5,999
Weight: 6.75kg (size L)
Distributed by Giant Bicycles
www.giantbicycles.com