When you first lay eyes on this bike in the flesh you may well believe in love at first sight. With the electric blue pearl finish paint, delicate pin stripe finishing and the precise touches to detail this bike is a real head turner. The alternate colour choice of candy apple red also looks a treat! Some questioned the union of a modern frame with the 'heritage' livery but I think it looked brilliant!
Originally the work of Gordon 'Pud' Brooks the Macini brand, based in Adelaide, has been around for over five decades. Pud was associated with Port Adelaide Cycling Club and SA cycling for years, building steel framed bikes for the racing cyclist, from juveniles right through to masters riders. The Macini name grew to be well-recognised in South Australia in the early years and this notoriety spread to regional centres such as Whyalla, Mount Gambier and Mildura. Eventually, Macini frames were ridden all over Australia both on the road and at the velodrome.

Competition from mass producers made times tough for the small business and so, sadly, they were going to shut up shop, until a few years ago a small consortium assembled to save the brand. They have begun the process of rebuilding and preserving the heritage of the brand, changing tack in the same way as even the most famed brands, moving away from the classic steel frame into building these classy carbon rigs.
Over the last few years the company has built a strong focus on producing quality racing bikes. Building on the reputation for quality, competitive steel frames, the new order at Macini—all of whom have a sound knowledge of bikes over many years of cycling and racing, have been testing bikes and gathering customer feedback to refine their product.
While still a relatively small operation they have the ability to build a bike to any rider's requirements and specifications. Both road and track carbon frames and all components of the bike are easily accessible so the company can build your dream bike from the ground up.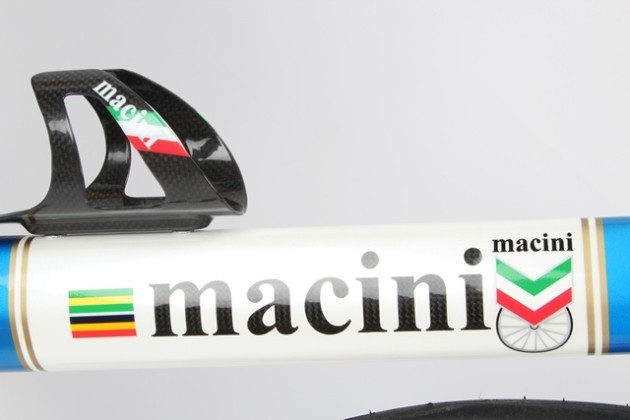 This is the first review bike that I have ridden that has been assembled to my exact specifications, and what a pleasure this was. When I first threw my leg over the bike the immediate feel of comfort and satisfaction was a stand out.
The geometry of this bike is quite aggressive, which makes for a better all-round feel when throwing it through a number of hard-core tests. Fitted with straight forks and a large steerer there is great control in the Macini, and the 44cm carbon bars provide added good level of comfort in the front end of the bike too. It corners like all great quality built bikes should and it wasn't long before I had true faith in being able to brake late and lay this bike right over, knowing I would always come out of any tight corner or situation unscathed. Descending was no different; high speed and aggressive maneuvering on the Macini is a pleasure.
I wasn't expecting this bike to be a true climbing machine, but I was very surprised and satisfied with its climbing ability. A special mention has to be made for its awesome ability on any small or sharp power climbs, this bike was one of the best I've ridden in this respect. When you jump out of the seat and punch over a hill the bike responds perfectly with no discernible frame flex, and there is a similar solid feel when sprinting. The power is delivered straight to the back wheel, which makes for good speed exiting of corners and sprinting—one of the great traits of this bike.
Macini have put great thought and detail into building their frames light, stiff and fast. The frame is made with a 3k-carbon lay up consisting of Mitsubishi and Toray 24t, 30t, 40t carbon and comes in at just 965 grams. The bike has very good aerodynamic characteristics as well, with the forks, frame and seat post profile all built with this in mind. The frame has internally routed cables for lower drag, and houses a BB30 for stiffness and low weight and the seat clamp is internalized to reduce turbulent airflow.
The bike's complete weight comes in at under 7kg, which puts it right at the pointy end of the lightest road bikes on the market especially considering the deep aero wheelset.

As mentioned previously, attention must be paid to the rubber fitted to these rims, insuring enough space is left for the rear wheel to fit inside the frame. The frame is purpose built race bike and the rear triangle geometry is fairly tight. This is obviously a beneficial for the handling of the bike but it does require running a smaller bagged tire, with no bigger than 23mm able to be fitted in when any wheel flex was taken into account.
The wheels fitted to the bike on this occasion were a set of Irwin deep-dish 58mm carbon clinchers; 20-spoked radial on the front and 24-spoke double crossed at the rear. Although the Irwin wheel brand is relatively unknown they performed like a true deep section carbon wheel should with noticeable aerodynamic advantages over a standard section alloy clincher. They're a good match for this frame complimenting its racy nature and finishing the bike to a high level; it's an instant racing machine from the ground up. We reviewed these wheels in our Jan Feb issue and they rated quite well; wide stiff and quite fast rolling. They also incorporate some high-tech use of ceramic fibre in the brake track to effectively manage heat build-up in the rim.
The cockpit of the bike is a very nice set up. 44cm carbon bars and a Macini branded 120mm carbon stem made the front end comfortable and a little forgiving by removing some vibrations and road buzz on a longer ride. The Edge alloy railed saddle was another nice inclusion and a good fit for the bike; personally, I found it to be a comfortable seat throughout the review period.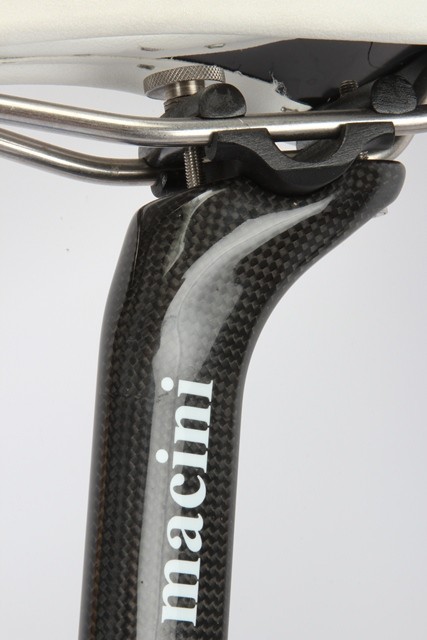 A full SRAM Red 10 speed ensemble was fitted to the bike for this review, and I felt very much at home using this, with its low weight and crisp reliable shifting.
This bike has many advantages for the buyer and being able to buy a state of the art carbon frame from an Australian manufacturer, being able to choose every component that you want, being able to make a simple phone call to discuss all of your needs makes the Macini an attractive option when choosing or looking for your next true race machine.
Summing Up
Quality
This bike is built with quality from the ground up. From the superb retro-cool paint and pinstripes covering the sleek carbon frame, to the top end components, this bike is a class act.
Performance
The Macini Classic is a true performer. Built as an all-round road bike it excelled regardless of the terrain; flat, rolling or steep, and I never felt let down by any performance aspect of the bike.
Value
With a price tag of $6,999 the Macini may seem a little pricey if comparing it to mass produced carbon bikes. However the bike's performance speaks for itself and the ability to customise your build is a strong point in favour. And the cache of rolling out on an Australian made and owned marque is quite something.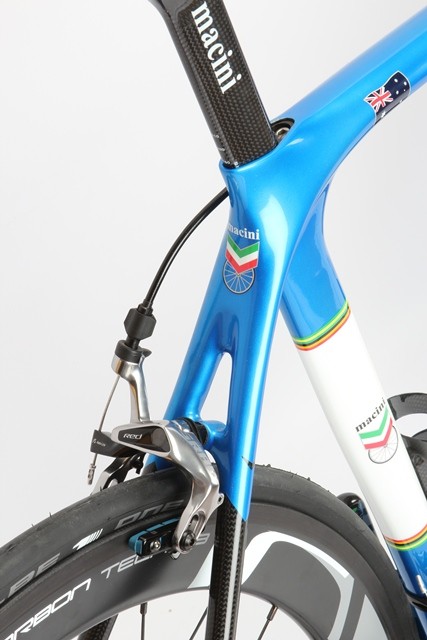 Overall
Australian owned, designed and built up bike with a rich tradition there's very little to dislike about the Macini. It will perform at a very high level in a race setting or suit a serious bunch rider looking to 'stand out from the crowd' down to the ground. A quality machine with gritty Australian heritage.
Specifications
FRAME Macini Classic Road 56cm
FORK Macini Classic
SHIFTERS SRAM Red
FRONT DERAILLEUR SRAM Red
REAR DERAILLEUR SRAM Red
CRANK SRAM Red 172mm
BOTTOM BRACKET BB30
WHEELS Irwin ICW-58C 26mm 58mm Profile
TYRES Schwalbe One 23mm
BRAKES SRAM Red
HANDLEBARS Edge carbon HR068 44cm
STEM Macini Carbon 120mm
HEADSET FSA
SADDLE Edge SD1133 CRN Ti alloy rail 191g
SEAT POST Macini 3k aero
WEIGHT 6.9kg
PRICE $6,999
DISTRIBUTOR Macini Bikes Australia
www.macinibikes.com