He concedes it may be his last rim brake bike – and the frameset is not even available anymore – here Lee Turner discusses his latest beast, a 'pimped' Giant TCR.
Are there three better words than 'new bike day'? I was lucky enough to scream this teaser of a triumvirate when I recently took delivery of a new Giant TCR Advanced SL frame. Better still, I was even luckier to get it custom painted to my exact design in my favourite colour. I was so excited.
First to the elephant in the room, and you'll notice I've stuck with rim brakes. I know disc is better and definitely the direction all bike manufacturers are going, including Giant.
It was difficult to locate a rim frame because, like all bike manufacturers, Giant have transitioned to disc-only. But they still had a rim frame left in my size so I guess it was meant to be.
For me, rim is easier to maintain and simpler to adjust. It also meant I didn't have to change all my wheelsets over to disc—well, not yet anyway. This will no doubt be my last rim-brake frame as the 'old school' frames simply won't be around. When Giant—in my view the world's biggest and best bike manufacturer—turns to disc-only, well that must mean something.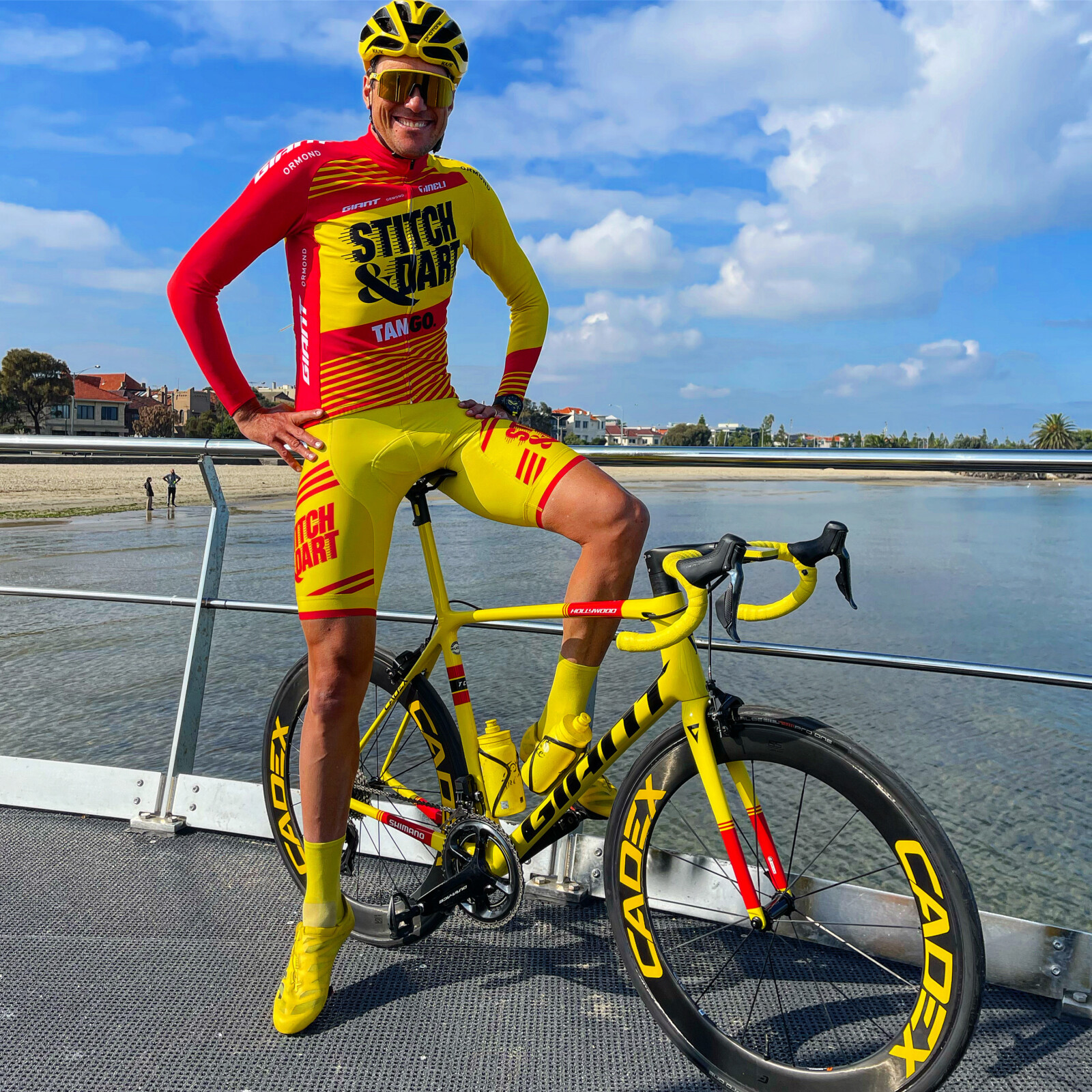 Sure, disc brakes stop extremely well. When one of my friends got a bike with the new 12-speed Shimano Di2 groupset I went for a short ride and couldn't believe how well the brakes worked. They would give a set of Porsche ceramic brakes a run for their money! The stopping power was simply outstanding.
To the colours and detail, and friends helped me sketch up a design that I had in my head and we drew inspiration from previous bikes I have liked. This was then transferred onto computer by another friend, then finally transferred onto a Giant TCR frame template. It was quite a process and I'm fortunate to have some very good and patient friends.
If you're like me and ride most days, you want to be on a bike you absolutely love. You want something you're proud to ride and feel good when you're on it. Life is too short to ride a boring bike unless that's what your taste is. I want something that matches my colourful personality and, more importantly, my team kit. I love bright, bold colours and simply wanted something that reflected that.
I contacted Steve Munyard from Sungraphics as he is the best in the business for custom paint jobs and is located here in Melbourne. His work is incredible; it's second to none. The paint finish on my bike looks like one of those overpriced expensive Italian brands. The quality, workmanship and finish are all sensational. You can see some of Steve's custom work at sungraphics.com.au. He does all types of bikes and brands, and they all have one thing in common—they look fantastic. He is the best. The hardest part is waiting, and he is always so busy.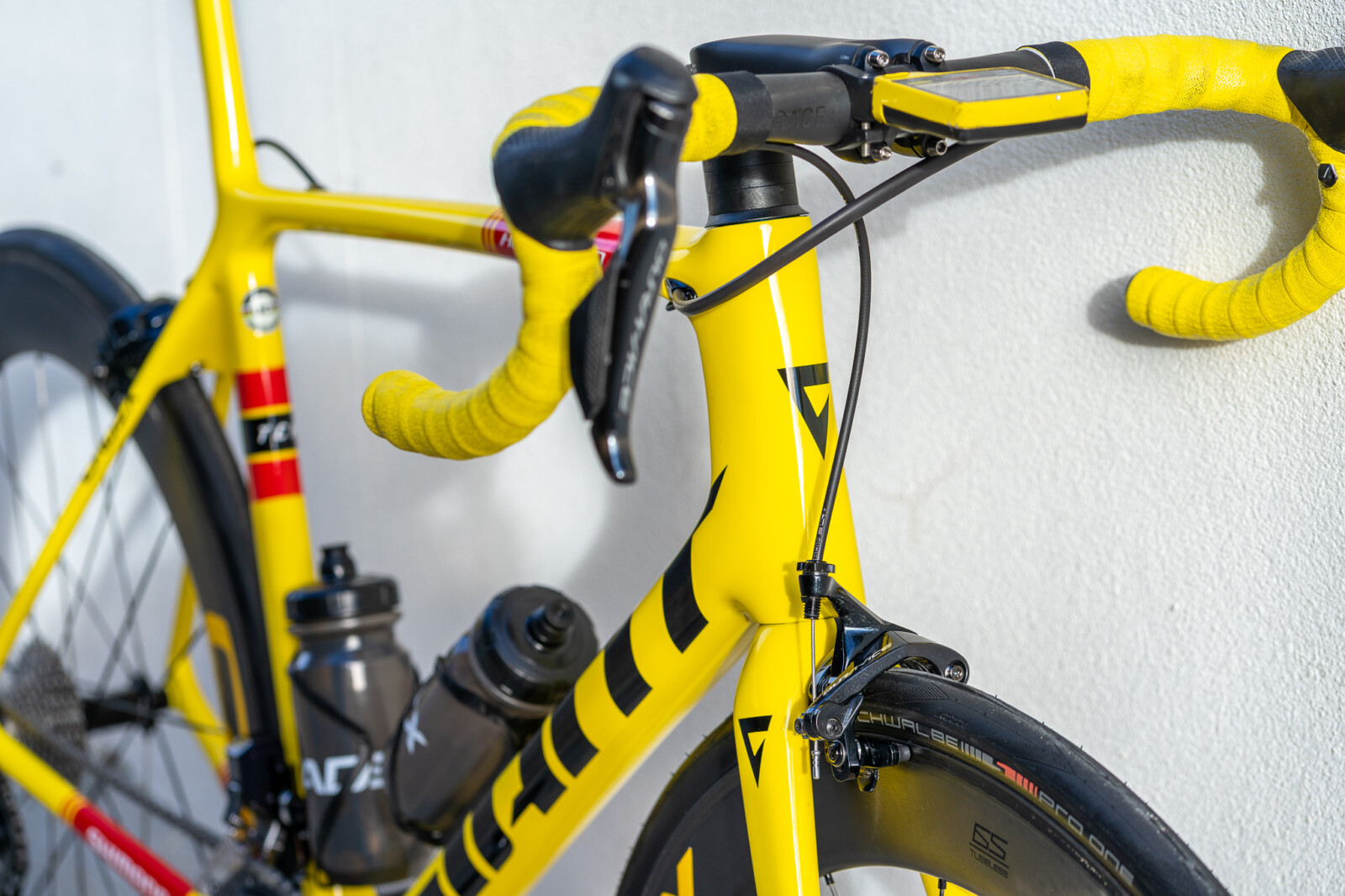 Yellow is my favourite colour. Even my car is yellow. I've always wanted a predominantly yellow bike. One of my first road bikes was a team ONCE yellow bike. I loved that bike so much and always wanted another yellow bike again. The same with the Pinarello Prince, that bike was a real head-turner, and I wanted a bit of red on my new frame because those two colours together look great…no wonder McDonald's use them!
To the build, and I changed a couple of things around. I had used a one-piece bar and stem combo for a while because it looked good. When David at my local bike shop Giant Ormond was building up my bike, he suggested they try the new Cadex Race bar with a Giant stem. It is super light and looks great and I can adjust the bars which is always my gripe with one-piece bar and stem combos. I trust his opinion and gave them a go.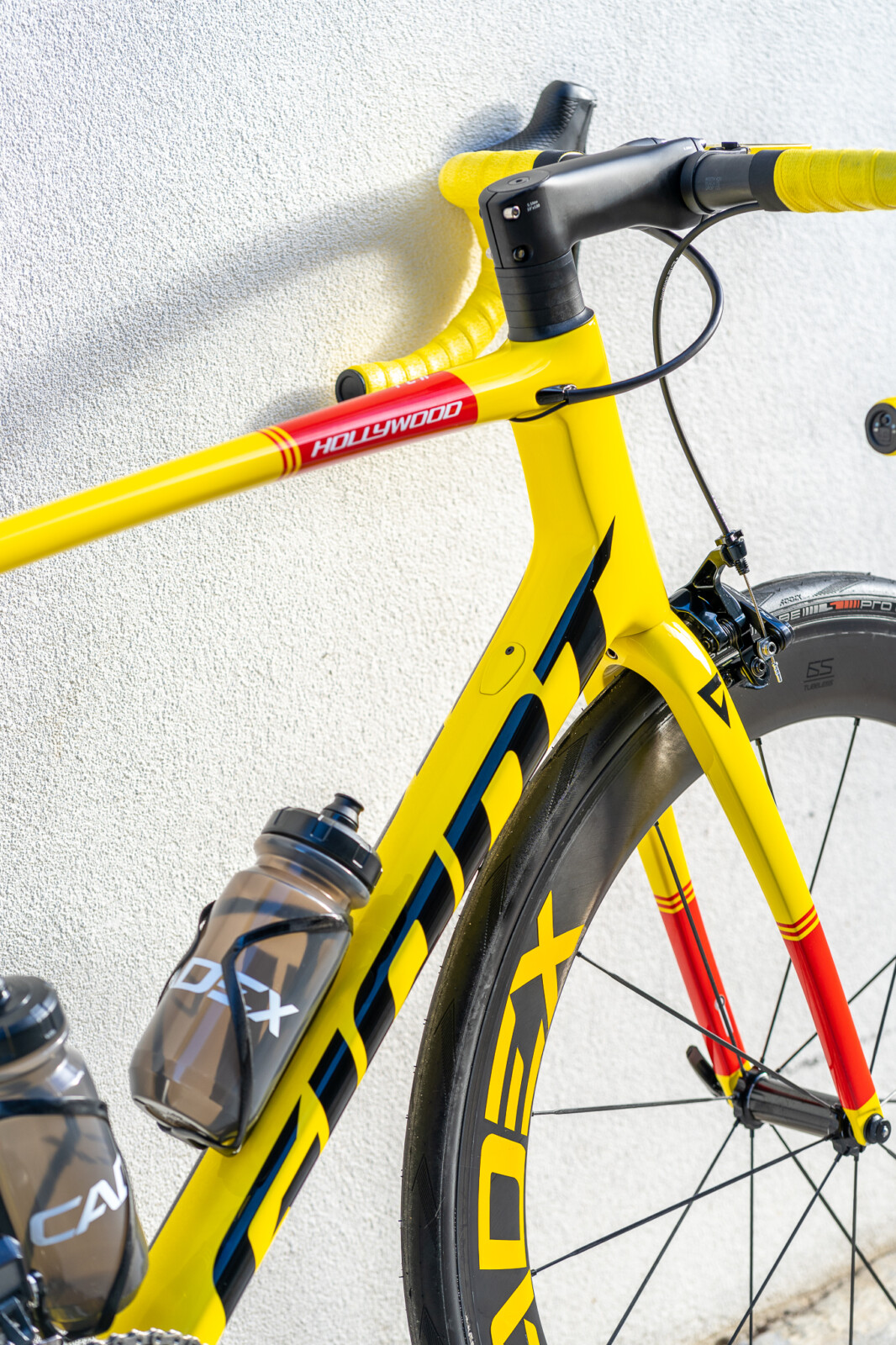 The next change was the saddle. I always liked the look of the Cadex saddle and, like the bars, it is super light. I did some research on the saddle, read some great reviews, and went ahead with it.
Groupset-wise, I put my Shimano 11-speed Dura-Ace back on because it still runs flawlessly. I swapped to Shimano about eight years ago and have never had a single problem. It is such a beautiful and reliable groupset. Sure, I will go to 12-speed down the track, but for the moment my 11-speed groupset is perfect.
To the wheels, and I reused my original Cadex 65's. These roll so well; they are extremely light for their size, and super stiff. I did order and fit a new pair of close-matching yellow decals from AJ at Tango Visuals. The boys there are keen riders themselves, and took great care matching the decals.
Even with the big wheels, the large frame and the custom paint job the complete bike weighs in at 7.1kg—a terrific result.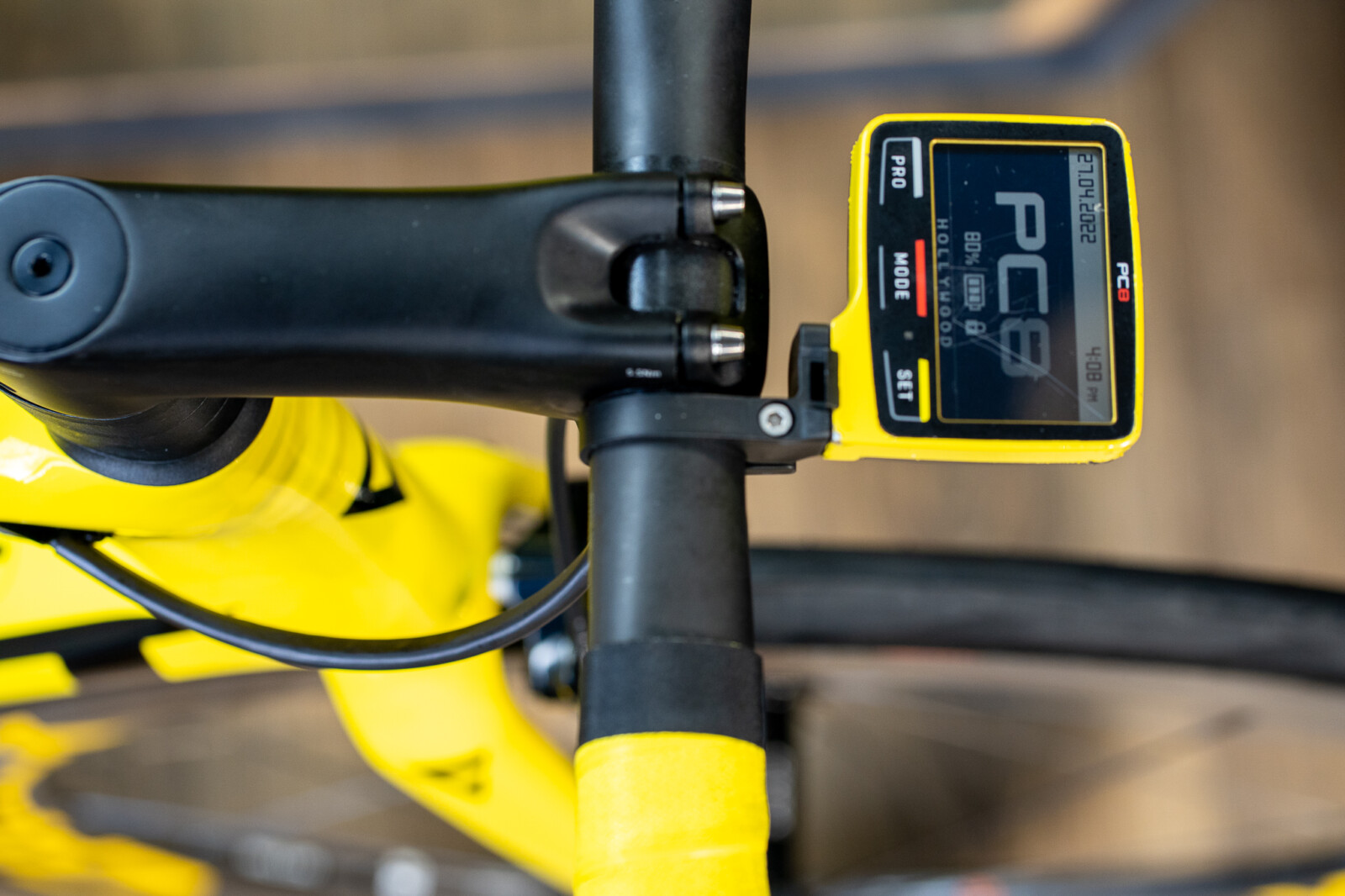 The maiden voyage on the bike was the morning after I picked it and was my favourite Saturday outing—the Hell Ride. For the uninitiated, this is down to Sorrento then back to St Kilda. A 187km outing, I was definitely jumping straight into the deep end. At around the 80km mark I phoned David at Giant Ormond to tell him the bike was absolutely perfect. All angles and positioning were spot on, and nothing needed to be adjusted. I hopped on and rode, and instantly felt at one with the bike, it was such a good feeling.
As Ice Cube once rapped, "Today was a good day".