Each edition we take a look at the latest gear from the world of cycling. Here's a preview of the new goodies that have caught our attention over the past few months.
Roval Terra CL Wheelset
The middle sibling in the family of the three gravel-specific Terra wheels from Roval, Bicycling Australia have recently been riding the CL wheelset.
A fast and overall very impressive wheelset on both road and gravel, the Terra CL features the identical carbon rim of the top model Terra CLX.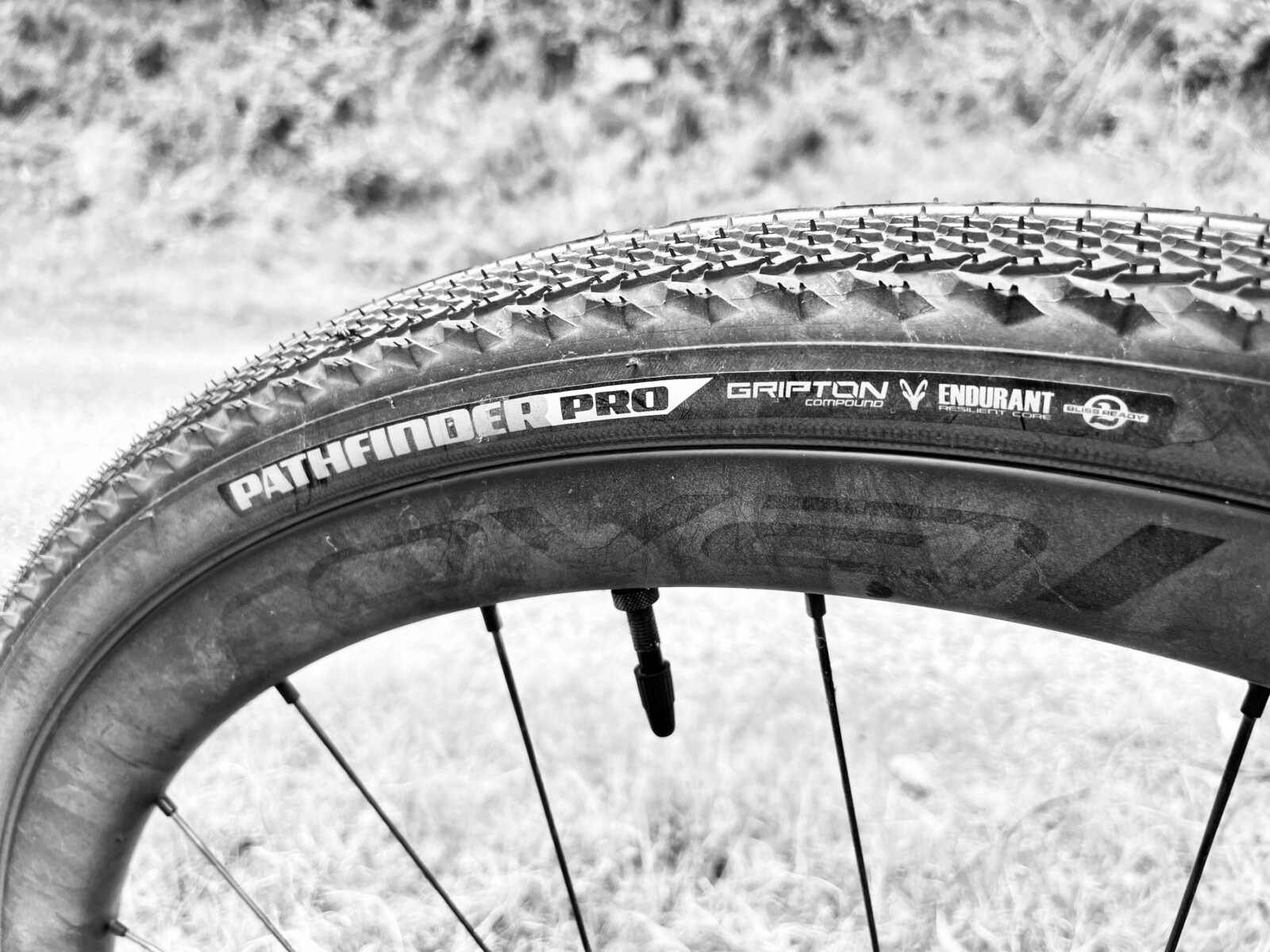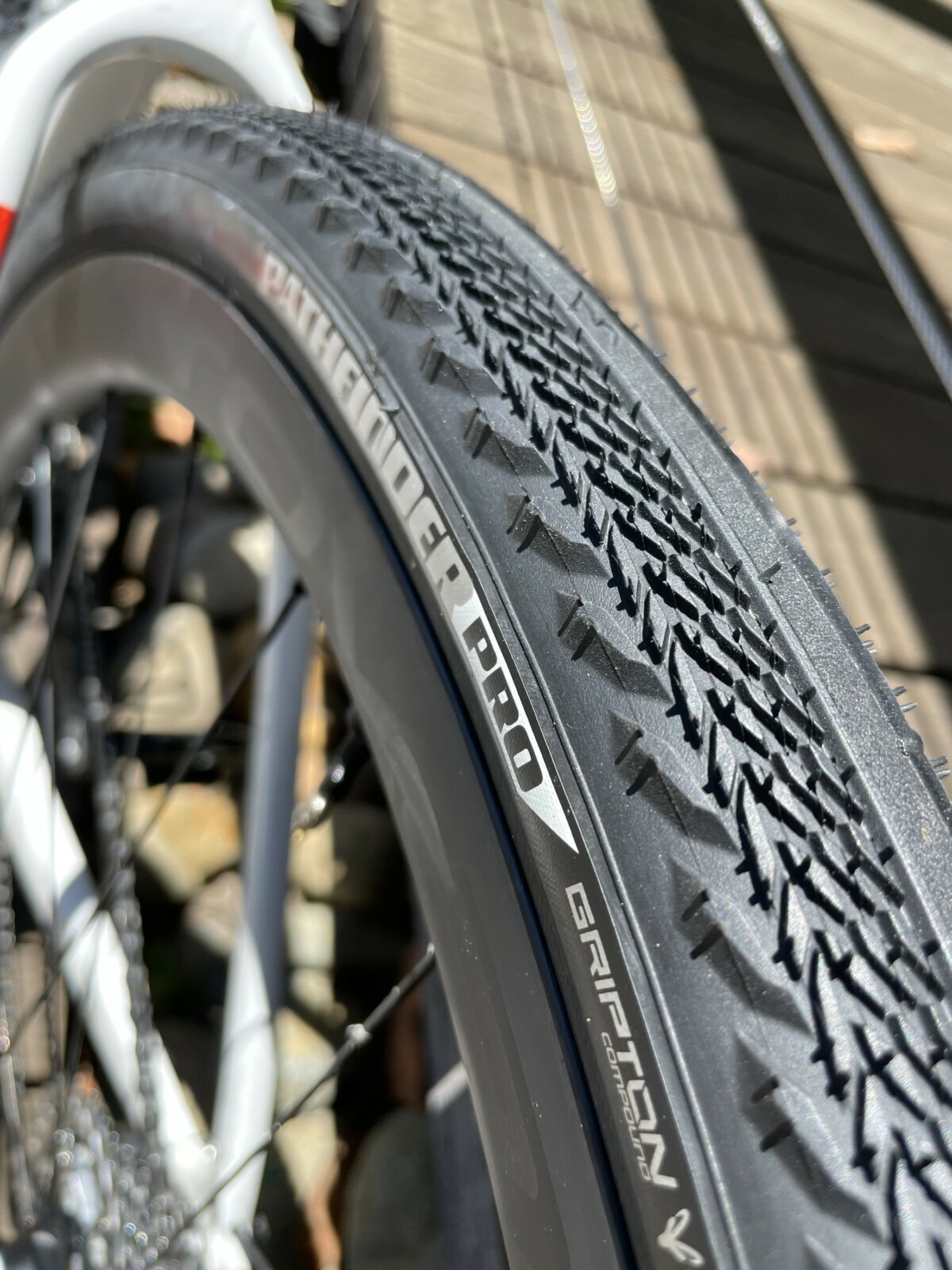 The rim is 33m deep, has a 25mm internal / 30mm external width and suited for tyres from 28mm to 47mm. We've been riding the wheels with S-Works Pathfinder tyres in 38mm. Tubeless set up was a cinch with the track pump, and the tyre/wheel combo has been a game-changer on the gravel.
We've found the wheels to be fast and agile, with much of the speed being due to the low build weight of just over 1400g.
Hand-assembled, fitted with DT Swiss 350hubs, and factory-fitted with tubeless tape along with quality valves, this is a quick, responsive, dependable, resilient and impressive wheelset.
RRP $2,600
More details at www.specialized.com/au
BA Black Sheep Kit
What better way than to ride than with some of the latest Bicycling Australia merchandise.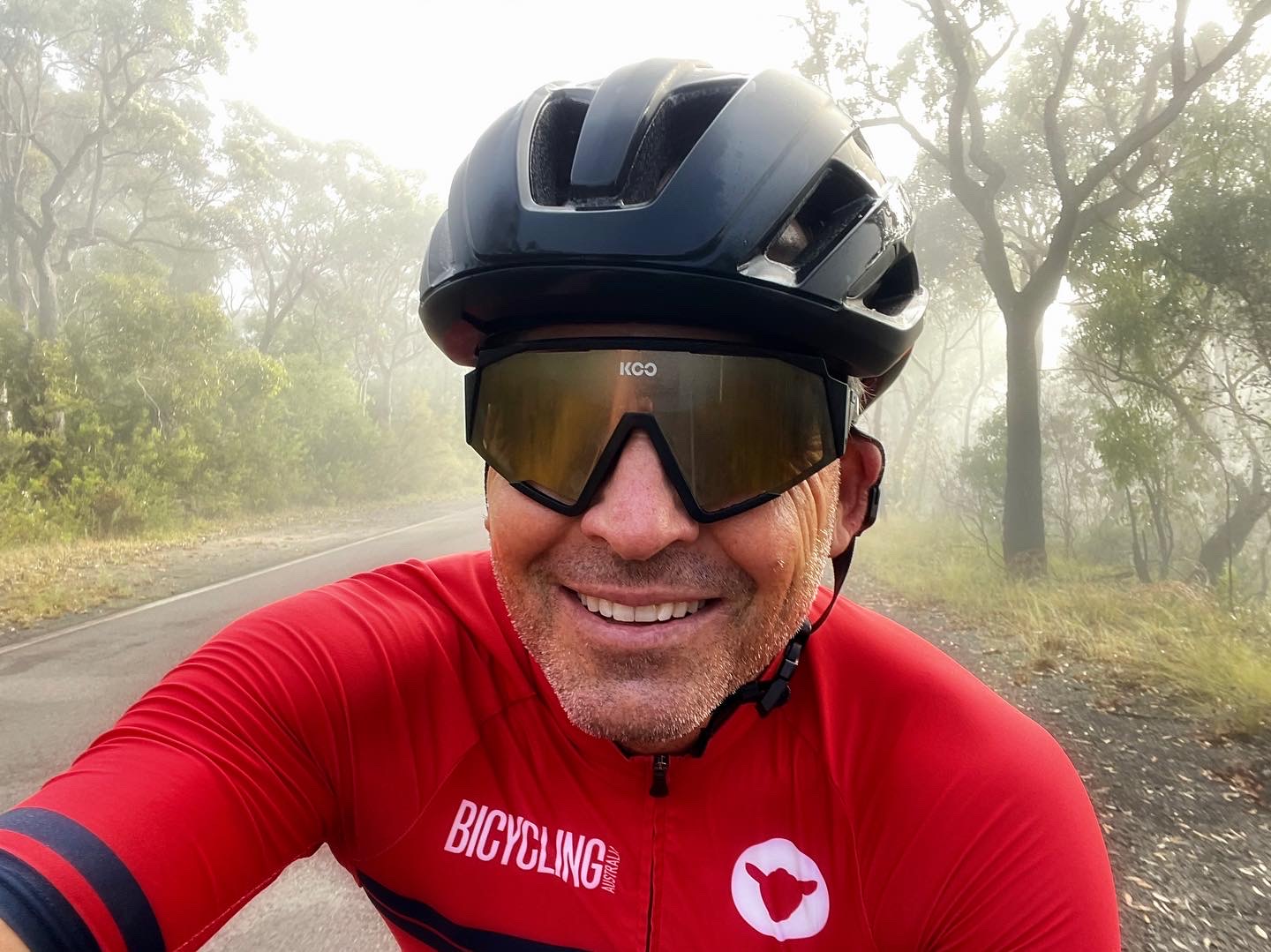 Here on the Bicycling Australia website you can see our shop and choose from a range of quality gear including jerseys, bottles, a multi tool, RidePac wallet and more.
The official 2022 BA cycling calendar is also there—visit www.bicyclingaustralia.com.au/ba-merchandise and check it out today.
New Canyon Endurace Models
Canyon have introduced new models to their popular Endurace family, entry-level Endurace CF & AL models.
The new alloy & carbon frames have been designed to accommodate wider 35mm tyres and eyelets on the top tube to carry utility packs for those longer rides.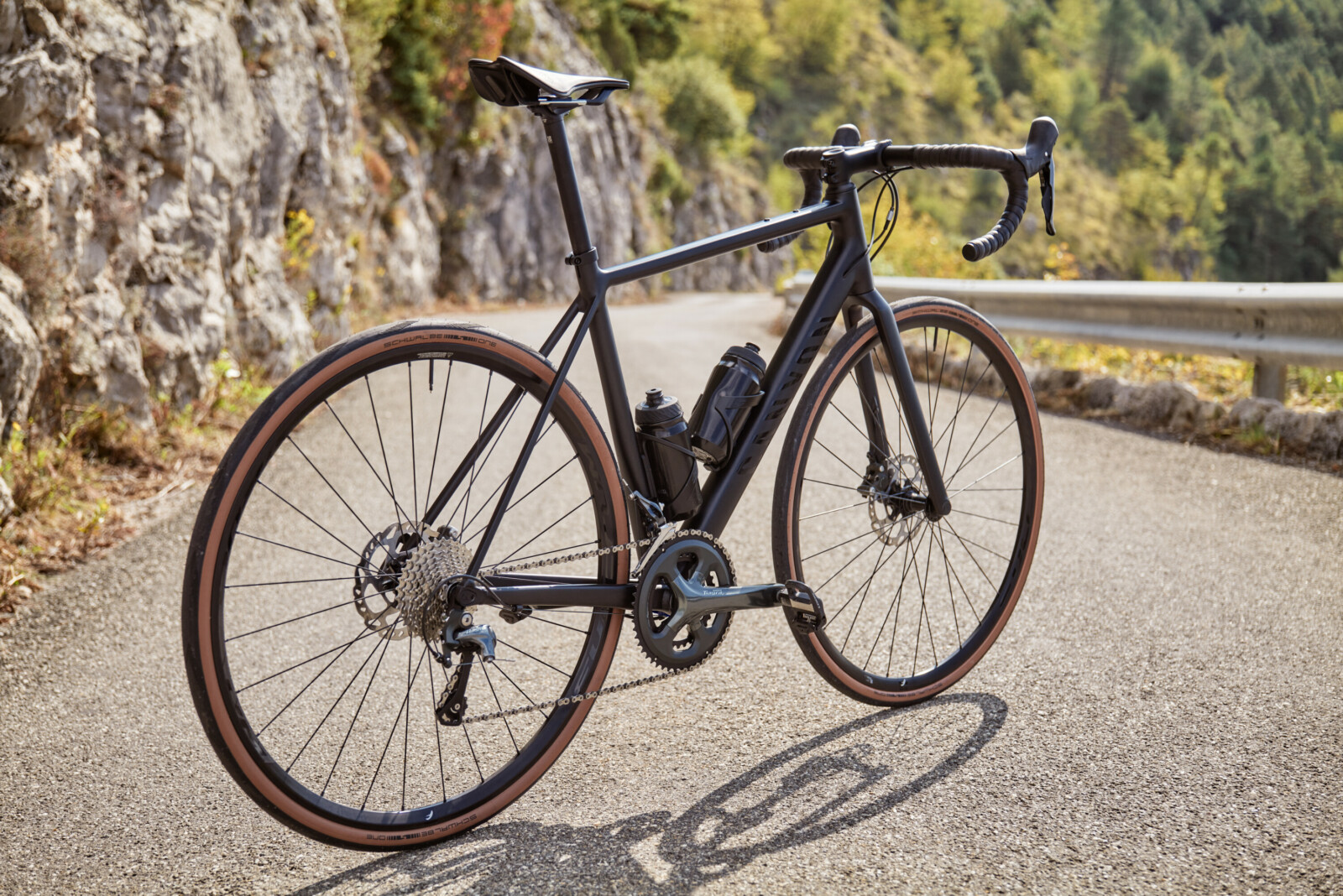 To all-important pricing, and the range will start with the Endurace 6, with Shimano Tiagra, which will be priced at $2,199.
The new Endurace tops out with the CF 7 E Tap, featuring SRAM's fully wireless Rival 2×12, and priced at $4,649.
For more visit www.canyon.com
SRAM Welcomes Hammerhead To The Family
Reviewed in the November / December edition of Bicycling Australia, the Hammerhead Karoo 2 is rapidly gaining popularity in the high-end bike computer market. The company recently received another major boost with news it has been acquired by the SRAM group.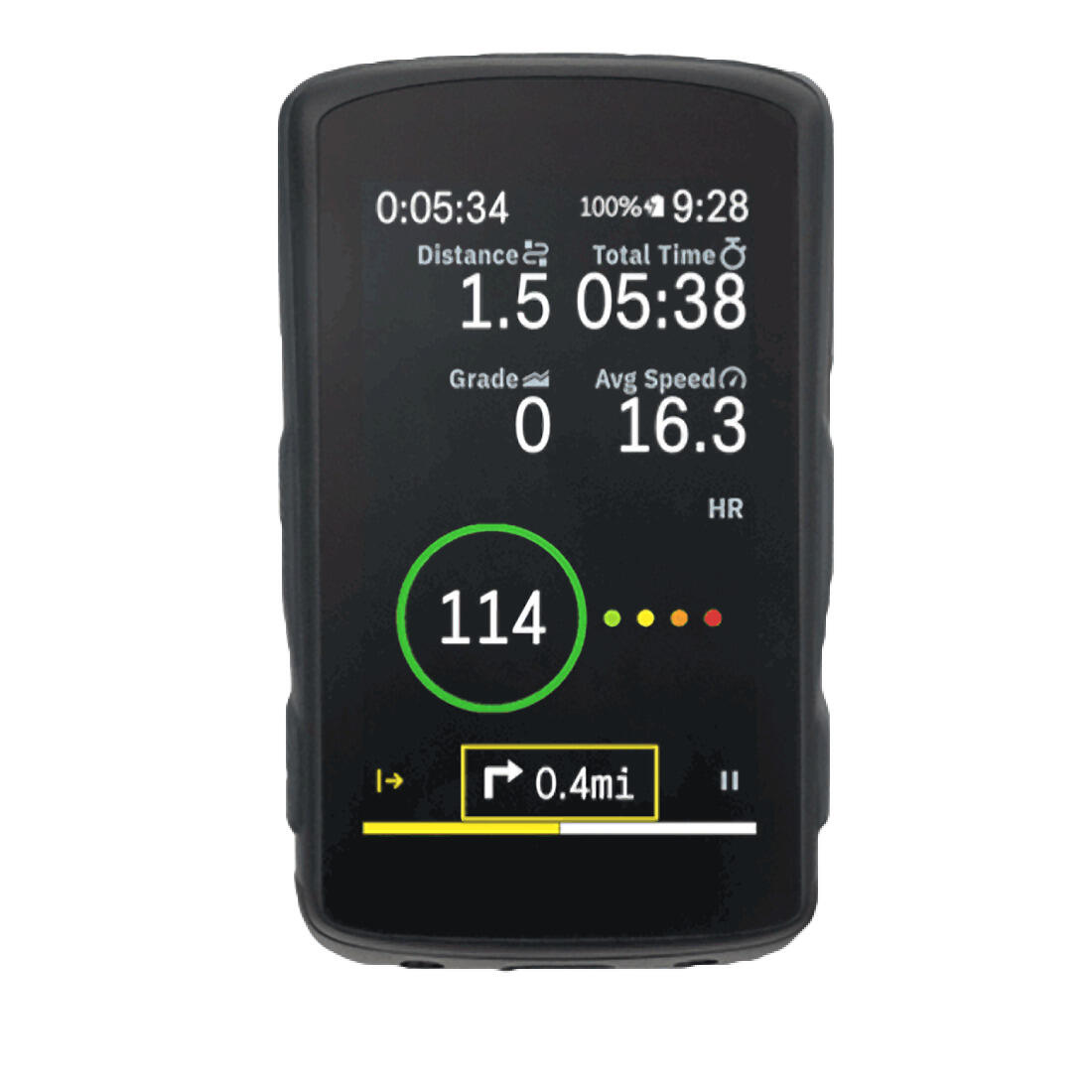 "SRAM saw tremendous potential in Hammerhead after the award-winning cycling GPS computer [the Karoo 2] hit the market in late 2020 and landed on the handlebars of many of the world's top athletes. In just the last year, Hammerhead achieved 7x revenue growth and their community of riders have clocked over a million hours of gravel, concrete, and trails covered," said a company spokesperson.
"Together, SRAM and Hammerhead will continue to develop an innovative cycling technology platform ensuring riders can seamlessly integrate with a wide variety of existing hardware and software products and services including both Shimano and SRAM electronic shifting."
Dawn To Dusk Adventure Accessories
Dawn To Dusk specialise in accessories for the fast-growing gravel and adventure cycling market. They currently offer storage bags, 'extreme grip' bottle cages, anti grit drink bottles and lightweight tools. Bicycling Australia have recently been riding and using the following products from the edgy California-based company.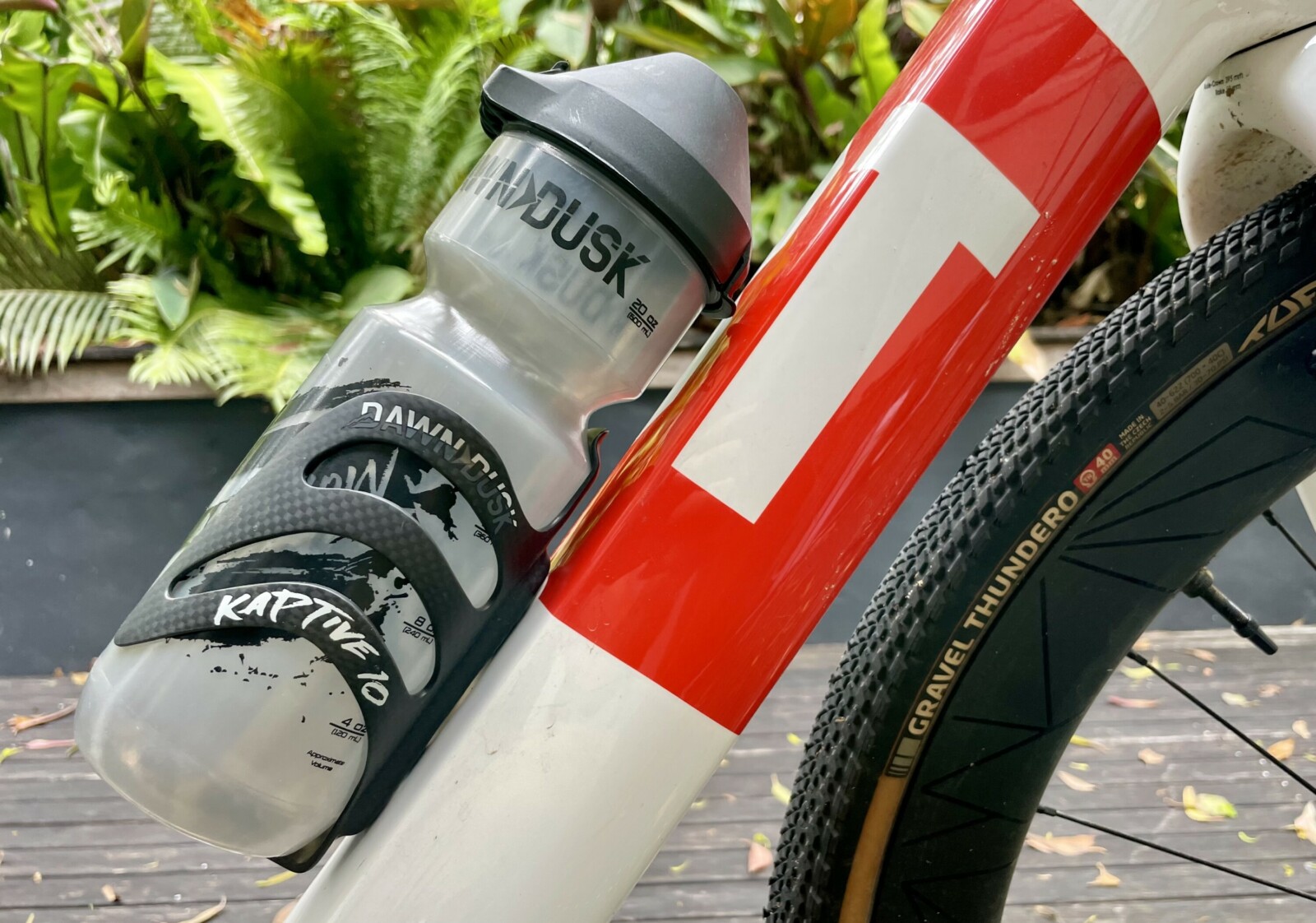 Multi Lite 19
This compact multi tool weighs in at 116g and features—surprise surprise—19 tool options. There are hex wrenches from 2mm to 8mm, a #2 Philips head and #3 flat blade screwdriver, a T10 and T25 torx wrench, four spoke tools, a 12sp compatible chain breaker and Presta valve core remover.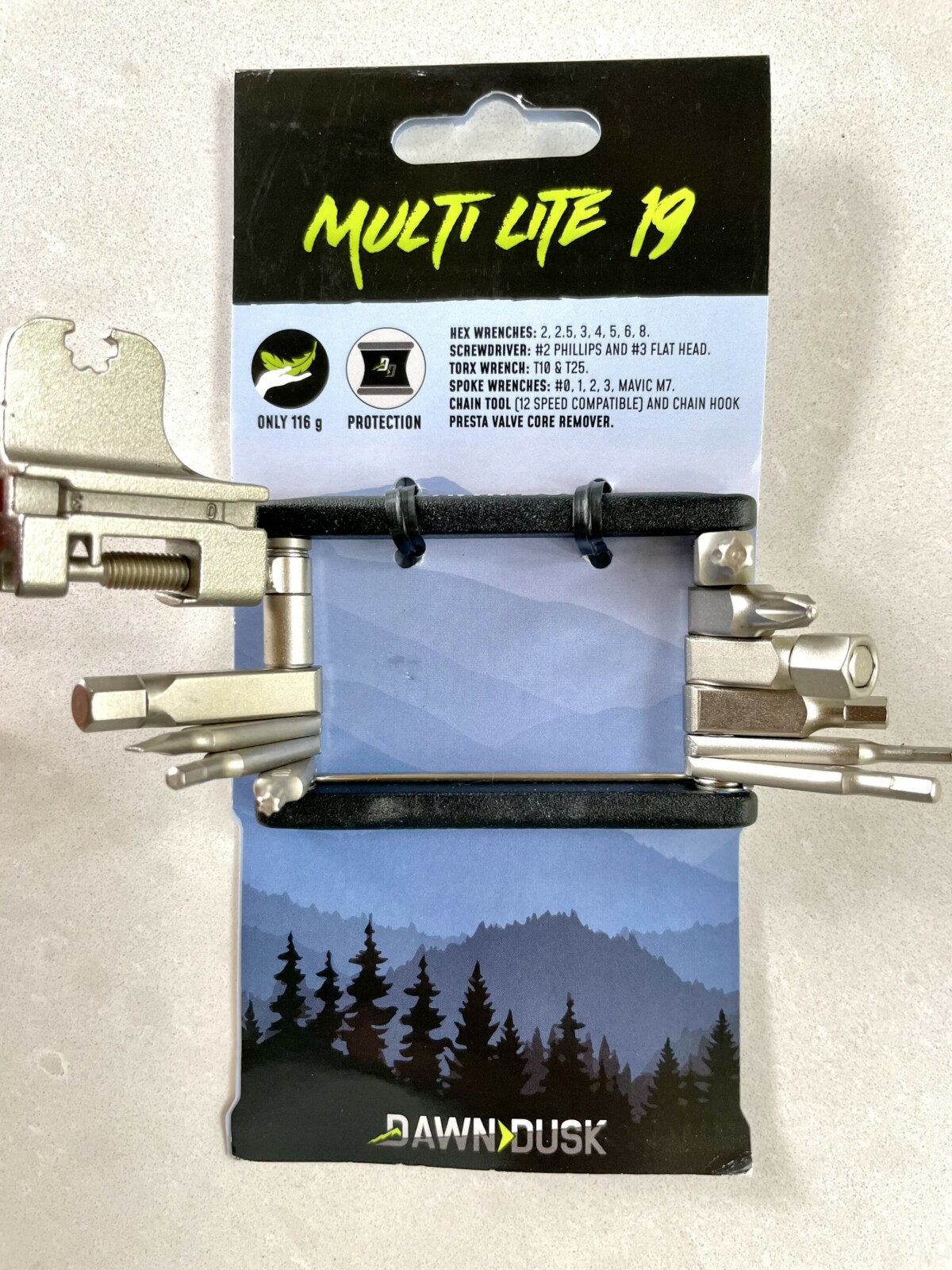 The tool comes with a neat neoprene case to help keep it safe, secure and rattle-free in your accessory bag or handlebar pouch. The tool is nickel-plated, feels to be high quality and performs well. We particularly like the inclusion of the two screwdriver types, build quality and anti-rattle casing.
Dawn To Dusk Multi Lite 19 RRP $45.95
Kaptive 10 Bottle Cage and Anti-Dirt Bidon
Ever had a bidon bounce out on gravel or when flying down a rough track? We certainly have, and it's damn annoying. This purpose-designed bottle cage packs 10lbs (4.5kg) of grip force to help keep your precious water bottle in place. Initially quite daunted at how tight a fit it may be, sliding the full Dawn To Dusk bidon into the cage is not that dissimilar to a standard cage.
The design features a 5mm upper hook to help hold the bottle in, along with six gripping points. We tested the cage with the Dawn To Dusk anti-dirt 600ml bidon. The cover is brilliant at keeping mud and dirt off the drinking spout and still easy to flick up, out of the way, for quick sips while at speed.
Overall it's a great addition to the gravel bike.
Dawn To Dusk Bottle Cage Kaptive 10 RRP $107.95
Teklite Tube Bags
The company's tube bag range currently includes the (compact) 285cc and (massive) 660cc Teklite storage bags.
One of the major points of difference with these is the 'mount anywhere' versatility.
The bags come with quality silicon-coated Velcro mounting straps that will enable you to mount the bag pretty well anywhere on the frame. There's also the standard underside mount holes for bikes with top tube mounting points.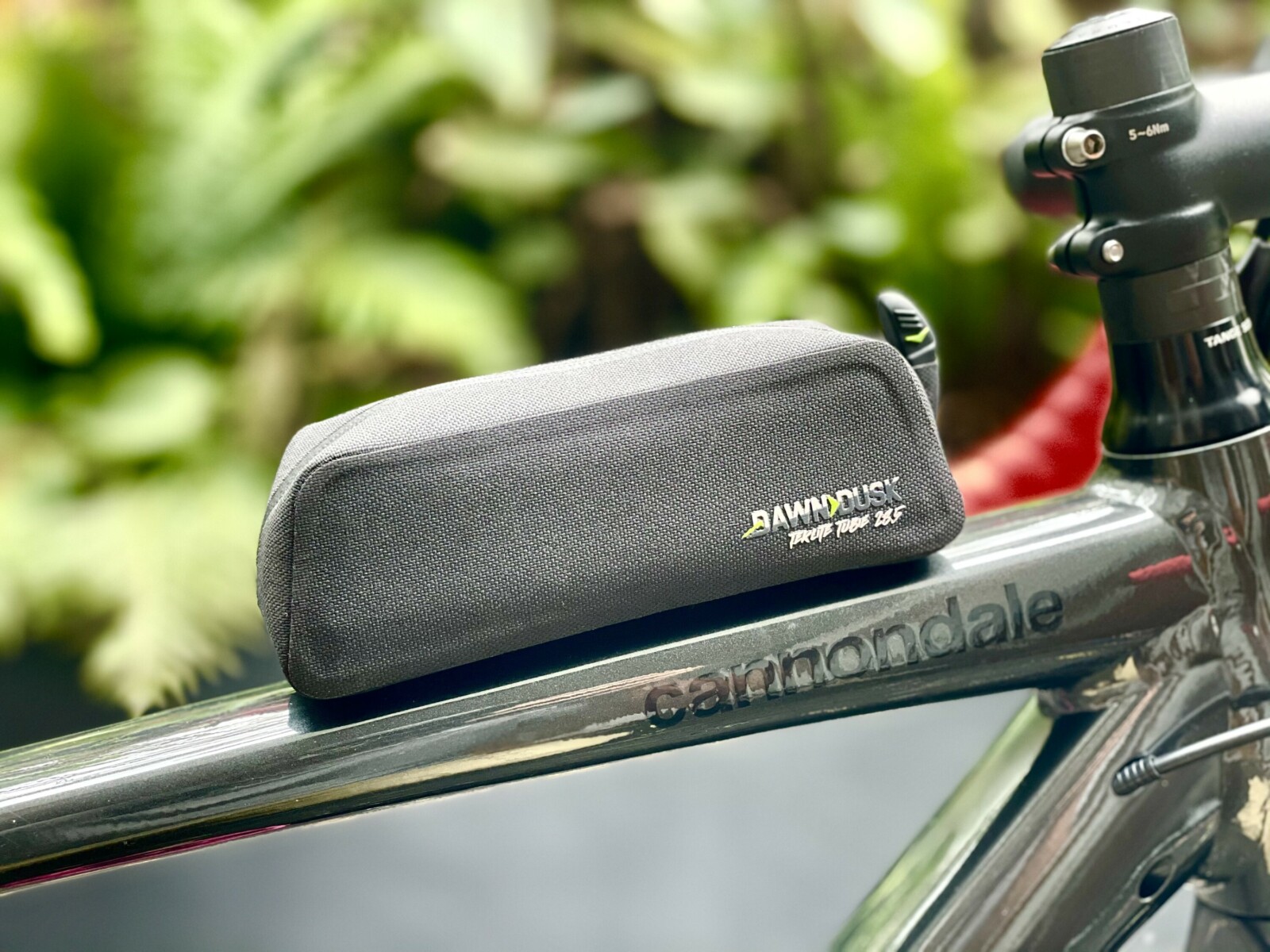 The zippers are worth mentioning—they close in a neatly concealed 'garage' and, when closed, bring together secure flaps to ensure dirt and water resistance.
Having used a number of other top-tube storage bags in the past, these certainly standout! They are rugged, durable, well-insulated and hold up well (i.e. don't fall to one side when empty). We're impressed!
Dawn To Dusk Teklite Tubie 285 Top Tube Bag RRP $45.95
Dawn To Dusk Teklite Tt 660 Top Tube Bag RRP $89.95
Dawn To Dusk products are distributed in Australia by www.echelonsports.com.au
AMP Ceramic Disc Brake Pads
European designed and Taiwanese manufactured, All Mountain Project (AMP) was started in 2019 by two French composite engineers with backgrounds in aerospace and cycling. In the search for better braking performance, they first explored the use carbon fibre for brake backing plates. Next, they started tinkering with the brake pads themselves, namely with organic and ceramic compounds. The results are impressive.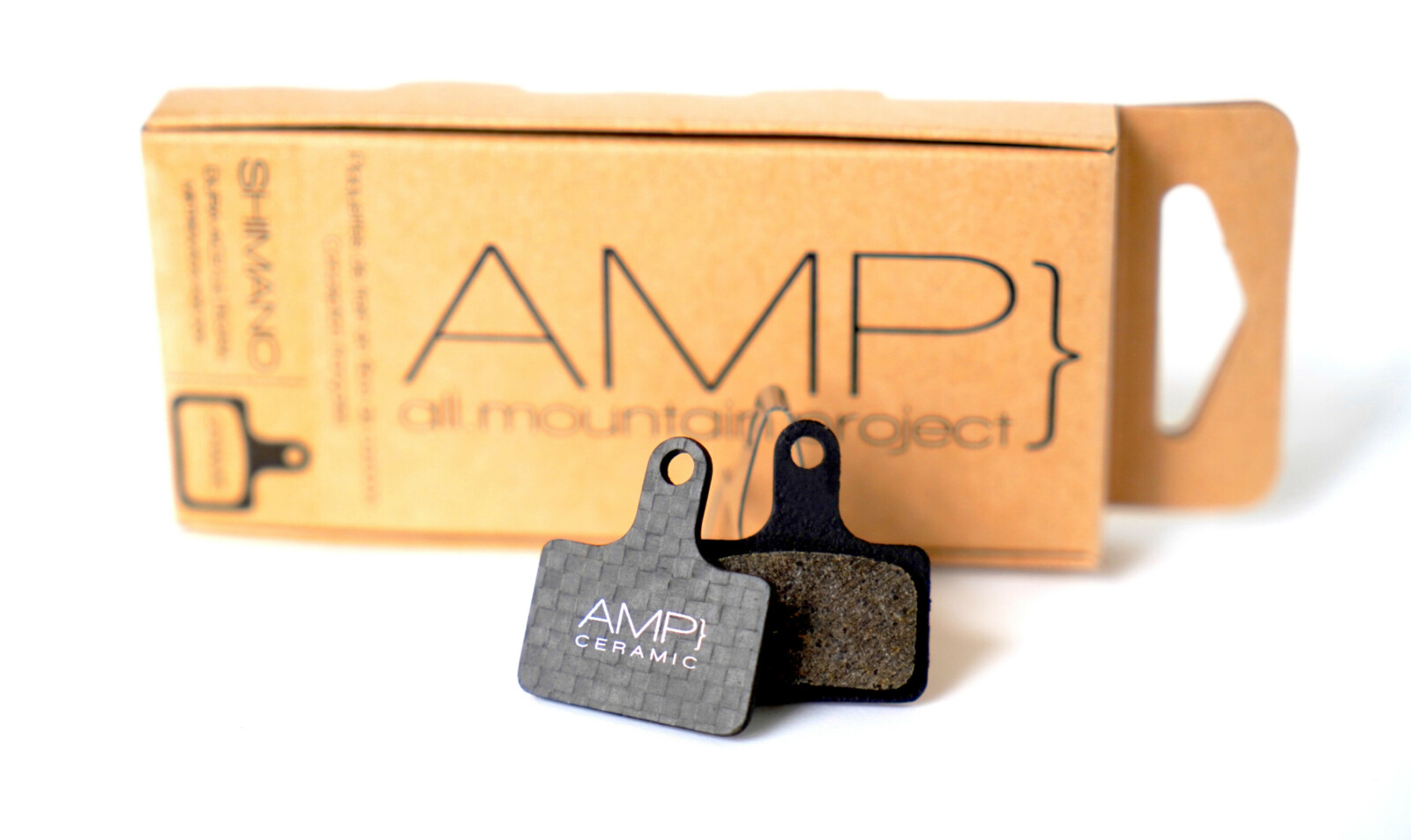 AMP's ceramic brake pads are created to deliver extreme braking power and heat regulation in all conditions, even on the longest and most winding of alpine descents. Other benefits include lower weight (at around 13.7g, they're 25% lighter than most traditional disc brake pads), superior vibration damping and a stiffer pad for less flex and better overall performance.
AMP also claims they're silent, which is likely to be music to any peloton's ears.
RRP $59.95 (per pair, includes spring)
Shimano/SRAM/Campagnolo compatible
Lezyne Super Pro GPS
Looking for a fully featured GPS / cycling computer at a pocket-friendly price? This Super Pro from Lezyne may be the answer. Retailing in Australia for around $200, the device features many of the specs you'd expect from a GPS / computer at twice the price.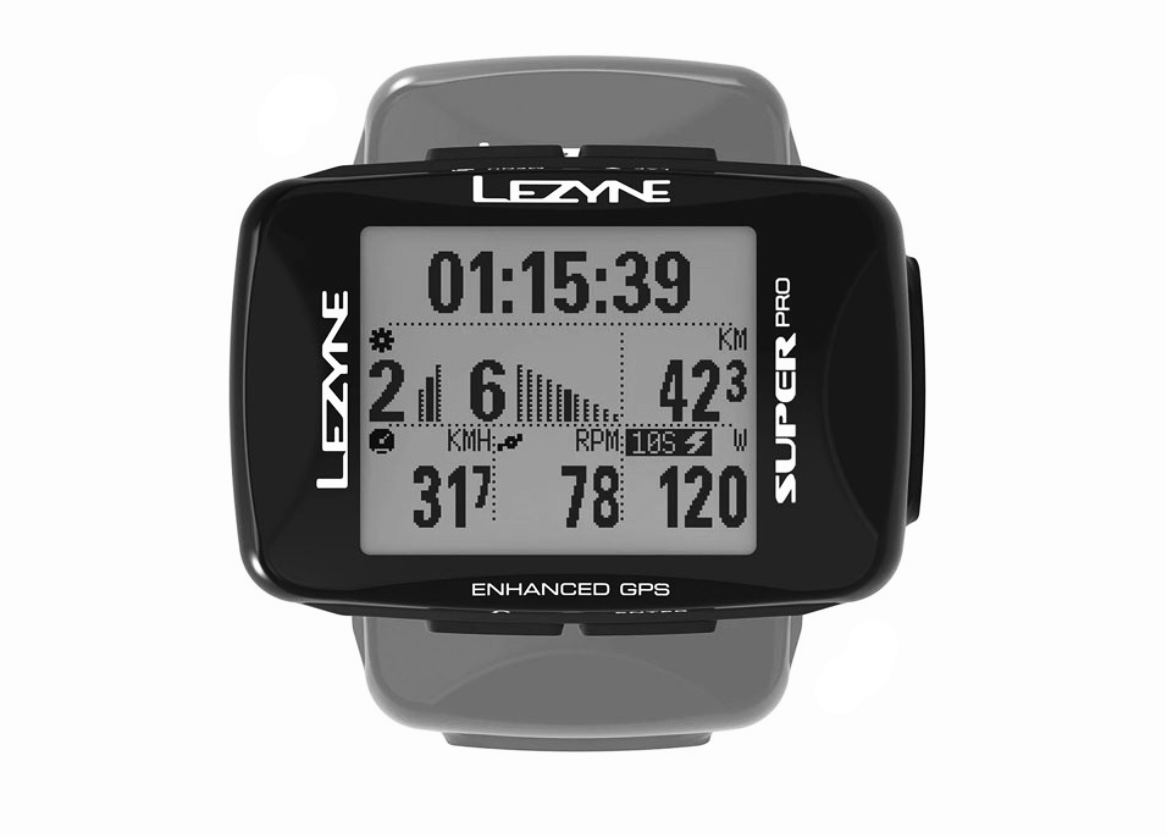 While it's fully weather-sealed and has a battery life of a whopping 28 hours, costs are kept low via the monochrome display and push button (no touch screen) controls. Paired with Lezyne's Ally app, it's an impressive unit and well worth considering, particularly for those on a budget.
Weight: 60g | Runtime: 28hrs | Memory: 400hrs
Dimensions: Computer 70.6mm (W) x 48.16mm (L)
RRP: Around $200
New Socks From Trek & Bontrager
These soft merino wool socks from Bontrager are designed to keep your feet and toes warm, dry and comfortable.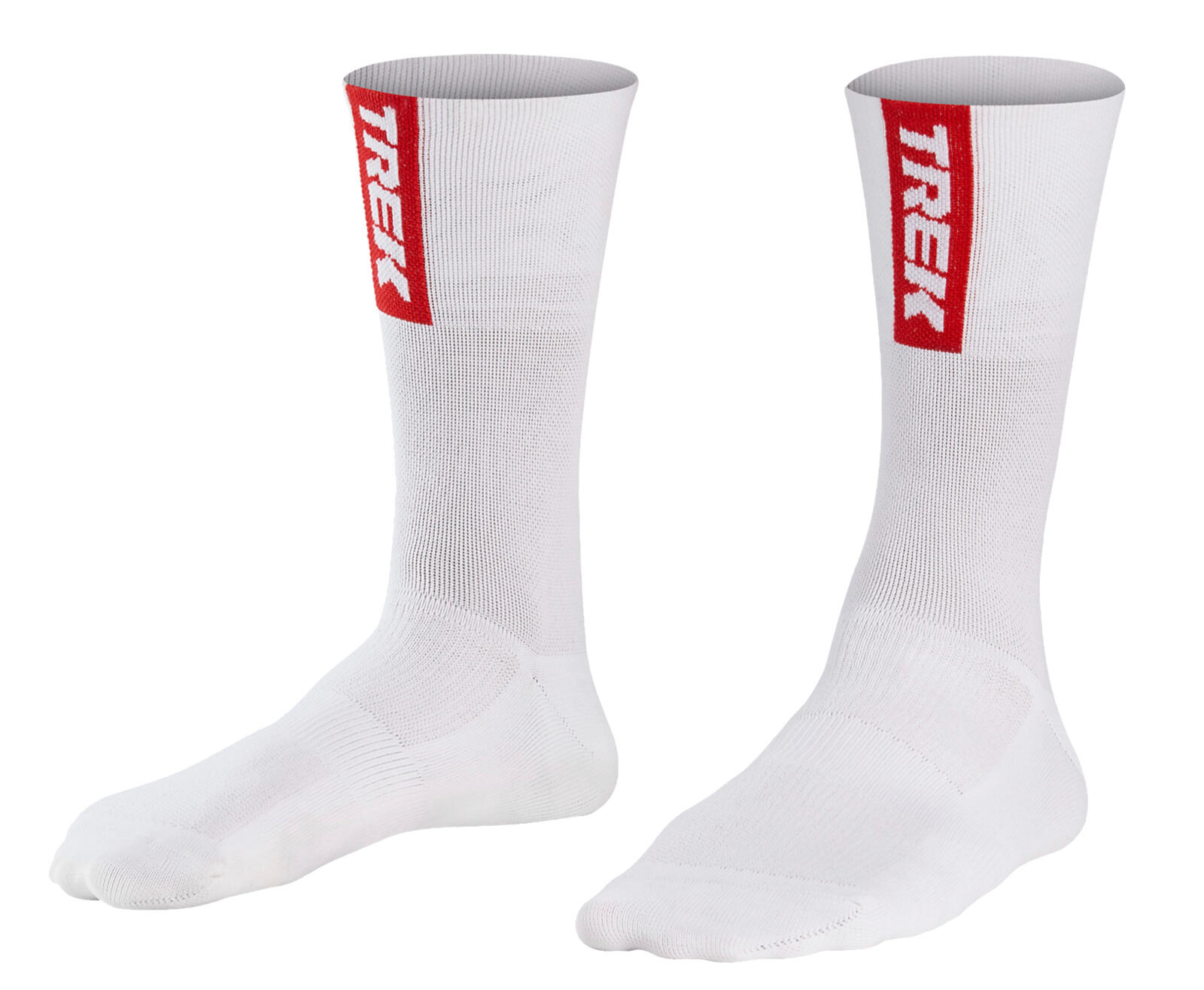 The 'Race Merino Wool Lightweight Crew Socks' feature excellent moisture-wicking abilities thanks to the natural qualities of the quality merino wool.
They have a slightly higher cut than many socks available, with a taller 13cm (5-inch) length. We've been riding a pair and can vouch for the comfort through the sole of the foot to the heel area where the construction offers a feeling of slight compression and support.
The socks are available in three sizes: Medium (EU 39-40), Large (EU 41-43) and Extra Large (EU 44-46).
The socks are available from Trek stores and you can find your nearest outlet via the Trek website.
RRP $39.95
Team Issue Socks
Looking for a pair of warm weather socks to match your white shoes? These beauties are Trek-Segafredo's pro-issue summer socks developed for their factory racing team.
They are designed and manufactured by Santini, and suited for an average temperature of 27 degrees.
Trek say the socks are "designed for the pros who spend more time in the saddle than anyone, these socks are guaranteed to provide ultimate all-day comfort and breathability."
RRP $34.95
More at www.trekbikes.com
New Cannondale Synapse
Cannondale have launched the 5th incarnation of their popular endurance platform, the Synapse.
The 2022 model features a range of unique safety inclusions under the 'SmartSense' moniker. In a nutshell, the headline is an integrated rear-facing radar system, front headlight and power/control box integrated into the lower section of the downtube.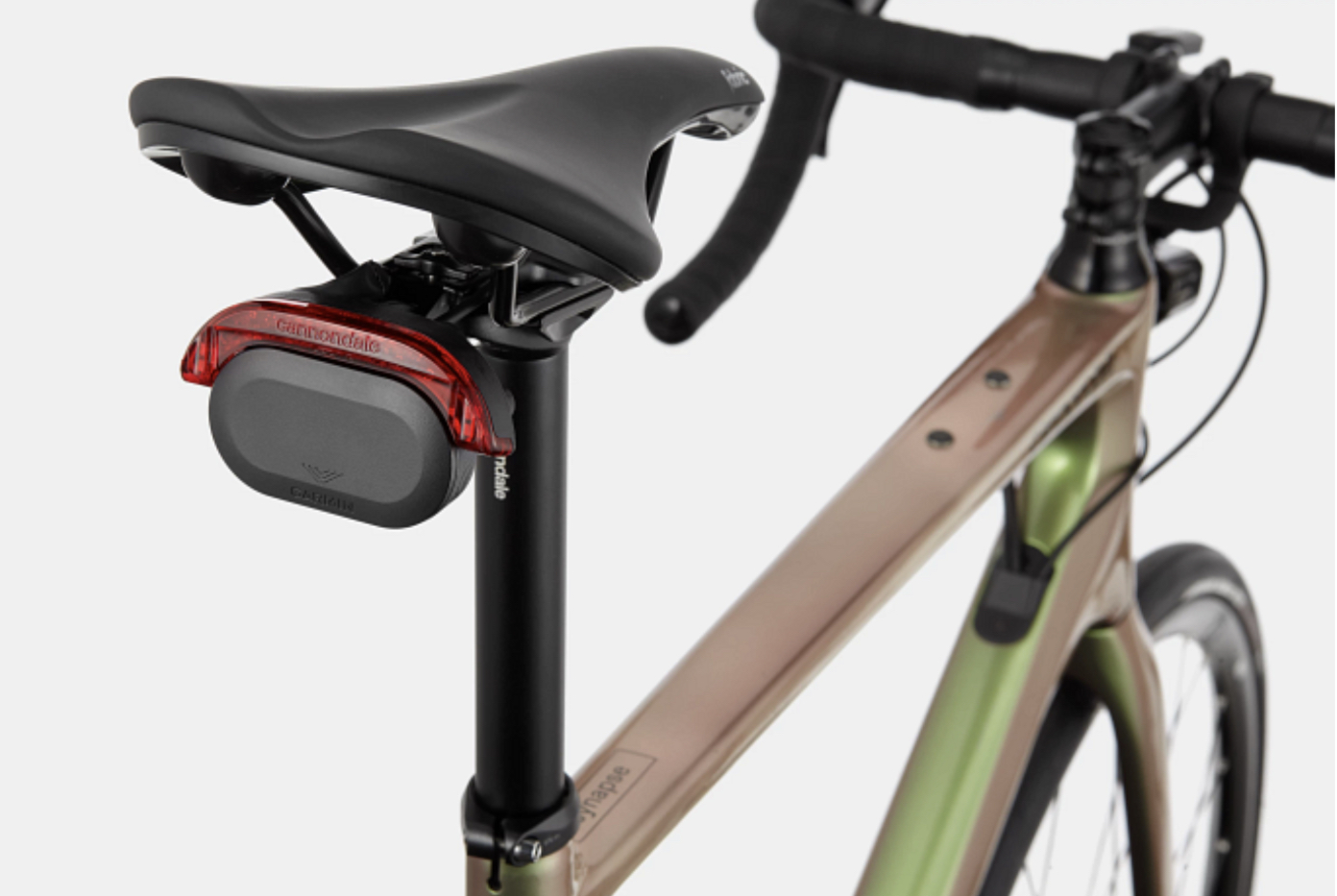 To the frameset, and Cannondale say they have increased comfort, added the capacity for 35mm tyres, and shaved weight off the bike. The company describe the bike as their 'most versatile, comfortable, all-around, up-for-anything, pure road machine'.
RRPs range from $3,999 for the entry level Carbon 4 model (without SmartSense) through to $8,499 for the Carbon 2 with Shimano Ultegra 12speed Di2.
More at www.cannondale.com/en-au
Revoloop Race lightweight tubes
We've been lucky enough to test a few different lightweight tube offerings lately, and German brand Revoloop is right up there with the best. Made from thermoplastic polyurethane elastomers, Revoloop Race tubes weigh in at a paltry 39g (the Ultra version is even lighter at a ridiculous 25g), making them significantly lighter than butyl or latex options.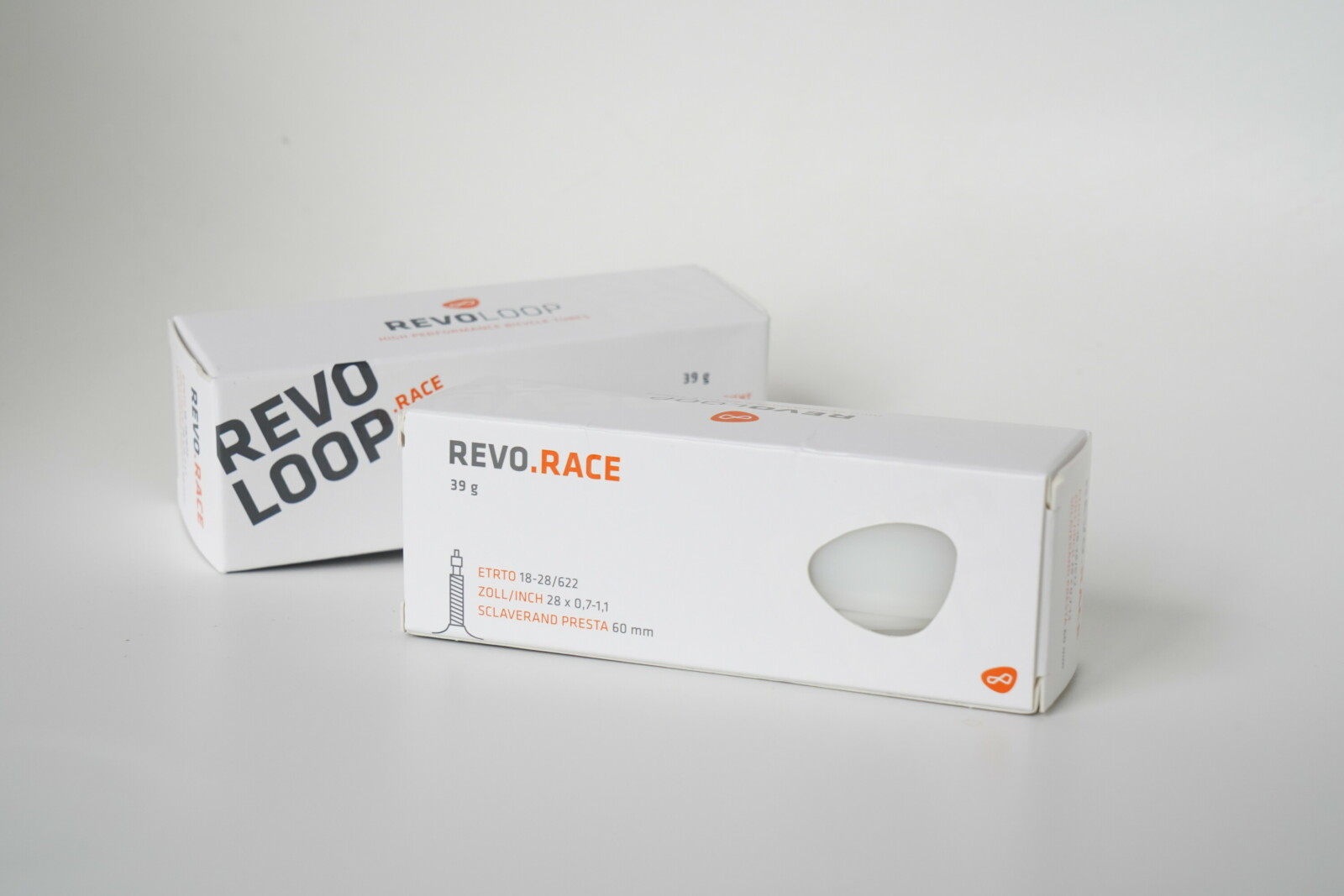 An absolute breeze to fit, they're also ultra-compact and promise enhanced on-road durability compared with more traditional lightweight butyl tubes—catastrophic punctures aside, of course. The valve is made of impact-resistant thermoplastic, with a specially designed valve foot preventing any damage to the tube from sharp edges. Not cheap, but arguably the closest you'll get to a tubeless ride without actually going tubeless.
RRP $42.99
Available in 40mm, 60mm and 80mm valve lengths