'Old School rider meets new school technology'. That's how 5-time Tour de France participant and Aussie cycling legend Patrick Jonker refers to his time testing the Cervelo R3 Disc.
Well, I have to say I am old school – I mean my first few years racing 
I was riding a steel frame with downward shifters, toe clips and a 12 x 18 cassette. The most exciting thing to happen to me back then was going from steel toe clips to alloy toe clips no not all that much happened during the 80s.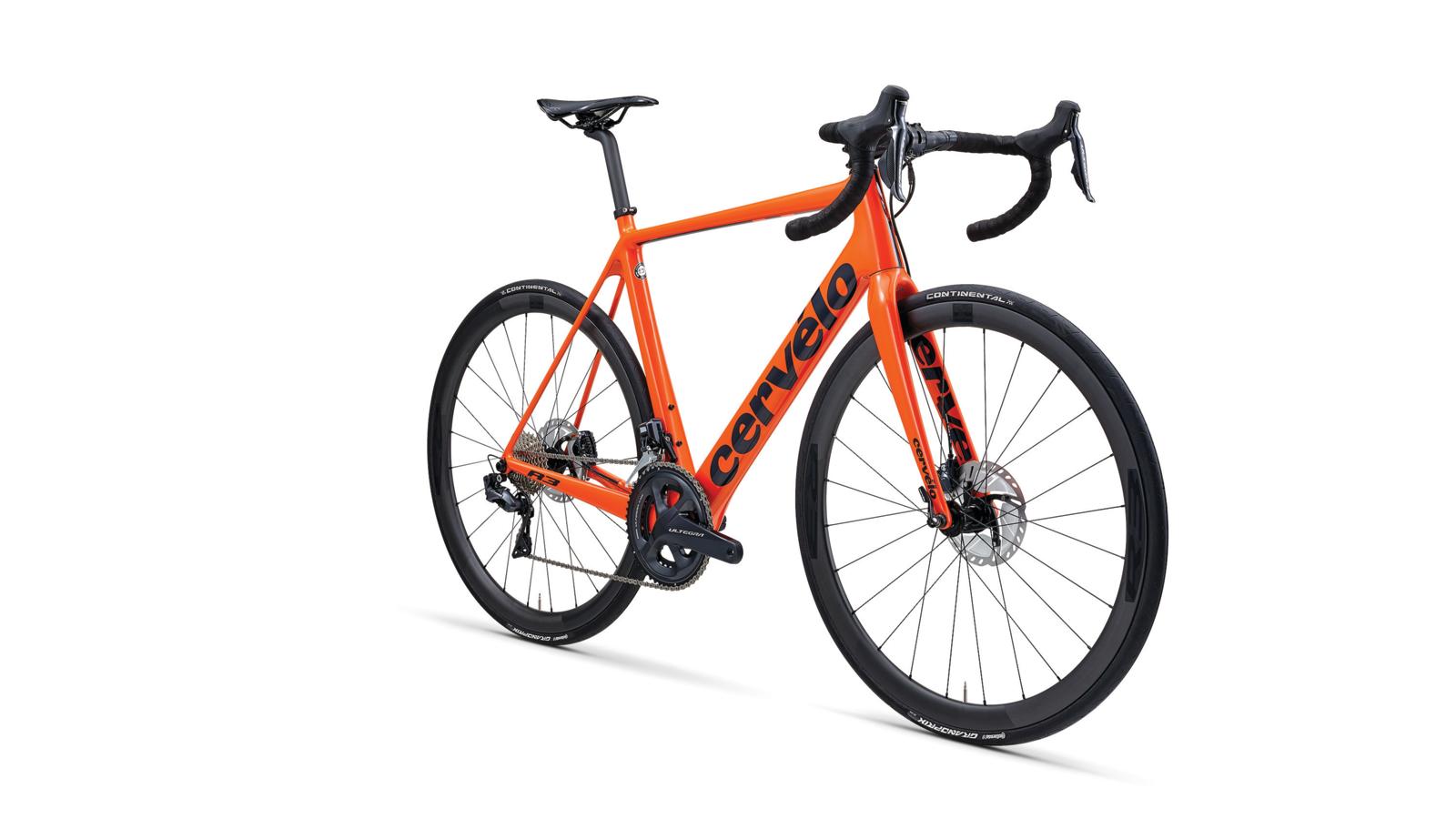 Today I find myself road testing a piece of futuristic engineering from our good mates at Cervelo – the R3 Disc with Ultegra Di2, and I note that it's no relation to R2D2.
Cervelo have always been known for their engineering ingenuity and once again do not disappoint. The company categorize their range of bikes depending on the riders needs and the R3 is no exception.
The S series is for speed: think super-aerodynamic, lightweight frame sets. The P series are for TTs and are very popular amongst Ironman participants & triathletes for its aerodynamic properties.
…The first obstacle of the day was a 4km climb with an AVERAGE OF 9% … 
AND GRAVEL PINCHES TO 20% …
The R series is for all-round Road Racing – we note that Carlos Sastre won the Tour De France on the R series and a few Paris-Roubaix's were won along the way on the R series as well.
The R3 disc is a model below the R5 model, Cervelo's flagship all-round road racing disc version, which has a more aggressive and tighter geometry.
The first thing I do before 
I road test a bike is simply stare at it for a few minutes, and the Cervelo R3 is aesthetically very pleasing. I'm loving the bright orange paint work; secondly, the tubing – is it square, is it oval, no…it's 'Squoval.'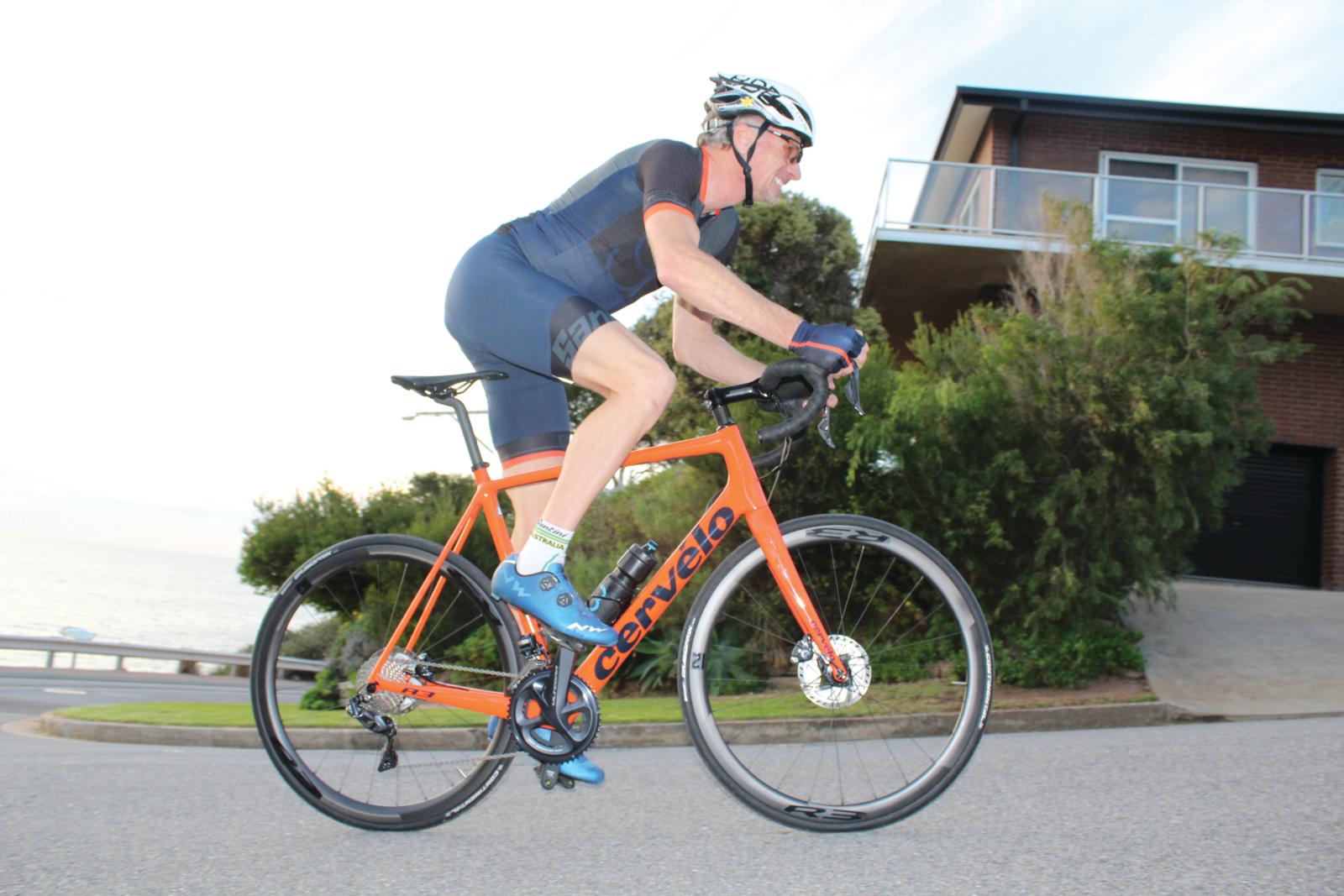 Squoval
The oversized square downed tubing is definitely very noticeable. Cervelo have named this 'Squoval' tubing as these tubes are a combination of square and round shaped tubing which provide the stiffness in the frame.
Square tubes are more flexible and this adds comfort to your frame. Combine these properties with oval tubing and you have the optimum ratio of stiffness, comfort and aerodynamics…and are also shaving a few 100 grams off the overall build.
Shimano Di2
I headed out on a 130km loop through the southern vales of Adelaide, a ride that included some gravel sections a couple of climbs and finished up on the flats along the beaches.
The first 30km of my loop are on an undulating bike path and what I noticed first was how effortless and efficient the Di2 group set was. I'm a rider that likes to change gears often trying to maintain an efficient cadence, and I will say electronic shifting is the best thing to have happened to the bicycle industry since clipless pedals.
Disc Brakes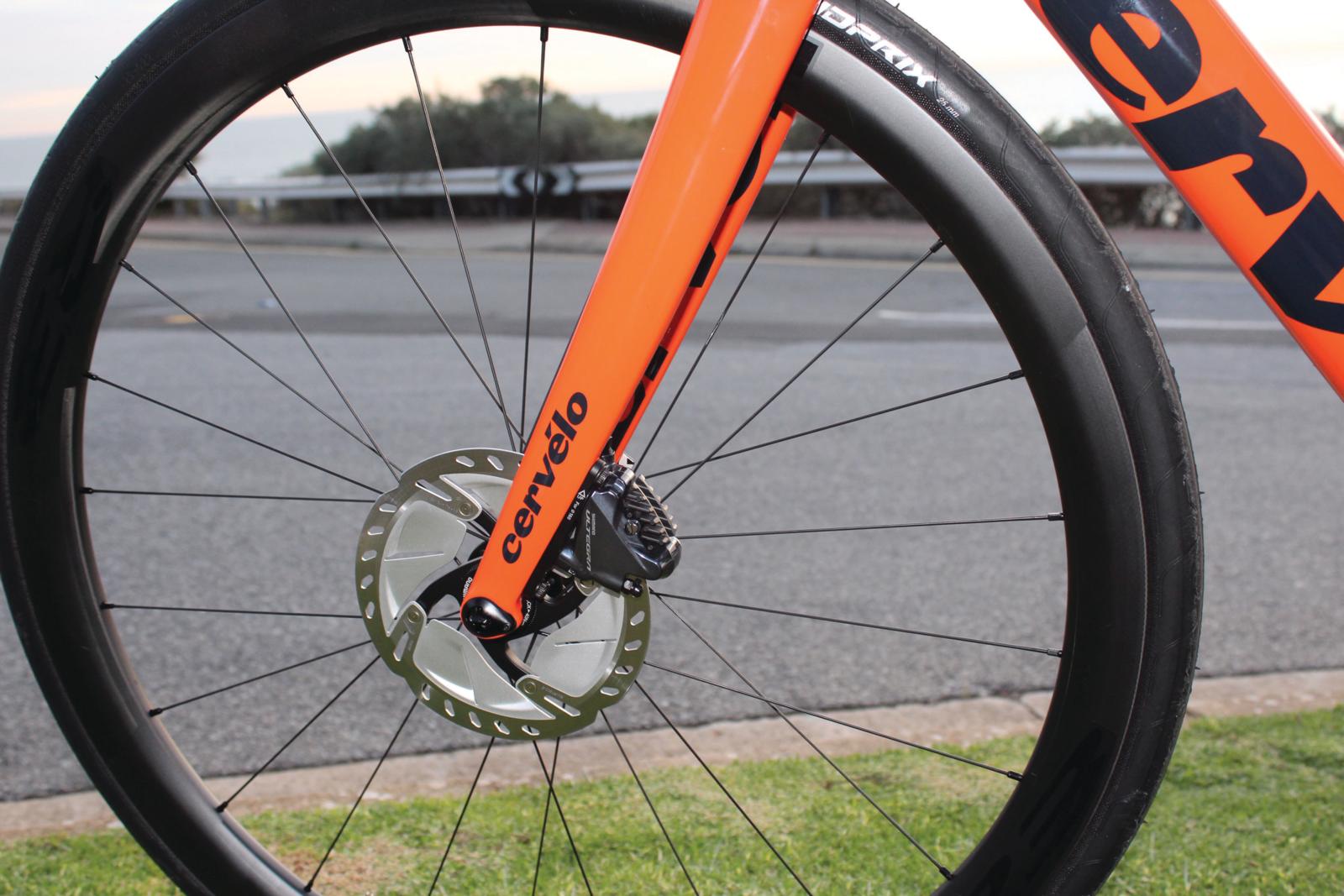 Being old school means I was a sceptic of disc brakes. Discs are dangerous right, and it takes 10 minutes to change a wheel? Wrong.
I wasn't going to simulate a crash but I did purposely slam the brakes on a few times to see how the discs functioned. Firstly, there was no squealing which was a relief, and secondly – and more importantly – they stopped the bike in a very short amount of time without any handle bar vibration or headset movement.
To the forks: they have been reshaped by Cervelo to allow for tyres up to 28mm and the Ultegra 8070 Hydrolic disc brake calipers and SM-RT800 160mm rotors.
Cervelo knew that racing would be a big part of the R3's appeal so they decided to adapt Focus Bikes impressive 'RAT' (Rapid Axle Technology' system. I stopped and took both wheels out as, being an old school rider, I am very sceptical about disc brake turn around times for a wheel change.
Rapid Axle Technology is a fast release thru axle system with its T-Bar end and quarter-turn lock. The unlock system makes for very efficient wheel changes or puncture repairs, the design is lighter, more subtle, and the spring has a nice feel to it – almost the same a non disc quick release system. So wheel changes are a matter of seconds and inner tube replacements simply a matter of minutes.
A Climbing Machine
I continued on and the first obstacle of the day was a 4km climb with an average of 9% with some gravel and 20% pitches. I hit the first section which was tarmac with speed and what I noticed was is how stiff and responsive the R3 was when riding out of the saddle, and this is what disc brake bikes are all about.
Cervelo say the R3 with its Squoval shaped tube design has a 25% increase in stiffness at the BB compared to rim brake frame designs. This is where we find the advantage of disc brakes, particularly while putting the power down on the climbs and transmiting power to the pedals – the R3's responsiveness is impressive. There's no flex and no disc rub against the calipers – a massive plus as this is not always the case with disc brakes.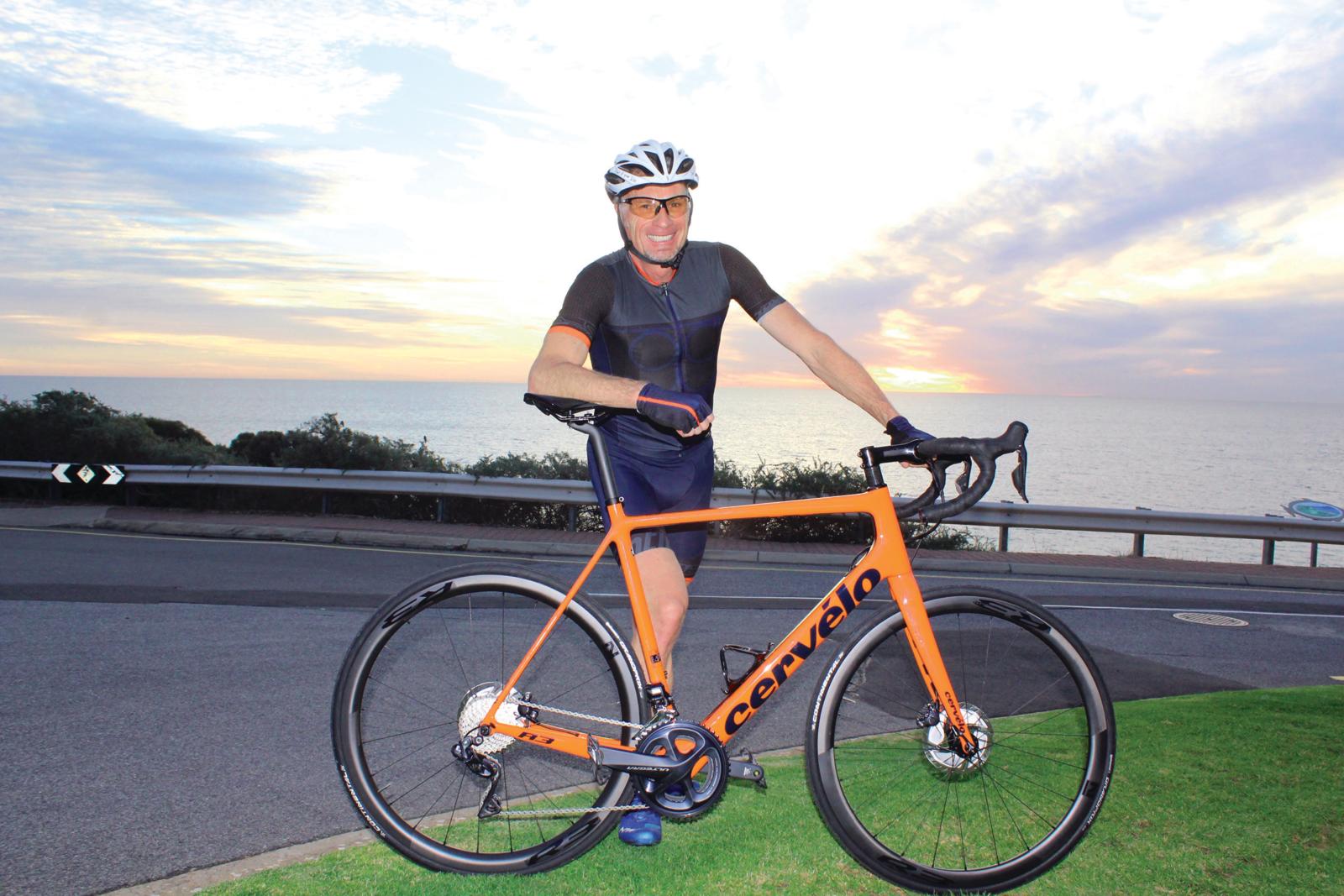 To The Gravel
The gravel sections were no problem for the beast – it chewed up the gravel like Merckx chewed up his rivals back in the day. This has a lot to do with the R3's new geometry and wider tyre clearance so 28mm tyres can be fitted with ease and ridden at a lower pressure. Note that the pros are embracing lower tyre pressures to reduce fatigue on the longer rides, and since wind tunnel testing has shown that wider tyres deliver aero benefits as well it has become a win-win situation: a more comfortable ride on gravel and I was always in complete control of the bike.
What was important to note as well there was no rattling of the internally guided cable system on some of the rougher sections – 
I was expecting to hear at least something and there was nothing but the soothing sound of rubber on gravel.
Miss Descender
What goes up must go down, and fast descending has become an important part of pro cycling; see how Mr Chris Froome has improved this skill through the years – the apprentice has now become a master of descending.
The R3 was designed to be a versatile all-round machine and this particularly shows on the descents.
The geometry has been enhanced with a lower stand-over height and extra toe clearance which, combined with the wider tyre clearance, offers extra stability downhill, and I felt that the R3 hugged the tarmac beautifully on the 
switch backs I had to negotiate. I was able to brake later than 
I normally would on a rim brake bike and always felt in control – a major plus for the disc 
brake fans.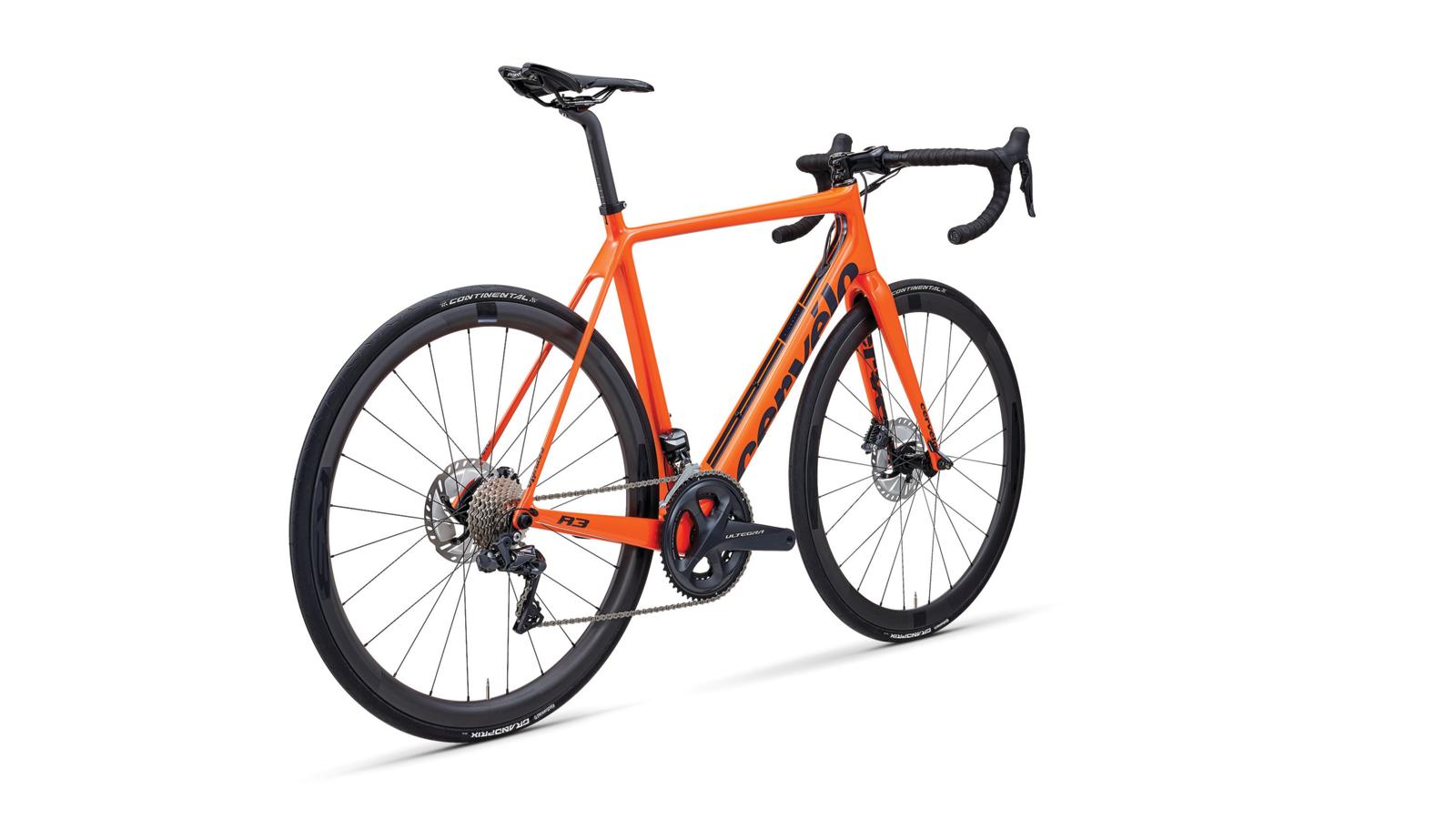 Quality
Cervelo is a pedigree brand and once again they have delivered something very special. The R3 disc Di2 is a high quality versatile machine which can be raced on toured on or you can even take it out on the dirt and gravel all day. Cervelo have once again, with their engineering and geometry adjustments, lifted the bar a few notches higher.
Performance
Excellent all-round performance. The bike performed extremely well as it was intended in the hills on the flats and even on the gravel. The new geometry could be felt especially while climbing and descending – sure, it takes some getting used to how the disc brakes operate on longer faster descents, but once you 
get the feel there is no going back to rim brakes.
Value for Money
The R3 disc came with a Ultegra Di2 group set and carbon clinchers with a RRP of $5500.00. We are talking a steal here…did they get the RRP wrong? Do Cervelo think its Christmas? I don't know, but from my experience and at this price point it begs to question why would I bother with a Dura Ace groupset when this build has it all.
Overall
Cervelo deliver once again. The R3 has the wow factor, the Squoval jumps out, it ticks all the boxes of today's modern bike – Di2 disc brakes, carbon clinchers. Do I think it's a Tour de France winning bike? No, and it wasn't intended to be. It's a fantastic all-round machine that feels at home in the mountains, on the flats and even on the dirt and gravel, and for that price it's a steal.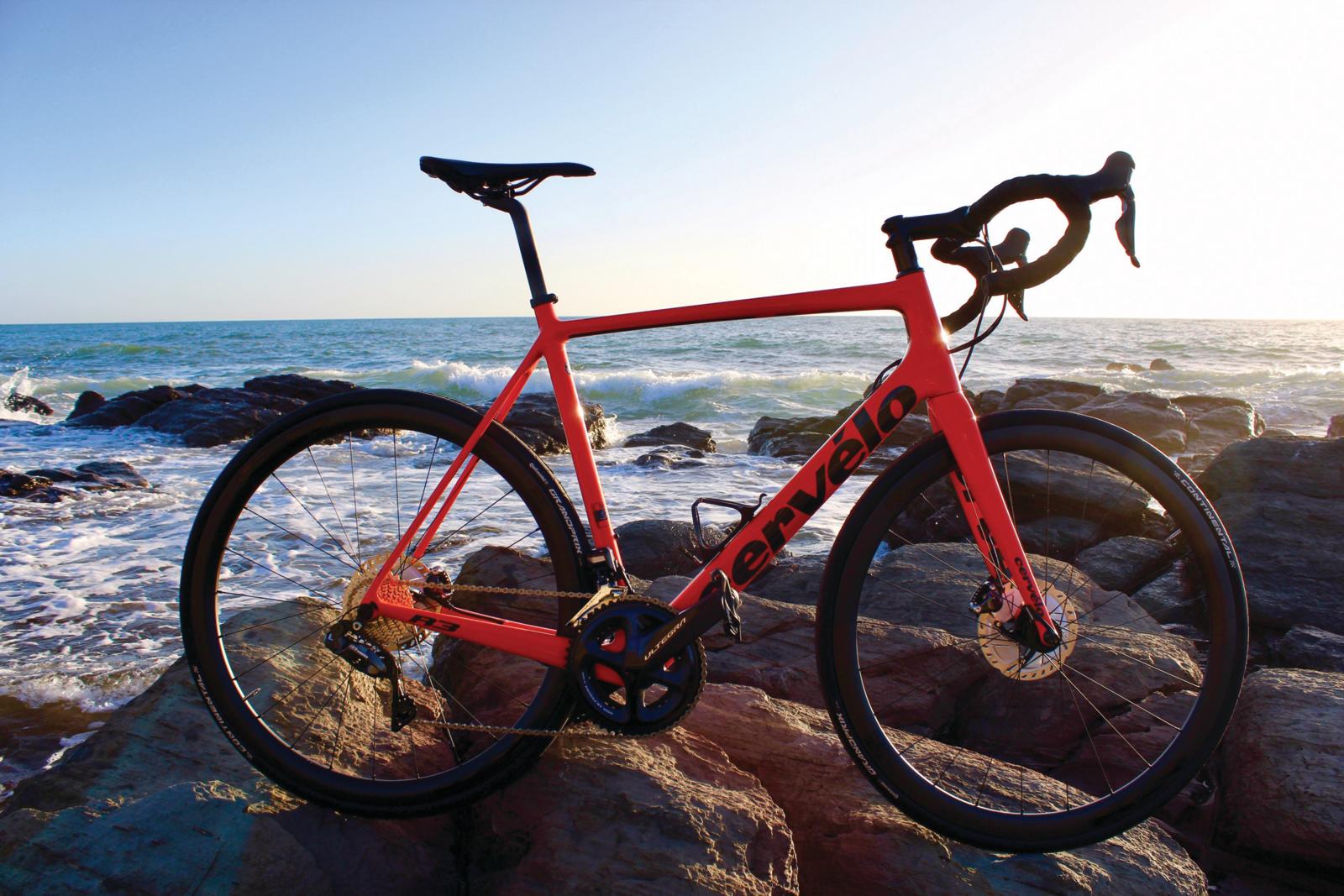 SPECS
FORK Cervélo All-Carbon, Tapered R3 Fork for Disc
HEADSET FSA IS2 1-1/8 x 1-1/2
WHEELS Novatec R3 Carbon38mm Disc
TYRES Continental Grand Prix SL 25mm
CRANKSET Shimano Ultegra 8000 52/36
BB Cervelo BBright Connect 24×90
CHAIN Shimano CN-HG701, 11 speed
FRONT DERAILEUR Shimano UltegraDi2 8050, 11 speed
REAR DERAILEUR Shimano UltegraDi2 8050, 11 speed
CASSETTE Shimano Ultegra CS-R8000, 11-30
SHIFTERS Shimano Ultegra Di2 8070, 11 speed
BARS Cervelo AB07 Ultra Light Alloy Bar
STEM Cervélo Ultra Light Alloy Stem
BRAKE CALIPER Shimano Ultegra 8070 Hydraulic Disc
ROTORS Shimano SM-RT800, 160mm
SADDLE Prologo Zero II STN
SEAT POST Cervélo Carbon SP19
RRP $5500