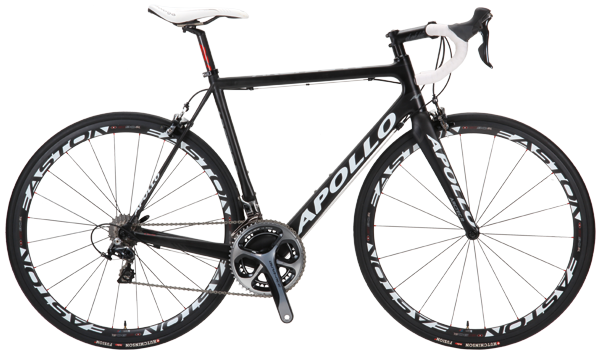 If there was ever an example of 'out with the old and in with the new' then this bike is certainly one.
Back in the day, Apollo mass-produced steel framed road and mountain bikes to suit the Australian market of the time. This brand was one from only a small number of Australian owned bike companies that people wishing to buy a steel framed road bike could get their hands on. Over time Apollo continued to research and develop their bikes, up-speccing a range of both mountain and road bikes under the Raceline brand. Now they have transformed the company from one known for quality steel framed family bikes, to a legitimate carbon race bike manufacturer.
They made a bold statement to this effect back in 2010 with the Arctec R listing optional SRM power meter cranks and a price tag of $12,500. In 2011 there was again a power meter option; this time Quarq cranks and price of $8,999. Now more moderately priced (as is the trend across the whole industry) and without the power meter, their latest top end machine, the Apollo Arctec R- Dura-Ace still has the credentials of a top shelf race ready machine.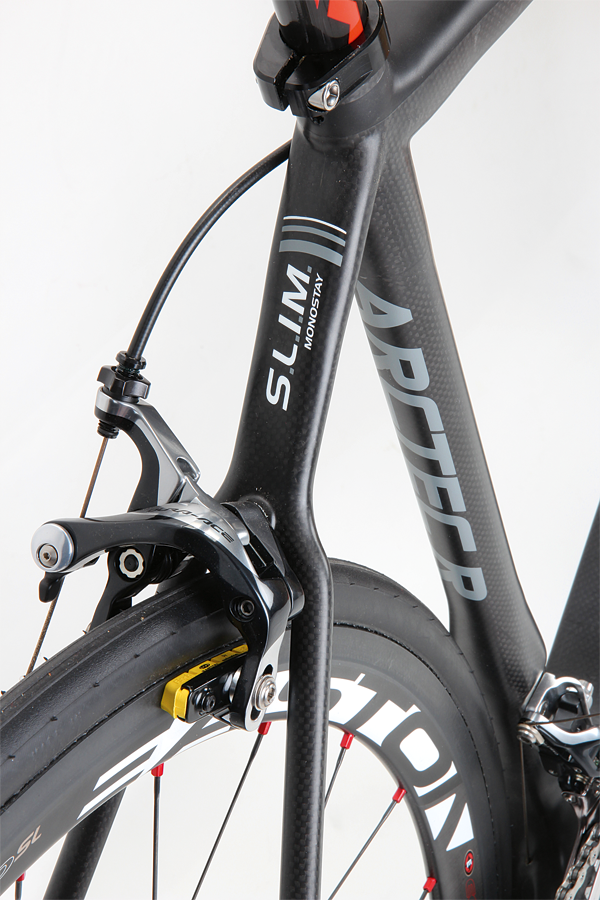 From the moment I set my eyes on this bike I could feel an instant bond between us. This bike looks superb in the flesh, from the rock solid full-carbon frame to the 2013 Dura-Ace 11 speed and the Easton carbon wheels.
The 2013 Arctec R includes many technical advances in frame production. The modular monocoque carbon frame uses a unique multi-weave carbon construction technique. Apollo has also begun using nano carbon particles in their manufacturing process. Nano particles are embedded in the raw carbon material, increasing the volume of actual carbon solids and reducing the proportion of resin in the frame. This makes for a stronger bond between carbon layers resulting in a stronger frame. Apollo also claims greater vibration absorption. Whether it's the way the carbon is bonded or the physical dimensions of the frame is impossible to tell, but I did find the bike comfortable and enjoyable to ride, logging some serious miles over the test period.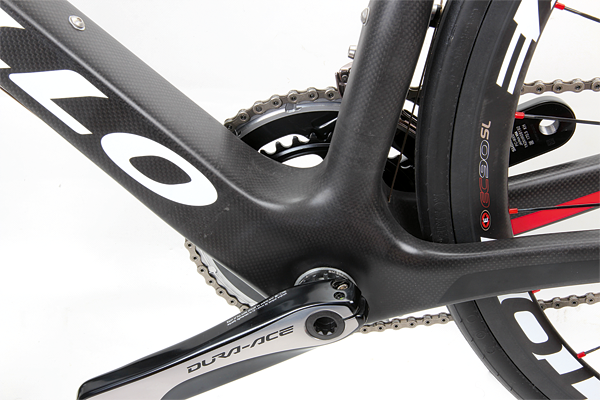 Apollo also uses three different grades of carbon fabric in their frame building process. Ultra light 60T carbon is used along the tube sections, 40T around the bottom bracket and head tube junction points for higher strength and a combination of 40, 50 and 60T in other areas to achieve precise strength and weight balance. Polyurethane inserts are also used to keep the carbon wall thickness accurately controlled throughout the entire frame. A wrinkle free moulding process ensures the frame has no excess resin (read: extra grams) and no weak points.
Apollo has given this frame some vertical flex to increase comfort. The rear stays are very thin and are attached to a slim monostay resulting in a nice compliant feel while seated. The final technical inclusion is the tapered head tube keeping the front end rigid, improving steering and handling.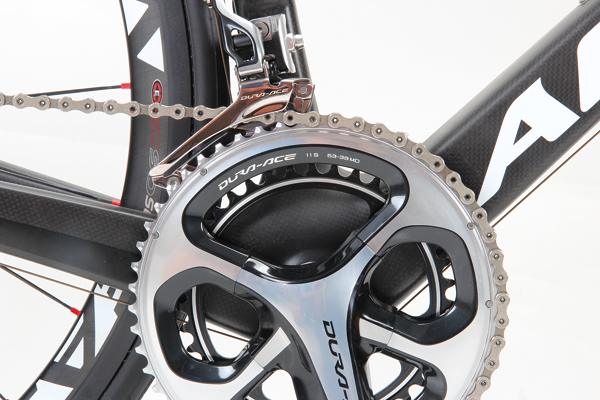 Its geometry, particularly its short wheelbase, make this bike corner exceptionally well. Descending on the Arctec is great fun too and I felt faster on it than any other bike I've ridden. I mentioned the frame has directional weave for lightness and strength earlier. On the road you can feel the technology working; the carbon layup limits sideways deflection considerably while allowing the rear end of the bike some vertical give. The ride is soft enough down the back for comfort, but it doesn't allow the wheels to get squirrelly and affect directional control. Cornering hard and braking late were never a problem and these features should be a strong consideration when deciding to buy a race bike to improve your results. Apollo seem to have the balance between flex and steering precision perfected.
The bike was also a treat to climb on. The strength around the bottom bracket ensured all power reached the back wheel while out of the seat on steeper climbs. The same can be said when sprinting as well. I did notice some small amount of lateral flex in the rear of the bike during standing starts. However this level of power transfer is not something you'll apply in race or general ride conditions. This was simply a test to satisfy my curiosity after noticing how slim the rear stays were.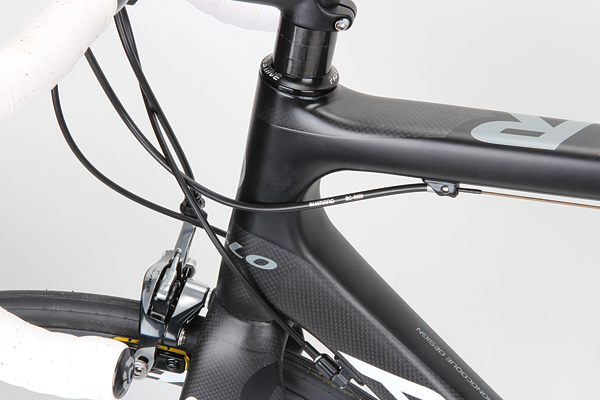 The bike is fitted out superbly. The 2013 Dura-Ace is a delight and although not electronic, this mechanical system sits at the top of the tree in its field, with performance to match. The 11-speed rear cassette ensured every gear possibility required is at your fingertips and the smoothness and precision of a change is impeccable.
The new Dura-Ace crankset aligns perfectly with the front derailleur and this combination makes for precise front gear changing without risk of dropping the chain. The cranks are 172.5mm for the medium size frame, stepping up to 175mm for the two large sizes and down to 170mm for the two small sizes. 53×39 chainrings are fitted to all crank sizes.
Bikes in this series range from the Vispo to the top race bike being the Arctec R Dura-Ace, with four others in the range having similar technology, only differing by the components attached.
Apollo have used anEastonbar and stem combo to complement the wheels. And to continue the comfort level up top, Apollo have attached soft compound bar tape and a Prologo Scratch Ti 1.4 custom saddle.
The Dura-Ace is of course a great choice, but possibly the best choice in speccing of this race machine was the Easton EC90 carbon clincher 38mm deep dish rims. Cadel Evans rides these wheels for very good reason. They roll superbly and are a real treat in any condition; even crosswinds or headwinds. They are strong and durable enough to be both a training and race wheel. Hutchinson Fusion 3 Kevlar pro tech tyres have been fitted which were more than capable of matching the requirements of the test but for a small outlay, top of the line clinchers would make these wheels ideal for any race.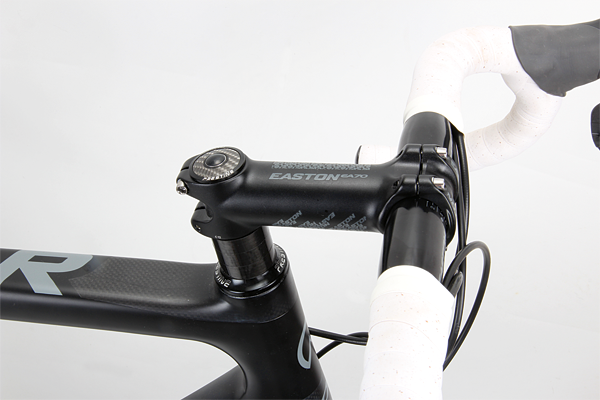 Perhaps a valid endorsement, the Victorian Institute of Sport has agreed to work with Apollo and so some ofAustralia's top young riders coming through are enjoying the technology and performance of this great bike.
The Arctec R is a real head turner and a true performer on all fronts. Apollo have designed a credible race-worthy bike in the Arctec R. I strongly recommend you look at and test ride one prior to purchasing any new race bike.
Specifications:
FRAME: Arctec super light carbon monocoque frame
FORK: Arctec oversize full monocoque fork with carbon blades, steerer crown and dropouts.
HEADSET: A-head integrated 1 1/4 to 1 1/8 sealed cartridge bearings
HANDLEBAR: Easton EA70 42cm road bars
HEADSTEM: New Easton EA70 110mm
CRANKSET: New Shimano Dura-Ace 172.5mm
BOTTOM BRACKET: New Shimano Dura-Ace with external cups
PEDALS: N/A
SHIFT LEVERS: New Shimano Dura-Ace
BRAKES: New Shimano Dura-Ace
F DEAILLEUR: New Shimano Dura-Ace
R DERAILLEUR: New Shimano Dura-Ace
CASSETTE: New Shimano Dura-Ace 11-25T
SADDLE: Prologo Scratch Ti 1.4 custom
CHAIN: Dura-Ace
WHEELS: Easton EC90 SL Clinchers
WEIGHT: 7kgs
PRICE: $6,999 rrp
DISTRIBUTOR: Apollo Bikes Australia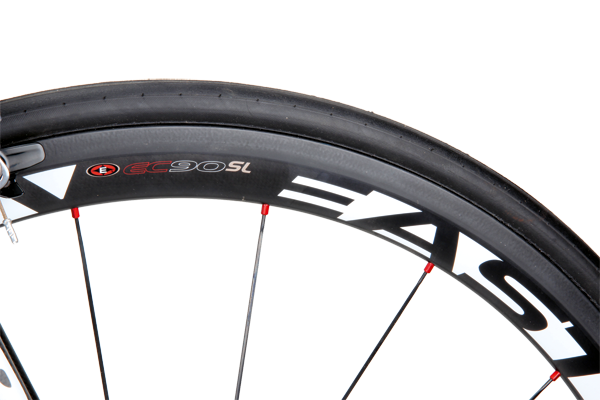 SUMMING UP
QUALITY
Very good. Great looks. Superb inclusions and technology to match. Apollo has put together a complete package with this one.
PERFORMANCE
This bike should come with a 'Ready to Race' tag. It performs at all levels. If you're looking for a bike to increase your confidence level and also your results, this machine could well be it.
VALUE
The Arctec R has attached the best mechanical system on the market as well as high quality race wheels and some superb technical advances. With all this rolled into a super-light carbon race geometry frame, there does seem to be good value in your investment.
OVERALL
This is the most technically advanced bike Apollo have produced. It's a true race machine that performs at every level. I'm sure this brand will be seen more and more once people have taken the time to enjoy what this bike has to offer.