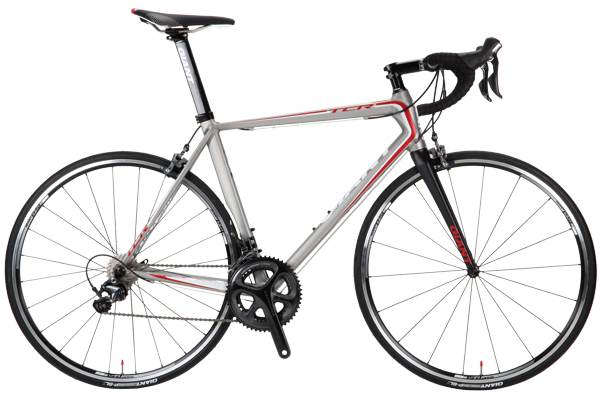 OOPS! We made an error with the photos of the Giant TCR SLR1 in the November December issue! We're very sorry about that, and more than a little embarrassed. Anyway here is the review, in full, with the correct images. It's definitely worth a read.
You don't need to thumb too far back through the book to find pictures of Lance and Marco duelling it out on lightweight alloy bikes. These days it's all about carbon for performance bikes, or is it? Giant asks the question: were the alloy bikes of yesteryear defined by an outdated material, or simply outdated manufacturing?
Giant prides itself on being the only frame manufacturer that performs its entire production process; from making sheets of carbon or smelting alloy all the way to finishing and assembly. For most manufacturers it makes sense to outsource some of these functions to specialists (many other brands outsource to Giant) but it makes sense to own the whole darn basket when you're as giant as Giant.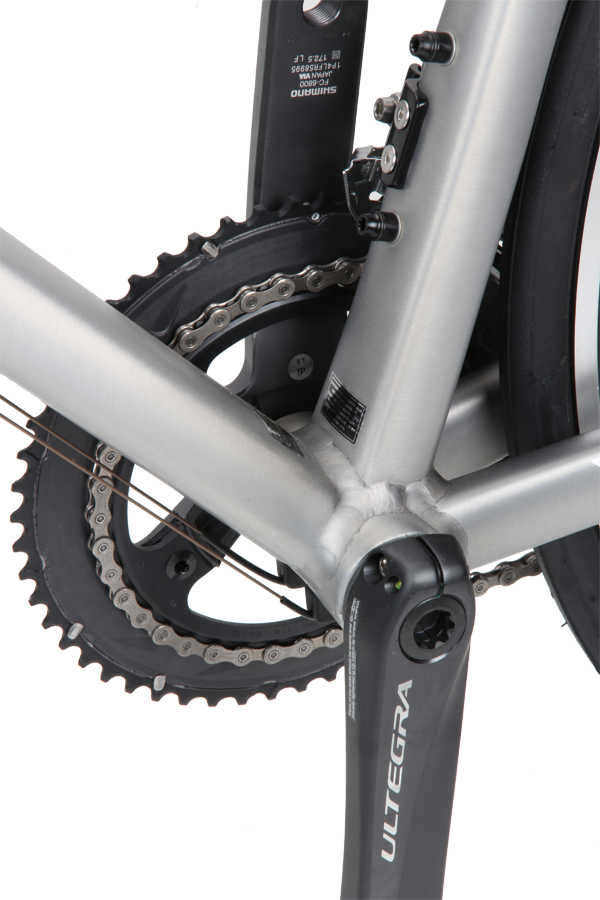 My favourite selection in buzzword bingo is 'synergy' – when the whole is greater than the sum of the parts. This is what Giant is about. Their ability to control the product from the production of the raw material to the finished frame produces results that would be impossible otherwise.
Giant has always liked to push the boundaries of their materials. Their development of advanced hydroforming and welding allows them to produce impressive alloy frames and their Cadex bikes were amongst the first production carbon-tubed frames. Their mountain bike frames are renowned for durability, low weight and low price.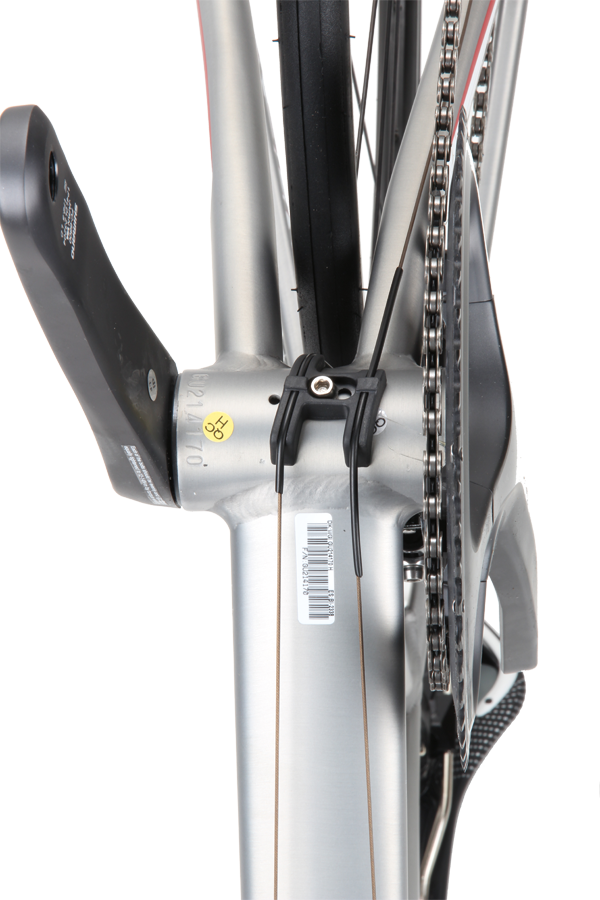 For many seasons Giant has directed their efforts entirely to carbon for their performance road range, reserving alloy for entry-level bikes. Giant's top TCR Advanced SL bikes have been developed with input from pro riders on Giant sponsored World Tour teams. Just below the Advanced SL bikes are the second-tier Advanced models, and in some countries there is a line of TCR Composite bikes below the Advanced. Giant already had three tiers of carbon TCR before the introduction of the new alloy SLR. Does the worlds biggest bike maker needed to expand their line up?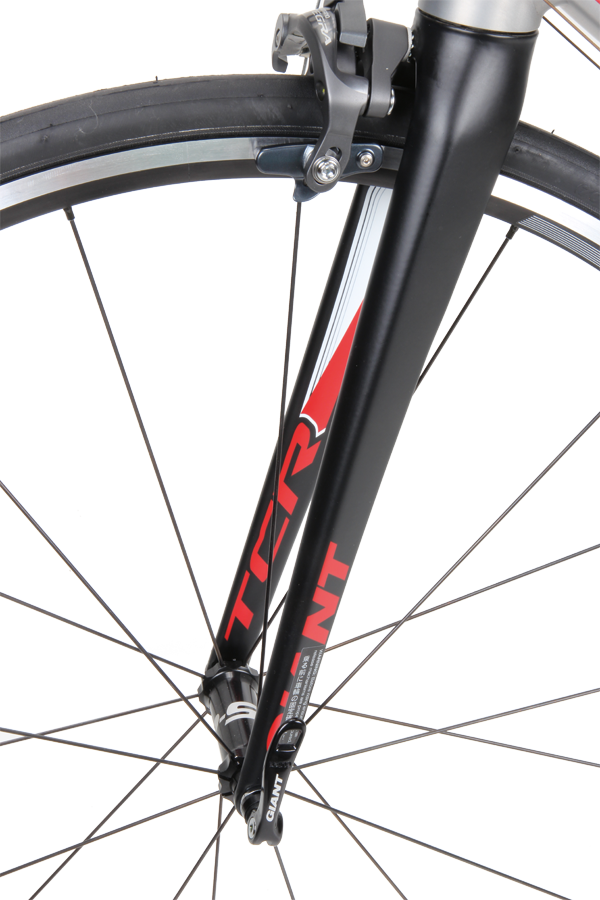 Carbon offers makers the ability to combine performance attributes in almost any way imaginable. Skilled composites engineers can design stiffness, comfort, weight savings or durability into a carbon frame due to the freedom of the raw material. Alloy doesn't offer the engineer such an open slather of options. The properties of alloy have definite boundaries that can't be overcome by altering fibre orientations or elongation properties. That said, Giant has still been making plenty of alloy frames and has continued to develop their alloy technologies. Alloy is a huge part of their business so the motivation exists for continued advancement, and hence the TCR SLR.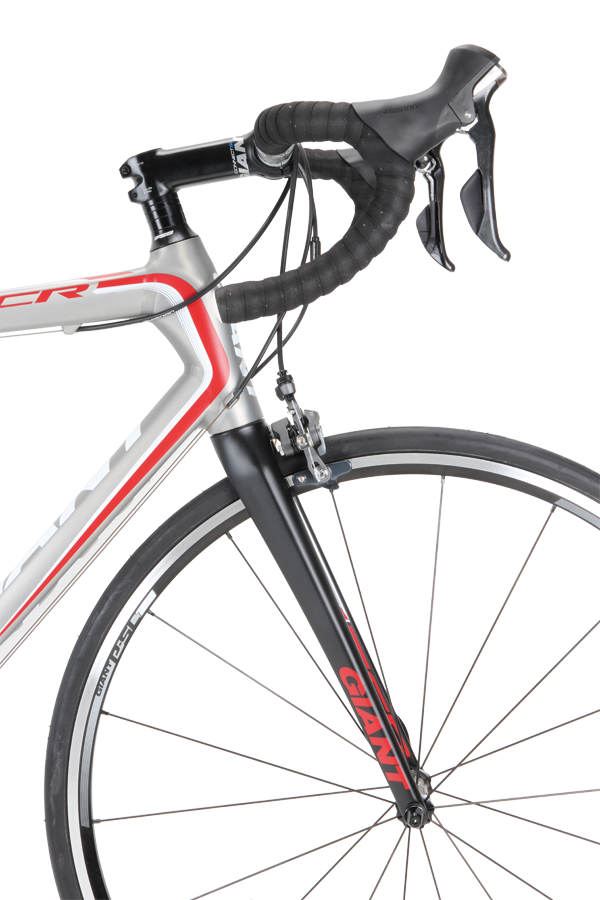 Giant are not the only manufacturer that has stuck with or revisited a high-performance alloy bike. Cannondale's alloy CAAD10 frames have an almost evangelical following and are their best-selling model worldwide. Specialized has re-launched their Allez line, Jamis has recently released a performance alloy frame and UK based Kinesis has just bought out a high-end alloy model. There are may more examples too. These alloy bikes are designed for going as fast as possible for the least money. They promise to deliver a stiff and direct feel at an acceptable weight and have race-focused geometry. The Giant and Cannondale share the identical geometry to their Pro Tour level carbon siblings, but at a fraction of the cost and the addition of only a few hundred grams.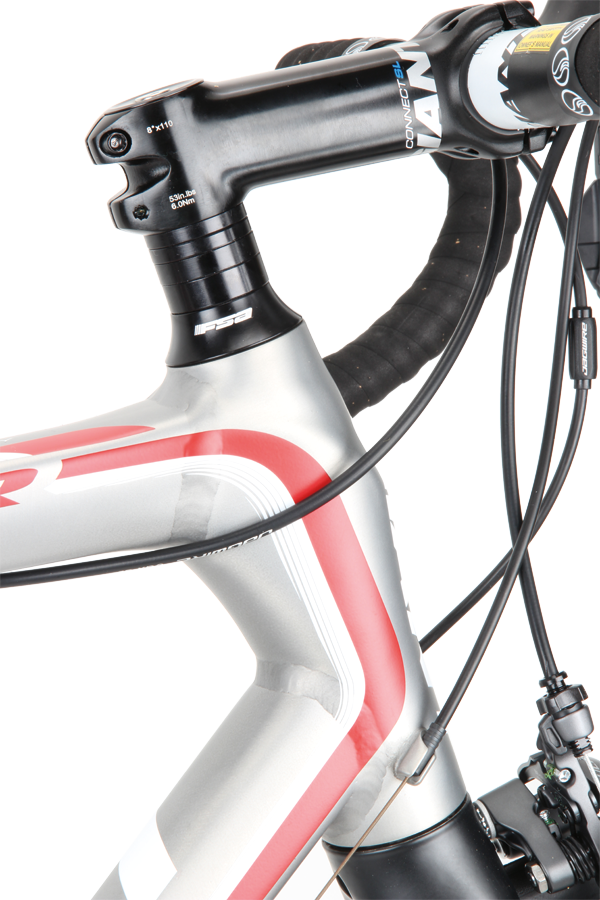 Generalisations suggest that alloy frames are stiff and tooth-chippingly harsh to ride, and that carbon frames are light, stiff and smooth. The logic of a bang for buck alloy frame for racing is incredibly sound. Racing can be especially hard on equipment and the wallet, as tangles and tumbles are frequent. In this format the stiffness and responsiveness that a premium alloy frame offers may outweigh the weight saving or long-distance comfort of a premium carbon frame. An alloy frame offers a lot of reward for relatively little financial risk.

According to Giant, the SLR combines stiffness and price in a way that their carbon bikes don't. Giant see the SLR customer as a rider that wants a bike with maximum responsiveness for a great price, or as perfect training bike for owners of their premium TCR Advanced SL bikes. Giant acknowledges that alloy has limitations in ride quality, but that the price to performance ratio of alloy makes the SLR a compelling value proposition. Giant are using SLR technology in some of their cyclocross bikes this season and don't rule out that it may be used on other models in future.

In a former life I was part of a team tasked with selling a new carbon/alloy bike, and the SLR makes me think back to this. The maker spent years developing this bike to replace an all carbon bike, a Grand Tour contender. The new bike was cheaper, stiffer, more compliant and lighter. Their research showed that the stiffest bike they could make at the price point had to use alloy; it was not possible with carbon. Interestingly the maker was forced to revert to an all carbon model in the next development cycle, as the market never accepted their alloy bike. Fortunately Giant has the size to offer both carbon and alloy.

A single flick on the rectangular down tube of the SLR lets you know that the walls are very thin. Giant claims that SLR has 20% thinner walls than their previous alloy frames. The welds are smoothed and the frame is anodized before graphics are added—not painting the frame can save well over 100 grams. It's a very futuristic-industrial looking machine from up close. Given that the SLR is so closely related to the rest of the TCR family it's no surprise that the SLR uses an Advanced grade carbon fork and the same carbon seatpost as the Advanced TCR. Giant does not plan to offer the SLR as a frame kit.

Comparison between alloy and carbon could not be easier than between the TCR SLR 1 and the TCR Advanced 1, which share the identical parts spec and a $600 difference in price. Giant uses their own brand parts for every non-drivetrain component. The bars are a great shape, the saddle is long and generously padded (and heavy) and the wheels use DT Swiss hub internals with round spokes and conventional spoke nipples (so they are easy to true). None of it is fancy but it is all functional, with scope for substantial weight savings when upgrade-itis strikes. Describing the new mechanical Ultegra 6800 group is easy: awesome! Intuitive lever shape, powerful braking and John Laws Valvoline-smooth shifts. It's worth noting that the SLR frame routes the cables externally (unlike the Advanced) and the SLR has no provisions for electronic cables or batteries.

Giant have published the results of their in-house testing, which includes frames from their competitors – to find this, just search 'win with giant tcr'. They include weight, and stiffness of steering and pedalling. Giant claims the SLR is stiffer around the bottom bracket than the TCR Advanced and even Advanced SL, and is only just behind the pro-issue TCR Advanced SL with integrated seatpost. Giant ranks it third out of the 20 frames tested!

The other result shows steering stiffness, where the SLR ranks mid pack. It's worth noting that the SLR uses a 1 1/8 to 1 ½ inch steerer fork, whereas the TCR Advanced and Advanced SL use Giant's OverDrive Plus forks with a 1 ¼ to 1 ½ inch steerer. This is said to boost stiffness without any weight penalty.
Weight-wise the SLR lags behind, but it is up against many frames that sell for close to double the price of the complete SLR 1 bike. Claimed frame weight is 1050 grams – amazing for a production alloy frame and comparable or lighter than most in the $2,500 bike price point.
Stats are great, but it doesn't mean that Giant is going to see SLRs fly off the shelves. Bikes are for riding, not analysing. After my first ride I messaged a mate immediately, 'Giant is stiff!'. The SLR wants to go, and it takes less than the duration of first ride to know this like you know your own name. If ever there was a bike made for out of the saddle attacks and daring flyers off the front, then this is it. Giants pedalling stiffness stats for the SLR are completely believable.
Being that the SLR is a race-bred machine, it sports aggressive geometry. Short stays and a low front end leave little to interpretation. This is not a sportive friendly device except at the hand of the fit and flexible. I don't rate myself as the most fit or most flexible, but I'm OK. Cornering on the SLR is like being possessed by the spirit of a bird that is flying through a maze at high speed. The geometry is spot on and the acceleration on offer has you coming into corners at full steam, safe in the knowledge that you can lean the SLR hard and it will hold its line to the millimetre. I'm confident that if I had the SLR for longer I would most certainly crash it. There must be a limit but it's so much fun to push the line on the SLR that you ignore the reality that sooner or later it will come undone.
The biggest revelation in riding the SLR is not addressed in Giant's study, the 'quality' of the ride. It's no surprise that it cranks out of the saddle and rails turns like a rollercoaster carriage, but Giant has formed and welded a frame that can handle longer rides too. My longest ride on the SLR was just shy of six hours, on mostly dead roads. Sure, it's far from a plush ride and it will kick you square between the cheeks if you slam a pothole, but the SLR won't leave you feeling unreasonably sore or arthritic. Giant sells carbon TCR Advanced bikes hand over fist and these should be a smoother riding bike than the SLR, but the SLR isn't the brutal plan B that you might expect.
The SLR compares favourably with many prestigious carbon race bikes in terms of road feel as well as power transfer. A set of nice 25mm tyres and a supple carbon bar would make the SLR a wonderful bike for going long at high speed in between a busy schedule of summer crits and fast club rides. My carbon baby would probably take a backseat to the SLR if Giant forgot to collect it. There's plenty to like about those alloy tubes if you're in a hurry.
Quality
Giant supplies everything expect the Shimano drivetrain and brakes. The frame is finished smoothly and the components fit together precisely and are well designed. There is no need to get rid of the Giant branded parts except for vanity or weight reduction. Oh, the Ultegra is brilliant too.
Value
Value is the driving proposition here. Total athletic performance for less dollars is the SLR's maxim. The complete Ultegra group at the $2,500 price point is always going to be sharp and the SLR dishes out the speed like a more expensive bike.
Performance
The SLR is a dead-set rocket with a beautiful drivetrain and solid ergonomics, and it won't leave you crippled. The SLR goes toe to toe with bikes two to three times more expensive when the wattage rises and it's a maniac in the bends.
Overall
The SLR proves that the material need not define the bike, but an appropriate material is a sound start. Whether Giant can sell the concept of the SLR to a market that largely expects carbon remains to be seen. Hopefully they can, because the SLR is a thrilling bike to ride at a price that is within the reach of many.
Specifications
Frame: ALUXX SLR Alloy
Fork: Advanced composite w/Overdrive steerer
Stem: Giant Connect SL alloy
Handlebar: Giant Connect SL alloy
Saddle: Giant TCR
Seat Post: Giant Vector Aero composite (25mm/-5mm offset adjustable clamp)
Shift Levers: Shimano Ultegra 6800
Brakes: Shimano Ultegra 6800
F Derailleur: Shimano Ultegra 6800 braze-on
R Derailleur: Shimano Ultegra 6800
Crank: Shimano Ultegra 6800 36/52
Cassette: Shimano Ultegra 6800 11-25
Chain: Shimano Ultegra 6800
Wheels: Giant P-SL1
Tyres: Giant P-SL1 700 x 23
Pedals: N/A
Weight: 7.89kg
Price: $2,499
Distributor: Giant Australia www.giant-bicycles.com