Six months ago, Peter Maniaty had never heard of boutique Italian bicycle manufacturer, Officine Mattio. Now, after putting the superb Lemma 2.0 through its paces, he won't soon forget.
How much is provenance worth? It's a fundamental, perhaps even existential, question for a bespoke bicycle brand and one I found myself constantly asking during the course of this immensely enjoyable month-long review.
Whilst still not entirely sure I have the answer, I do know the Lemma 2.0 is a sublime carbon road bike with a romance-laden backstory and a price-tag that's likely to cause plenty of chatter wherever it appears.
Officine Mattio
Translated as 'Mattio Workshops' in English, Officine Mattio was founded in the north-western corner of Italy in 2014 by Giovanni Roffarello, who continues to oversee the business as CEO.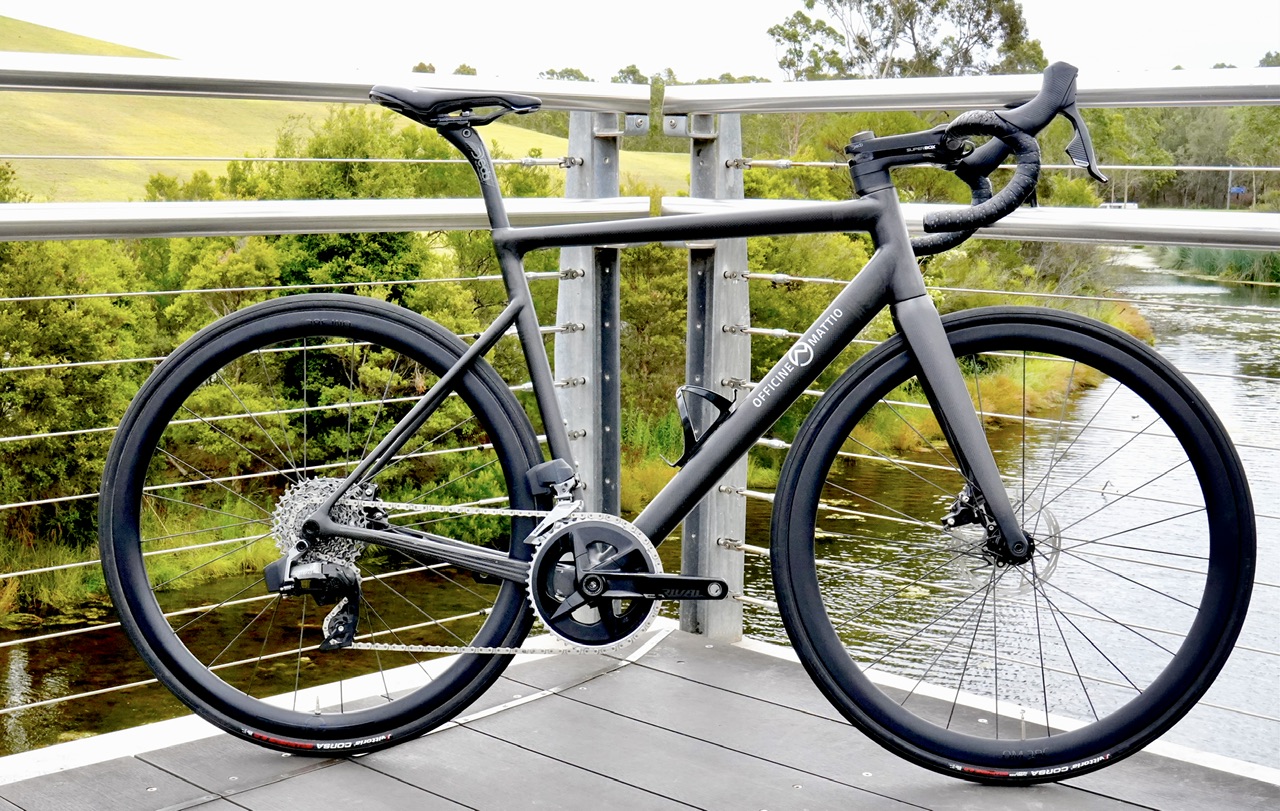 At a time when so many European cycling brands are opting to manufacture and/or assemble their bikes offshore, Officine Mattio is swimming patriotically against the tide. From the in-house design and production of their custom frames and wheelsets to painting and hand-assembly, almost everything about these beautiful bikes happens within the picturesque Piedmont region, not far from the French-Italian border.
The result is a small but hugely impressive stable of hand-crafted bicycles that can fly the Italian flag with an entirely clear conscience. They're pretty much as Italian as you can get.
Headlining the Officine Mattio range in 2023 is the Lemma 2.0. Named after the local alpine climb where Roffarello himself tested early prototypes, the Lemma was the very first frame released by Officine Mattio back in 2015. Eight years on, it's now entered its second generation. Officine Mattio refers to the Lemma 2.0 as an "agile integrated bike". Others have labelled it an "aero all-rounder". I'd simply call it one of the most beautifully-balanced road bikes I've ever had the good fortune to ride.
Styling
Some bikes really scream out for your attention. The Lemma 2.0 isn't one of them, especially not with the raw carbon matt finish of the review model that arrived on my doorstep just before Christmas.
There's a calm and understated confidence about the styling, delivering a reasonably traditional silhouette with few overt flourishes or gimmicks. The design team have really opted for substance over style here; an approach that gets a big tick from me.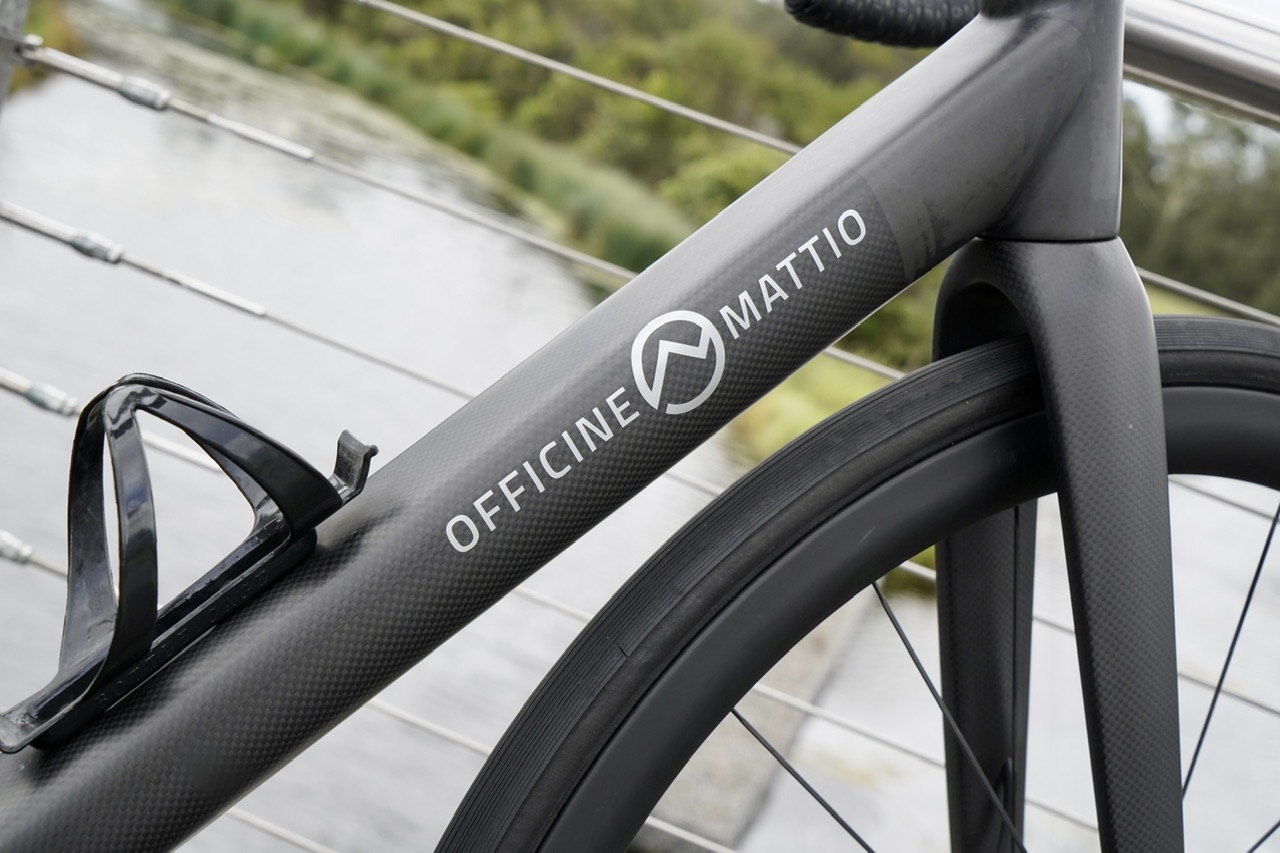 This isn't to say there isn't much to talk about. Closer inspection of the Lemma 2.0 frame reveals some reasonably chunky tube profiles coupled with more subtle airfoil shaping on the forks, down tube and top tube, as well as dropped seat stays. With internal hose routing, wireless shifting and an elegant two-piece Deda cockpit, the lines are clean and unobstructed.
The slender round seat post is adjusted with a discrete tightening bolt under the top tube, rejecting the more angular and/or integrated bespoke seat posts seen on many contemporary aero framesets, delivering a more conventional aesthetic whilst also aiding in vibration damping.
When it comes to livery, the Lemma 2.0 frame officially comes in three standard colourways. However, given Officine Mattio's online configurator allows you to customise pretty much every facet of the build should you wish – including the frame colour, graphics and logo decals, all of which are finished at Officine Mattio's dedicated coating facility – there's actually a kaleidoscope of combinations to choose from, so feel free to express yourself.
Geometry
There's more than a hint of aero design at play in the Lemma 2.0. But this is no hardcore racing beast in the way it looks, or performs. Yes, the geometry is more aggressive than a typical endurance or climbing bike.
But with a slightly longer headtube and wheelbase, coupled with more generous stack and standover, it's a little less compact, offering a more relaxed riding position than a pure aero build. Theory suggests this should make it a more versatile all-round riding choice and, as we'll get to in a moment, that was certainly my real-world experience.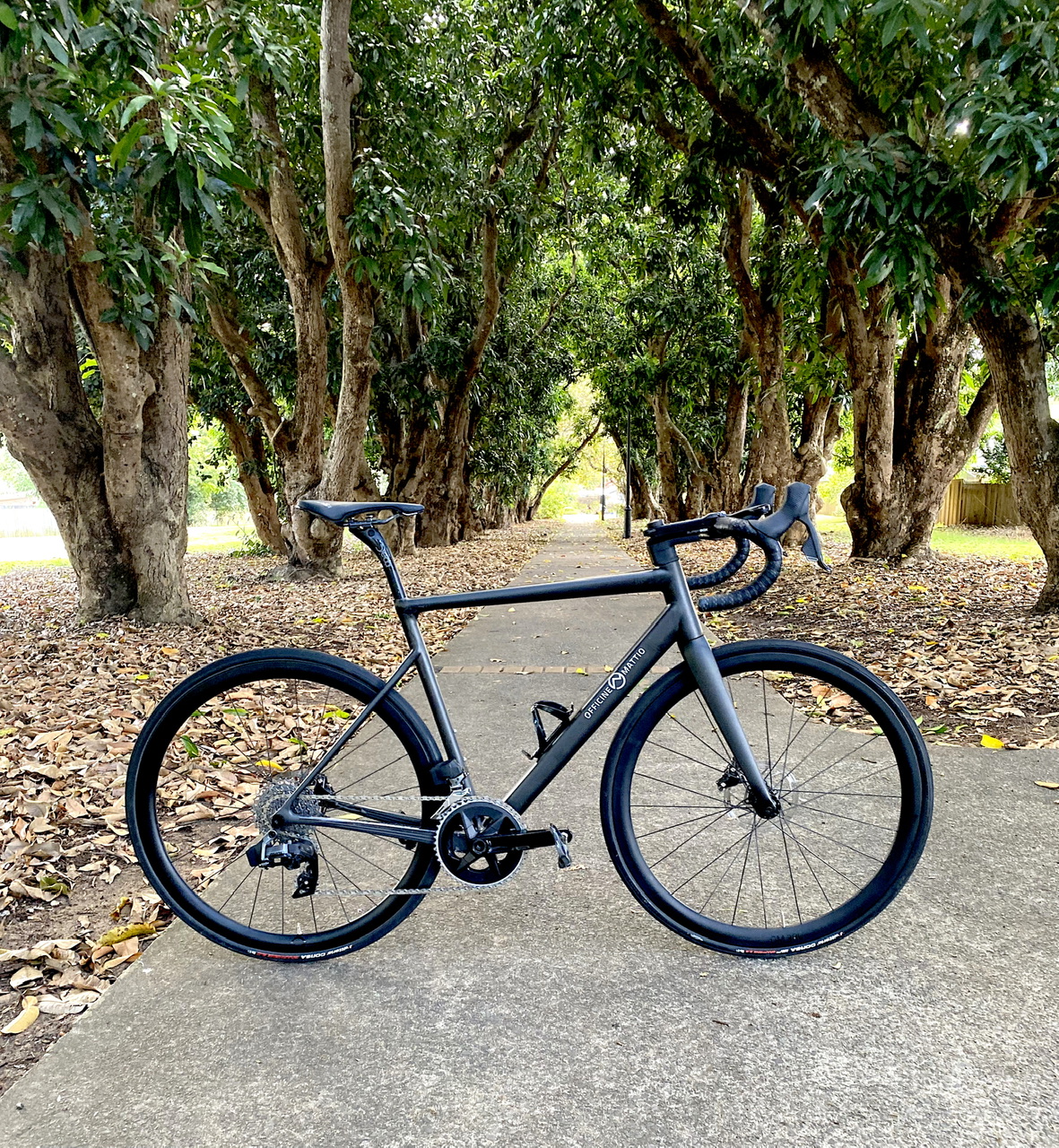 Weight
Just looking at it, you can tell the Lemma 2.0 is no wafer-thin supermodel. But nor is it a weight-laden leviathan. Unpainted, the Medium-sized frameset tips the scales at a respectable enough 900 grams. The complete review bike with bottle cages and pedals weighed in at 8.65kg.
Whilst certainly not light, a significant chunk of this can be attributed to the excellent-but-hefty (and largely alloy) SRAM Rival AXS groupset which weighs over 3kg alone. If your budget can stretch to include a higher spec groupset, you'll instantly shave upwards of 600 grams.
Frameset
Whilst it may not quite be a Da Vinci or Michelangelo, the Lemma 2.0 frameset is indeed a work of Italian art. Hand-crafted from TORAYCA high performance carbon yarns, Officine Mattio uses a proprietary tube-to-tube process called IWS (Internal Wrap System).
Rather than conventional processes where each tube is bonded together in a jig before being wrapped, bagged, pressurised and heated from the outside, the Lemma 2.0 frame is created with precisely controlled temperatures and high forming internal pressure that presses the carbon out towards the mould.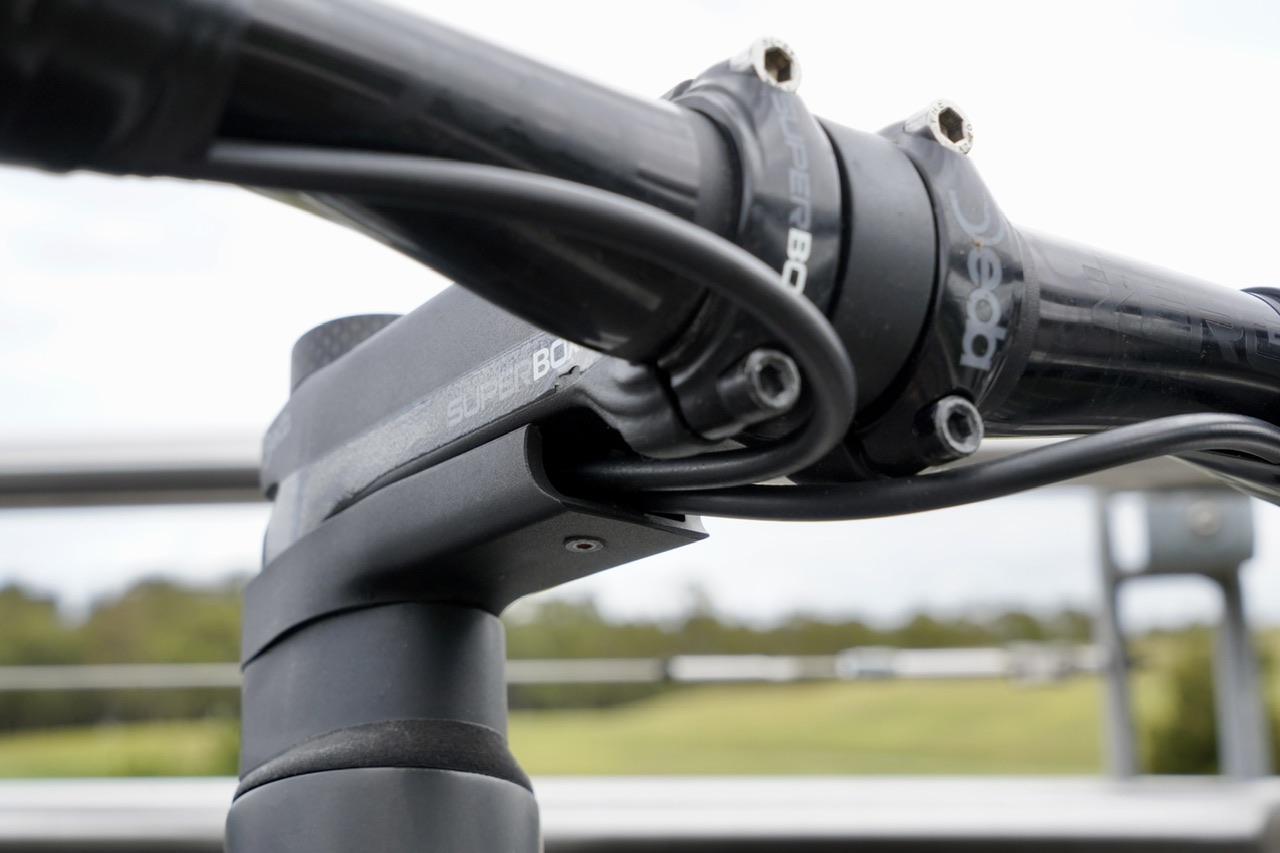 Instead of having clear joins between each tube, this allows the carbon fibre to run uncut through the junctions on the Lemma 2.0 frame, reaching deep into each tube section.
The result is a beautifully consistent structure with the enviable strength and streamlining qualities of monocoque moulding, whilst also allowing full custom frame geometry – a key point of difference for Officine Mattio. It's a genuinely bespoke approach with plenty of benefits to riders, especially those with unique geometry requirements, albeit at a price.
Tech & Components
With the groupset an obvious exception – SRAM, Shimano and Campagnolo options are all available– every other element of the Lemma 2.0 is hand-crafted without leaving the Piedmont region of Italy. The exact specs of the review bike are listed at the end of this article. However, they're almost irrelevant because everything is assembled to order.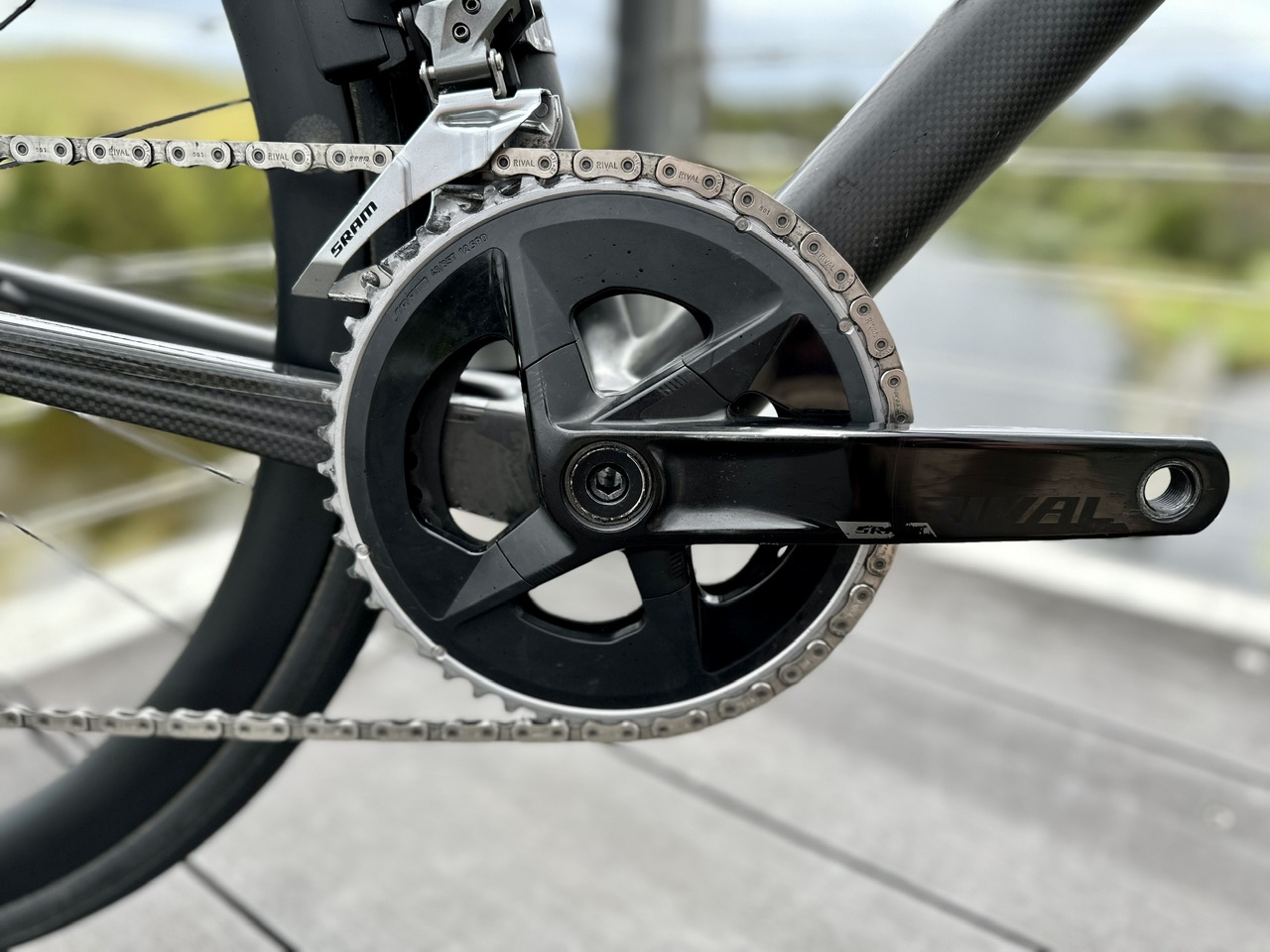 Using the configurator on the Officine Mattio website, you can tinker away to your heart's content, tailoring everything from your preferred tube dimensions, braking system, groupset, stem and power meter to your wheels, hubs, tyres, saddle, colourways and even bar tape. It really is a case of choose your own adventure.
Wheelset
For this review the Lemma 2.0 came fitted with Officine Mattio's excellent in-house tubeless-ready carbon wheelset, Quaranta CS. These wonderfully versatile 37mm hoops tip the scales at 1,496 grams and boast carbon spokes (24/24), internal brass nipples and measure 19mm/24mm (internal/external rim width).
The aluminium alloy hubs feature silky smooth CeramicSpeed bearings and are produced exclusively for Officine Mattio by global bearings giant, SKF, in nearby Airasca on the outskirts of Turin. The review rims were fitted with 28mm Vittoria Corsa Graphene 2.0 clinchers. Again, there are numerous wheelset, hub and tyre options available. Maximum tyre clearance is 35mm.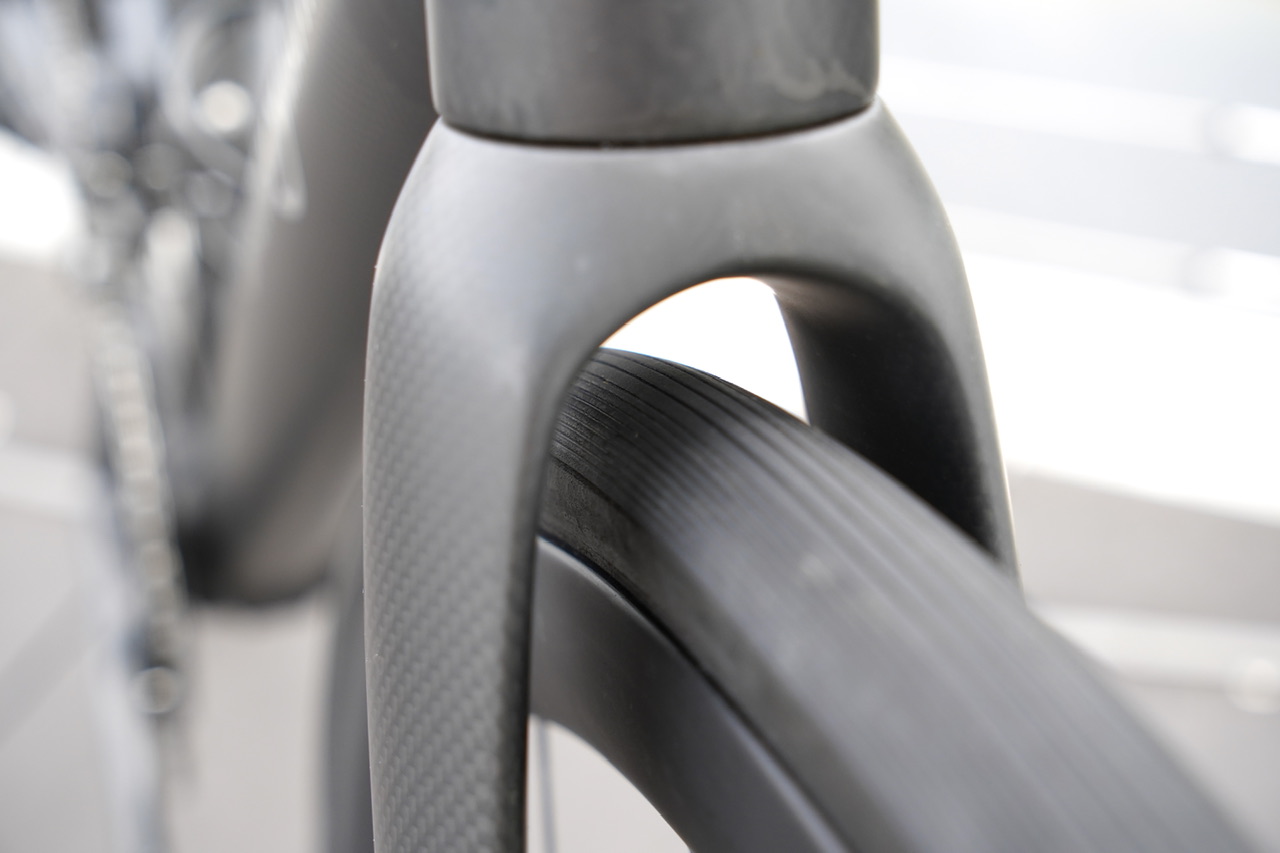 On the road
Quite simply, the Lemma 2.0 is a dream to ride. Equally at home on the flat or the hills, damp or dry, smooth tarmac or corrugated rural lanes, it took everything in its stride and was more than adept at dealing with the bumps that inevitably await on Australian roads. With minimal lateral flex, I found the ride quality was reassuringly firm, stable and controlled, accompanied by solid power transfer and just the right amount of road feedback. Not too much, not too little. Goldilocks would no doubt approve.
The Lemma 2.0 was also extremely comfortable to ride, even over a pair of heavily-undulating 100km+ rides, something I'd attribute to a combination of the more relaxed frame geometry, forgiving rear section/seat post and cushiony 28mm tyres (clinchers). Install tubeless tyres at larger sizes and lower pressures and the suppleness of the ride will no doubt be even more pronounced.
Handling was first-class across the board and, overall, I found the Lemma 2.0 very intuitive and easy to ride. It does exactly what you ask it to do and with few quirks I instantly felt very relaxed in the saddle, as if I'd owned it for years.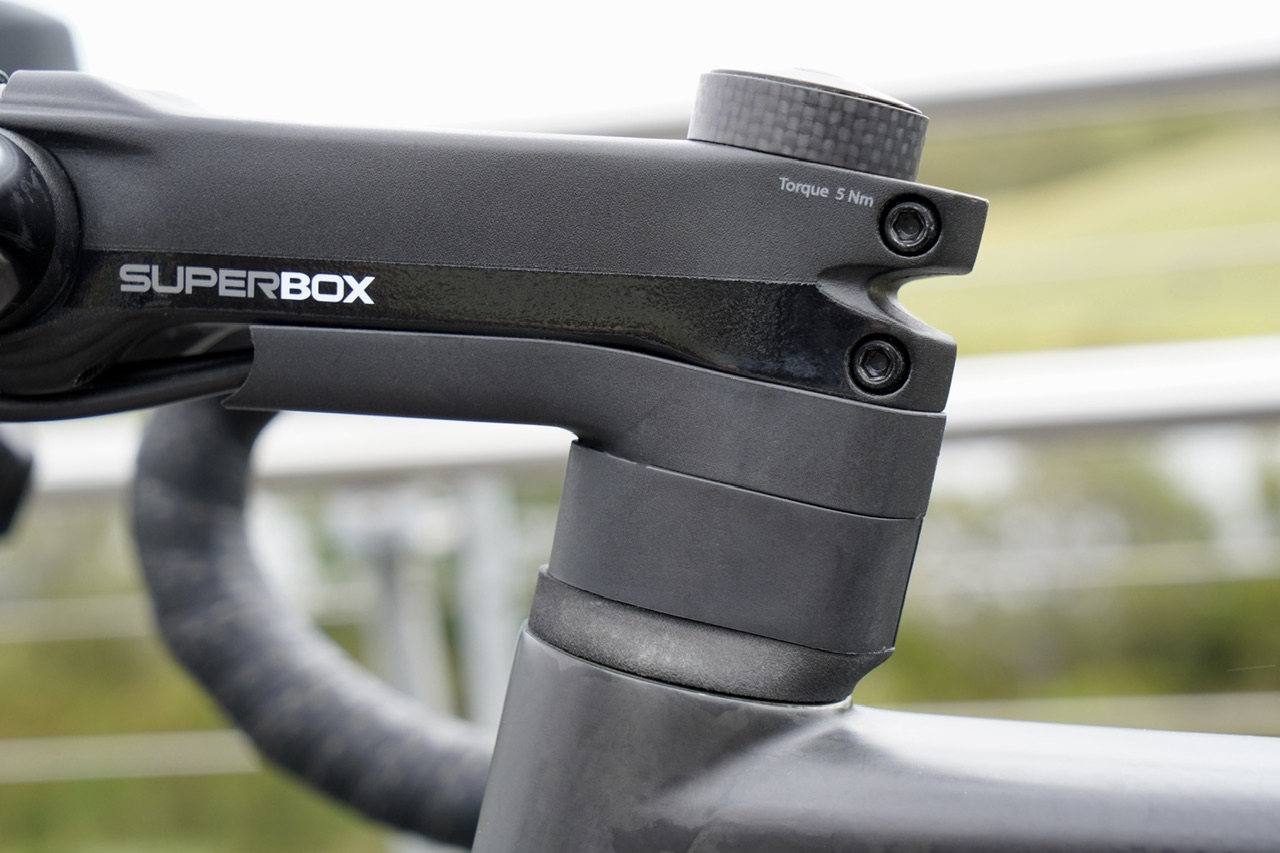 Whilst more of an all-rounder than an out-and-out speed machine, it's certainly slick enough for the majority of us mere mortals – even more so should you opt for larger gearing (the review bike was fitted with a 48/35 compact chainring) – and wouldn't be out of place in a paceline or club criterium, delivering an excellent balance between refinement, robustness and responsiveness.
Overall
In an age of carbon ubiquity, the Officine Mattio Lemma 2.0 is a breath of fresh Italian alpine air. Richly versatile and almost endlessly customisable, it's a magnificent artisan road bike with an equally wonderful story. It's truly fabulous to ride. However, you certainly do pay for the privilege. Some will feel it's absolutely worth every dollar. Others less so. Ultimately, where you sit on this fundamental issue will heavily sway your view on what is undoubtedly a spectacular handmade machine.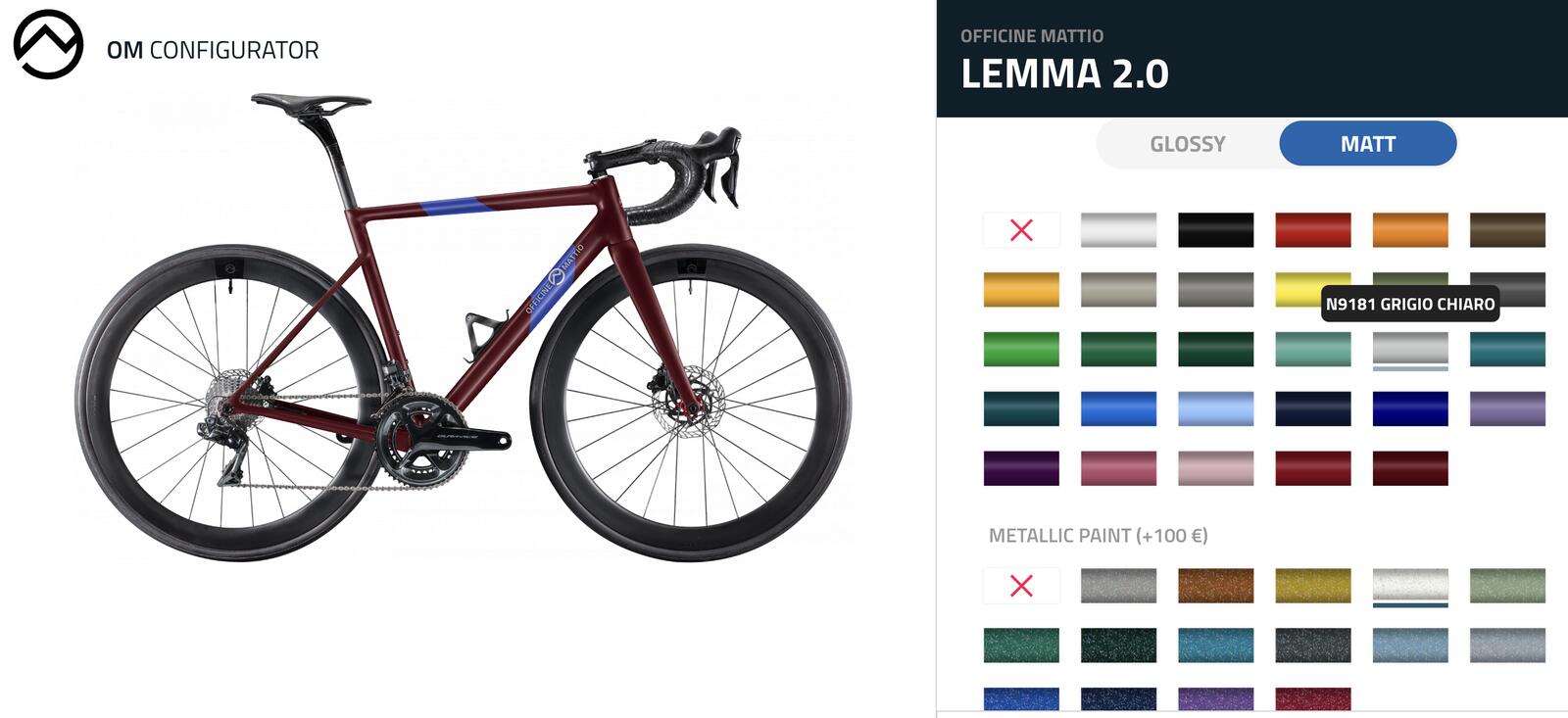 Summing Up
Quality
A handmade Italian carbon frameset of the highest calibre. You get to specify the exact level of components that come with it too – so if you're not happy, look in the mirror.
Performance
Fast enough and firm enough. Yet still surprisingly comfortable. Beautifully balanced handling. As adept on the local crit track as it is touring far-flung country roads.
Value
$13,990 for a bike with a third-tier groupset will likely be a stretch for many – and it's closer to $20,000 for top-of-the range components. How much is provenance worth to you?
Overall
Hand-crafted in Italy and fully customisable, the Lemma 2.0 is superb. It's not for the masses, but rather those who appreciate the finer details and want something genuinely different – and are willing to pay for it.