Sydney riders may have seen the blue flash of Pete Maniaty zipping around on this blingy Trek recently! Let's hear what he thinks of the 'pimped' Emonda SLR7.
This isn't really a review. It's a tease. For as drool-worthy as this sublime Trek Émonda SLR 7 AXS is, you can't actually buy it. Not exactly like this anyway. You see, it's a custom build, hand-spec'd by SRAM to launch its 2023 Force AXS 12-speed wireless groupset—reviewed separately in the previous edition of Bicycling Australia—and understandably SRAM was pretty keen to showcase its own stable of brands, rather than promote Trek's.
From the carbon bars and stem to the wheelset, the normally-standard Bontrager components have been swapped out for ZIPP equivalents.
Whilst perhaps no longer a purebred Trek Émonda, this 'Frankenstein' build certainly works. In fact, I actually found it quite a fascinating experience to ride because chopping and changing componentsover time is precisely how many of us actually set-up our bikes—with function, availability anddollars often holding far greater sway than any form of myopic brand loyalty.
While I can't categorically say it makes the Émonda better, I can say that armed with its new high-end SRAM and ZIPP componentry this bike remains an absolute lightweight carbon weapon of the highest calibre.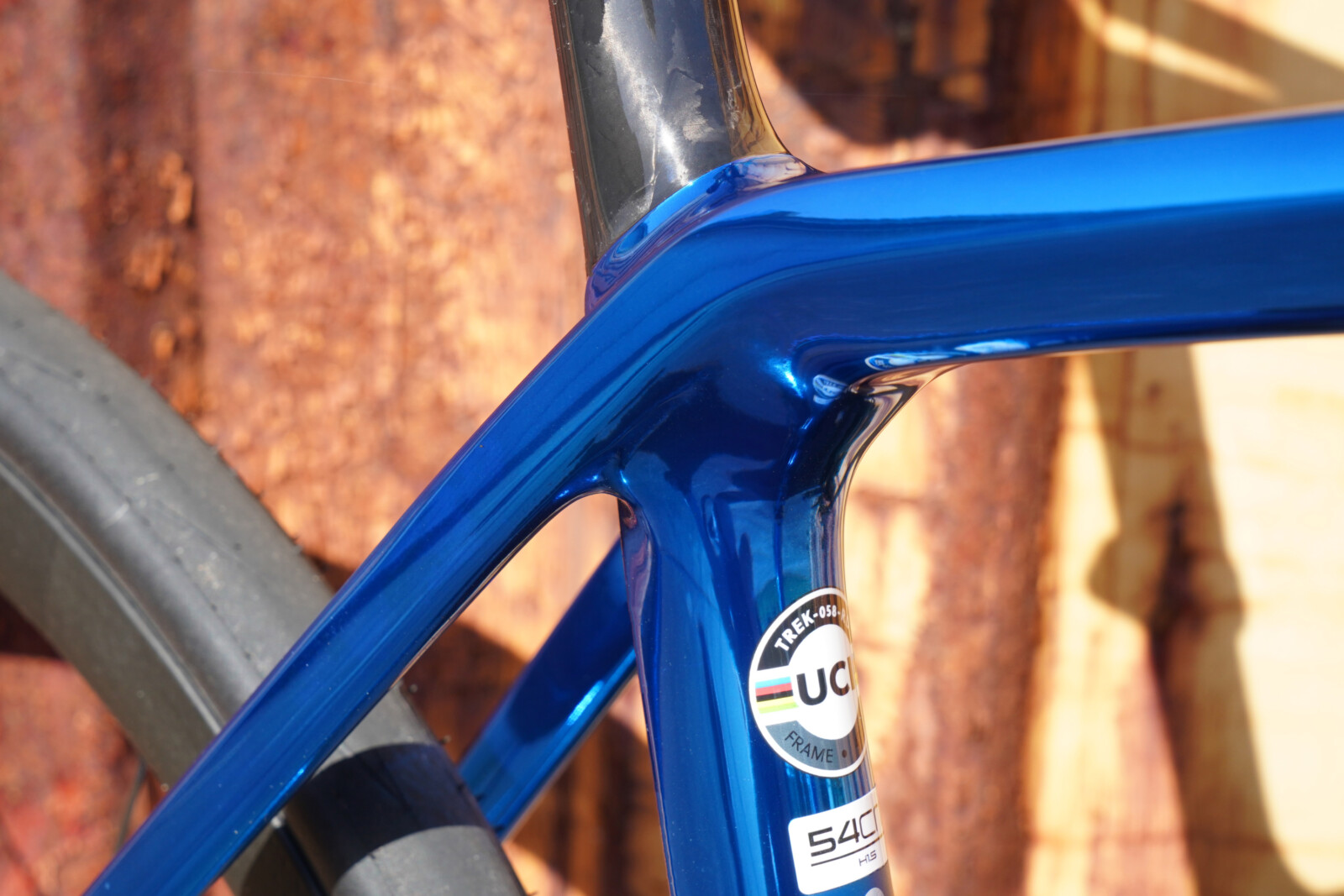 STYLING
The first thing you'll notice about this particular Émonda build is almost certainly the same thing everyone does—the eye candy paint scheme. The lustrous Sapphire Chroma Project One finish is hard to miss and garners plenty of attention. Yes, this bike screams 'look at moi' at loud volume. But a small word of caution. Whilst brilliant to look at, it's not the easiest to keep clean.
Beneath the ostentatious paintwork lurks a sleek and brooding race machine that Trek has been steadily refining since 2014 when the Émonda platform first appeared.
Given its origins as a lightweight col muncher, it's interesting to note the latest generation Émonda now boasts more than its fair share of aero features including truncated airfoil tube profiles, shortened head tube, blade-shaped forks, internally-routed brake hoses and deeper section wheels.
However, unlike its legendary aero stablemate, the Madone, there's no hefty downtube and, perhaps most significantly in terms of the way it rides, no IsoSpeed decoupling system (or IsoFlow in the case of the most recent Madone).
The absence of IsoSpeed means the geometry and workings of the Émonda's rear end are a little different to Trek's other road platforms. As with both the Madone and Domane, the seat tube rises considerably higher than the top tube junction. However unlike the Madone and Domane, that junction is fixed solid.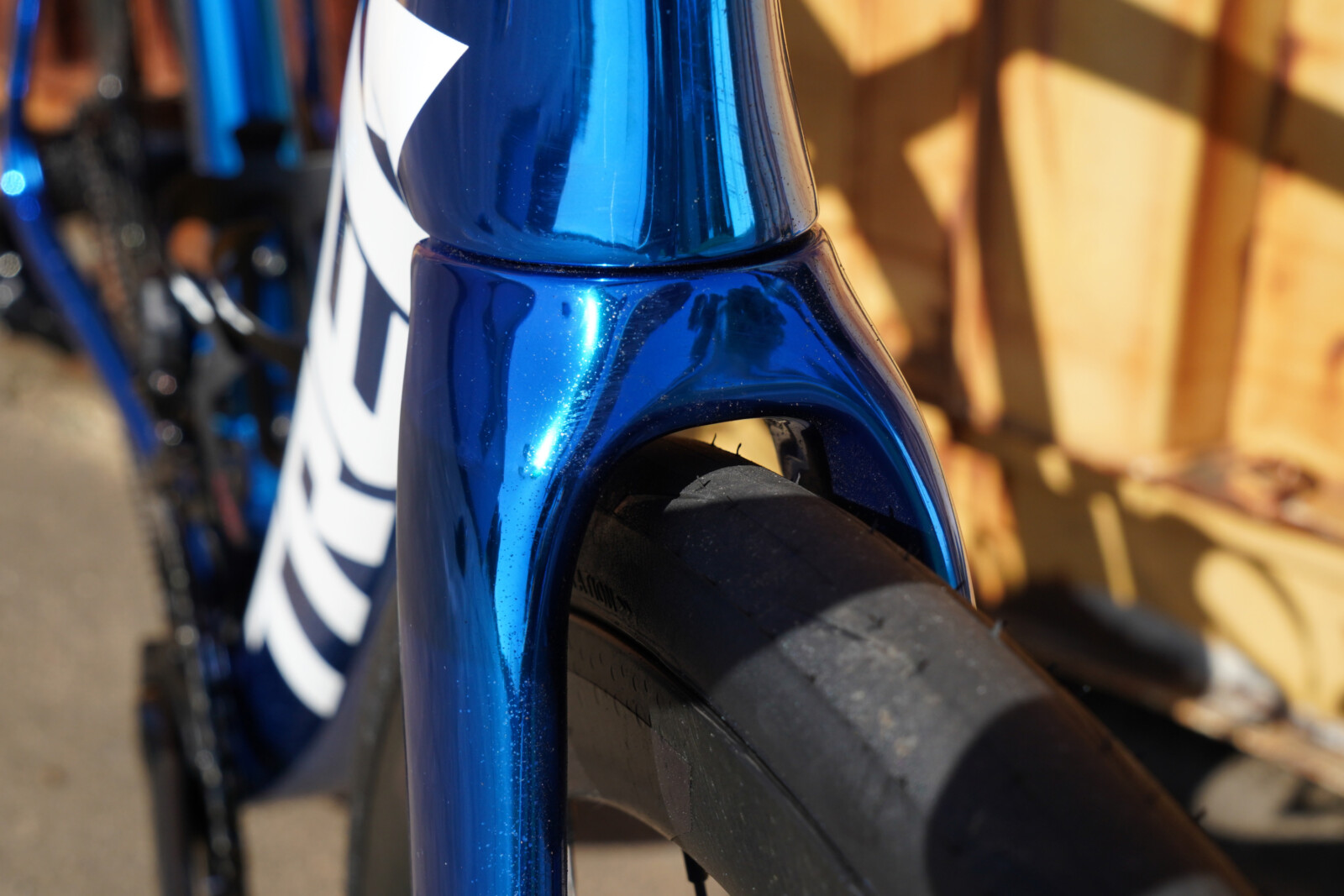 Also, rather than having the seat post slide down into the seat tube, the Émonda instead features an adjustable seatmast system with a cap that slides over the seat tube and clamps into position. Trek's website explains this allows more flex compared with a fully rigid seat mast for added comfort "however rough the roads", but I still found the Émonda's rear end very firmas we'll get to shortly.
GEOMETRY
Whilst considerably slimmer to the eye, the 2023 Émonda features the same H1.5 geometry as the aero Madone with an identical stack that, on the 54cm frame reviewed, puts you a full 3.4cm closer to the road than the H2 geometry of the endurance-oriented Domane. The Émonda head tube is also 3cm shorter than the Domane as is the wheelbase, which all equates to a compact and relatively aggressive riding position. Like me, your lower back may well notice the difference, especially on longer days and harder rides with extended periods spent down in the drops.
WEIGHT
Weight—or, more specifically, a lack of it—is what the Émonda has always been about and this shiny blue beast is no different. Whilst, yes, you can still find leaner ensembles out there (for a price), the Émonda SLR package remains a bona fide lightweight show-stopper with a claimed raw frame weight of just 698g. The shape and layup of virtually every millimetre of every tube has been optimised to deliver maximum performance with minimum girth.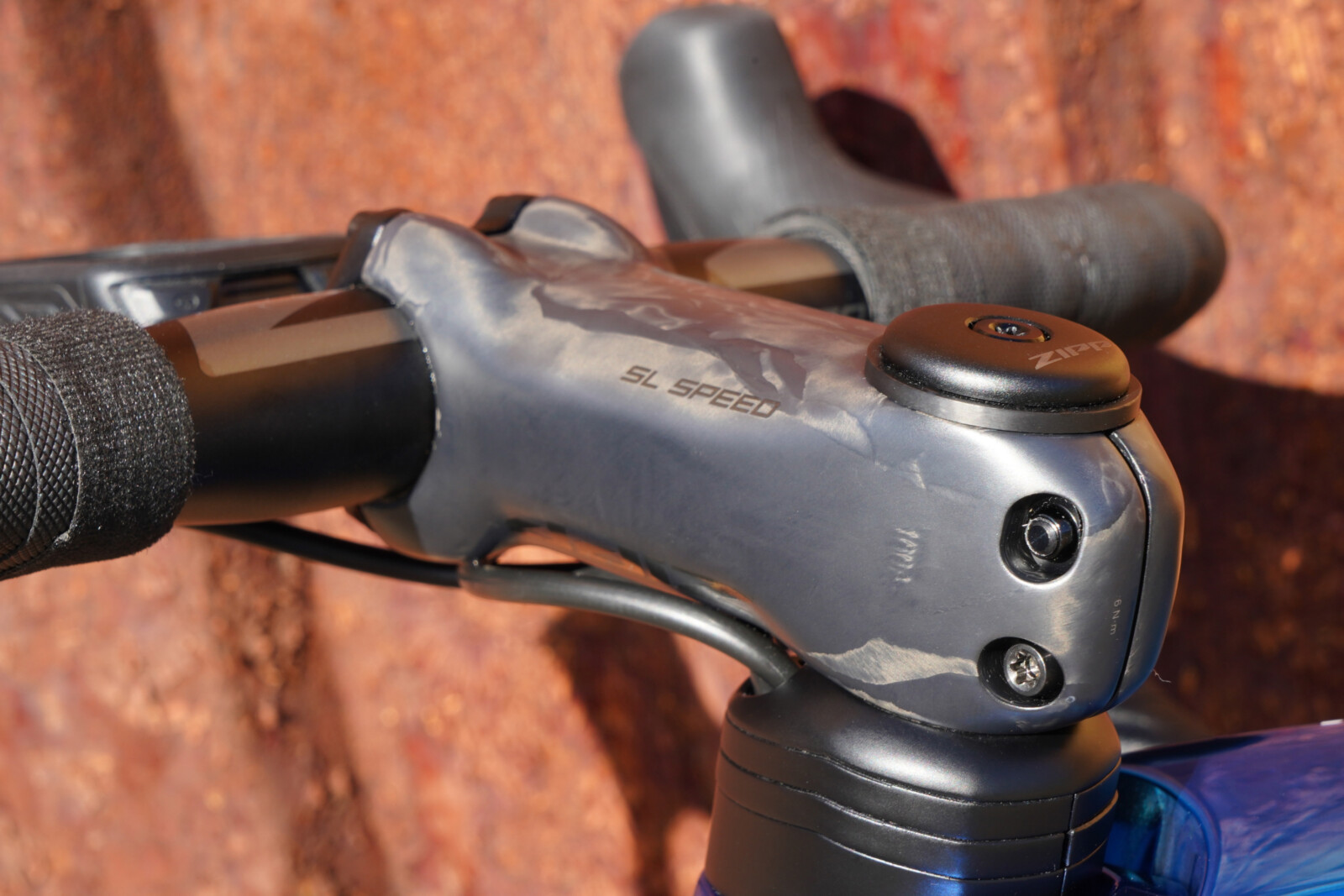 Coupled with Trek's top-of-the-line OCLV 800 composite carbon first introduced in 2021, the result is a frame that's roughly 1kg lighter than the Madone SLR. Even with its many non-standard components, the review build tipped my home scales at a very acceptable 7.55kg, ready to ride and/or race including bottle cages and pedals.
Trek's tech boffins in Wisconsin say their 800 Series OCLV is 30% stronger than the previous top-of-the-line composite (OCLV 700) and because it's stronger they can use less of it, shaving around 60 grams in the process—around 8% of the entire frame weight. It's worth noting the Émonda is also available in more affordable SL models. Featuring identical shaping and geometry, but with lower spec OCLV 500 carbon, SL builds are roughly 400 grams heavier than the SLR.
TECH & COMPONENTS
Beyond its mesmerising blue chrome Project One paintwork, the review Trek Émonda SLR 7 AXS was furnished with a host of goodies mostly from the SRAM stable. Highlights include the ZIPP 303 Firecrest 40mm tubeless wheelset, ZIPP Service Course SL 400mm carbon bars, ZIPP SL Speed 100mm carbon stem and, in one of the few non-SRAM or Trek components, an S-Works Power Arc saddle.
This was also my first time testing the latest 2023 SRAM Force AXS 12-speed wireless groupset and I found it to be simply excellent, with a noticeably more refined form factor and performance that's right up there with its main rivals from Japan and Italy. It's also around 100gm lighter than its predecessor and comes with the considerable added bonus of a Quark power meterseamlessly integrated into the SRAM Force AXS DUB crankset.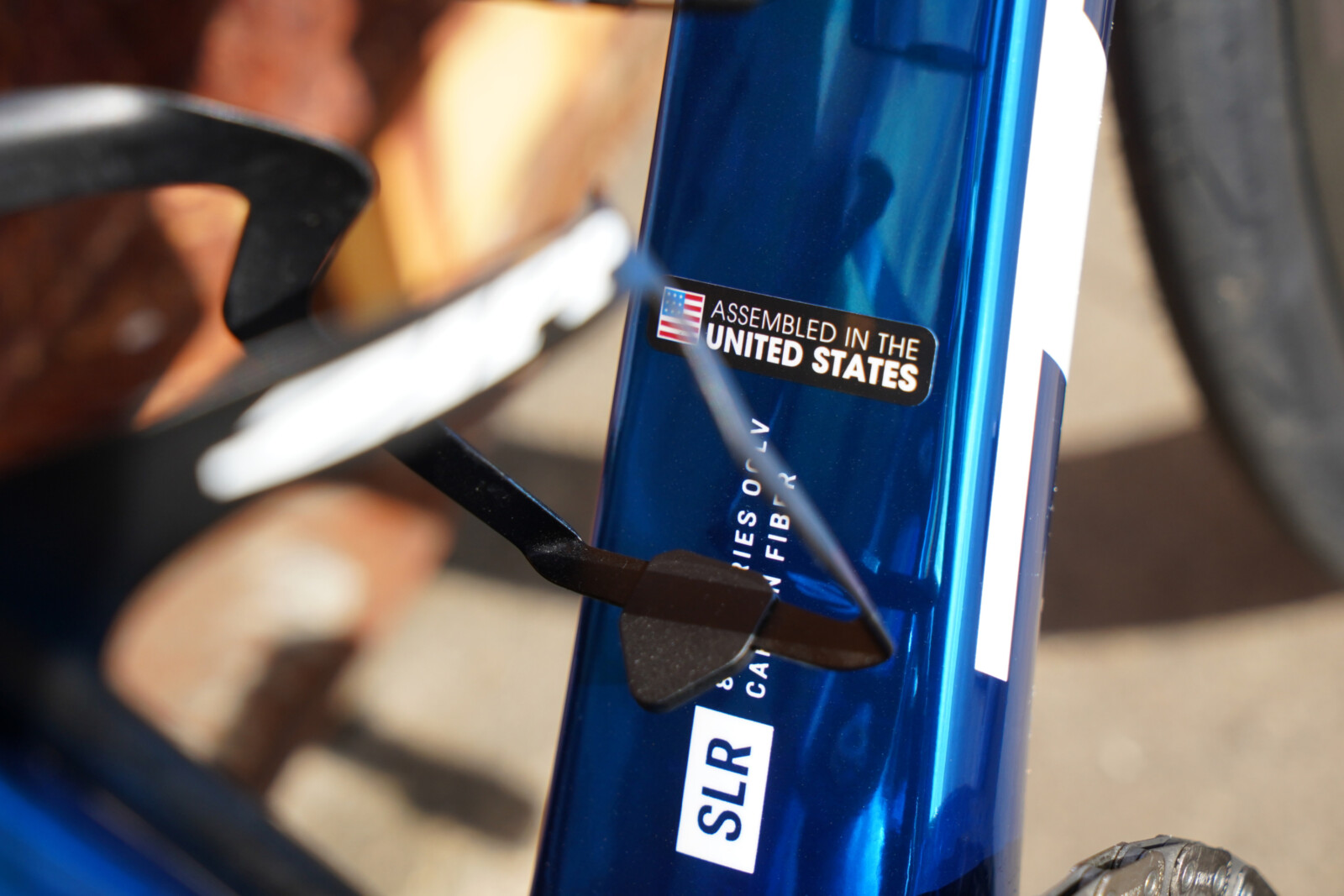 During the review the groupset performed intuitively and faultlessly which is exactly what you want: smooth and reliable shifting. The pairing of a 48/35 chainring and 10-33T cassette delivered an excellent range of gearing, suitable for pretty much any terrain.
WHEELSET
One of the biggest deviations from the usual Émonda line-up is the addition of a ZIPP 303 Firecresttubeless wheelset with German-developed ZR1 DB hubs. Weighing in at 1355g, the 2023 version of these hugely versatile 40mm deep rims boast an expanded internal width of 25mm (external width remains steady at 30mm) and, being hookless, it's tubeless all the way.
Officially, Émonda tyre clearance is 28mm, yet take that with a large pinch of salt as the review build came with 30mm Goodyear F1 tubeless rubber which fit very comfortably. It's also worth mentioning that, in line with the latest ETRTO recommendations, the latest ZIPP 303 Firecrest rims are only suitable for selected brands of 28mm+ tubeless tyres. Continental tyres, for example, are not currently compatible.
ON THE ROAD
After a highly enlightening month of riding, I can report the Émonda SLR 7 ASX is very light, very stiff and, yes, very fast. For me, there was pretty much only one thing it wasn't: very comfortable. The compact front end and rigid back end makes for a reasonably aggressive race-tuned ride that's undeniably explosive under high power loads—yet also quite unforgiving at times with above-average levels of road feedback.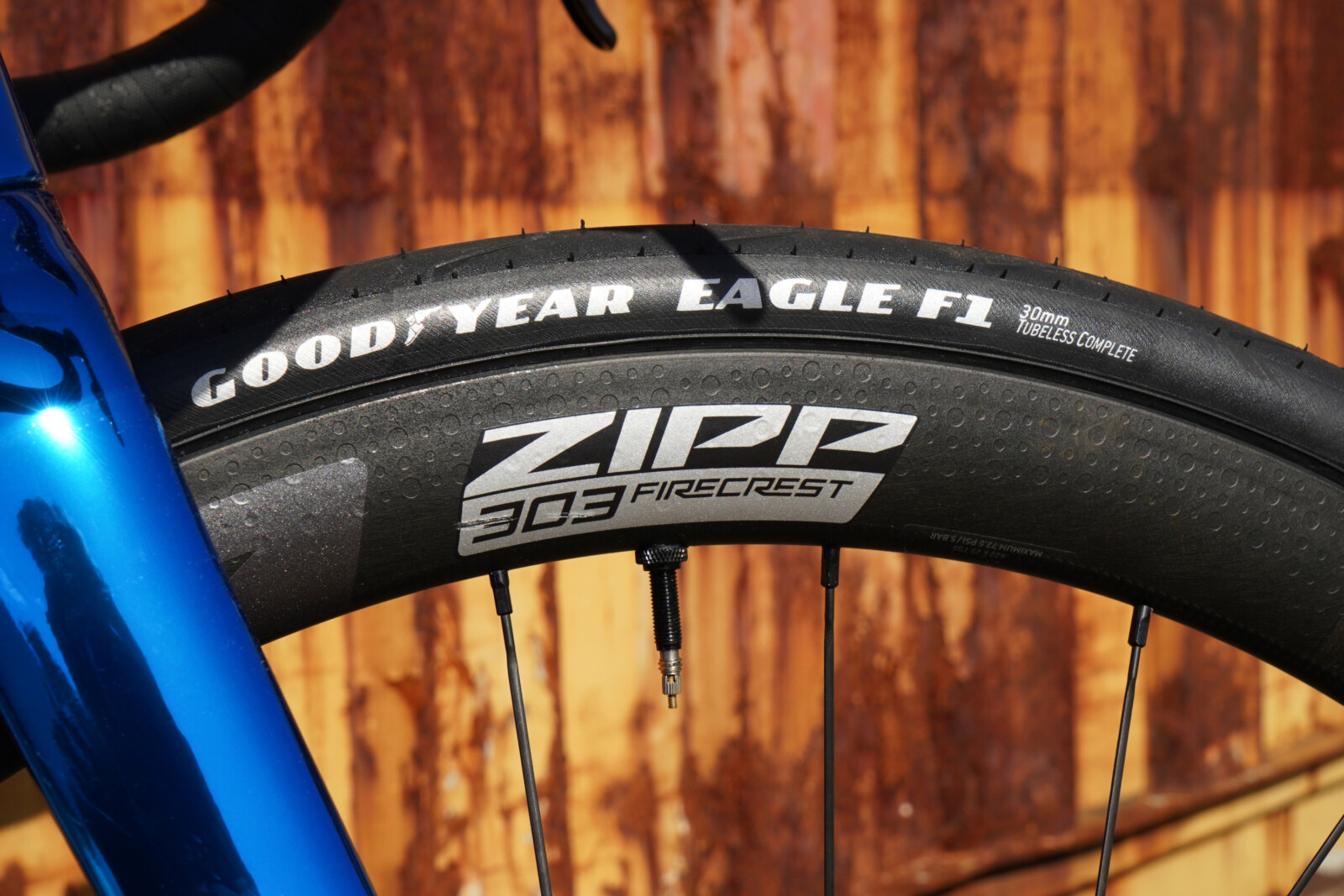 Even fitted with carbon hoops and supple tubeless tyres, you certainly feel the bumps and on longer and/or sustained high-tempo rides this has the potential to be quite fatiguing, especially if, like me, your core strength isn't what it used to be. The deeper I got into this review the clearer it became clear that tyre pressure is absolutely critical if you want to enjoy the Émonda SLR.
After starting w-a-y too high at around 85psi (and genuinely hating it) I progressively worked my way down to a touch under 60 psi, at which point it was like riding a completely different bike—still slick and responsive, but with just enough compliance to return a smile to my middle-aged face.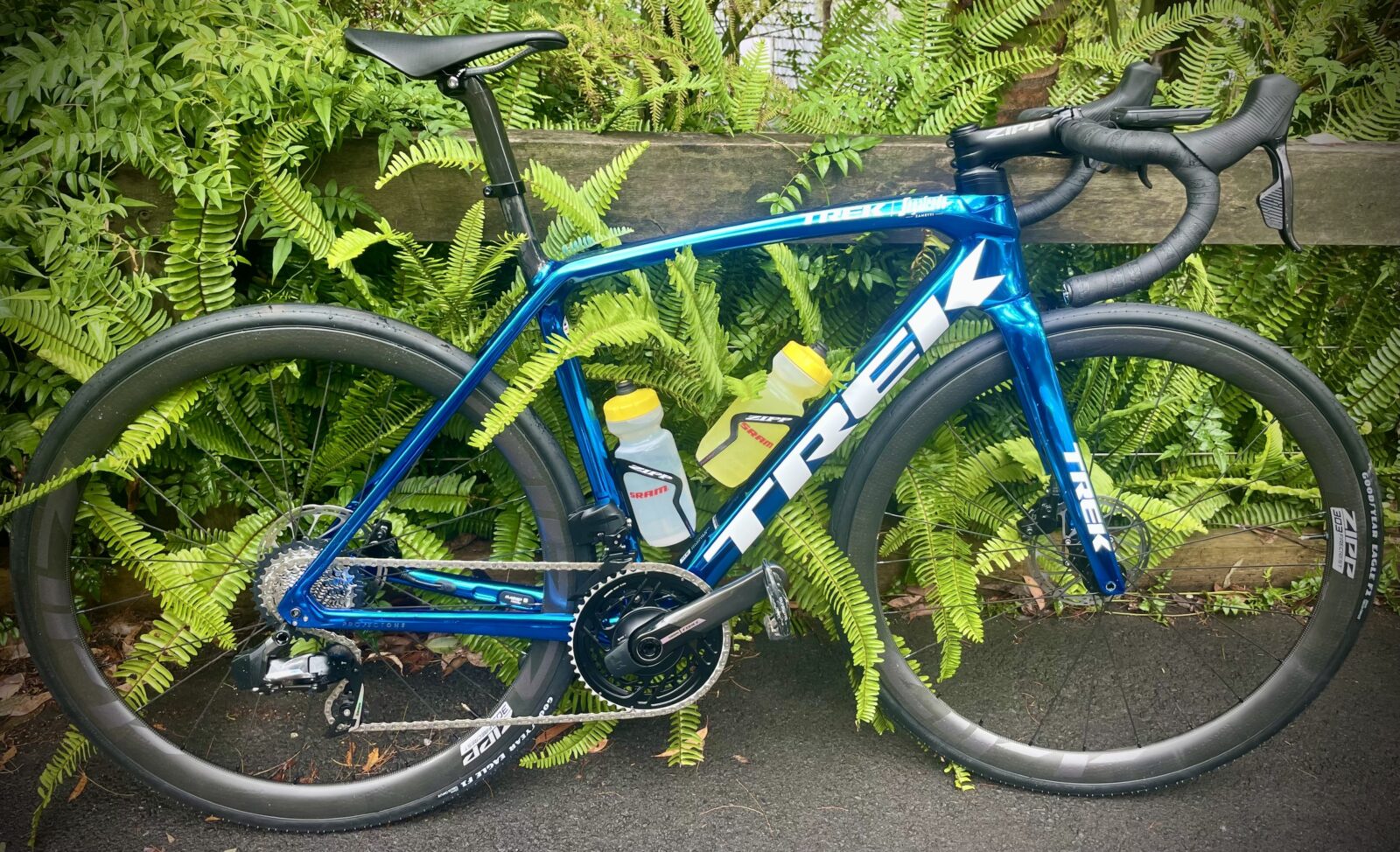 Tyre pressure experiments aside, the lightweight Émonda SLR climbed beautifully as you would fully expect, tackling rising gradients with absolute poise and aplomb. Perhaps less expected was the way it equally taps along very nicely on the flat, without ever quite matching the Madone or other fully-aero builds.
The shortened reach and relatively steep head tube angle (73 degrees) also combine with minimal frame flex to deliver very direct and fast handling. Just a few kms into my first ride it was clear this is a hugely nimble bike that goes exactly where you point it.
No drifting about on corners orlanguid steering. Small inputs deliver confident and exacting movements, particularly noticeable when manoeuvring in bunches, piloting through tight corners and on fast and sweeping descents. It was a dramatic reminder of just how precise the handling can be on a true race-tuned machine.