For quite some time I've pondered the composition of Trek's road bike range. Major competitors like Specialized and Giant have had 'comfort' road bikes in their offering for years now, and it seemed to me that Trek were missing out on a reasonable market segment by not producing their own interpretation on this increasingly popular evolution of the road bike. I won't say I ever lost sleep over the issue, but it certainly left me wondering when the folks in Wisconsin would bring something to market. The brand spankin' new Domane (pronounced Doh-ma-knee) is this very beast.
I say 'comfort' road bike, as that's what I'd call it. Some might call it an endurance bike, or a cobbles bike, or other variants on this theme. What I'm referring to is a road bike that has been designed to enhance the comfort of the rider on long rides and on rougher roads. This is usually done by altering the frame geometry to enhance stability, and in most cases put the rider in a more upright position. The use of carbon allows the designers of these bikes to engineer a degree of compliance and/or vibration dampening into the frame too. I've spent the last six months riding one of the more common comfort road bikes on the market, and I've found it to be very enjoyable. Stable and smooth, but still light and stiff too. I've just lost all my euro-cyclist cool (of which I had volumes), but I'm not embarrassed to put it out there.
Trek launched the Domane prior to the roughest and most treacherous of the cobbled Classics, the Paris Roubaix. All of the marketing around the Domane is Fabian, Fabian, Fabian! This is the bike that Fabian wanted, and what Fabian wants he gets. Spartacus wanted a bike that allowed him to pedal more smoothly over the pummelling cobbles and allowed him to fight off fatigue so that he could race at maximum effort for longer. It's pretty much what any rider in the Roubaix would want and on a broader scale what most riders want, period: ride faster for longer.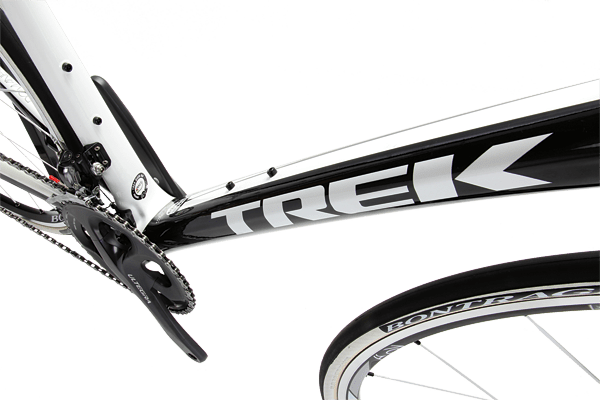 The absolute heart of Domane is the 'IsoSpeed' concept. From the side the Domane cuts a fairly regular looking profile (which I think is a real positive of the Trek design) with a big down tube and chainstays and more slender seat stays and top tube. In a bunch ride the Domane doesn't stick out in any conspicuous manner, and it takes a keen eye to spot where the action takes place. Trek have created a design which is genuinely different from any other on the market but they haven't birthed a Frankenstein, and for this they deserve real credit.
Many makers offer frames with extremely skinny seat stays which are designed to give a little to enhance comfort, or have frames with apparently optimised carbon layups or selection to smooth the ride, but none have anything similar to IsoSpeed. IsoSpeed is best explained via a diagram, but the core of it is this: the top tube flows into the seat stays as one continuous frame member. The seat tube pierces through a hole in the top tube and is joined to the top tube only via a rotating axle. This allows the seat tube to bow like a sapling along its substantial length, and thus the saddle can move to isolate the rider from bump forces from the road. Pivots are usually the domain of mountain bikes, and it's a bold move from Trek.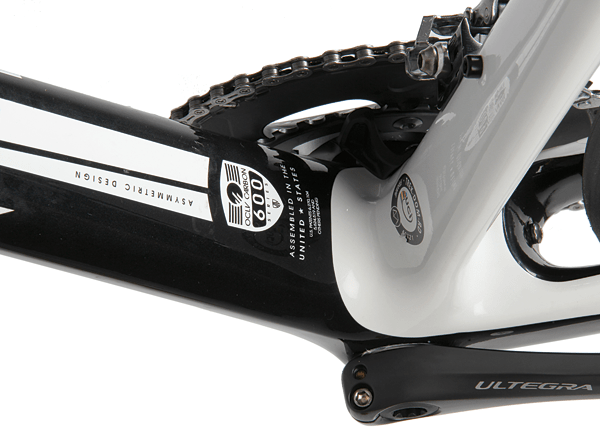 Obvious 'what if' concerns come to mind after a first introduction to the IsoSpeed design: weight, flex, durability? Trek have been quick to address these, and the first two factors can be answered by hard science. Acoording to Trek, the Domane is "currently only available at the 6 series level", which means it is a premium product pitched at a professional level. The Domane is heavy for a pro race bike at an advertised weight of just over 1kg for a frame, but it's still light enough to go under the UCI weight limit without too much effort and it's certainly very light for a comfort race bike. The spec of the 6.2 complete bike that we tested has plenty of room for weight savings, and the 100-200g weight penalty over an all-out race chassis couldn't be felt as a result. The Domane accelerates like any nice bike that has 1,800g wheels fitted.
Flex is always the bogey word when it comes to high end bikes. It's the 'ease the squeeze' of bike marketing. Overused and overemphasised, but always in the news. Given that the Domane doesn't form the seat tube into one member with top tube it's a fair concern, but Trek say the Domane is their most laterally stiff bike, even stiffer than the Madone. The aforementioned large chainstays meet the 90mm wide bottom bracket shell, and the equally wide down tube shoots up towards the tapered 'E2' head tube. It's a voluminous collection of tubes which ensures the Domane goes exactly where it's pointed with no grumbles at all. The flexing of the seat tube is imperceptible when riding.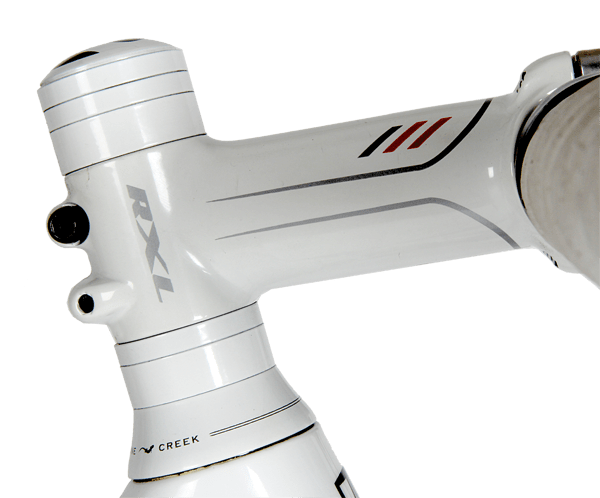 Concerns about durability are also understandable, but given that carbon can flex an almost infinite number of cycles it's unlikely that the Domane would offer any additional risk provided that the engineers have done their job. The IsoSpeed pivot is a simple pin with two small cartridge-style bearings. I've seen similar sized bearings in mountain bikes, used in applications where they would be under much higher rotational and lateral load, and subjected to full submersion in water and mud. The IsoSpeed pivot certainly adds complexity to the traditional double diamond frame, but it's not exactly groundbreaking when you see what is done with mountain bikes every other day.
The above certainly doesn't mean the Domane is king of the pile in all regards. It's not the lightest, it's not the stiffest and it's certainly more complex than others. If one of these elements is your deciding factor when looking at a bike then the Domane simply is not your ride.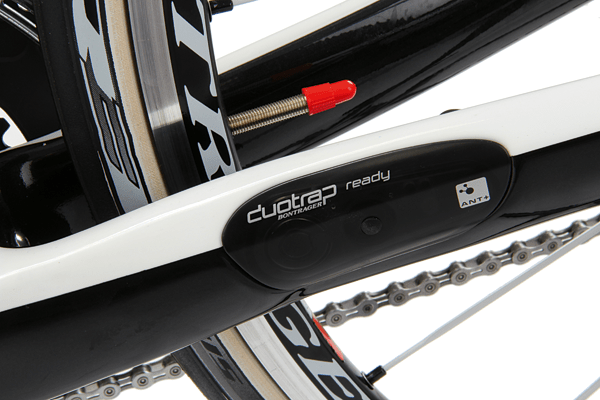 Another element where the Domane distances itself from Trek's race focused Madone range, and other conventional 'race' bikes, is in its geometry. Trek addressed the mechanical comfort of the bike via the IsoSpeed pivot and new IsoSpeed fork, and have developed a unique geometry set to complement the intended use of the Domane. Trek usually refers to their road bike geometry as H1, H2, or H3. The intended handling of the bike remains the same, but the head and top tube length change to offer a more upright position. H1 is long and low, H2 fits most recreational racers and H3 is the most upright of the three options. The Domane features a new Endurance Geometry, which Trek intend to offer great handling but also enhance the comfort of the Domane. In practice the Domane has longer chainstays and a lower bottom bracket than a Madone, which emphasises stability over 'flickability'. The head tubes are also taller for a given size, meaning a more upright cockpit position. For tired riders on long rides this position and stability should be quite a bonus when compared with a twitchy and stretched-out criterium-style bike.
In case you've not cottoned on, the Domane is a really different bike to anything Trek has put out before, but Trek go to some pains to emphasise that the Domane is a full scale race bike designed for pro level racing, and that it sits next to the Madone in terms of performance. It's a horses for courses situation, not a compromise or downgrade, and apparently Fabian plans to ride the Domane in every race this season. So it seems that I may not have blown all of my euro-cred just yet.
Naturally everyone wants to know how the Domane rides, and I mean everyone! I don't know how many queries I got, but everyone that knew I had the bike immediately wanted to know what it was like. In a reserved way, it simply rides like a bike. It's not the re-invention of the wheel or the second coming. However, it does ride like a really damn good bike, and I'm in no hurry to return it to Trek HQ. I used the Domane on all of my normal rides and it rode like a high-end modern bike should. It steers with great accuracy, and power transmission on hotmix roads has that lovely smooth oomph that solid bike gives back to the rider. If the Domane was a regular lightweight carbon bike sold as a top-flight race machine it would be an accurate portrayal of the performance of the chassis.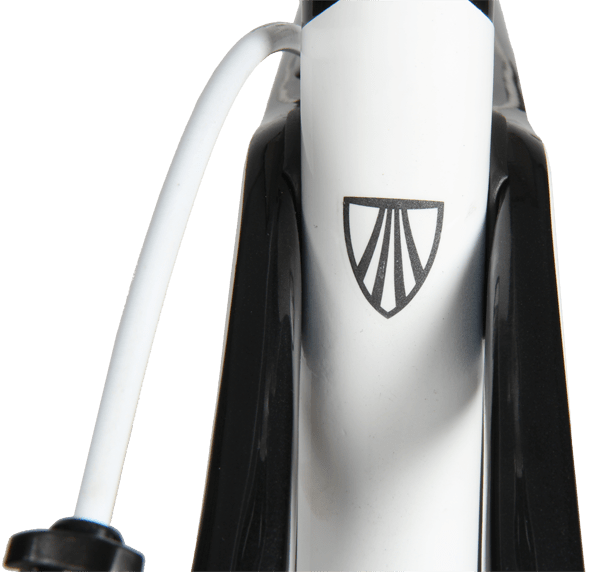 Now is probably a good time to mention how nice the Domane frame really is too. Trek is on the ball when it comes to a well-executed total package. Paint is lovely, cable routing is simple to live with, no creaks or groans, and the integrated Duo-trap sensor mount is seamless. There are two elements of the package which really stand out in my mind. The 3S chainkeeper, which is a neat alloy guide, seats discretely on the frame to stop a dropped chain. The cable junction under the bottom bracket is a removable plastic 'chip' for want of a better term. It does a neat job as is, but can be removed to aid internal electronic wire installation and also form an integrated battery mount. Nice.
On the counter side, Trek have also included fender mounts on the 6 series Domane. It's a lovely thought for a bike that is meant to do the hard and dirty races, but it must be the only bike in the pro peloton with fender mounts (?) and I can't anticipate even 1% of Domane owners ever installing fenders. I could understand on a 4 series model, but not on a bike Trek intend for pro use. It doesn't detract from the ride at all, but given how great I thought all the other features were I found this inclusion to be one to many for my taste.
Other than being a sook about the fender mounts, the rest of the Domane 6.2 is genuinely excellent so long as you're not after a flat backed, razor sharp, rock hard crit killer. For most people, that being folks that don't have pro flexibility and pro horsepower, the Domane will be a very appropriate bike. It's stable descending at high speed due to the long wheelbase and low bottom bracket. It might not zip around a tight hairpin as quickly as a Madone and sprinters will wish for the drops to be lower, but it's wonderfully relaxing and controlled on wide open sweeping corners. Again, horses for courses.
The whole point of the Domane is comfort and efficiency, and with this in mind I set out to re-create a Flandrian spring classic in the Sydney Autumn. My classic was a seven hour long loop, which included roughly 70km of dirt and gravel roads of various levels of repair and some pretty coarse paved roads too. On dead chip mix roads I found the Domane a comfy companion and similar in terms of road feedback to my regular comfort-oriented bike. Once things got rougher and corrugated on the dirt roads, the Domane set itself apart. I would not expect a road bike, at least in the conventional sense, to be able to ride so smoothly on such a rough surface. There is no escaping from a corrugated road, or a cobbled one at that, but the Domane makes for a faster and more enjoyable experience.
At the end of my ride was I absolutely shelled. My jersey pockets contained empty museli bar and corn chip packets, an empty Coke bottle and the remnants of a full size bag of jubes. My legs were dusty like I'd just done a mountain bike race, and the Domane even had mud spatter on it (sorry Trek!). Despite the outward signs of battle and the vacant eyes indicative of a tired boy, I physically felt great. No sore neck or back, plenty of fatigued muscles, but no aches or pains that usually come after a long and rough ride.
The Domane does exactly what it says on the packet. It's a comfy bike on the rough and it's a fast bike on the smooth too. It puts you in a position to ride efficiently all day over all surfaces, rather than race for 50km at full tilt before hanging up the boots. As I noted, the Domane is not the lightest or stiffest on the market, and it is more complex mechanically than others. For some people this will simply not do. But it's light enough, stable, powerful and easy to ride all day long. For a lot of people the Domane will be a delight.
Quality
The Domane is a well thought out and well finished package. It looks classy in a discrete way, and there are so many elegant touches to the design that make it far more than a simple diamond framed carbon bike. The 6.2 model tested uses a reliable mix of proven mid-range parts.
Performance
Die-hard racers won't be excited by the Domane, but that is not a slight against its performance. The Domane delivers on its design brief in all aspects. It's comfortable without being sloppy or soggy, and it will gladly accept any leverage you can put through the bars and cranks. The handling is absolutely accurate but it is not razor fast.
Value
The parts spec on the Domane 6.2 is a workman's delight. Ultegra is always great, and the Bontrager bar has a comfy bend. The Race Lite wheels are smooth but a bit heavy. At the sticker price of $5,300 the Domane 6.2 puts an emphasis on the value of the frame over the components, but it's a pleasure to ride as is.
Overall
The Domane doesn't apologise or hide who it is. It's a fresh design concept which Trek have executed cleanly and wrapped with mix of parts that let the frame speak for itself. The geometry is great for long days or less flexible riders and the chassis packs enough punch that it will happily win any lamp post sprint. The Domane will make sense for a lot of real-life riders.
Specifications
Frame: Trek Domane 6 series
Fork: Trek IsoSpeed
Head Set: Cane Creek IS-2
Stem: Bontrager Race X Lite
Handlebars: Bontrager Race Lite IsoZone
Shift Levers: Shimano Ultegra
F Derailleur: Shimano Ultegra
R Derailleur: Shimano Ultegra
Cassette: Shimano Ultegra 11-28
Chain: Shimano Ultegra
Crank: Shimano Ultegra compact
Bottom Bracket: BB90
Pedals: N/A
Brakes: Shimano Ultegra
Wheels: Bontrager Race Lite clincher
Tyres: Bontrager R3, 25c
Saddle: Bontrager Affinity Race Lite
Seatpost: Trek IsoSpeed
Weight: N/A
Price: $5,399
Distributed: Trek
www.trekbicycles.com