The word Émonda is derived from the French verb émonder, meaning to prune or strip away. And according to Trek, this is exactly what they have achieved with frame design and specific component choice, keeping the weight of each model in the Emonda range to a minimum.
Given the chance to test ride a model from this vast collection, I was curious to see if it lived up to their claims. Having ridden some amazingly light bikes before, I was looking forward to scaling those hills to see how much a bike's cost, affected it's ride performance.
The model I tested was the Emonda SL 5 WSD (women's specific design). This bike delivered great first impressions. The colour popped and after a long line of black, red and white – and various combinations of, it was dazzling to behold. How nice to have a women's specific bike that is pretty without being pink. Having said that, it is far from 'girly looking'. The internal cable routing enhances this bikes clean lines and luxurious paintwork attracted many admiring looks.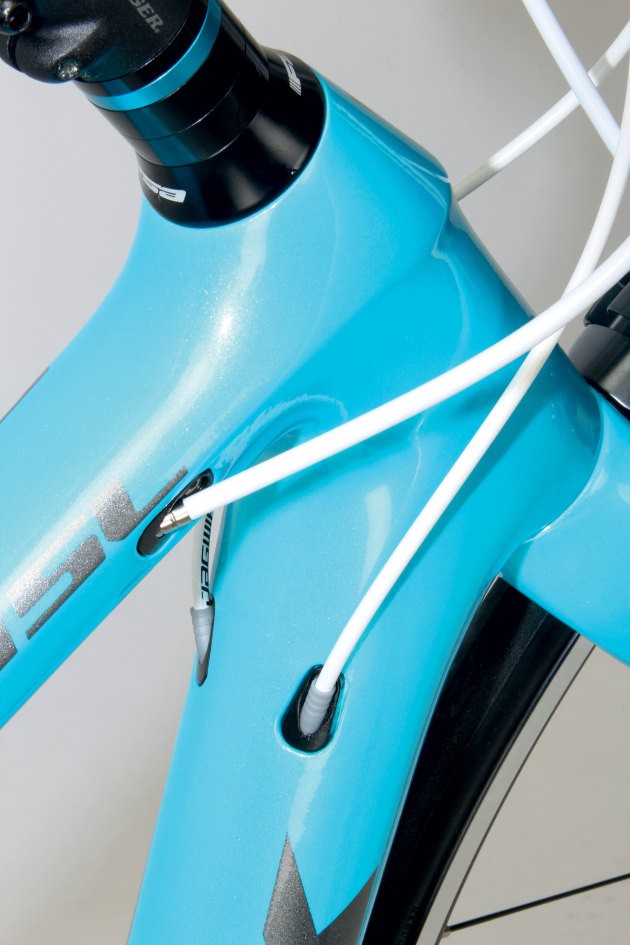 Time to Ride
After my resident bike mechanic adjusted the saddle and bar height, it was time to ride. The first thing I noticed was how natural I felt on this bike. I had to look down to check this was the test bike and not my own. Nothing felt weird. Well actually, one thing did. I'm not sure if it was the newness, but the saddle seemed super slippery. Saddles are always a personal choice and after riding your own for a long time it is generally the first thing you will notice on a new bike. The Emonda comes with a Bontrager Ajna Comp women's specific saddle. It's no secret that saddle choice can make or break a ride, and I found this one to be quite comfortable. I prefer my own, but I didn't hate this one and I could certainly grow to love it.
From where I live, there are two choices – down to the coast or straight up the hill. With all the talk about this being a great climbing bike I chose the latter for my first ride. It was here the Emonda SL 5 strut it's stuff. Out of the saddle climbing placed my upper torso slightly over the bars, giving me a nice centre of gravity. Seated climbs were surprisingly enjoyable. This is something my fellow cyclists rarely hear me say.
Still unsure of this bike's actual weight, the Emonda did feel light. On the long steady climbs finding a comfortable cadence was easy. Spec'd with Shimano 105 running an 11/28 cassette and 50/34 compact cranks, I had an extra granny gear than my usual set-up. But it was more than this. My whole ride position whilst climbing felt good, whether in the saddle or out.
On descents the Emonda SL 5 was responsive on corners, railing quite nicely around the bends. There seemed to be adequate balance of stiffness to compliance, so ride comfort on the less smooth roads was good.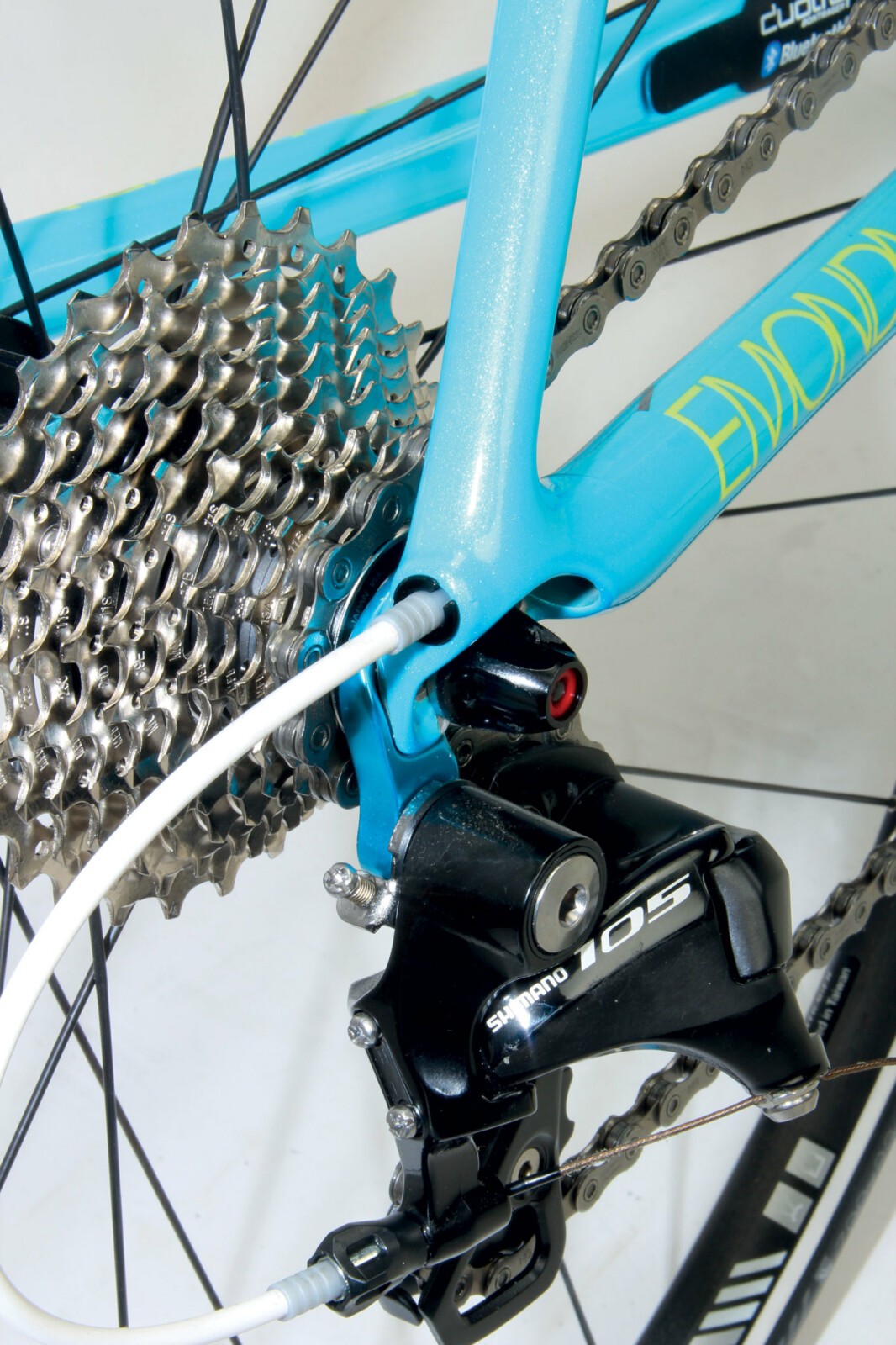 The Bontrager Race wheel set is tubeless ready and stayed true and quiet throughout the whole test.
Another thing I noticed was the standover height. At 72.9cm for my 52cm frame, it meant the difference between balancing on tippy-toes when stopped. This is as much about the women's specific design as it is clever balance of bottom bracket height and stability. The bottle cages were perfectly positioned so reaching for a drink could be done without taking your eyes off the road. Subtle but noticeable, these small things are all part of what makes the Emonda SL 5 a pleasure to ride.
What's it made of?
About 20 years ago, the engineers at Trek developed OCLV (Optimum Compaction, Low Void) Carbon. With five levels of carbon quality they aim to provide cyclists with a quality frame to suit their budget. Ranging from 300 Series through to their ultimate 700 Series OCLV, The Emonda SL 5 (500 OCLV) is a mid-range racing machine.
With an aim to keep the bike's weight to a minimum, Trek have incorporated a carbon fork and steerer tube along with what they call an integrated 'Ride Tuned' seat post. Essentially, this is not a true integrated seat post as there is a join and also the ability to adjust the seat height. This is definitely an advantage for resale purposes as there is no need to cut the seat post to a specific height.
I understand that safety tabs on the fork dropouts are there for a reason, but the size of the tabs on the Emonda SL5 seemed excessive and made wheel removal slightly painful. The quick release had to be unwound quite a lot which isn't a major issue, but just something worth noting.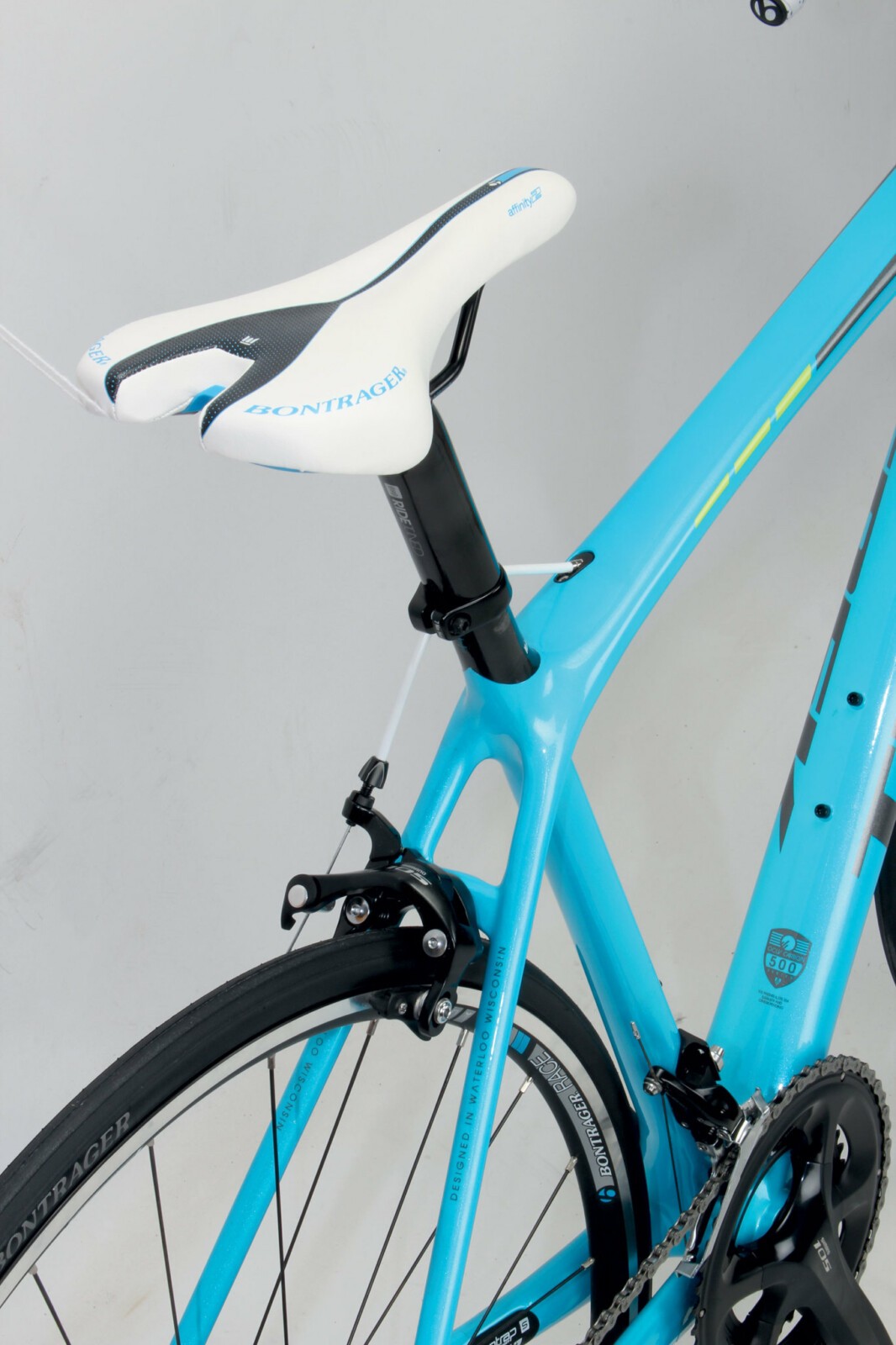 Gearing
Fitted with mid level 11 speed Shimano 105 the Emonda rides quite nicely. I found gear changes soft to the touch and transition smooth. With the addition of the 3S chainkeeper the likelihood of jamming your chain between the little ring and the frame is eliminated, which makes putting your chain back on less painful and messy in the event of a derailment.
Brakes
The brakes worked well, which is always a good thing.
The levers were nicely shaped, but I found even after adjusting their reach to the minimum, I still struggled to comfortably reach them from the drops. I didn't adjust the position of the levers on the bars, but considering the fact that this is a WSD and a small frame, and depending on your hand size you may need to look at repositioning the shifters or perhaps different bar choice.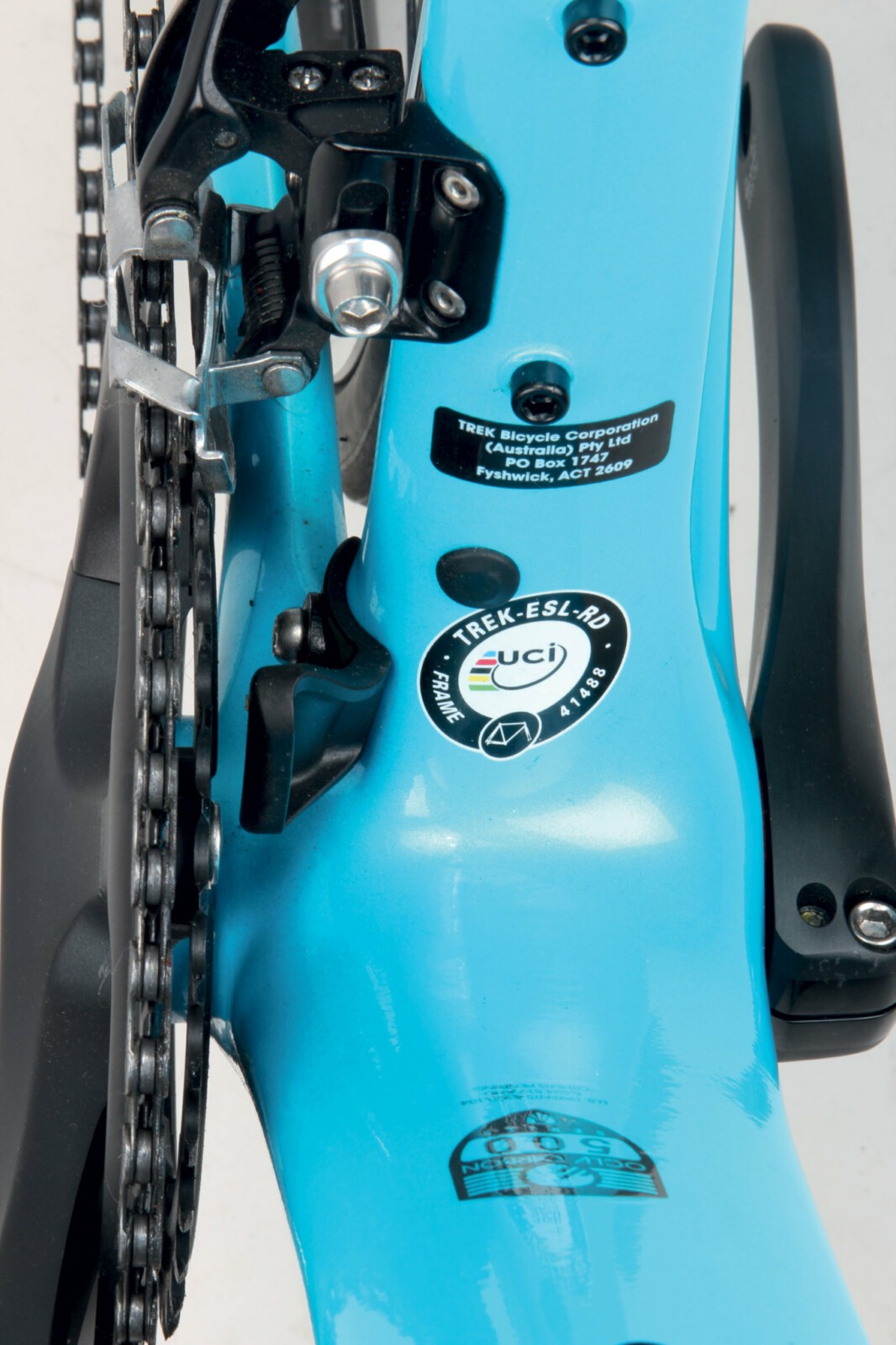 Gizmo's and Gadgets
The Emonda SL 5 has a nifty little feature that allows the Bontrager Duotrap wireless sensor to fit neatly into the chainstay. This gizmo is ANT+ and Bluetooth compatible, sending speed and cadence readings direct to your computer or smart phone. Keeping in line with the aerodynamic elegance of this bike, its placement maintains a nice clean look, so put your cable ties away, this addition is discreet. Trek have also allowed for the addition of Di2 with wiring ports on the frame. So if you want to drop some birthday present hints, keep this in mind.
Summing Up
Quality
Carbon fibre bikes are pretty much the norm these days and Trek have crafted the Emonda SL 5 with their mid range carbon and tried and true Shimano 105 gearing. It's an attractive package that could be upgraded here and there if you wanted, but pretty good off the shop floor as is.
Performance
The Emonda SL 5 rides like a dream. It climbs like a mountain goat and is well grounded on descents. Equally at home on a quick dash up the hill as it is on a four hour jaunt down the coast, this is a great all-rounder.
Value
With its flashy paintwork and aero appearance, this bike looks like it should cost more, and given its heritage, there is little doubt this is a quality build. This mid level road bike is great value for money for the passionate cyclist who isn't a serious gram counting weight weenie.
Overall
The Emonda SL5 is definitely a comfortable ride. Whilst capable of being an entry level race bike, a long day in the saddle is an equally enjoyable experience. As with everything, you get out what you are prepared to put in and the Emonda SL 5 WSD has all the attributes to keep a happy cyclist smiling.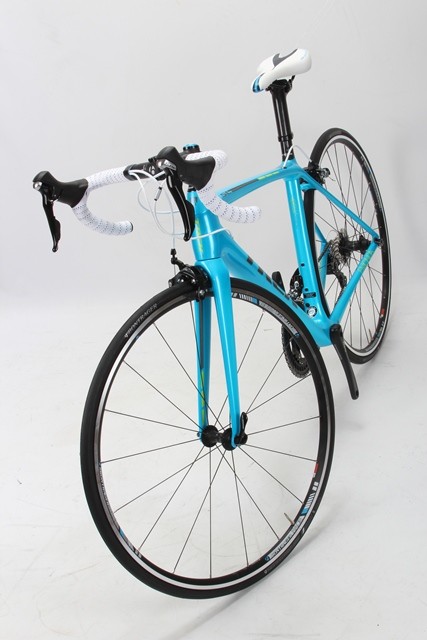 Specifications
Colours: Appleseed Blue/Trek Charcoal/Volt Green
Frame: Ultralight 500 Series OCLV Carbon
Fork: Émonda full carbon, carbon E2 steerer
Shifters: Shimano 105, 11-speed
Front derailleur: Shimano 105, braze-on
Rear derailleur: Shimano 105
Crank: Shimano 105, 50/34 (compact)
Cassette: Shimano 105, 11-28, 11-speed
Bottom Bracket: BB90
Wheels: Bontrager Race Tubeless Ready
Tyres: Bontrager R1 Hard-Case Lite, 700x23c
Brakes: Shimano 105
Handlebar: Bontrager Race, VR-S shallow drop, WSD sized, 31.8mm
Stem: Bontrager Elite, 31.8mm, 7-degree
Headset: FSA Integrated, 1-1/8″ top, 1.5″ bottom
Saddle: Bontrager Ajna Comp WSD
Seatpost: Bontrager Ride Tuned carbon, 20mm offset
Chain: Shimano 105
Sizes: 44, 47, 50, 52, 54, 56cm (52 tested)
Weight: 7.74kg
Price: $2,999
Distributor: Trek Bicycle Corporation