When it comes to searching for a new GPS / bike computer products from the big two manufacturers are typically first to spring to mind.
But in an increasingly busy marketplace there are a number of other options out there – units that are just as feature packed and, quite often, offer far more for a lot less.
After two months testing out the Bryton Rider 750 we slot this offering into that category – it's top-quality GPS / computer that delivers all the fruit for a reasonable price. And rather than wait 'till you get to the bottom of the page for the bottom line, here's the juice. The Rider 750E with a Heart Rate Monitor chest strap plus Cadence & Speed Sensors comes in at $550.00.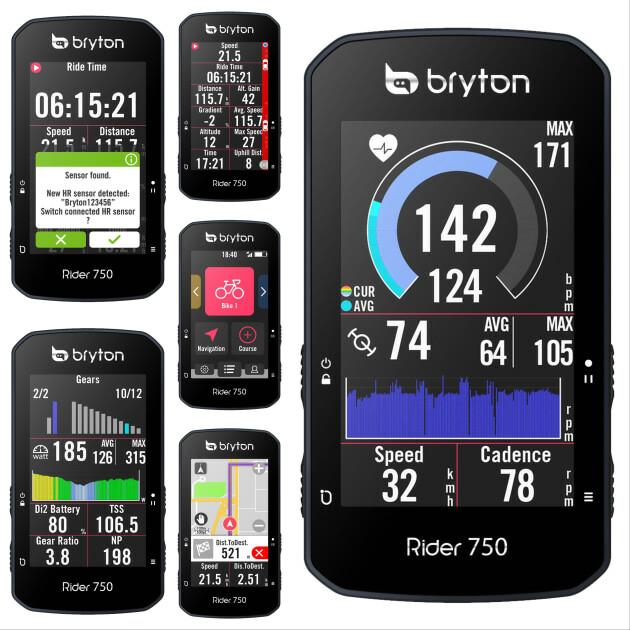 First impressions were a decent sized screen, a 2.8" full colour touch interface to be precise.
A big step up from the user interface of older model Bryton units, the 750 features an intuitive display with colours corresponding to different key metrics. Up to 12 elements can be shown on the sharp display and various different display styles an be selected.
Relatively simple and straightforward to navigate through the menus, we became familiar with the unit after around half an hour of use. Standout highlights included the clear, sharp, easily viewable screen, the turn-by-turn navigation modes, battery life and durable feel and finish of the unit.
Unique 'Bryton only' features include the option to use downloadable 'Open Street Maps' along with voice activated search for locations. This, say Bryton, is available in more than 100 languages (no, we didn't test or fact check this mode).
Like just about all GPS / computers these days, the 750 can be setup, tuned and adjusted via an official app and we found that 'Bryton Active' app to be simple and straightforward to use. It allows the unit to be synced to 3rd party platforms such as Training Peaks, Strava and the like, and also boasts an extremely simple 'Zero Touch Setup' mode for those who want less time looking at a phone screen and more time pedalling.
Overall the 750 is a refreshing option in the crowded GPS/ computer space. It has an impressive 20-hour battery life, great screen, no bugs or limitations, and so far has not let us down.
Headline figures of Rider 750
Rider 750E – $429.95 (includes Sports mount)
Rider 750Bundle – $549.95 ( includes Sports mount, HR, Speed & Cadence sensor)
2.8" full colour screen
Touchscreen
Navigation
Advanced connectivity (E-bike, Di2, ESS, Radar and FE-C integration)
Full GNSS (utilising ALL 5 satellite networks)
Free global maps
Smart notifications
20hour battery life
Advanced training tools