Shimano have released their much-anticipated Ultegra upgrade, the new R8000 being more versatile and feature-rich than ever before. Available in either Di2 electronic or mechanical shifting, each system is also available for rim brake or hydraulic disc brake options.
Weighing in at just 4,071gr in its lightest form -Di2, rim brakes & the new wheels – the R8000 is 84gr lighter than its predecessor.
The latest Ultegra will accomodate Shimano's widest-range 11-34T road cassette for enhanced drivetrain versatility. Lower in profile and with sleeker, more aero qualities, Shimano say the 'Shadow' rear derailleur is designed for "optimal shift performance". As with the latest Dura Ace, the Ultegra Di2 features Shimano's SYNCHRO and SEMI-SYNCHRO Shift programming, with subtle fingertip buttons above the hoods.
Drivetrain
Following a long tradition, the new FC-R8000 Hollowtech II Crankset receives numerous technologies from the previous Dura-Ace, the R9100. Along with shaping, which further enhances the 4-arm design, Shimano's chainring combinations offer multiple gearing configurations via a singular BCD platform for excellent versatility.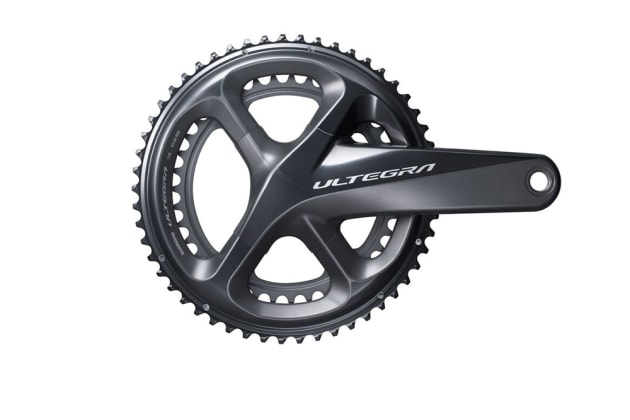 With redesigned chainring tooth profiling – first introduced for DURA-ACE R9100 – the new Ultegra rankset is optimized for the latest disc brake frame designs.
The new model crank arms are lighter than their predecessor, the new design is claimed to produce excellent power transfer efficiency. The new chainring tooth profile increases clearance between chain and leading teeth to provide compatibility with frames featuring 135mm O.L.D. and a 410mm chainstay length.
There are four crank arm lengths – 165mm, 170mm, 172.5mm & 175mm, and gear combinations of 46-36T, 50-34T, 52-36T, 53-39T. The crankset weighs 674g in 170mm, 50-34T.
Cassettes
The R8000 cassette features an increased range of gearing combinations. As with DURA-ACE R9100, the new 11-30T Ultegra cassette increases range while remaining compatible with short cage rear derailleur options.
With the addition of the new 11-34T CS-HG800-11 cassette, Ultegra further expands gearing options for riders covering seriously steep terrain.
CS-R8000 Gear combinations/Weight: 11-25T (232g), 11-28T (251g), 11-30T (269g), 11-32 (292g), 12-25T (243g), 14-28T (300g)
CS-HG800-11 Gear combinations/Weight: 11-34T (335g)
Braking Systems
Shimano's industry-leading rim brake performance continues with Ultegra R8000. Redesigned Dual-Pivot and Direct Mount models feature new technology and sleek designs, resulting in improved stopping power and efficiency with clearance for 28C tires. New design features include an additional stabilizer between brake arms to reduce deformation and improve efficiency.
BR-R8000: 182g (Front), 178g (rear)
BR-R8010-F: 174g
BR-R8010-RS: 172g
BR-R8010-R: 160g
Ultegra Disc Brakes
Utilizing a lightweight and sleek flat mount design, the BR-R8070 hydraulic disc brake caliper features premium stopping power and aerodynamics for road applications. The new RT800 rotor offers the latest technology construction with enhanced heat management for consistent performance on the longest descents.
BR-R8070, Hydraulic Disc Brake Caliper
Increased rider control in all conditions
Sleek Flat Mount design integrates seamlessly into a road bike's aero profile
Weight: 140g (Front), 140g (Rear)
SM-RT800, Centre Lock Disc Rotor
New ICE TECHNOLOGIES FREEZA construction provides better heat management than previous designs
Sizes/Weights: 140mm (106g), 160mm (127g)
Mechanical Shifting Systems
Ultegra ST-R8000 Dual Control Levers have further refined shift performance with improved ergonomics with both mechanical rim brake and hydraulic disc brake options. The new FD-R8000 mechanical front derailleur utilizes the new link construction first introduced with Dura-Ace R9100 for easy setup and fine-tuning adjustments without the need for specialty tools.
The RD-R8000 rear derailleur utilizes Shimano's Shadow RD design, which allows for more stable shifting performance and a lower profile to minimize exposure to damage.
ST-R8000, Dual Control Lever (2×11-speed) & ST-R8020, Hydraulic Disc Brake Dual Control Lever (2×11-speed)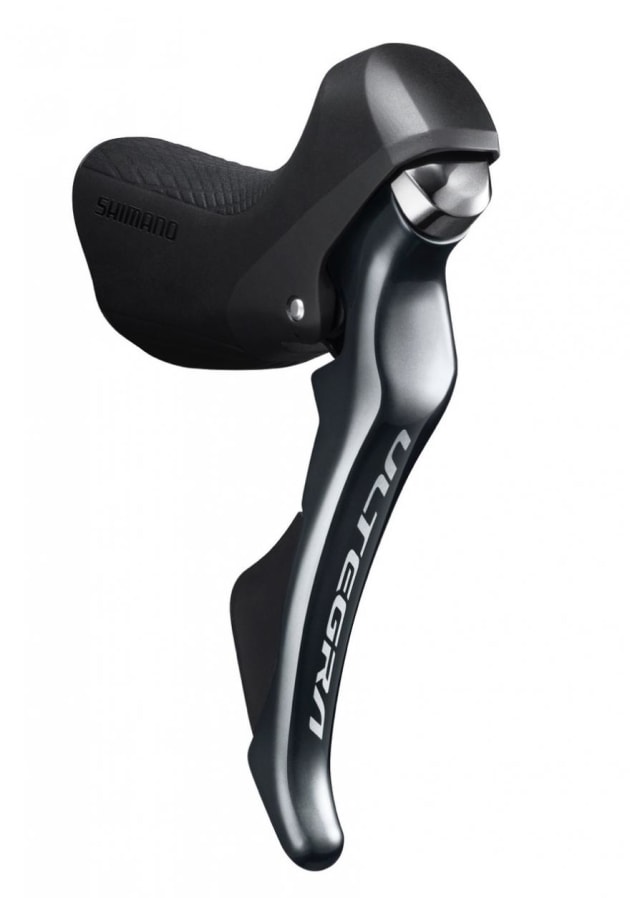 Redesigned internal shifting unit for quick and intuitive shifting
Increased reach adjustment range
Even lighter front shifting when paired with redesigned FD-R8000
Slimmed-down hydraulic internals (ST-R8020) for similar ergonomics between disc and rim brake configurations
Weight: 438g (ST-R8000, Pair), 550g (ST-R8020, Pair)
FD-R8000, Front Derailleur (2×11-speed)
New construction matches the force curve of the hand more naturally to reduce effort at the end of shifting.
New design allows for more flexible cable routing design.
Integrated cable tension setting for precise setup and tool-free adjustment.
Redesigned for disc-specific frames, accommodating a wider gear pitch without sacrificing shifting performance.
Weight: 92g (Direct Type), 106g (Clamp)
RD-R8000 SHIMANO SHADOW RD
Shimano SHADOW RD low-profile design increases shift stability and reduces crash vulnerability while providing a sleek integrated appearance.
Two cage length options provide wide range of gearing compatibility.
RD-SS covers: 11-25T to 11-30T
RD-GS covers: 11-28T to 11-34T
Weight: 200g (RD-R8000-SS), 210g (RD-R8000-GS)
RD-R8050 Di2 Rear Derailleur
The new Ultegra RD-R8050 Di2 rear derailleur has been totally redesigned. The low profile design delivers a sleek appearance while improving shift performance and minimizing potential damage to the derailleur in the event of a crash.
Shimano say the new FD-R8050 front derailleur delivers powerful and precise shift performance even under high pedaling torque. The product release says combined with Shimano's Synchro Shift programming and E-Tube project customization, Ultegra Di2 offers a highly intuitive shifting experience.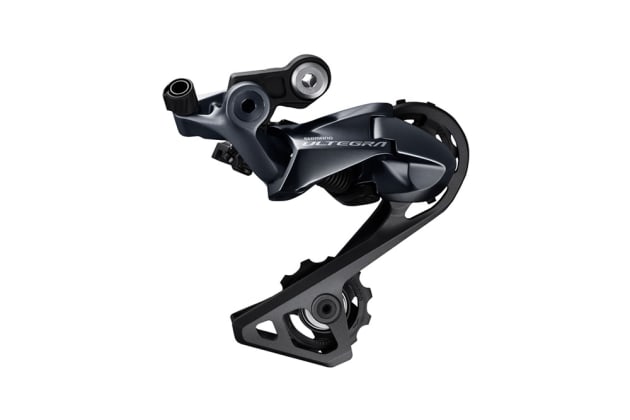 FD-R8050, Di2 Front Derailleur (2×11-speed)
Quick and smooth front shifting under high pedaling torque.
Programmed control of chain guide.
E-TUBE customization with Synchro Shift compatibility.
Redesigned for disc-specific frames, accommodating a wider gear pitch without sacrificing shifting performance.
Weight: 132g
Wheels
Two new lightweight wheelsets—the tubeless carbon-laminate WH-RS700 rim brake wheels (which replace the Ultegra WH-6800) and the tubeless WH-RS770 disc brake wheels with road e-thru axles.
New hubs (HB/FH-RS700/770) encourage faster acceleration with a weight saving of almost 60g compared to a pair of Ultegra 6800 hubs, whilst the rims use a new rigid but lighter carbon lay-up procedure to create a rim brake wheelset that comes in 80g lighter than its predecessor.
Weight: WH-RS700 (1,568g/Pair), WH-RS770 (1,639g/Pair)
Shimano SPD-SL Pedals
PD-R8000 Delivers lighter weight, pro-level performance. The new PD-R8000 Pedal receives numerous refinements resulting in a lighter overall weight and a lower stack height. Those refinements along with a carbon-composite body and extra-wide platform, deliver efficient power transfer.
Adjustable entry and release tension settings
4mm longer axle option for additional personalization
0.7mm lower stack height than PD-6800
Weight: 248g