Peter Maniaty pulls on a pair of the latest high-end road shoes from Fizik … and doesn't look back.
Founded in 1996 and owned by Selle Royal, Fizik spent the first two decades of its existence creating some of the world's finest – and best-selling – saddles. It still does, of course. However, it's also increasingly responsible for producing some of cycling's highest calibre footwear.
This includes the Tempo Decos Carbon, which sits at the lofty summit of Fizik's road endurance range. While these European beauties don't come cheap at well over $450 per pair, they are truly fabulous cycling shoes.
Fizik describes the Tempo Decos Carbon as "a performance road shoe for riders outside of the demanding pro peloton." But for the life of me, I can't imagine why a pro rider wouldn't be very happy using them given they are superb in almost every way.
FIRST IMPRESSIONS
Out of the box the Tempo Decos is very light, very minimalist in design and – in the case of the model reviewed – very, very white. The styling is classically European, nothing brash in the slightest, the kind of thing you imagine James Bond might wear if he ever left the Aston Martin at home for a roll around Lake Como. They look and feel beautifully made. With Shimano blue cleats attached, the review shoes (size 44) weighed in at an impressive 490 grams for the pair on my home scales, or 245 grams each.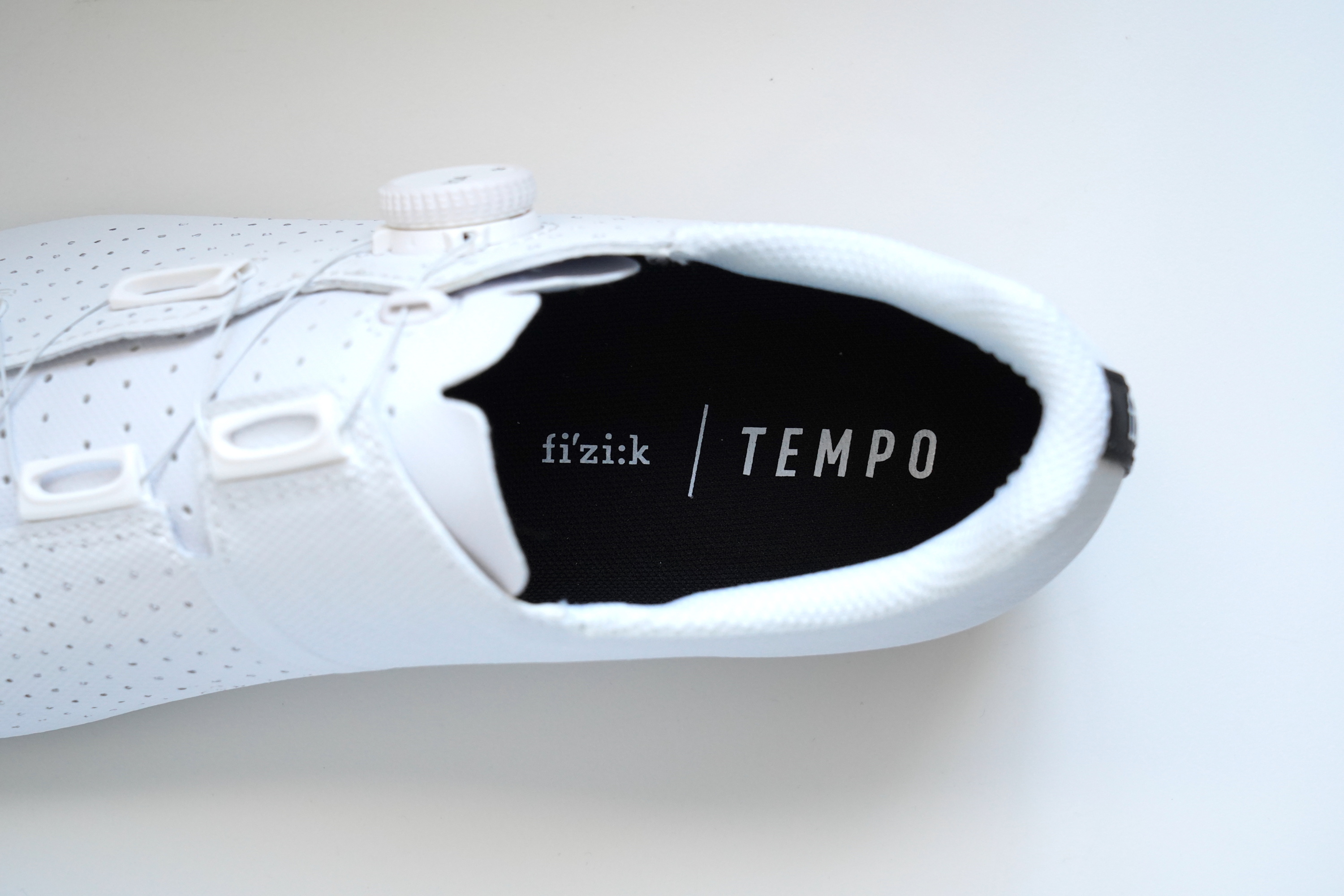 TECH & FIT
Beyond the minimalist styling, low-cut ankles and asymmetrical closures are another common signature of Fizik shoes, and these are no exception. While the design seems a little narrow at first glance, I had no such problems once they were on my wider-than-average feet. In fact, they are s-u-p-e-r comfortable. Should you be blessed with extraordinarily broad feet, they also come in wider sizings.
Unlike many current-day road shoes that rely on dual closure systems with dials and/or velcro straps, the Decos instead features a single Boa Li2 dial with bi-directional wire lacing to close and adjust the entire shoe. The theory is this allows it to more smoothly and uniformly envelope your foot with no hotspots – and that was exactly my experience.
The Li2 dial itself is a little flatter and smaller than earlier Boa models and I found it to be excellent. With just one dial to worry about, they're a piece of cake to adjust whether you're at home or out on the road. Nothing fiddly. Very user friendly.
STANDOUT SOLE
Fizik's unidirectional carbon R2 soles are another standout, with a well-deserved stiffness rating of 10/10. There's a reasonably wide vent at the toe which, combined with deep internal channelling, ensures plenty of ventilation around your heel, foot and toes.
The upper features a supple laminated PU mesh which is designed to conform to the top of your foot whilst also maximising breathability and temperature regulation, aided by a constellation of tiny perforations across the toe, tongue and sides. Closer inspection also reveals subtle silicone grippers have been built into the inner heel to help boost stability around the ankle. This is an important touch, especially as there is a small amount of float around the heel, even when your foot is firmly fastened. This sensation takes a little getting used to at first, but once you do, it actually makes for very comfortable riding.
CLEAT HOLES
The other interesting bit of tech news is the rearward cleat positioning on the Decos. Fizik has located the cleat bolt holes slightly further back than traditional riding shoes in what it says is an effort to optimise pedalling efficiency and relieve knee pressure in more aero riding positions. Visually I could barely notice the difference – we're talking millimetres here –and positioned my cleats pretty much exactly as I always have with no issues whatsoever. But the option is there to move things around a little should you wish to experiment with different cleat set-ups.
ON THE ROAD
Fizik markets the Tempo Decos as 'a high-performance road shoe designed to go the distance'. Worn on a variety of rides for this review including gentle coffee cruises, higher-paced training loops, several sessions of the trainer and a lone 100+km endurance ride, they performed brilliantly. Apart from being effortless to put on and adjust, they remained pleasantly comfortable from the first pedal stroke to the last. Two things really stood out to me, however.
"… I can't imagine why a pro rider wouldn't be very happy using them given they are superb in almost every way…"
The first was the stiffness of the R2 soles. The impact of this on riding performance cannot be overstated. There was virtually no discernible flex when riding which equated to first-rate power transfer. I found this especially noticeable when climbing and accelerating out of the saddle. You really feel like you're getting full value for every revolution.
The other thing I noticed was heat regulation. It became very clear to me, very quickly, the Decos is extremely well ventilated. This suggests it will be an excellent choice for longer rides in warmer weather. However, as this review took place in the middle of a bitter Sydney winter cold snap, my toes are still thawing out. Overshoes, or at least toe covers, are a must when the mercury plunges.
SUMMING UP
If you're the type of rider who wants top performance whilst also looking the part with uber-crisp minimalist styling from head to toe, you'll go a long way to find a more elegant choice of cycling footwear than Tempo Decos. Super comfortable, super easy to adjust and boasting sublimely stiff carbon soles, they're excellent in virtually every way.
Seriously, my only worry is how gleamingly white they are. They're sure to get trashed if there's even a hint of wet weather around. Then again, there are three other (darker) colours to choose from.