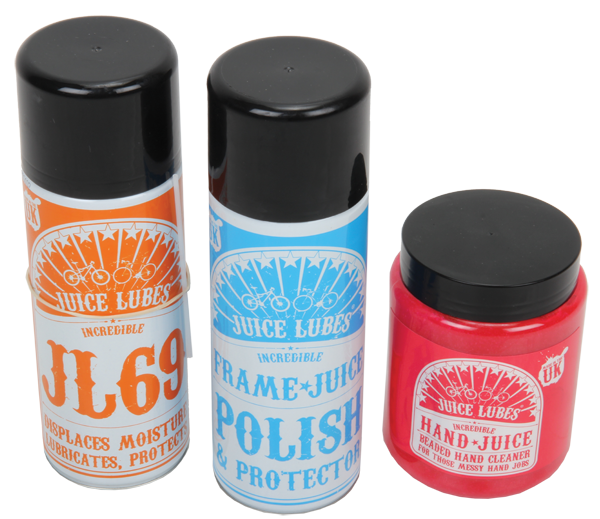 A new range of lubricants and cleaners with a funky image from UK brand Juice Lubes has hit the stores.Frame Polish 400ml
Have you noticed that when cleaning your bike, it looks shiny while it's wet, and then the finish becomes dull once dry? Juicy Lubes Frame Polish is said to buff dry leaving a wet look, high gloss finish on any cyclist's pride and joy. They say it will leave the finish slippery too, so that dirt doesn't adhere and cleaning next time round is easier.
Price: $18
JL69
In the venerable tradition of RP7, CRC and WD40, JL69 is a water dispersant, lubricant and protectant. It's said to penetrate well to release rusted-on parts and leave a film that prevents further rusting. It comes in a 400ml can with a straw attachment for the nozzle to access those tight nooks and crannies.
Price: $20
Hand Juice
Juice Lubes Hand Juice is a citrus based hand cleaner for cyclists, ideal for removing grease after working on your bike. It doesn't contain petroleum based solvents, so it's mild enough for regular daily use and wont dry out your hands. As an added bonus, it has a pleasant fruit salad aroma!
500ml Price: $20
Juice Lubes Dirty Little Scrubber Chain Cleaner
The Dirty Little Scrubber hangs on the lower chain and a hook bar swings up behind the jockey wheel so when you back pedal the cranks, the cleaner stays in place. Simple and quick to use, you may find yourself cleaning your chain more regularly, which should improve shifting and increase the lifespan of your drivetrain.
Price: $35.00
Distributed by SCV Imports