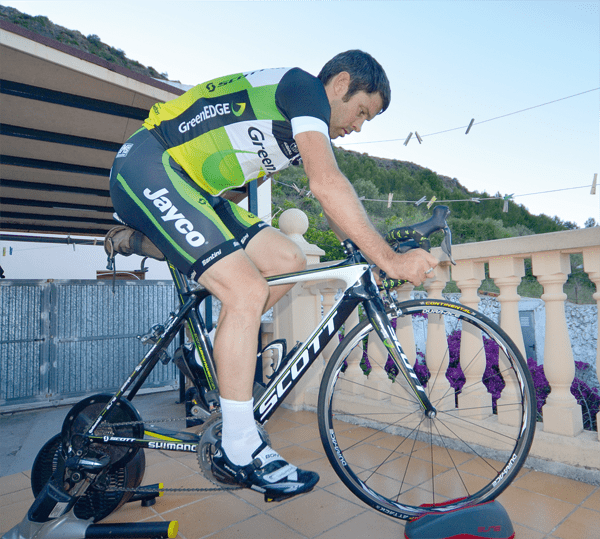 I thought it a good idea to read over what I wrote last time so I could ensure some relevant 'flow on' to this column. I have to say, I probably could not have been more wrong in what I was predicting for the team on its European debut. It has been an extraordinary start to the year with results and performances well beyond expectations, and from a cross-section of riders within the team. For myself, on the contrary, things could not have gone much more wrong. A crash on the third day of my first race for the 2012 season, the Volta Catalunya, has put me out for a further three months. It's fair to say that my inaugural year with GreenEDGE, or I should say, GreenEDGE-Orica, has not gone as I had planned or hoped for so far. Fortunately, my morale has been partially buoyed by the performances from the rest of the team.
If we take a look at the victories so far, the most deserved and prepared was the team time trial win in Tirreno Adriatico. It was no secret that GreenEDGE set out a specific goal in this race and that was the team time trial victory. The boys committed to a few extra days away from home to prepare at a small training camp before the race and the dividends paid off. Certainly there is one basic premise in bike riding that always holds strong and it is one of the reasons why I love this sport so much. You put the work in and it'll pay off. The team time trial is a perfect example of this and the boys demonstrated it by not only winning it but winning it convincingly with a 17-second margin. Such a big margin in a short 16.9km team time trial event is rare, so there is no denying that the victory was unequivocally theirs.
Such a victory often has a profound effect on the performances of fellow team members and I think I'd be right in saying that this success bred success, resulting in Gerrans's second stage place in Paris-Nice, which was smartly followed by an impressive victory in Italy's biggest one-day race, Milan-San Remo – a race that many teams try for years and years to conquer but never do. Once again, it was a well-played out and thought out victory – a real credit to Simon's race intellect. Everyone in the team contributed what they could and Goss and Gerrans did their job in the final, polishing off a great day and a great week's worth of racing and results.
The run of success continued for the team while the guys prepared for the Ardennes classics. Clocking a nice solo victory in the first stage of the Volta de Cataluña was Albasini, after which the weather gods opened up their wrath upon us which inadvertently paved the way to securing the overall victory – one which we'll unashamedly take. The team held it together steadfastly, as only an Aussie team would, and donned the yellow jersey from day one till the finish. Such a resounding stamp of authority was then followed by Luke Durbridge displaying his talents in Circuit la Sarthe and Daryl Impey notching up a victory in Pays Basque. This is a phenomenal run of results for a team just starting out.
Unfortunately for me, I'm unable to take any credit for any of these fabulous performances. Stage 3 of Volta Cataluña, which was supposed to be the queen stage, was the end of the beginning of my season. I was struck with disbelief as I lay back down on the road writhing in a world of overwhelming pain. The kind of pain that only comes with serious damage. My pain receptors in my lower left leg were screaming at me, yet there was a moment when the athlete within me spoke up, "Harden up you softy and get back on your bike!" I tried to stand but there was absolutely no way.
We had ridden seven kilometres into the stage on a cold and rainy day as we headed into the Pyrenees. The first climb began after 10km as we were passing through the small town of Olot. We had come through a wet corner after which I had moved up the peloton, feeling that I was too far back. Mid way through the corner I heard the dreaded sounds of bikes colliding and metal scraping ahead of me. In a normal situation it would be an instant brake response but braking in a corner when it's raining is a no no! So I grabbed the brakes ever so slightly. From my inside, came another rider drifting me to the outside. On the exit of the corner there was a car parked in the exact line we needed to use in such conditions. I had enough time to clock that the guys who had tried to draw inside of the car had slipped off, while the guys who had gone for the outside line had hit the gutter and crashed. The only other option was the car itself. Fair to say there were no real good options. My exit strategy became to grab the brakes a little more in hope I could keep it up and try to pull up before the car. Part one and two of the strategy went well. Part three not so.
I managed to scrub a fair amount of speed off. Drawing closer to the car and straightening up I pulled the brakes a little harder still. I felt the back wheel lock up and swing to my side, bringing me and my bike parallel with the front bumper of the car. My last thought, as I realised that I was going to hit the car, was actually one of relief. I felt that I had slowed down enough and although I would hit the car I'd be ok. Well, I was ok, in fact not a scratch on me or a mark on my bike. What my crash calculator hadn't predicted was my foot staying attached to the pedal as it hit the front bumper of the car. The impact flicked the bike under the car, taking my lower leg with it. The bumper served as an efficient fulcrum and that combined with the small amount of momentum I had left was all it took to end my day. SNAP!! A broken fibula and tibia!
So stages 1-3 of the Volta Cataluña were the start and end to my season thus far. It's difficult to say when or how long I will be out. For now, like always with recovery, it will be a week-by-week gig.
The pain and disappointment is something I have been able to forget about from time to time with the success of the team. It continues to be a dream start for us, and more than ever I want to make a speedy recovery so I can be a part of the success firsthand. The team is giving me every motivation with their spirit and success to get back as soon as possible. The tenacity and guts with which the boys have been racing is is just what you'd expect from an Australasian team and these qualities and work ethics are what I need to carry into my rehabilitation.
No matter whether you're a pro-bike rider, an amateur bike-rider, a Sunday bunch rider, a budding bike rider, a wannabe bike rider, a couch potato bike rider, or just a cycling fan, what GreenEDGE has achieved so far, in not only results but performances, should be plenty enough to silence the critics and lift the spirits. Or at least put a smile on the dial of many Australian sports lovers.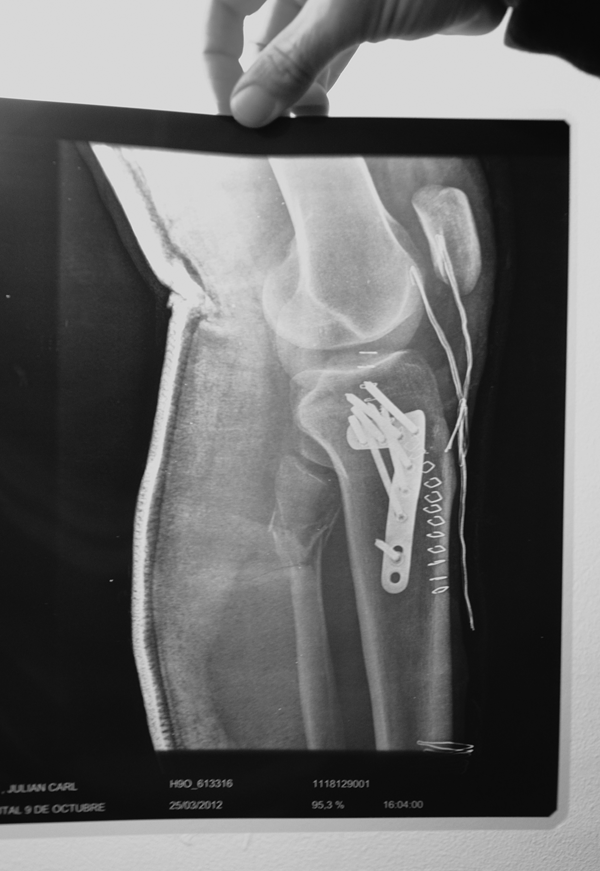 Something to eflect on… an x-ray of the pins and screws inserted during surgery to Julian's knee.