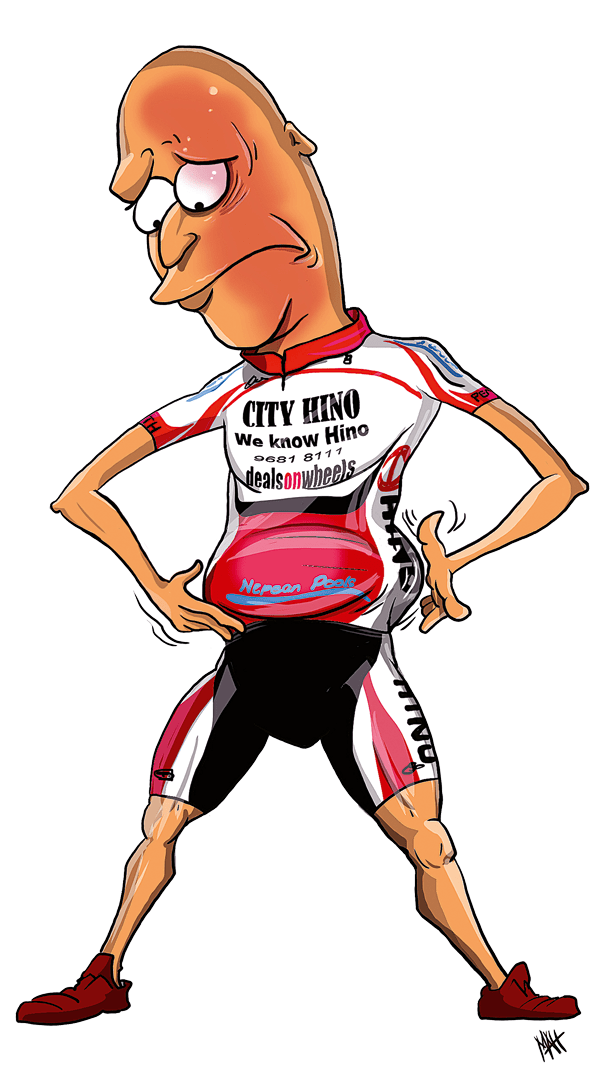 It is a truth universally acknowledged, that any lycra-clad middle-aged man in possession of a bicycle must be in want of a road race victory. However little known the feelings or views of such a man be on first entering a club, this truth is so well fixed in the minds of surrounding cyclists, that he is immediately considered a combatant who must be sized-up, graded and overcome.
Without pride or prejudice, folks, I made the difficult but inevitable decision to step-up from random randonneur to rank amateur. And the pressure was on from the very beginning.
Stokesy, the club commissaire, looked me up and down, stepped forward and opened his arms for what I thought was an unusually warm welcome to the mighty Panthers Cycling Club. As I awkwardly wrapped my arms around him and patted his back in a manly manner, he proceeded to grab a love-handle with one hand and pinch my belly with the other. Announcing further intentions with only a deep breath, he then rotated me a full 180 degrees, slipped into a classic Greco-Roman bear hug and hoisted me into the air.
I stared at the club secretary who stood with a clipboard and pen at the ready to record Stokesy's assessment of my cycling prowess.
"Weak core. About 242 pounds. Body fat 29%. Already perspiring."
He put me down, had a final squiz at my posterior and then spun me around.
"Welcome to E Grade, Fartlek."
E Grade? What a brutal act of cycling Darwinism. I endeavoured to hide my disappointment at being at the bottom of the food chain.
"Endo is ready for E Grade, Stokesy," I blurted.
Now, there are various signs that indicate when a cyclist is psychologically on the rivet.
Some are physical. Armstrong's mouth would curl at the edges in what one journo described as a Dead Elvis Grin. Fausto Coppi had a vein at the back of his right knee that blew-up like a lanterne rouge just before he cracked. For punters of the peloton the signs are less subtle. My cycling nemesis, Miguelito 'El Dingo Loco' de Pared, regularly gives himself away by hurling expletives at the bunch just before rolling to the side of the road, dismounting his Orbea and dropping to his knees to vomit up a lung.
Non-physical signs of weakness are less tangible, but when a cyclist starts referring to himself in the third person you can be sure that he is either supremely confident in his form or otherwise under the pump and doing everything possible to hold his proverbial poo together.
"Jensie is not the kind of guy to drop his stein in a beer hall brawl," said Jens Voigt when questioned about the prospect of getting Andy, Frank or any other willing and able member of the Schleck family to Paris in Yellow.
Now, that's confidence.
"Don't write off Phillipe Gilbert. Every missed opportunity in 2012 has saved boundless energy for the old Gilbert we know to expend on World Championship glory," said Gilbert, one or two monuments short of a classic Spring.
Obviously, that's dung.
"Chris Hoy thinks that the day Chris Hoy refers to Chris Hoy in the third person is the day that Chris Hoy disappears up his own fundament," said Chris Hoy, when asked by a journalist what Chris Hoy thought about Chris Hoy after Chris Hoy won gold at the Beijing Olympics.
Supreme confidence.
I too was brimming with confidence when Stokesy finally let E Grade go in the staggered start of my debut race. In a cunning move, I immediately muscled my Hillbrick Boneshaker to the rear of the bunch to have a better look at the competition. It also turned out to be an ideal position from which to watch the slow reaction of the group to some 14-year-old kid jumping off the front in an attack that would bust open E Grade like a dropped watermelon.
Stuck at the back, I needed something special and firmly squeezed my Greg LeMond drop-in handlebars to muster the necessary intestinal fortitude. LeMond's personal journey is instructive and those handlebars – first used in 1990 in the second year of his comeback – remain a testament to all that is possible if you are prepared to ride the pegs over the cobblestones of life and give it the full crank when you come out the other side of your own Tranchee d'Arenberg.
In trying moments I grip those bars and gain comfort from the knowledge that any one of my brother-in-laws could mistake me for a turkey and pepper my torso with shotgun pellets without stealing my dream of dancing in the Maillot Jaune on the Champs-Élysées as a demoralised Frenchman collapses to the cobbles and weeps like a child.
That's Greg's gift to us all…
Using what turned out to be my only available effort, I stomped the pedals hard and managed to surgically insert myself smack-bang in the no-man's land between the two groups: a pure E stuck between E plus and E minus. It would have been a solo ride for the duration but for an inspired stint in a bunch of C and D Graders who were passing me for the second time. I didn't feel lost in the higher grades, though a fellow I now call Garmin told me exactly where to go.
Regardless, I think it's fair to say that Endo Fartlek has arrived upon the amateur scene.