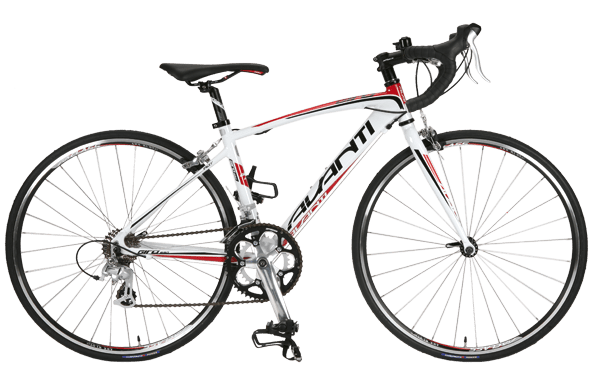 For many people, finding a good bike for their kids to race on can be a problem. You don't want to spend a fortune for something they'll grow out of, but at the same time you still want them to have something decent to ride and race on. Enter the Avanti Giro 650. This bike is a scaled down version of Avanti's popular entry level Giro series. These bikes have an upright geometry based on the top of the line Cadent series. The adult sizes have the same geometry as the Cadent, however the 650 has a 71 degree head angle due to its smaller size.
The frame is aluminium, 7005 ultralight to be exact, while the forks are steel. This sends the weight up a bit, but does keep the price down.
The component spec in my opinion is perfect for an emerging rider. Shifting duties are handled by Shimano's 2300 groupset. If you haven't seen 2300 before, you may be surprised to know that it uses a finger and thumb shifter, much like Campagnolo's. The gearing selection is very sensible, a 13-26T on the back and an FSA Vero 50/34 compact crank at the front. As a general rule, you wouldn't expect young kids to be riding huge hills so this is a good selection.
The rest of the componentry apart from the wheels (Alex) and tyres (Kenda) are taken from Avanti's Zero Concept range and on the whole, these function and work well. I must admit to being a bit 50/50 on the saddle as it is still an adult sized version. Perhaps a smaller racing model might be more comfortable for smaller racers?
I was very interested to see how the transition from a single speed kids' bike to a road bike would go. My two main worries were the considerably more forward riding position and also, changing gears. In addition a road bike is much more twitchy in its handling than a kids' bike. Surprisingly, it didn't take very long for our nine year old tester to adapt. We only experienced one crash. One thing that helped was the alloy safety brakes along the handlebars. This meant that she could remain in an upright position while we made the move to the hoods more gradually. I also took the strap out of the pedal cages for easy foot removal.
Gears were a slightly different matter. The thumb and finger shifting was a definite plus, but it did take some time to get further than one gear at a time. A little time at the velodrome where there weren't any hills or any traffic helped a lot with this.
In a market where good kids' bikes aren't that thick on the ground, the Avanti Giro 650 is a pretty good option. Its aluminium frame is quite responsive and the component selection is very appropriate for the intended use. At $849 the Giro 650 won't break the bank, yet will still provide the perfect platform for the beginner racer. Its quality means that as your racer grows, you'll still be able to pass it down to younger siblings, something that can't always be said about most kids' bikes. If you're looking for a quality steed for your emerging road bike rider then the Avanti Giro 650 should be high on your list.
Price: $849
Distributed by Avanti Bicycle Company