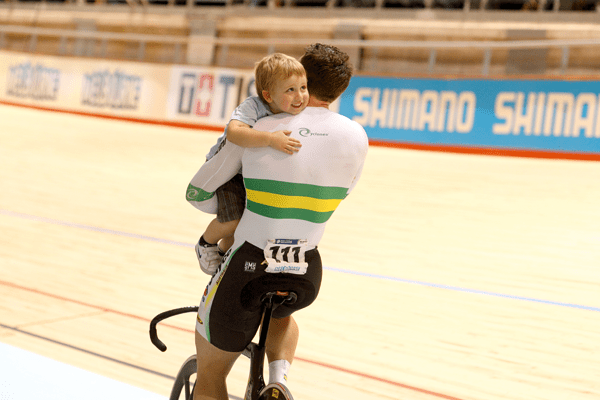 Effort recovery, effort recovery, effort recovery has become an everyday occurrence for me since I started sprinting at an early age. When people come to watch sprinters train there is always the question of laziness. Why are they just sitting around after an effort? Why are they chasing a motorbike? How come their legs are going really fast in one effort and slow in some others but they're still travelling fast?
The sitting down for 20-30 minutes is for a very good reason. Most, if not all efforts done on the track are at maximum effort. As our goal is teaching the body to go as fast as possible, we need maximum recovery. If we don't do this, the efforts will be of a lesser percentage due to fatigue. Take the Flying 200 metres for example. If we were to do a flying 200m effort, then roll around for five or 10 minutes before doing another one and then repeating that process three or four times, you would see a dramatic drop off after the first effort. You could say that some riders would be better than others if they were to work at these short rest periods, but I guarantee there would not be the same maximum speeds reached. Using a 20-30 minute recovery allows the body to come back to its resting state, lower the heart rate, clear lactate and replenish creatine and ATP stores, although that happens pretty quickly. It also allows time to recover mentally and get ready for the next effort.
The other interesting part of the longer rest is changing gearing on the bikes. As an example we would use a small gear to warm up, say, an 84-inch gearing to do our jumps with. That means that if you rolled the bike out, it would take 84 inches for one complete revolution of the cranks. Then we would progress to our training gears depending on what we are doing. For starts, we might start on 104 inches for the first set then progress up to 110 inches. As the gear gets higher it gets harder to push. This allows us to train different strengths or weaknesses in our training. So, for a flying 200 metre we could use a smaller gear to train leg speed or a much larger gear to train strength. A typical session would start off with a 20-25 minute warm up, with a 5-10 minute rest before going up on the track and doing a maximum jump on the warm-up gearing (small gear). Once we have rolled to a stop we come back into the centre and change the gearing to the one we would need for training during that session, usually a much larger gearing than warm up. We're also careful to make sure we also put in some sports drink or gel for some carbs. This process would take about 15 minutes. Then we jump up for a small acceleration on the training gear to get a feel for it and then it's into full training. Effort recovery, effort recovery, effort recovery, effort recovery!
This process may seem time consuming to some but it's the way of track sprinting and it does take many hours spent at the track to complete a session. And there's plenty of them.
I have been doing this for almost 14 years in search of a dream from a very young age. That dream is Gold at the Olympic Games. It has been some journey just to make the Olympic team let alone going to London and winning a gold medal. The anticipation surrounding the Olympic Games is of course very high and realistically, all the work put in over many years is targeted as part of the long-term goals to these Olympic Games.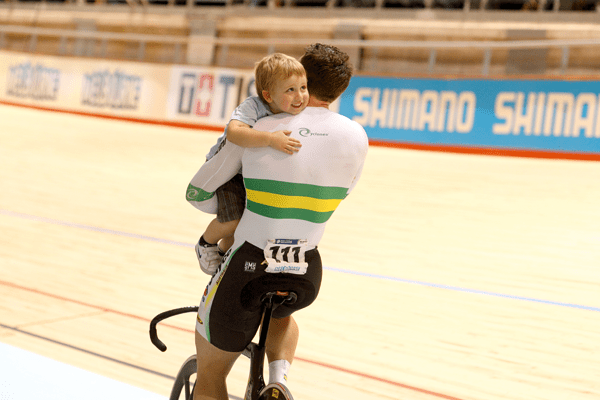 Let me tell you, it as an absolutely fantastic feeling training for the Olympics. Excitement is high in anticipation of them. From a young age, watching the likes of Shane Kelly, Gary Neiwand and Ryan Bayley compete at the Olympics has inspired me to want to represent my country and win at the Games. I can remember in 2000 watching Shane Kelly in the Kilometre Time Trial line up in front of a home crowd. My heart rate was pushing 200bpm I reckon, it was so exciting when he took off. I was on the edge of my seat the whole race, riding it with him. Then Gary Neiwand in the Keirin, again I was off my feet jumping and yelling at the TV, riding it with him. I think I needed a solid couple of days to come down after watching them. I feel in a privileged position to have my own coach representing Australia at two Olympics. It gives me a lot of confidence with Sean Eadie leading the way in my career after he having the success and experience from his own career. It's a fantastic feeling not only preparing for the Olympics, but preparing with someone who was once an idol, now a friend and coach. It's is a unique situation. We are going to London together and that journey in itself is special. These two men went to win and although they didn't, they left an impression on me and I'm sure many others. The way that they fought to win the Gold and made every Australian proud of them for taking on the world!
I think there is a special message in that. Although we go to races to win at all costs and make all the sacrifices necessary, it really is all about the journey win or lose, I believe. I have been lucky enough to spend much of my life with an Olympian, my own father. The fact that I'm following in his footsteps is one thing, but he always spoke of the journey and passion that he experienced when he represented Australia at the 1964 Tokyo Olympic Games. Although he did not win a Gold Medal, he sacrificed, left no stone unturned, proudly represented Australia and won many fantastic memories. Let me tell you, I am enjoying the journey so far and I am looking forward to it peaking at the London Olympic Games, not so far away. Enjoying the journey and following my dreams. After taking my son Aiden for a victory lap in Melbourne I can tell you it would be something to take my little fella for a ride around the London Olympic Velodrome! He keeps asking me for another ride and I just say wait until August mate! Can't let my son down now, can I?!
If you have any questions don't hesitate to shoot me an email at my website www.shaneperkins.com. See you on the TV in couple weeks!!