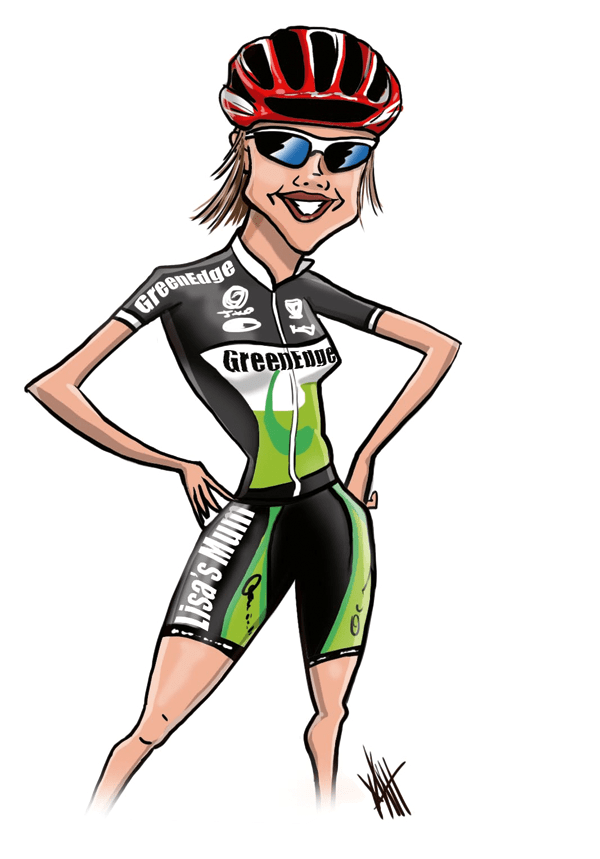 Lisa's Mum is the alter ego of Melbourne cyclist Lisa Jacobs. She has a forthright but personable manner, a penchant for Earl Grey and an unwavering ambition to join the SBS Tour de France commentary team. Lisa's Mum can mostly be found inhabiting the pages of www.ridehappy.com.au, where she proffers valuable commentary on cycling fashion, etiquette and life in the pro peloton. Here, Lisa's Mum shares her insights with the Bicycling Australia community as she works towards her goal of being no.1 on Phil Liggett's speed-dial.
Lisa's Mum welcomes the invitation from Bicycling Australia to join its editorial team. As a shooting star of the cycling fraternity, Lisa's Mum (LM) always felt creatively constricted within the pages of Ride Happy and considered her editor under-appreciative of her immense talents. She is confident that her presence in a more substantive cycling publication will provide valuable experience to add to her CV and perhaps also subsidise her habit of parking in No Standing zones.
It is timely that 2012 is the year in which Lisa's Mum joins this magazine. Already, it has been a momentous year for Australian cycling. With a defending Tour de France champion, the launch of GreenEDGE and now the advent of Lisa's Mum in print, it is indeed a year in which the Australian cycling community can consider itself blessed.
While no one can argue the value of having an Aussie World Tour team, the choice of the name 'GreenEDGE' is a curious one. As a representative of the people, Lisa's Mum did some research into how the name came about.
Initially it was thought that the 'Green' part of the name came from Gerry Ryan's fondness for conservation. As the owner of the Jayco brand of caravans, cabins and motorhomes, Mr Jayco clearly understands the value of the outdoor environs. The colour green, experts argue, would have won out over early front-runner GreyEDGE, which reflected the popularity of the Jayco brand among the Grey Nomad caravanning set. Another early loser in the battle for GreenEDGE naming rights was BlueRinseEDGE, which was discarded during initial talks despite having obvious synergies with Jayco's target market.
However, a source close to the GreenEDGE brains trust revealed that the team name had been chosen giving careful consideration to the names of other WorldTour teams. Extensive research carried out by GreenEDGE staff (in between breaks in recording the GreenEDGE team song and commemorative Christmas CD) showed that teams with overly-complicated names were less likely to receive attention from race commentators and media simply because their titles demanded too much air time. Even The Voice of cycling himself, Phil Liggett, would baulk at the thought of describing a break containing a rider from new World Tour team RadioShack-Nissan-Trek-Omega-Pharma-Quickstep-Barracuda. It would leave no time to talk about the marvellous European countryside.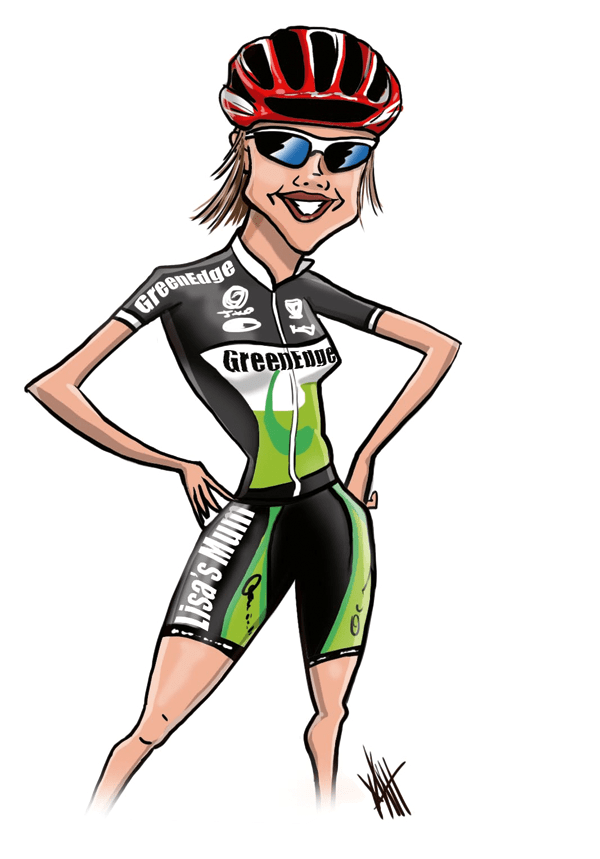 Further GreenEDGE research revealed a direct correlation between long team names and fat riders. Teams with names that required a large amount of uniform space, particularly on the rear panel of riders' knicks, were more likely to sign up the kind of rider that could fill out the requisite quantity of Lycra. It is no coincidence that there was more of Jan Ullrich to love during his days with Team Telekom T-Mobile. As soon as the team changed its name to the more succinct 'T-Mobile', Jan's skinfolds dropped. Knowing this, GreenEDGE management rebuffed advances from potential sponsors I Can't Believe It's Not Butter and the Cooma-Monaro Shire Council. It also saved valuable knicks space by changing its sponsor bike company from Bianchi (seven letters) to Scott (a two letter saving). Had it chosen BMC, who knows what power-to-weight ratios the GreenEDGE climbers could have achieved.
The inclusion of the 'EDGE' part of the GreenEDGE name, however, is more intriguing. Staff and management at GreenEDGE have declined to comment on the EDGE, leading Lisa's Mum to believe that the name is derived from a secret backer of substantial personal wealth. A bit of sleuthing led LM to lodge enquiries with the press team of legendary Irish band U2. U2 feigned ignorance of the GreenEDGE project, but the absence of U2's lead guitarist around the time of the GreenEDGE team launch, combined with the team's green colour scheme and the curious pride with which the GreenEDGE team song was launched, leads Lisa's Mum to believe that the circumstances are more than coincidence. Given that the Irish connection to cycling runs deep, and probably throughout the whole U2 band, Lisa's Mum considers GreenEDGE fortunate not to have been named GreenBono. The question is, will they find what they're looking for?
Having solved the mystery of GreenEDGE, and celebrated with a rousing cup of Twinings, Lisa's Mum now turns her attention to other anomalies of the peloton. Like why does Brad Wiggins maintain a haircut that makes him look like one of the Beatles? Whose idea was it to name a team Project 1T4i (and how on earth do you pronounce it)? And which are cooler, wide cuff or elastic cuff knicks?
Lisa's Mum also accepts personal correspondence on all matters cycling. She is nothing if not devoted to her people. Please direct all cycling-related queries, dilemmas and conundrums to her personal secretary at Bicycling Australia; editorial@bicyclingaustralia.com. Lisa's Mum will endeavour to respond to you in the following issue. Although, as you know, she is a lady in demand…