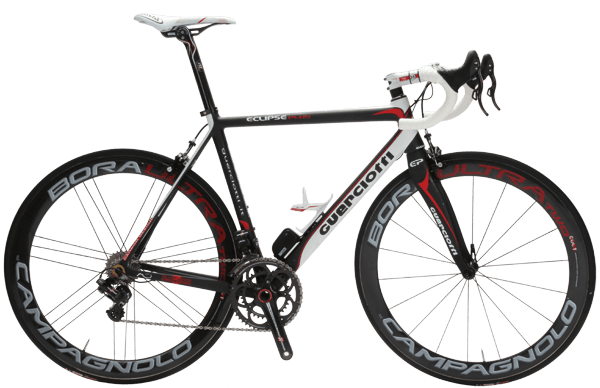 The first thing that really grabbed me when the Guerciotti rolled through the office door was the price. Indeed, being half of many people's annual take home pay, it's fair to say that it overshadowed the entire test. And it got me thinking. What is it that makes an object become desirable? So desirable that people are prepared to spend the absolute top dollar on it? What makes someone choose an Aston Martin over say, a Barina? A DeLonghi over a Breville? A flat in Toorak over a house in Eltham? A pair of Testoni shoes over, say, a pair of Colorados? And in this case, what makes someone want to spend seventeen grand on this bike over say, six grand on another? What is it that makes my friend Kurt say, "Oh man, that is seriously pimped!" when he sees this Guerciotti?
And I've decided it's the combination of a number of things. Firstly, heritage. There has to be some kind of pedigree for a brand to be successful in this way. Secondly, style. A brand has to have a certain form, which is pleasing to the eye, yet still be fully functional. Thirdly, immediate status. It must be instantly recognisable as the genuine article. Would anyone really drive a Rolls Royce if it wasn't such a status symbol? And does anyone care about Rolex watches anymore? Lastly, scarcity. A brand must be only available in limited quantities. The extension therefore is that you must be someone special to own one. Interestingly, the Guerciotti fulfils every one of these requirements.
Heritage
The Guerciotti company began life in 1964 courtesy of founder Paolo Guerciotti, a successful cyclocross racer. Paolo's first premises are legendary, a 20 square metre store-cum-workshop on the Via Petrella near Milano railway station. Paolo soon became one of the famed 'Milano Frame Builders', moving to a larger premises near Bergamo before returning to Milan's northern suburbs between the city centre and Monza. The company sponsored a number of famous teams including Fiorella, Magniflex, and Dromedario. Despite being a comparatively small concern, they still supply bikes today for the Continental outfit Team
Miche-Guerciotti and the women's squad Gauss RDZ Ormu Unico 1. Their R and D test riders include Gilberto Simoni and Michele Scarponi, so you could say there's street cred and heritage in spades.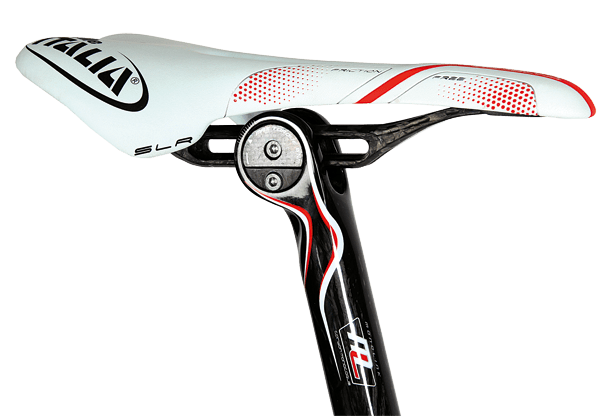 Style
There's no getting around the fact that Italian designers have a certain flair. Despite being immediately christened 'The Love Bug' in our office after it's Herbie-esque stem and bar decals, this bike is a seriously bling piece of kit. Guerciotti have embarked on a project they call 'No Limit Carbon Technology'. Working with aerospace and Formula One designers they are constantly pushing the limits of what carbon can do. Instead of using a monocoque moulding process Guerciotti employ a wrapping technique, which the company say allows for 'no working marks' while still providing the ultimate efficiency. The carbon fibre used is a blend of Toray, Hexcel and Advanced M46J and true to form, this frame is absolutely smooth and seamless, with the exception of the top tube where the join is visible. Combined with Campagnolo's Super Record EPS groupset and Bora Ultra Two wheels this bike is style on a stick!
There's more happening here than just good looks. A close look at the chainstays reveals a stiffening brace along the inside to give better power transfer. Additionally there's a funky dropout and derailleur hanger combination on the rear end. The dropouts themselves are carbon fibre and are made during the moulding process, not added later. But they're also strengthened with an aluminium plate (and hanger on the drive side), which is attached on both the inside and outside of the dropout. Nice.
This frame weighs in at 950g for the medium size. Guerciotti say that the initial version of this frame weighed 820g but they felt that some tubes needed to be modified for extra strength and reliability. Still, it wasn't that long ago that any frame under a kilogram was considered an engineering marvel.
Immediate Status
They say that if you have to ask, then you can't afford it. Or, a true gentleman knows another gentleman. Bike brands are similar. There will be some people out there who have never heard of Guerciotti and there will be others who, knowing the full heritage of the brand, will see you riding one and immediately come up and start talking. Particularly as the spec you see on the frame here is a standard build. If you enjoy the feeling of knowing that you're riding something a bit special then this kind of bike could be for you.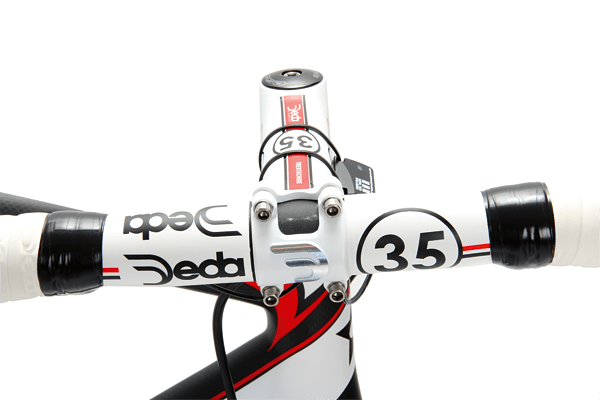 Scarcity
Many of the most desirable objects in the world have become so because they're hard to find. You won't see too other many Guerciotti bikes when you're out riding. The Eclipse Plus is made in Milan, not just painted and assembled there, and over the entire range, including road, mountain bikes, time trial and cyclocross only 2,500 frames were made in the last 12 months. Out of these only 200 Eclipse Plus frames were sold. That makes it a very desirable model indeed. Keeping with the top-drawer theme, the Australian distributors will only bring complete bikes into Australia with Campagnolo Super Record or Dura-Ace components. Frames will have room for customisation however.
Componentry and Riding
As you've no doubt noticed by now, the Guerciotti Eclipse Plus is equipped with Campagnolo's new EPS Super Record groupset. This has been a long time coming, indeed, this is our first chance to have a really good play with it. For the most part my impressions were good. I've always been a fan of Campagnolo 11 speed, so I was pleased to see that they've kept the comfortable lever and hood combination. Despite all the various groupsets on the market I still feel, for myself at any rate, that these hoods are the most comfortable.
There's been some improvements to the shifter buttons, particularly the thumb lever which is now located considerably lower on the hood, something sprinters and riders who spend a lot of time in the drops will appreciate. The front derailleur shifts like magic and the rear differs from the current Shimano Di2 in that you can hold the shifters down and the rear derailleur will move right through the width of the cluster. It takes a bit of getting used to, and I found a certain amount of looking back to see which gear you were in at first, but it does work well. The downside is that it retails for $5,999.
Also impressive are the Bora Ultra Two wheels and the Deda Trentacinque bar and stem. Good choices although you could question whether tubular wheels are a good choice for anybody except a high level racer. Clinchers might be more useful. These wheels use Campagnolo's CULT ceramic bearing system and G3 spoke system. A quick look on the Campagnolo website shows how high they value these wheels. The company's measurements, which include smoothness, handling, aerodynamics, reactivity and comfort rate them at 10 out of 10 for smoothness and reactivity and 9 out of 10 for the other three. Even allowing for a slight bias, that's impressive.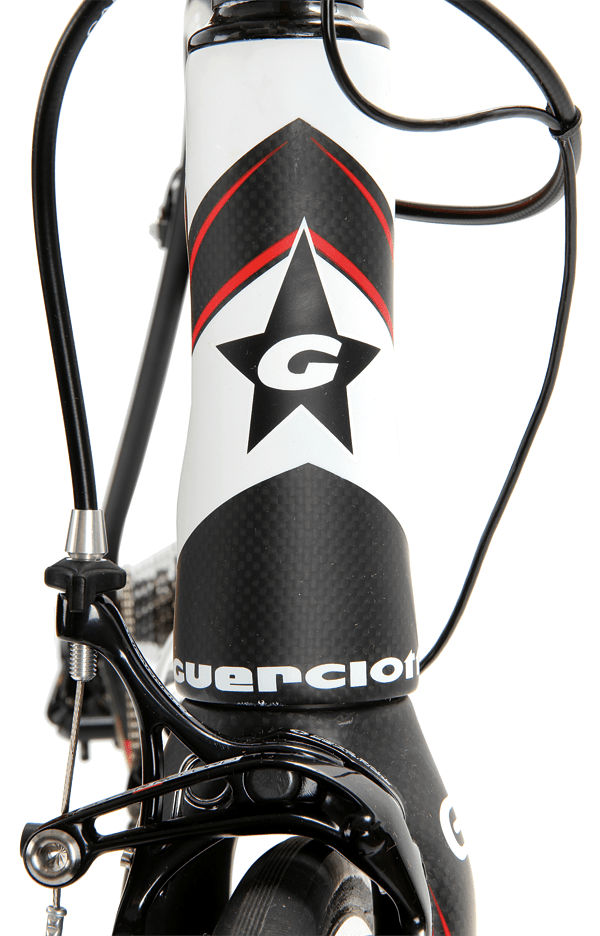 The bars and stem are Deda's most advanced models. The bars are called M35 while the stem is called Trentacinque as they are 35mm in diameter instead of the usual 31.8mm. The extra thickness is along the centre of the bars and extends as far as the first bend where it tapers back to a normal size. This allows for ultimate stiffness, something usually achieved with a tapered steerer.
Lastly, the saddle tasks are well handled by Selle Italia's Monolink seatpost and SLR saddle.
In the Saddle
I honestly didn't know what I expected when climbing onto the Exclipse Plus. Obviously I thought the combination of carbon frame and Bora wheels would be a good one. But I also had the whole 'Is this twice as good as a bike that costs $8,500?' thing going on in my head. All my pinko-greenie, left wing leanings! Well, from the first pedal stroke I was seriously impressed. I pushed off with my left foot and the whole thing leant over to the left. It was that stiff. The low front end took me a little by surprise (possibly due to the Defy being my previous test bike), being twitchy and highly responsive. The front end is rock solid and while I guess a lot of the credit for this goes to the bars, the thick forks and short head tube appear to also be playing a part. The steering is feather light. A slight twitch and around the bend you go.
As you'd expect given the wheels and stays, the Eclipse Plus is no slouch. This is a head down, bum up, go fast racing bike. The power transfer is excellent and so is the road information coming through the frame. Riding on rough roads you certainly notice that vibration coming through. On smoother roads it's perfect. I may have to add yet another model to my "If you could have any bike, what would you have?" list.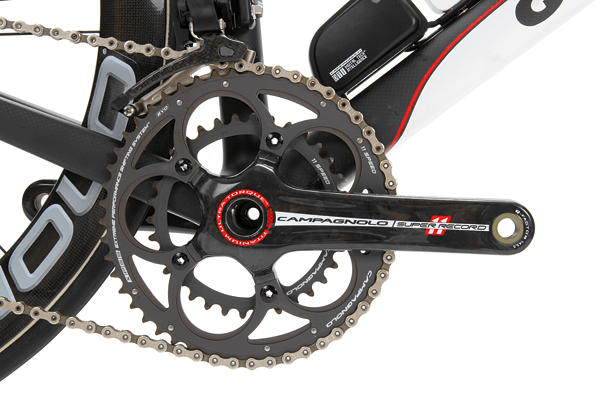 Quality
Everything on this bike is top drawer, from the hand built frame to the Bora Ultra Two wheels to the Campagnolo Super Record EPS. It's hard to think of something you could add to make this bike more bling.
Performance
I was surprised how very good this bike was. OK, yes I probably expected something out of those wheels, but the entire package is a rocket. If you like a low, aggressive racing position and extremely twitchy front end then you will enjoy riding this bike.
Value
There's no getting around the fact that this is a very expensive bike and far out of the reach of many of us. And even if you do have a six-figure salary you might find it difficult to justify to your non-riding other half. On the other hand, it is something special and if that's the way you live your life, then why not? You only live once. Choosing to customise the frame with a different groupset and carbon clinchers could knock about $4,000 off I reckon.
Overall
My venture into the top end of the market was an interesting, yet fun, experience. I can't see myself ever owning a bike like this, but having ridden it I would definitely like to. Everything here is pushing the limit of performance and works a treat. In addition it really looks the biz. If you've got the cash for such a machine then hey, go for it. I don't think you'll have any regrets.
SPECIFICATIONS
Frame: Guerciotti Lightness Wrapped Carbon Technology. Combined Toray, Hexcel and Advanced M46J carbon
Fork: Guerciotti Lightness Wrapped Carbon Technology. Combined Toray, Hexcel and Advanced M46J carbon
Front Derailleur: Campagnolo EPS Super Record 11sp
Rear Derailleur: Campagnolo EPS Super Record 11sp
Brake Levers: Campagnolo EPS Super Record 11sp
Shifters: Campagnolo EPS Super Record 11sp 10sp
Crankset: Campagnolo EPS Super Record 11sp 50/34T
Brakes: Campagnolo EPS Super Record
Cassette: Campagnolo EPS Super Record 11sp
Chain: Campagnolo Record 11sp
Handlebar: Deda M35
Tape: Deda
Handlebar Stem: Deda Trentacinque
Pedals: N/A
Wheels: Campagnolo Bora Ultra Two Tubular
Tyres: Challenge Criterium 320 Tubular
Saddle: Selle Italia SLR
Seatpost: ISelle Italia Monolink Carbon
Bottom Bracket: Campagnolo Ultra Torque
Price: $16,999
Distributed by: Guerciotti (Australia) 0438 681 206
Website: www.guerciotti.com.au
www.guerciotti.it