With just 2 days and less than 300km to go Greg McDermott is rapidly closing in on his dream of riding 15,000km around Australia in 78 days. Today (Friday) he will ride from Canberra to Mittagong. On Saturday morning there's an open invitation for riders to join Greg for the final 40km of his 'lap of Oz', meeting him at the M7 bike path at Prestons at 10am.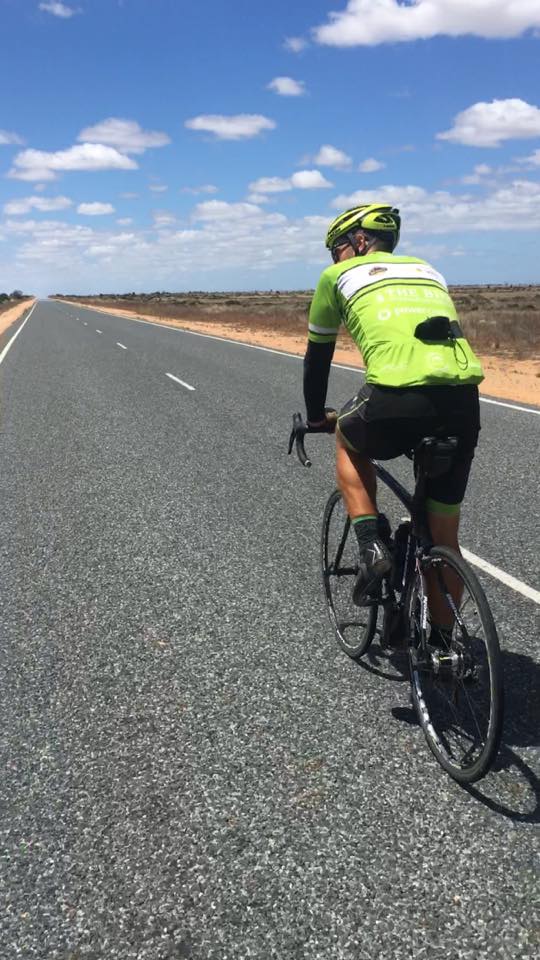 Arriving in the Victorian town of Wangaratta earlier in the week, after leaving Melbourne that morning, Greg covered a staggering 233kms for the day and averaged an impressive 32kph.
"What a super awesome day we had today," he said. "This was also the last ride day over 200kms for the trip. We pushed past the scheduled 188kms out of Melbourne this morning and did and extra 45kms. I felt good, I had a lot of sleep last night after an easier day and therefore basically half a day off in Melbourne yesterday. We waited for the pelting Melbourne rain to stop for a few hours before taking off this morning."
Thrilled to be seeing 'Sydney' on the road signs, Greg is today enroute to Albury, where he will cross yet-another border to be back in his home state of New South Wales tonight.
"Just 5 days to go till we reach Sydney and present Youth Off The Streets with a cheque for as close to $50k as we can," said Greg. "We've raised $17,151 so far. Thank you to everyone that has contributed. We are truly grateful," he added.
Ride Home With Greg
Arriving in Sydney this coming Saturday, Greg is urging fellow cyclists to join him for the the final 40km home.
Riding the M7 bike path, supporters can meet Greg at the Prestons end of the path (near the McDonalds carpark) at 10am. Once the group reaches the Norwest Bvd they'll ride up Old Windsor Rd for the grand arrival at 'The Fiddler' venue in Rouse Hill at 1pm.
At The Fiddler you'll hear all the stories from Greg, see the photos & watch the video highlights of his epic adventure. During the afternoon Greg will present a cheque to Father Chris Riley and Youth Off The Streets. This is a free event with catering and soft drink provided and all are welcome to bring partners and kids.
You can donate by visiting https://ridearoundoz.everydayhero.com/au/ride-around-oz-2016
Save The Date
Greg McDermott Arrives Home After 11 Weeks Riding Around Oz
Date: Saturday November 19 from 1pm.
Location: The Fiddler, Commercial Rd & Windsor Rd, Rouse Hill NSW 2155.