This week eleven female bike technicians are meeting at Trek Bike's global headquarters in the US city of Wisconsin for the first-ever Women's Expert Technician course.
 A collaboration between Trek and industry partners SRAM, Shimano, RockShox, Bosch, and Fox, the female technicians will meet for a six-day, scholarship-funded course.
The third in a series of women's-focused courses, the training schedule is designed to provide growth opportunities and increase diversity within the cycling industry. The 11 women will attend lectures by industry partners and Trek's Certified Service team, as well as experience hands-on instruction in the new 2,200-square-foot company training facility.


The course is geared toward maximising a production technician's day-to-day abilities and work load. As the expert technician role is historically responsible for the more challenging work orders at the shop level, a minimum of three years' experience in a high-performing service department is required for participation in the course, with prior formal training recommended.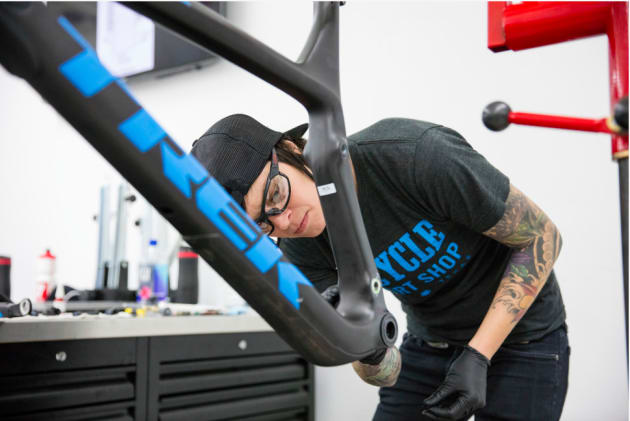 Josh Borgmeyer, Trek's Certified Service Education Manager, said the company wanted to address the alarmingly small percentage of female technicians working in service departments.
"Trek saw a need for women's-focused training as a way to provide a different learning environment than what's typical in the service industry," he said. "Following completion of the course, these 11 women will play an integral part in making sure that every cyclist has a great product experience every time they ride." 


While attending the course, the women will have the opportunity to utilise Trek's industry partners to gain first-hand and in-depth experience from the best teams available.


"This is a tremendous opportunity to bring more women into the service profession, and Trek is making a great effort to bring professionalism into our business," said Troy Laffey, Technical Ambassador and course instructor for SRAM. "Service really is the future of our industry, and I'm excited for the opportunity to play a role in this course."


The six-day course will conclude with written and practical exams that cover both mountain bike suspension and high-end road bike assembly. The women will leave the course with Expert Technician certification.