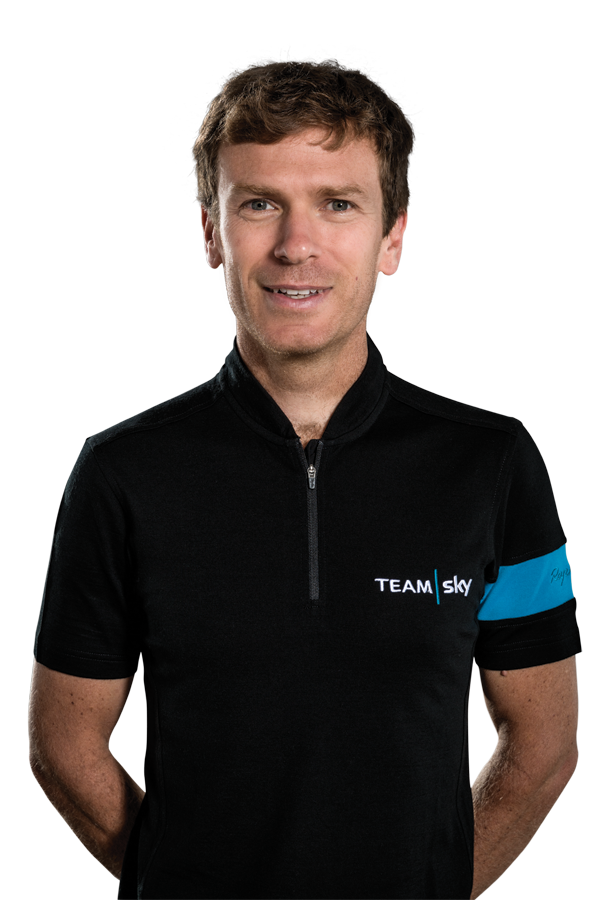 This season as many as 30 Australian riders are plying their trade with UCI WorldTour teams, with countless more in Pro Continental teams. Many are household names including grand tour winners, stage winners, classics winners, Olympic gold medallists and world champions. But arguably the most influential Australian of them all won't turn a pedal in anger in 2014. Peter Maniaty caught up with Team Sky's Tim Kerrison at the Tour Down Under to delve inside the creative brain of one of Australia's most successful yet unsung sporting exports.
Even by lofty GPS standards, Brisbane Boys' College boasts an impressive sporting alumni from the last two decades. Wallabies James Horwill and Will Genia. Swimming legend Kieren Perkins. Olympic long jump medallist Mitchell Watt. Plus a raft of representative footballers, cricketers, swimmers, athletes and rowers. At first glance a 40-something ex-rowing coach whose own career topped out at State level might seem a peculiar addition to such illustrious company. But have no doubt. Team Sky's Head of Performance Support Tim Kerrison deserves his place; for perhaps more than any other Australian on the international scene – certainly now, maybe ever – he's helped to redefine the professional cycling landscape since joining the all-conquering British set-up just four months before its WorldTour debut in January 2010.
Kerrison may have grown up in Queensland during the 1980s. But like many Australians in the pro peloton, including Simon Gerrans and Richie Porte, he now calls the tiny principality of Monaco home. Not that he actually spends much time there. For together with the stable of elite riders he presides over alongside Sir David Brailsford and Rod Ellingworth, he spends the lion's share of his year traversing time zones and continents in a relentless quest to deliver optimal performance in the world's greatest cycling races; which is precisely what he's done at the last two instalments of the Tour de France.
Sitting down in the Adelaide Hilton on the eve of the Queen Stage of the 2014 Tour Down Under – a stage that would ultimately be claimed by one of Kerrison's greatest advocates, Richie Porte, atop Old Willunga Hill – he exudes a calm but unmistakable intensity befitting someone at the very peak of their powers. Speaking with the hint of an English accent he is considered, confident and supremely focused.
PM: You're a Brisbane boy originally. Where's home these days?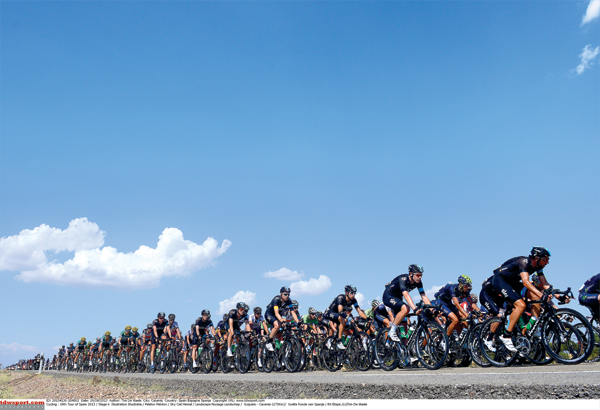 TK: I've been living in Europe since 2005, moving to the UK to work with British Swimming, then joining Team Sky in September 2009. In 2013 I relocated (to Monaco). Many of our riders are based in the region around Nice and Monaco and we've set up a training hub there. I try to get home to Brisbane once a year, but often it's not for more than a few days.
PM: Were you an elite sportsman yourself?
TK: I was a rower. I competed for Queensland before working out pretty quickly I didn't have the talent required to achieve my ambitions as an athlete. I moved into coaching and worked on the Queensland and Australian rowing teams until 2002. At the same time I was working as a sport scientist with swimmers at the Queensland Academy of Sport and the Australian swimming team.
PM: What qualifications do you have?
TK: Degrees in sport science and information management from the University of Queensland.
PM: Was a career in sports science always your dream?
TK: Not really. I just found I enjoyed the challenge of applying knowledge and information to improve sporting performances; it was a natural progression from athlete to coach and sport science.
PM: Did you always have an interest in cycling?
TK: I always enjoyed riding. We used to ride quite a bit for rowing training; rowers ride a lot. I watched the Tour de France and I always remember thinking it was probably the ultimate sporting performance to win it, so I've always held that race in very high regard. But I think like a lot of people, I wasn't that attracted to cycling because of all the stories I heard about what it took to perform in the sport.
PM: You mean doping?
TK: (nods) It's significant when people say things like 'riders in that era, did people have a choice?' I think they did. I certainly did. Rowers and cyclists are pretty similar in physiology and quite a few of our group would talk about 'do you think you could make it as a pro cyclist?' Certainly the guys I hung around with were like 'well, you can't if you don't cheat' – so they chose not to pursue it.
PM: How did you end up in your current role at Team Sky?
TK: After moving to the UK in 2005 to work with British Swimming, I got to know many people in the UK sport system, including Dave Brailsford and other key staff at British Cycling. After the Beijing Olympics I was looking for a change and was actually offered a job with the English cricket team. But just in time this opportunity came up with the still-embryonic professional cycling team based in Britain.
PM: Looking back, were there any key things that helped you get there?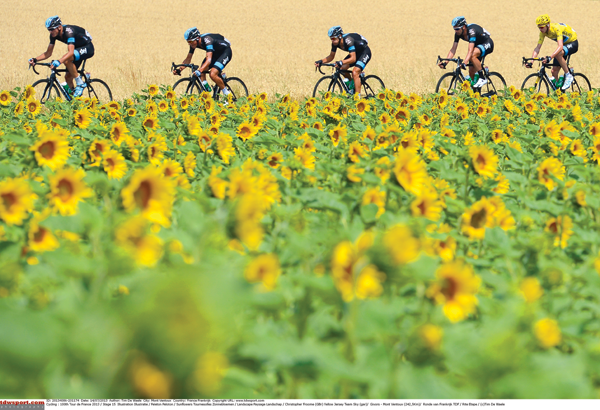 TK: Doing massive amounts of voluntary coaching (rowing) early in my career to gain experience. Being prepared to move continents, sports and disciplines. And being patient; knowing that as long as I focused on always being the best I could be, opportunities would come my way.
PM: You have a large squad of elite riders who are often spread across multiple races and even continents, how do you keep tabs on them all?
TK: We use TrainingPeaks as an information management and communication tool. It allows us to prescribe training, communicate with riders (they upload their training data – power, HR, cadence, speed, etc) and we can effectively analyse the riders' progress even when we're not with them. We try to spend as much face-to-face time with the riders as we can. But this is not always possible and TrainingPeaks is a great tool for remote coaching.
PM: What's a typical day like during a major race like the Tour or Giro?
TK: Every day is different. The coaching part of my job is largely over by the time we get to a big race. I work with the directeur sportifs to ensure race strategy is compatible with the capabilities of the riders, ensure the support services are all going smoothly, manage the data generated during the race, deal with any management issues that arise, support and reassure the riders – a bit of everything. Sometimes I'm in the following car, sometimes on the bus, sometimes on the road doing an extra feed. We go wherever we can be most useful.
PM: You have a fundamental role in the riders' training programs. How much input do you have into their race programs?
TK: Setting the race programs is a very important part of the preparation, so our coaching team has a big input. But it's a complex task. We have 28 riders, around 60 races per year, more than 200 race days, and need to put together a race program that caters to each rider's individual requirements as well as making sure the team performs in each of the races we do. There are races we must do as a WorldTour team, other races that are important to our sponsors and partners, and races we need to do to prepare for other races. It is a complex jigsaw puzzle; one many people have an input into.
PM: There's only so much one person can do.
TK: We have a full-time coaching team of four, each looking after about seven riders. I look after most of our GC riders and Tour team. But as a group we complement each other well – all coming from different backgrounds – and help each other out wherever we can. It's by far the best group of coaches I've ever been part of.
PM: There's no shortage of people queuing up to criticise Team Sky. Is that frustrating?
TK: I guess the critics keep saying 'well that's nothing new, they're not doing anything the world hasn't known about forever' and to a large extent that's right. But the fact is it hasn't been done in cycling. There are a lot of very fundamental things to sports performance that haven't been done systematically in cycling. Coaching structures, for example. It's hard to know exactly what other teams have, but for sure we're the only ones who have a complete coaching structure within the team. Every rider has a one-on-one coach, in addition to our directeur sportifs. In a traditional structure, the directeur sportifs would be sitting alone at the top of the performance tree; they'd deliver the races but also be responsible for staying in contact with the riders in between races. But we know it's near-on impossible when you're away at a race and three of your riders are overseas. I guess the way to think about it is the (Team Sky) coaching group's responsibility is to deliver the riders to the race in the best possible condition to be able to perform. But largely it's up to the DS then; he's responsible for delivering that performance.
"There are a lot of very fundamental things to sports performance that haven't been done systematically in cycling."
PM: Are the directeur sportifs happy to embrace this approach, or has it taken a bit of persuading?
TK: Our directeur sportifs are great. We've been around for four years and we've had quite a turnover of staff in that time. One of the great things about Dave (Brailsford) is he's not afraid; if someone doesn't fit then we'll move them on and get someone who does. Over the last four years we've got a better idea of what type of person is going to work in the team. It's not a fun place to be if you don't think the way we think. Most of our directeur sportifs rode with us, actually. Kurt-Asle Arvesen rode with us for the first two years. Dario Cioni is going to be doing more DSing this year, he rode with us for the first two years. Nicolas Portal rode with us for the first year and is our most senior DS.
PM: It's not a coincidence you're doing this, they're already within the culture and understand the processes?
TK: Yeah, we know them, they know us, we know they'll fit within the team. Servais Knaven didn't ride with us, but he was pretty much straight off the bike into a DS role with us. And then we have another one of our riders, Gabriel Rasch, who's going to finish riding after the Classics this year and then step into a DS role. So it's a very young and relatively inexperienced DS group – but we're pretty much like that across the board. It's something we recognise, a bit of a limitation in terms of lack of experience. But as long as we're aware of that and work together to fill the gaps, it's okay.
PM: Has the process of making sure the directeur sportifs understand what the riders are capable of at different times during the season had a positive impact on things like injuries and burn out?
TK: We look at everything the riders do in training and racing. We quantify their workloads by measuring power outputs and factor race workloads into their overall workload. If you don't do that you do risk overtraining, burning out or overuse injuries.
PM: How does that work with new riders like Nathan Earle? Do they supply their power data from previous seasons?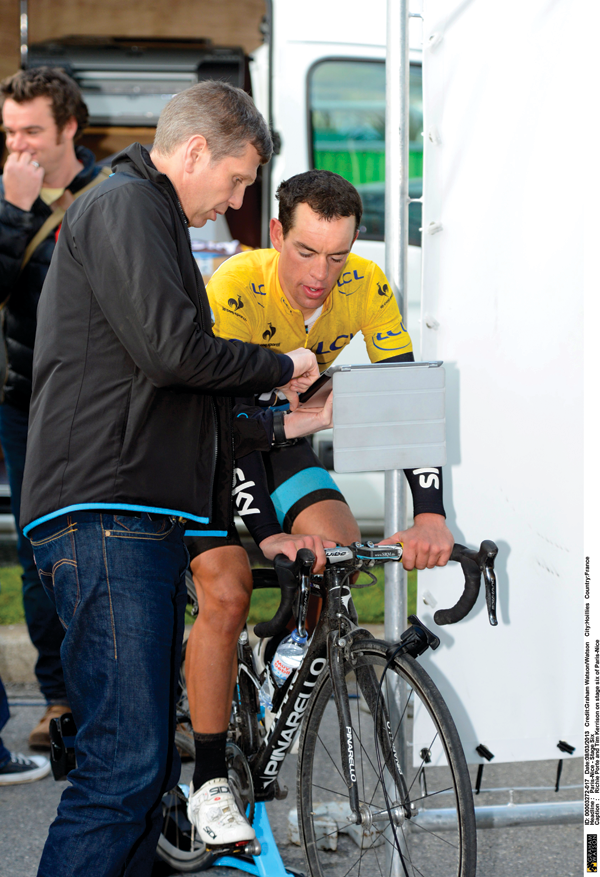 TK: If it's available we try to get any kind of historical data. But we've learned the step up to WorldTour level from, say, the domestic level Nathan's been racing at here in Australia or from the Under 23 level our young Americans came from last year (Ian Boswell and Joe Dombrowski) is quite significant. That's why we originally didn't put Nathan in the Tour Down Under – not because we don't believe in him, we didn't want to throw him in the deep end.
PM: How did you feel then having to thrust him into the race at the last minute with CJ Sutton's injury?
TK: Given the circumstances, with CJ out after the crit on Sunday, it was fantastic. We didn't see it as a gamble because we had one extra rider than we would have had otherwise. We were very impressed with the first block of training we saw from Nathan in Majorca in December, and Richie vouched for his performance at the Nationals, so it's been a great opportunity for him and a great opportunity for us to see first hand what he's capable of.
PM: How's he going after the first four stages?
TK: He's going well. Certainly he's noticed the step up in level which we fully expected. But also being first race of the season, everyone feels that way a bit.
PM: Whether it's a new rider like Nathan or a Tour de France Champion like Chris or Brad, what's the secret to getting the best out of your riders?
TK: Be open-minded. Treat each rider as an individual and always question why things are done the way they are, as well as questioning your own beliefs; why do I do things the way I do?
PM: Quite a few people I've spoken with, riders and otherwise, have said that in many ways you are Team Sky.
TK: It's flattering, but ultimately disrespectful to the dozens of people who make this team what it is. Team Sky is a collection of like-minded, committed, hard working and talented individuals who all deserve credit for the roles they have played in developing this team in such a short period of time. I'm just grateful to be able to work in an environment where my contribution is valued and can have a positive impact on the team and those who support it.
PM: Is that what gives you the greatest job satisfaction?
TK: I'm quite intrinsically motivated. The whole process of looking at a challenge – for example, how do you win the Tour de France? – analysing the demands, devising a plan, and pulling it off to the level we've done in the past two years, that is very satisfying.
PM: Does anything frustrate you?
TK: The biggest frustration is that, given the history of cycling, the better you do your job, the more your integrity is questioned. But we understand why this is the case, and accept that people have a right to be suspicious. A major goal of ours is to continue to develop trust in what we do.
PM: To an outsider Team Sky appears like it could be a pretty intense working environment at times. How do you relax?
TK: Yes we are intense! But we're all like-minded so it's mostly an easy environment to exist in. Like many people on the team I ride my bike to relax. But I prefer to ride on my own – giving me time and space to think, as well as testing out new training efforts for the guys. I rarely prescribe any training without testing it out first myself, albeit at a much lower level.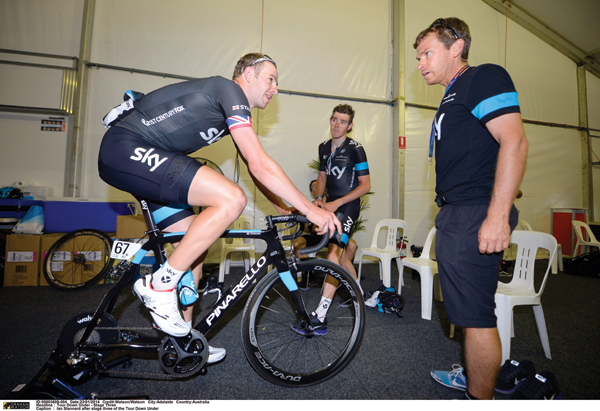 "I rarely prescribe any training without testing it out first myself, albeit at a much lower level." ——use this earlier in text format though, GH
PM: Many riders say the off-season is their busiest time of the year. Do you get an off-season yourself?
TK: For the senior management (Dave Brailsford, myself, Rod Ellingworth, Carsten Jeppesen and Fran Millar) the off-season is very busy. We pride ourselves on how much we develop, change and improve from one year to the next, so we spend a lot of time reviewing, discussing and planning how we can be better. There aren't many times in the year that aren't full-on, but I try to take a week off in November and relax.
PM: Just on your relationship with David and Rod – obviously you can't be together all the time; you're here on your own at the moment. Are you in constant contact with each other during the season?
TK: Yeah, it would be rare that an hour goes past without contact. In fact I spoke with Dave an hour ago and Rod just half an hour ago.
PM: Rather than follow traditional methods, you've been able to pretty consistently introduce new ones. Richie Porte mentioned the focus on post-race warm downs, for example, was something other teams used to laugh at – but now they all do it. Does it annoy or flatter you knowing others are often looking to copy what you do?
TK: Actually, it's amusing to see the same people who laughed at us in 2010 not copying many of the things we do. I think making a lasting impact on the whole of the sport is something to be proud of. We need everyone in cycling to do things the right way, so we are happy to lead the way and for others to follow. We have always been very open and transparent about what we do and why, and believe it is important that we stay that way, even though it means sometimes giving away a bit more knowledge and information to our competitors than we would like. But ultimately it's good for cycling. We just have to stay on our toes and keep moving forward as other teams catch up.
PM: Where do you draw your inspiration from? Are you a big reader?
TK: I'm not really a big reader, but I think I'm quite good at absorbing information and filtering out the crap. I've also been super lucky. Back in Queensland I was coaching rowing at a high level, pretty much voluntarily. At the same time I was working with probably the most concentrated group of elite swimming coaches anywhere in the world in that era, all in their prime. Swimming coaches are pretty creative people because you have to be to keep swimmers motivated. Cycling training can be very social, very enjoyable, lots of stimulus. Swimming training is bloody boring, so it's the responsibility of coaches to think creatively. We had coaches in Queensland coaching Olympic champions and world record holders all the way from 50m to 1500m; everyone with their own coaching style, from the way they communicated and treated people to training methodologies. I was very fortunate to be able to take the best from those guys, and at the same time apply it to a group of young rowers I was working with. Going from one sport to another and working across sport science also made a lot of connections in my brain which have been very useful.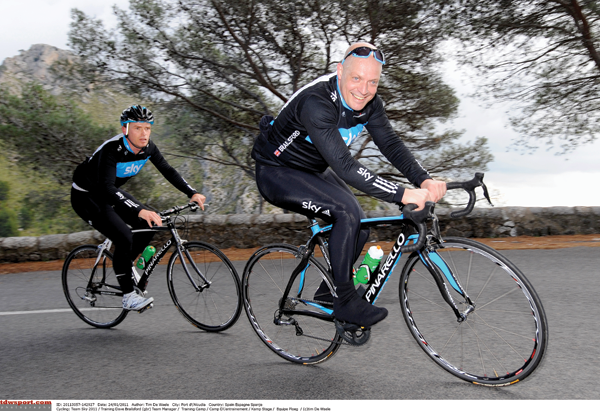 PM: When did you first realise you were pretty good at this?
TK: (laughs) I remember coaching rowing when I was younger and thinking 'bloody hell, I'm not very good at this!' I'd work my arse off and see other coaches who just seemed to have this gift and knew the right thing to do. They didn't seem to be doing things anywhere near as cleverly as I thought I was, yet they were getting great performances. But then I remember a couple of years later at the state titles when we won everything and thinking 'actually, maybe I'm not so bad at this.' I wasn't doing things any more cleverly then, I just think it was the experience of knowing the right thing to do at the right time. That's the thing about intuition. As a young scientist you look at intuitive coaches and think they're doing it all wrong because they're not being scientific. But actually they are, they're just doing it at a much higher level. Sport is an incredible multi-variant activity. There are dozens of inputs and you have to get the balance between all of them right to the get the optimal output.
PM: Team Sky is still only young but you've enjoyed so much success, particularly in the last 24 months. Is it scary to think 'how will we ever top that?'
TK: Yes! To be honest I've achieved what I set out to do in cycling – win a Tour de France – twice. But there are other challenges to keep us hungry. There are races we haven't won yet. And, even though we are a British registered team, it would be nice to coach an Australian to win the Tour.
PM: I guess you're referring to Richie Porte?
TK: Within world cycling right now, of the Australians that haven't won a grand tour, Richie is probably the most likely so it would certainly be great thing to do with him.
PM: What's it been like to work with him?
TK: This is our third year with Richie and every year has been a bit different. The great thing about most of our guys, including Richie, is he loves riding his bike, so you have to hold him back if anything. The first year we had him, going into 2012, he'd had a pretty rough year with Saxo and we wanted him to have a really positive experience in his first season, so we did quite a structured training block leading up to the Aussie Nationals, where he came third. He then went across to Europe and won Algarve which was his first race with the team. We know it's easy to come back here in the Australian summer and get a head start on the Europeans who have to cope with the weather through the winter. So we capitalised on that with Richie and he entered the season in great shape. But it was a challenge to maintain his level through to the Tour (won by Brad Wiggins). He did a good job for us all season, in fact I think he was the only rider who finished every stage race we won in 2012 – Algarve, Paris-Nice, Romandie, Bayern-Rundfahrt, Dauphiné and the Tour – he was a member of every one of those teams. In the second year (2013) we thought we'd just hold him back a little bit.
PM: Is he easy to hold back?
TK: (pauses) It's easy to hold him back from specific work, to just get him riding his bike for the first month or two of the season because he loves to do that, just go out and ride. We held him back a bit in December and January last season, and got him ready a little later. He then came out and won Paris-Nice and maintained his form pretty well right through to the Tour. This year is different again as he's preparing for the Giro.
PM: Assuming he gets through the Giro okay, is the plan for Richie to support Chris Froome at the Tour de France as well?
TK: That's the plan at the moment. But everyone talks about how difficult the Giro-Tour double is; it's not just difficult for riders, it's also very difficult for a team. One of our strengths is we have a depth of GC talent so we have strong guys we can put in as leader at the Tour, and strong guys we can put in as leader at the Giro. But you also need to support them with a team. I still believe we can prepare Richie for the Giro, then there's five weeks between the Giro and start of the Tour to get him recovered, do a little training block or even a little racing block. We'll keep that period very flexible, get him hungry again to do the best job he can in whatever role we see fit for him at the Tour – which, at minimum, will be supporting Chris on the key mountain stages. But it could be more than that. We always go into races with a GC plan, and a very strong back-up plan.
PM: How does Chris feel knowing one of his most important lieutenants is going to be putting everything he can into the Giro? Is he thinking 'please don't completely break yourself, mate, because I'm going to need you in France'?
TK: They get on well and I think Chris can see both sides. These guys all want their own opportunity, until they draw that line saying 'I'm done trying to get results for myself' to become a domestique or super domestique. We need to keep them hungry and give them opportunities when we can, so we can get the most out of them when supporting other riders. It's a fine balance, but Chris can see Richie's done a bloody good job supporting him over the last couple of years. He also knows you get the most out of Richie when he's happy. If we deny opportunities for him he's not going to be happy. I think we can get the most of him as a leader at the Giro and at the Tour as well.
PM: There's also been a lot of talk – and opinions – lately about Brad Wiggins riding Paris-Roubaix. Given he doesn't do things by halves, does it put added pressure on the team?
TK: Well Brad definitely has the physical capability. We also have a super strong Classics team. The thing is, in a Grand Tour you still can't have a bad stage and there's three weeks for something to go wrong, but as long as you stay out of trouble it's fairly formulaic and predictable. Whereas in a one-day race – well, we haven't really hit the jackpot yet. Our focus has always been on winning the Tour when it comes to recruitment and training – and you can't win everything. But we do have a strong Classics group and we're certainly doing our best to get results there.
PM: Say you could win Paris-Roubaix or the Giro, what would give Team Sky more satisfaction?
TK: Funnily enough they're the two races our boss, James Murdoch, loves the most. They're his two favourite races.
PM: No pressure then?
TK: (smiles) We have to win them both!
PM: Clearly they aren't going to let you go any time soon if they can help it, but could you ever see yourself leaving Team Sky for another WorldTour team? How about new challenges away from pro cycling?
TK: My career has been a journey; from rowing to swimming to cycling, Australia to the UK to continental Europe. And across disciplines; athlete to coach to sport scientist to team management. The journey is not over, but at this point in time I'm happy doing what I'm doing and not planning what the next chapter might be. If the right challenge, circumstances and opportunities were presented to me at the right time, who knows?
PM: Thinking blue sky, what might sport science look like in say 50 years from now? How far can things really go?
TK: Good question, not sure how to answer. Historically human performance evolves fairly slowly. Technology, on the other hand, can evolve very quickly. Cycling is one of those sports that combines human performance and engineering in equal measure. But it would be a shame to see the sport become a technological arms race. For me the beauty in developing great sporting performances is in getting the best out of the athletes. It is the governing body's responsibility to ensure our sport doesn't become merely an engineering contest like Formula One, for example.
PM: Do you consider yourself a cyclist nowadays?
TK: I can ride a bike. Does that make me a cyclist?
PM: Ever ridden up Alpe d'Huez?
TK: Yes.
PM: How about Mount Coot-tha back home in Brisbane?
TK: No.