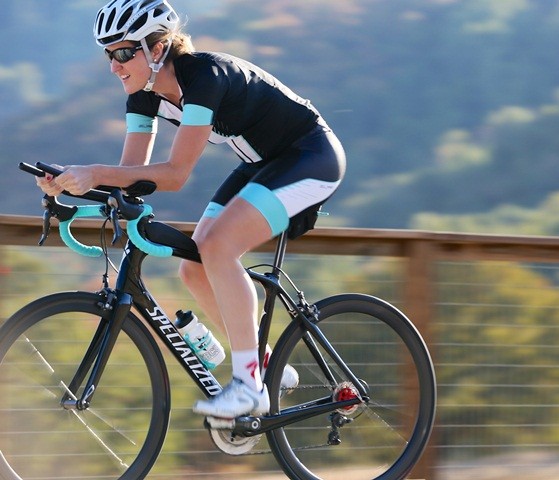 It was not so long ago that female cyclists bought men's bikes and related items, because there were no products specifically designed for them. This included bikes, apparel, gloves, shoes and anything else you can think of that you need, or perhaps want for road cycling. There were small numbers of women taking up cycling and hitting the trails, and companies just didn't see the market potential.
In the past ten years or so that has all changed, with a number of major bike brands really embracing the women's specific product range including Specialized, Trek and Giant. These companies have all seen the potential in the women's market, in fact Specialized has named women's products as one of its top priorities for the next three years.
Erin Sprague who heads up women's product development at Specialized's HQ in California was keen to tell Bicycling Australia readers about how Specialized goes about developing its women's specific range.
"At Specialized there are six women who work in the product development team and they interact with an indirect network of engineers, designers and others. Each woman in the team has an area of specialisation like triathlon, road and mountain," said Erin.
In July 2014 the company launched a new high-end women's mountain bike called the Era but its development took a couple of years.
"Step one was to get out on the trails and ask female riders in mountain bike clubs what they were looking for in a high-end competition bike. In doing so we identified a product gap for a carbon bike, performance-oriented, that was not super-technical but was flowy, great for single track and fun and fast.
"We also used macro research looking at race results and also what was happening in the men's market. In doing so we discovered that we were selling a disproportionate number of small frame size Epic (Specialized's popular 'all mountain' bike), which we concluded meant women were buying them because they couldn't find a suitable women's bike," added Erin.
The decision was made to proceed with the Era development and the work began. A team of engineers, industrial designers and others were brought together to build the new bike from ground up. They looked at how it would fit the female rider using Specialized's own Body Geometry Fit data collated from thousands of bike fits all around the world.
Throughout the process the team focused on rider need. Colours and graphics played a role but it was ultimately up to the engineers to make it work.
Erin says that the Era is deliberately a high end bike with an S-Works (Specialized's high-end products) model included in the range.
In the same time frame that the Specialized women's team were developing the Era, they were also working on five or six new models for the 2015 product release. They weren't all brand new, but the women's endurance road bike, the Ruby had its first disc brake model in 2015.
But it's not just bikes that they are developing. Specialized has five other product categories for women's products: apparel; saddles; shoes; gloves; and helmets. In all the other product categories that Specialized covers there aren't considered to be any significant differences between the needs of men and women.
For helmets the only real difference is the colours because women and men have the same shape head but Specialized has added a feature called the Hairport (a gap at the back of the helmet between the helmet and retention system to pull a ponytail through) which is now incorporated in all women's specific helmets.
Erin herself is a keen road rider. She's always out on the roads testing new products and spends her time talking to female cyclists along the way. Her career began on Wall Street but after attending Stanford Business School she found her way to Specialized where she can combine her passion for cycling with her work.
Specialized works closely with a number of professional cycling teams including a number of women's road teams, the highest profile of these is the European-based Specialized-lululemon team. This gives Specialized the opportunity to develop high end women's road bikes and related products with the input from women who ride their bikes for a living.
At Specialized the bike development is similar for both men and women's products and there's plenty of cross-fertilisation with many people working across all areas of the business.