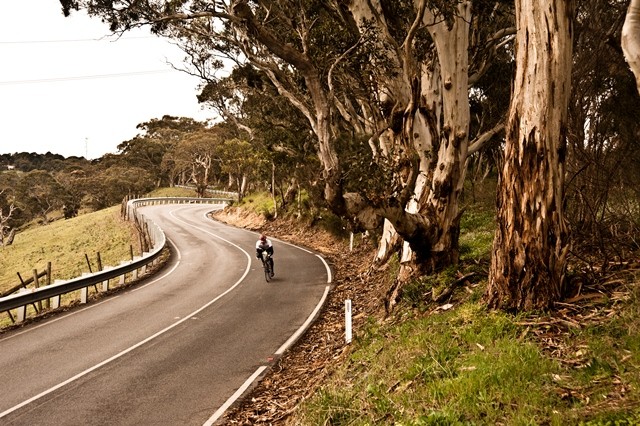 It isn't that tough," 
is something you hear quite a bit at the top of Willunga Hill, typically from visitors who've just reached the summit for the very first time. Ridden in isolation, they're absolutely right. Old Willunga Hill Road, rising innocently enough from the township of Willunga, is no beastly climb. At three kilometres it's not that long. At 7% and a vertical rise of just 220m it's not that steep. Compared to some of its rather unpleasant Tour Down Under siblings, such as Corkscrew Road which featured in the 2014 race, it's frankly a doddle that any moderately capable road warrior on a moderately appointed bicycle can ascend without too much duress.
Why then has Willunga Hill become so popular with fans and so revered by World Tour riders that the retiring Jens Voigt expressed his delight at never having to climb it again in his life? I spent Stage Five of the 2014 Tour Down Under seeking opinions from all sides; the riders, the organisers and, of course, the fans. It was one of the most enjoyable cycling days of my life, and I didn't even have my bike.
The Racing Perspective
For a professional bike rider, the most significant challenge posed by Old Willunga Hill Road isn't so much the hill itself, but where it falls in the overall race – and season. That is, typically towards the end of the penultimate stage of the year's very first UCI WorldTour event. Since 2012 the combatants have also had to climb it twice, ending with a testing hilltop finish alongside what is little more than an anonymous paddock eleven months of the year.
Given the Tour Down Under has a history of being won on small margins, Willunga Hill is the final chance for ambitious riders to make their move; particularly given the following day's Adelaide street-circuit traditionally culminates in a bunch kick won by Andre Greipel. The teams of the main protagonists have little choice but to make the climbs as grueling as humanly possible in an attempt to shake the pretenders from the tree.
Of course, it's also what precedes the twin climbs that makes Willunga Hill tough; over 100km of blisteringly fast loops in blisteringly hot conditions including multiple journeys along the blustery beach front at Snapper Point. As 2014 stage-winner Richie Porte was at pains to point out when singing the praises of Ian Stannard, who delivered him perfectly to the base of the climb for the final time, you need strong and shrewd team-mates if you're to have any hope of figuring in this finish.
"There are really amazing crowds. It's lovely to race in Australia, people always come out to watch. I rode it (Willunga Hill) two years ago and went okay with the finish. I hope to do the same this year. 
I have the same legs. Yesterday I had good sensations, so we'll see."
– 2014 Tour de France stage winner, Jans Bakelants, in McLaren Vale. (Best read in a Dutch accent)
"It's just a really cool climb. The crowds are amazing and there's the little crown at the top (painted on the road). We'll try to get Haasy up and over. Hopefully I'll get over myself the first time and then help him to the bottom the second time."
– Steele Von Hoff, buzzing at the Stage Five 
start line in McLaren Vale.
"Willunga Hill is Alpe d'Huez style, Tour de France style, in terms of the enthusiasm and pure number of fans. It gives you goose-bumps, that's why I wanted to finish here at least one time in first position, on the first lap."
– Jens Voigt, after winning the most aggressive rider jersey and leading the breakaway over the top for the first time.
"Every second really counts. I've been caught out here in the past, jumping a bit early for the finish and getting rolled. It's just a constant roar all the way up. It's on par with anything we do in Europe."
– Simon Gerrans, talks about the 
Willunga Hill crowds.
"If it was a couple more kilometres that would be even better for me; it's not the hardest climb, Corkscrew is harder, but twice up it – if we could do it three times next year, I'd be that little bit happier!"
– Richie Porte, a noted climber, with a cheeky suggestion for Mike Turtur.
The Race Director Perspective
1984 Olympic Track Gold medalist, Mike Turtur, has been Race Director since day one, when the race was conceived largely in response to Adelaide losing the Australian Formula One Grand Prix to Melbourne. Turtur is like a proud father; understandably chuffed with what his tireless team has achieved for South Australia since 1999. But he positively lights up when it comes to talking about Willunga– and what has become undeniably the Queen Stage of the race. Turns out Willunga Hill is a climb Turtur used to suffer up himself as a junior rider. He's trained there. He's raced there. 
They have history.
Remembering the race's first time up Willunga Turtur said "Willunga Hill was never a stranger to me or the race. In 1999 we actually went over it in the first edition. We were following Stuart O'Grady and a rider from ONCE that day and what really struck me and remained with me is that there were a lot of people up there for a pass-through only."
"We were seeing that guys like Andre Greipel were always able to get back any lost time. One year in particular when Evans, Sanchez and Valverde were away at the top of the Willunga climb before the descent down Penny's Hill Road they were the leaders on the road – but Lotto were still able to bring them back before the finish and Greipel won the Tour."
Turtur sees the switch to the hilltop finish in 2012, requiring two climbs of Willunga Hill as a defining moment in the race's 15-year history. "I talk to a lot of teams around the dining table to get an idea of what they're thinking. It was pretty clear Willunga Hill once is okay, but not enough – twice is a different kettle of fish. It also gives spectators more bang for their buck. They've taken all that time to go up early to get their spot, now instead of just seeing the riders once they get to see them twice. There are a lot of events around the world that have iconic days and we've created that with this stage now. 
It really is the day the race is won and lost."
The Fan Perspective
Alped'Huez. Ventoux. Koppenberg. There's a reason climbs are over-represented in the most iconic spectator spots in world cycling; and it's not solely because seeing famous riders suffer gives us twisted satisfaction. It's more because we can actually see them. They're moving slow enough that we can get a good look at what's going on, rather than simply watch them whiz by in a blur of colour, noise and airborne bidons. Send them up twice, as has been the case with Willunga Hill in recent years and, well, it's roadside nirvana for cycling fans.
Traipsing Old Willunga Hill Road for the first time in my life, several things struck me about this place. Firstly, and perhaps most importantly, it's easily accessible with or without your bike. Whilst the rising road actually begins with the left hander in the heart of Willunga township, the official KOM starts on the edge of the town. Given it's not particularly long, you can walk up straight from town if you get there early enough, or ride up it like thousands of fans do until just minutes before the arrival of the race convoy itself.
The gently twisting geography of Willunga Hill also provides a wonderful natural amphitheatre with no end of inviting nooks and crannies to catch a glimpse of the world's finest riders. People are perched on embankments and high up in trees. Families are spread out on roadside picnic blankets and flopped in bean bags in front of giant flat screen TVs. Friends are lounging on sofas in their utes. There's also a mobile township of tents, marquees, and, of course, barbecues galore. Pretty much anywhere there's a good vantage point, you'll find people. And they're all in a good mood, emitting a non-stop buzz of noise that grows in decibels with every passing minute until the riders duly arrive. The closest thing I can equate to the atmosphere on Willunga Hill last January was the 2000 Olympic Games in Sydney. It was one big party; Alpe d'Huez with gum trees.
"We love it; it's our event of the year. Everyone puts their bikes in trees, it's just awesome. Half the fun is getting up there with everybody – and riding the road from here (McLaren Vale) to Willunga, you're on the road with thousands of other fans and cyclists, people are cheering as you go past, you feel like you're in the race!"
– Robert and Mattea, experienced Willunga Hill fans from Adelaide.
"Eight of us came down from Sydney together. It's been great. We just rode up Willunga Hill this morning. Oh, and we gave Cadel some advice on how to get up there first today– we said 'leave early' and he has!" (FYI, Evans just rode past the group for his pre-race warm up with his BMC team-mates.)
– Tom Brown, with club mates from Penrith 
at the Stage 5 start line.
"We've been up here for a little while to get a good spot in the shade. We've got a support crew and van just over the top, so we're quite lucky – ice cold drinks at the ready when we arrived! There's about 25 of us over for the week. It's been fantastic."
– Sean from the Midlands Cycling Club in WA.
Whether you're a rider or not, if you haven't experienced Willunga Hill you really should. Put it on your Aussie sporting bucket list and then book some time off next January. You'll be very glad you did.