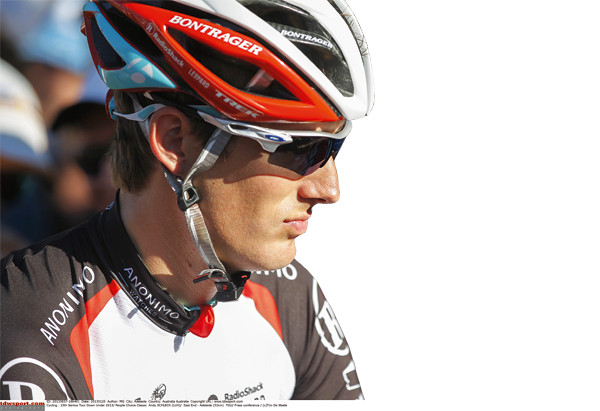 Since the start of last year, Andy Schleck has abandoned as many races as he's finished.
After finishing second to Cadel Evans at the 2011 Tour de France and ending the season as the thirteenth-best rider on the UCI WorldTour, he started season 2012 imbued with confidence and high hopes. His intention was to win La Grande Boucle on the road, not in the courts, as had been the case in 2010, following Alberto Contador's positive test for clenbuterol at that year's Tour and subsequent annulment of results, which included two since rescinded Grand Tour victories.
2012 Paris-Nice: DNS (did not start) after two stages. Reason from team: "acute gastroenteritis". Voltaa Catalunya: DNF (did not finish) Stage 3. Reason: inclement weather. Critérium du Dauphiné: DNF Stage 6. Reason: crash in Stage 4 time trial, fracturing sacrum; out of competition for four months. Tour of Beijing: DNF Stage 5. Reason: lack of fitness; was lanterne rouge at time of abandon.
"This was my hardest season as a pro, no doubt," he told VeloNews inBeijing last October, his final race of the season. "There have been a lot of things going on. What I want to do is go back to being a bike racer."
Despite finishing 15-20 minutes behind the peloton each day and lying last before his fourth stage-race abandon of the year, "Every stage I finished and still had a number on my back – I was happy," Schleck, in a subsequent interview with SBS Television at this year's Santos Tour Down Under, said of his Chinese adventure.
"There was a time last year where I doubted if I could ride my bike without pain, without problems. Because I've broken collarbones before, I've broken ribs before. That stuff heals pretty good… compared to what I had (when he crashed at the Dauphiné)," he said, accompanied by a wry smile.
"I was sitting at home and I was like: 'Am I ever going to get good again?' I did two hours and had to call my dad to pick me up because I had too much pain – I couldn't ride any more.
"When I got the news that I couldn't ride the (2012) Tour and was out for six to eight weeks, I walked out of the hospital to my car and I started crying. I don't remember when I last cried because of me – I cried (for) a lot of other persons. Because of me, because I felt so sad for myself… I decided two weeks later that I'd just go away."
Was retirement ever considered?
"Not retirement. But there were moments I was scared I could not do my job properly any more. This fear has not disappeared one hundred per cent yet. This fear is still there, that I might have this problem for the rest of my life."
Before the 2013 Tour Down Under kicked off with the People's Choice Classic in Adelaide's East End, a 51-kilometre criterium that provided a prelude to the race proper, Schleck, speaking positive thoughts though sounding utterly unconvincing, remarked: "I am really, really happy – I'm really motivated for this year."
Taking a leaf out of hisBeijingbook of yesteryear, he finished every stage except the final one, entering the latter leg second-last on the overall standings, placed 127th, some 40 minutes behind soon-to-be-crowned champion Tom-Jelte Slagter. Midway through the sixth and final stage a problem with his chain saw him unable to rejoin the peloton, and, instead of gritting his teeth and finishing on his own, decided to ride back to the Adelaide Hilton where he and the rest of the bunch were staying.
However his RadioShack-Leopard team had won the team classification (albeit no thanks to Andy) and wanted him to be there on the podium. Schleck, despite his teammates and press officer trying to contact him, was nowhere to be seen.
"Well, I don't know… I think he stopped and went (back) to the hotel," Jens Voigt, his ubiquitously popular fellow teammate said, asked if he knew what happened.
"I don't know… I was surprised he wasn't there (on the podium for the team's prize). I think he just felt uneasy about it and he probably doesn't want to answer questions that I answer now. It is understandable, but then again, he should just face it and say, 'Listen, I'm still working on it, and I don't have it yet. It's not there yet'.
"Of course he had a hard time (at the Tour Down Under). I mean, the last serious race he did was the Dauphiné last year and that was six months ago, so he has had a huge hole in his preparation, in his build-up. He just needs to work and come back – and take small steps. Even though he is talented and he is young, he is still human."
The evergreen German of forty-one years and whom the younger of the Schleck brothers sometimes consults hoped Andy's time Down Under would provide a valuable lesson learned. "Every now and then he comes (to me) to seek advice, to seek assurance. Because after all, he's a young kid still – well, at least compared to me… 13 or 14 years younger.
"(He sometimes asks me): 'Do you think I still have it?' So we had some good talks… Every now and then he needed a little pep talk; one time I also gave him a little 'kick' talk…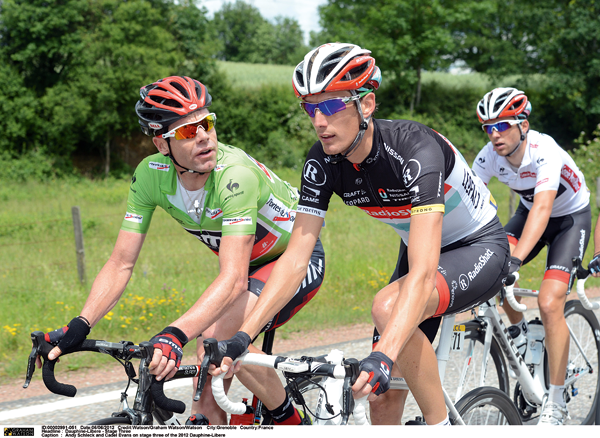 "The thing is, he's a very good rider and normally when he suffers, it's for a really good result. Here, he just suffers for survival, so that's new for him. But maybe that's a lesson he learns for life. And afterward he goes, 'You know what, I know what it feels to be down there, and I never wanna go back there, so I better spice up my game and make sure I stay up there (with the best riders)."
Nevertheless, Voigt was adamant he saw Schleck the younger "getting better day by day" and would thus view the TDU as "a good experience"; perhaps not immediately afterwards but as the season progresses towards the Ardennes Classics in April and come July, hopefully another tilt at Le Tour, the South Australian race and first of thirty checkpoints on the WorldTour calendar may later be judged as an essential building block. "There is still lots to do for him, but definitely, I am sure he felt happy. He looked at this (race) as something that made him move forward, because the race is hard. The race was vicious, but it's not killer-long, so you can still survive it and still go through it.
"You know," Voigt mused in characteristically sage yet humorous shtick, "the same amount of pain he is having in the peloton (now) he probably has in July trying to win something big. And hopefully that's a lesson that sticks to his mind and he goes: 'You know what, enough of slacking and enough being not concentrated; I learned that lesson – it's better to be on top and being on the giving end of pain than being on the receiving end of it'."
"Right now," said Schleck of his residual pain, "I can ride with it, I can live with it, and I can do my job with it."
Depends how one defines doing one's job, I guess.
"It's going to be different when we go to the Classics," he assured. "I want to be good there; I'll work hard to get where I was (before). I'm not sure if six months' time is enough to get where I was. Maybe it takes a year. Maybe it be 2014 – but I don't think so and I don't hope so."
Since he exitedAdelaidestage left without a trace I never got to ask him. But my belief is that the physical pain is secondary to the trepidation he still feels when throwing a leg over his bike. It hangs over him like a dark cloud, threatening to pour water over his ambitions to one day win the world's greatest bike race not by default but to stand on theParispodium as the bona fide winner on the storied cobblestones of the Avenue des Champs-Élysées.
If he gets his act together, overcomes his fear of falling, lines up for the historic hundredth edition in Corsica and, 23 days and 3,360 kilometres later, does not win, will he view anything other than victory as a failure?
"No, not at all. If I go to the Tour and I don't win, there's only one winner so all the others cannot be disappointed. So of course not, no."
Twitter: @anthony_tan