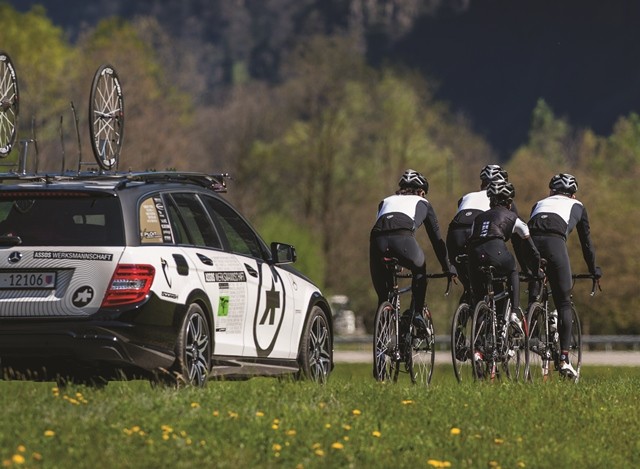 That sweltering summer of '76, for me it was nylon flares and sneakers all of the way. In the wider world Pol Pot came to catastrophic power in Kampuchea, Bay City Rollermania floored teeny boppers the world over, Nadia Comaneci was leaving judges dumbstruck in the Olympic Games gymnastic events and Apple Computers was formed.
In cycling terms Sir Chris Hoy was created, Lucien Van Impe won the Tour de France and Freddy Maertens the World Professional Road Race Championships, making it a great year for the Belgians. Meantime it was also the year that Assos came to be.
Toni Maier-Moussa was the son of a Swiss bike shop owner, and something of an innovator. Put quite simply he wanted to find a way to make cyclists go faster through technical innovation – something which was not deemed a priority back in those days. He set out to create a faster bike, something stronger, lighter and more aerodynamically efficient. Carbon fibre, at that time, was used almost exclusively by the aerospace industry. In fact its potential was deemed so unpredictably enormous that he had to seek permission from the US Pentagon to even be able to use the material – but after all it was for a bicycle, which was hardly going to provide a huge threat to US defence. Eventually he was granted permission to try to make the world's first carbon fibre aerodynamic bike frame.
That first bike may have seemed ridiculous at the time – after all, nobody had ever seen anything quite like it. It sported teardrop shaped tubes and had a low profile; it was ground-breaking stuff back in '76.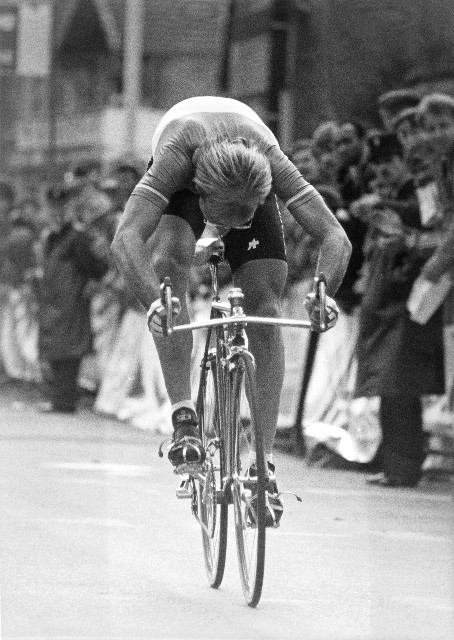 Taking things a step further Maier decided to take the bike into a wind tunnel, and with the help of the engineers from the Zurich Technical University they analysed their windswept findings. The most apparent realisation for Maier was that the rider's position on the bike was the most important factor in aerodynamics, and so he fitted the world's first 'cow-horn' aero bars to his machine.
These flipped and lowered bars made a big difference to the wind cheating ability of the bike, but there was another huge drag factor holding the process back – those baggy woollen clothes that were de rigueur at the time.
Going back to basics the technologists first put a naked rider on the bike, figuring that working around natural body skin could be the basis of something – but it wasn't, and so they got to thinking. Maier's wife Eliane was a textile technician, and so they combined with downhill ski clothing manufacturer Hans Hess to solve this aerodynamic conundrum, and thus in late '76 the first ever Assos lycra skin shorts came into existence.
At around about the same time Italian Maurizio Castelli was also working on a very similar product – and both parties claim to have been the first to re-invent the cycling short, although the Assos claim seems a little more detailed.
Needless to say these cling-on skimpy strides met with a huge amount of scepticism at first. Cycling apparel had changed little throughout the decades preceding, and wool was where it was at – no matter how much it scathed, itched and sagged with sweat.
Not long after introducing his shorts to the pro cycling community Maier took them over to Peter Post, the then manager of the all-conquering TI Raleigh pro team. Initially Post was not interested in the shorts – it was that carbon aero bike that had hauled in his attention, but Maier persuaded him to get his riders to at least try the shorts, and that was it – they wanted more, and so did everybody else. Assos had arrived, and skin shorts were here to stay.
Two years later, in 1978, and Assos had developed the first ever anatomical skinsuit (the Swiss national team rode them to great effect in the World Track Championships that year) and they've been at the forefront of high-end cycling clothing technology and production ever since.
Aside from clothing, the company also produced a number of 'hard goods' for a while, including cranks, pedals and saddles. One of their more infamous developments was a 'track brace', which was basically a belt-like strap that wrapped around a rider's rear end and attached to the front of the bike. It was used mainly in pursuiting, and braced the rider so that he was able to push back against the strap to extract more power – needless to say the UCI banned it before it really took hold.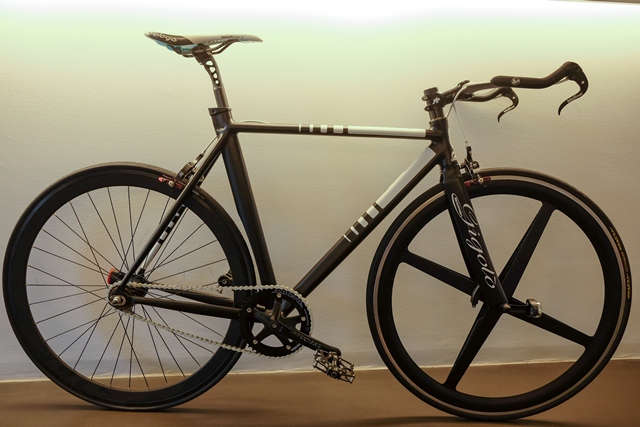 SEWING UP THE MARKET
Naming the company was the ultimate idea and decision of Maier's wife Eliane, who is of Greek descent. Today Maier's son, Roche, stands at the helm of the company with his sister Desiree Bergman-Maier working alongside him.
In the early days it was just Mr and Mrs Maier-Moussa and one machinist working from home. As things began to take off they started working with a number of 'out-workers', machinists working from their own homes.
Before long the family and their business uprooted and moved to the deep-south Italian speaking region of Switzerland, to Ticino and the village of Stabio – which was also home to Cadel Evans during most of his pro summers in Europe. Assos have been there ever since, in two buildings set between some small village vineyards.
Over the years every Assos product has been developed, tested and scrutinised in this small village base. Initially most of the garments were also made here, or by out-workers in nearby towns, but today the bulk of Assos kit is manufactured in Romania, with some garments being produced in other European countries, and with just one glove coming from China.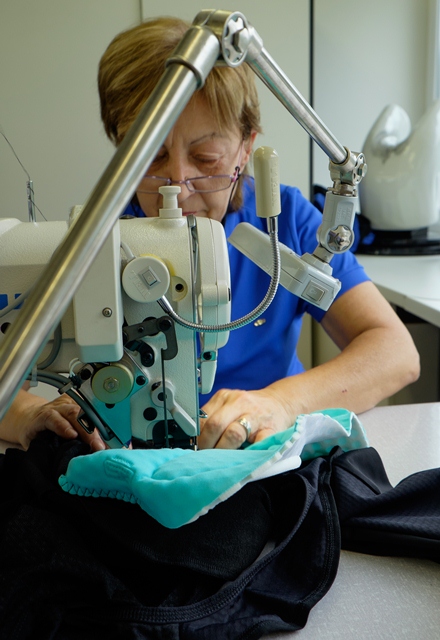 All in there are 70 employees at the Assos Stabio base, and around 250 more co-working with the company in their production facilities – which use fabrics and methods exclusive to the company.
Trends, fashion and price points are something that Assos have historically tended to steer clear of; they produce what they consider to be the best possible garment and then take issues like production and pricing from there – sticking to their high end guns at all times.
Heading up the product development team is Roche Maier himself, a man who is very hands on with his garments. The company has one full time product tester, the recently retired Italian pro Daniele Nardello, while others also work part time in product testing.
From concept to production of a garment is not a speedy process at Assos – some shorts can go through up to 80 minor tweaks and take two or even three years before they emerge on the market – and after all, they have to live up to the Assos mantle and warranty. There's no way they would risk that repute simply to hit a deadline or price point.
Unlike many manufacturers Assos do not come out with a new range every year or season. Some products can remain in the range for many years – if it works and you can't improve it then why try to fix it?
What they have done is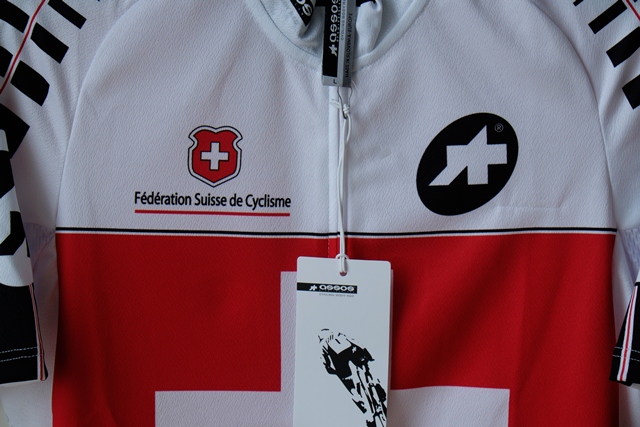 to fine-tune their product range, and they now have seven different seasonal ranges (climaRanges), meaning that you can wrap up or strip down to garments designed for every possible climate variation – which is three to four more ranges than most manufacturers.
Numerous scuffing, snagging, washing and abrasive machines in Stabio put every single fabric and test garment thoroughly through its paces before it's even considered complete.
Once this slow grind down is done, the finished garments go into an incubator for a month. They are effectively locked away and forgotten about in order to make sure that there are no hasty decisions made, and that further amendments that may come to mind can be implemented before production, or in some cases so that a garment can simply be deemed as not feasible or saleable.
This attention to detail is why Assos products come to market when they are ready – and not when the market demands.
When it comes to pricing we all know that Assos is pretty expensive gear—not stuff you'd want to crash and burn in. But there is little doubt that it's also the bee's knees of performance road cycling gear, especially their shorts.
They do say that until you've worn Assos shorts you don't know what comfort is all about, which is why Assos are proud of their mantle as "The Shorts People".
ASSOS PRIME TIMELINE
1976 Assos is born, and Toni Maier-Moussa produces the first ever carbon fibre bike frame, the first ever teardrop shaped bike tubes and the first ever cow-horn style aero bars. Later that year he also produced what are believed to be the first ever lycra skin shorts.
1978 – Assos produce the first ever anatomic skinsuit, which is used by the Swiss team at the World Track Championships.
1980 – The company come out with the first ever sublimation printed jersey.
Riders using Assos products pass the 250 victory mark – including World and Olympic gold medals.
1995 – The first elasticated short insert is introduced.
2003 – Starburst project launched – the company produce the fastest speed-suit ever seen in cycling.
2007 – Product range is divided into seven different seasons.
2010 – Manga, Yio – the Assos experience store opens in Lugano.
2014 – First MTB shorts and jersey range is launched.