Australian track cyclists are leading the Commonwealth Games medal tally after stunning wins in the women's team pursuit followed by a world record setting performance in the 4000m men's team pursuit in Brisbane on Thursday night.
Ashlee Ankudinoff, Amy Cure, Annette Edmondson and Alexandra Manly rocketed to a new Games record time of 4 minutes 15.214 seconds in the final to defeat the New Zealanders by nearly 10 seconds, in their 3000m event.
Team rider Amy Cure described the win as "amazing", and said it was not just the four girls who ride the bike. "It's Georgia Baker, Rebecca Wiasak who made the journey over here and didn't get a ride," she said. "(They) have been pushing us at training every day to perform. We owe it to them as much as we won there and to all the people who help us."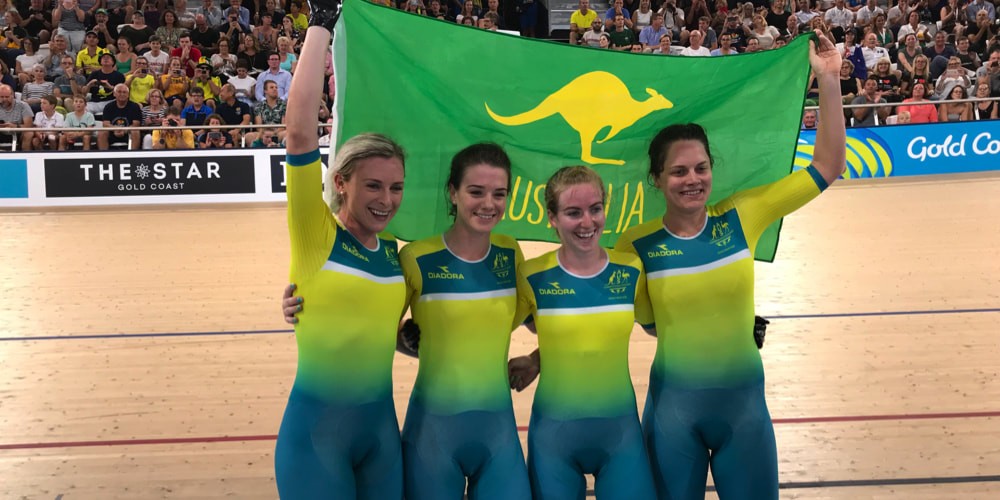 'There's Nothing Like Winning Gold'
Annette Edmondson said there was nothing quite like winning gold in front of a home crowd
"Unfortunately the sport has its ups and downs and that (Rio) was not what we wanted," she said. "After all that build up but we had to look at this as a new opportunity and focused on what we could control – and that was going fast."
Later in the evening the Australian men's 4000m team pursuit set a blitzing world record in front of an adoring crowd at the Anna Meares Velodrome, becoming the first country to post a sub three minute 50 second ride in the history of the event.
Men Smash Through 3m50s Barrier
Earlier in the day Alex Porter, Jordan Kerby, Leigh Howard and Sam Welsford qualified fastest with a time of 3mins 52.041.
A tactical move from the team saw teenager Kelland O'Brien come in for Kerby, with the team posting a world record time of 3 minutes 49.804 seconds, shaving nearly half a second off the record held by Great Britain set at the Rio 2016 Olympic Games.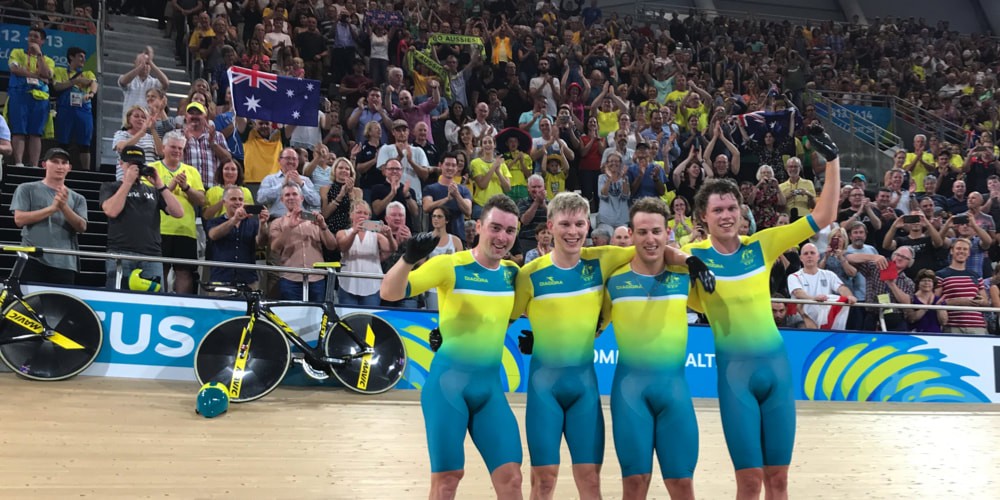 After the stunning win Sam Welsford said he was over the moon with excitement.
"We're in our home country, that is what dreams are made of," he said. "This is what we strive for every day, this is a dream come true. We've had our eye on the medal for such a long time, and to go under 3.50 – for that to happen is unreal. "

Road and track veteran Leigh Howard described the win as "a special moment."
"It was a big decision for me to give up the road and come back to the track, but I had a fair bit of self belief and saw it was such a special group of guys and I wanted to be part of it." he said.
"This guy next to me (Welsford) is an absolute machine, just to follow his wheel is a tough ask. There's definitely been some big changes since he's come on board and we've gone faster, it's as simple as that."
Howard went on to say that a sub 3 minute 50 second time was only the beginning. "It's just evolution and we're not sure what the next mark is but we'll just keep striving," he said. "That's the big question but we've got to find that way."
With Cycling Australia