Our very own National Criterium Champion Sophie Mackay, has raced onto the USA crit scene, taking first in the San Rafael Sunset Criterium in North California just days before flying home.
Guest touring with American women's team: Hagens Berman Supermint since the beginning of June, Mackay outsprinted TWENTY16 rider Holly Breck who took second and 2016 USA National Criterium runner up, Elle Anderson (Rally Cycling) to steal a convincing win and take home the coveted Belt of Royalty.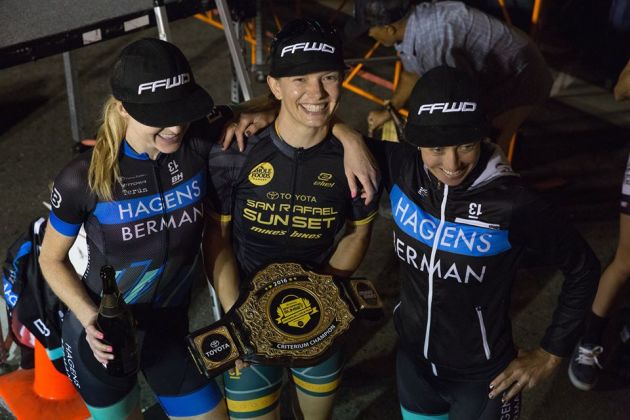 Dressed in a custom "Aussie" Hagens Berman kit, Mackay said that it was only through careful planning and the help of her teammates: Liza Rachetto and Megen Alderete, was she positioned well for final 100 meter bunch sprint.
"On the finishing lap Megan attacked and kept the pace high to deter other teams from attacking", Mackay recalls, "I was on Liza's wheel, (she is one of the best bike handlers around) and she lead into the second last corner where Holly Breck (from Twenty16) jumped onto her wheel. Liza kept the pace high into the final corner, Holly jumped off Liza's wheel to the right and I jumped to Liza's left, kicked and carried my momentum to the line. I was confident when I kicked into my sprint.
It was a well-executed plan with each of us fulfilling our roles in order to get the win for the team". Mackay said.
Known for her sprinting abilities, Mackay was an early contender for the win after pocketing the sprinters jersey at the North Star Grand Prix in June and taking first in the last of the women's NRS races: Battle on the Border. Although keen for the win, Mackay said that it was the experience and a better understanding of racing in the US which she really valued.
"We all want to win but I think it's more that I've begun to get a better understanding of the racing here in the US – particularly in terms of positioning and skills. It's very different to back home and there was a lot to learn in a short amount of time; it's great to see everything I've learnt with the team coming together", Mackay said.
Mackay, who is due to fly home on Thursday, managed to complete in 15 races over the two months and has high hopes of returning to the US for more racing, however, for now she's content with getting back into the rhythm of training before racing begins again in September.
Mackay has plans to race in the National Capital Tour with her team; Specialized Women's Racing as well as retain her title as National Criterium Champion in early January 2017.
Images: Will Matthews