18 months is a long time in cycling – Just ask Anna-Leeza Hull, currently on the comeback trail following what can only be described as a nightmare 2016 and an extended absence that had many wondering if one of the brightest stars in Australian women's cycling would even race again, let alone shine.
The good news is, to paraphrase the famous Mark Twain misquote, reports of her demise have been greatly exaggerated. Speaking from her home town of Modanville in northern NSW, her father Russell Hull explains Anna-Leeza has not retired. She is, in fact, back in training and targeting a return to elite-level racing during the 2017 Subaru National Road Series.
Youngest Rider To Podium In Women's NRS
After bursting on the scene as a 16-year old in 2014 when she became the youngest ever rider to podium in the Women's NRS (something she did three times that season, as well as claiming the QOM at the Tour of the Mersey Valley) Hull's career progressed quickly with impressive training data translating into tangible success on the road, medalling at consecutive UCI Junior World Championships in 2014 and 2015, as well as gaining selection for the Specialized Securitor squad in the Women's NRS in 2015.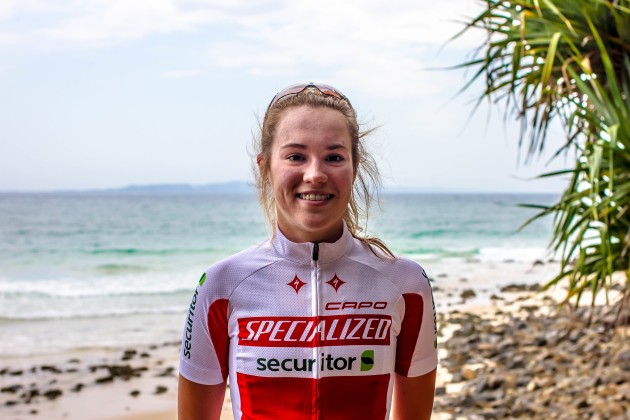 However all was not as it seemed. Despite seizing the overall GC when riding as an individual at the 2015 Sam Miranda Tour (a controversial 30-second penalty for 'colluding' with her Specialized Securitor team-mates later saw Hull relegated to third behind High5 Dream Team's Georgia Baker – only for Hull to be ultimately cleared by Cycling Australia more than a year later) her body was beginning to feel the strain.
While suspecting something wasn't quite right, Hull still travelled with the Australian team to the 2015 UCI Junior World Championships in Richmond, USA. Riding under the weight of considerable expectation as a reigning World Championship medalist, she claimed her second consecutive bronze medal in the Individual Time Trial, capping a remarkable period of success for an athlete still too young to vote.
Struck Down With Glandular Fever
Not long after Hull's return to Australia plans were in motion to have the rising star peaking for the 2016 National Championships in Ballarat. However a glandular fever diagnosis, while helping explain her increasing lethargy on the bike, threw her training schedule into disarray, and was soon followed by the onset of chronic fatigue syndrome, ultimately derailing her entire 2016 season.
"Unfortunately some people thought she was just being a lazy teenager," says Russell Hull. "But that wasn't the case. She'd been pushing extremely hard in her training and racing, too hard as it turned out, and her body had simply had enough. She ended up going to the Nationals, but could barely turn the pedals."
After moving to Sydney and then Woollongong for a short period in 2016 to be closer to the NSW Institute of Sport, Hull made the decision to return home to Modanville where she again lives and trains.
Renewed Confidence
"There has been interest from teams in 2017," explains Mr Hull. "However after weighing things up Anna-Leeza feels it's better to race as an individual for now. Her confidence is growing with every day, but she's keen to make sure everything is right before making that extra level of commitment to a team. It will be tough being self supported and self funded, but she's as focussed and determined as ever. Besides there's no need to rush. Despite all that she's been through, she's still only 19."
Footnote
As regular followers of Bicycling Australia may recall, we've covered the rising career of Anna-Leeza Hull on several occasions in recent years. It's with a somewhat sad irony the first time actually came in the 2014 article 'Growing Up Fast' where the pitfalls of managing talented young riders were explored in detail with ex-pro and CSC/Team Sky Directeur Sportif, Scott Sunderland, and former AIS Senior Sports Physiologist, Dr David Martin. Nearly three years on it still makes for enlightening reading.