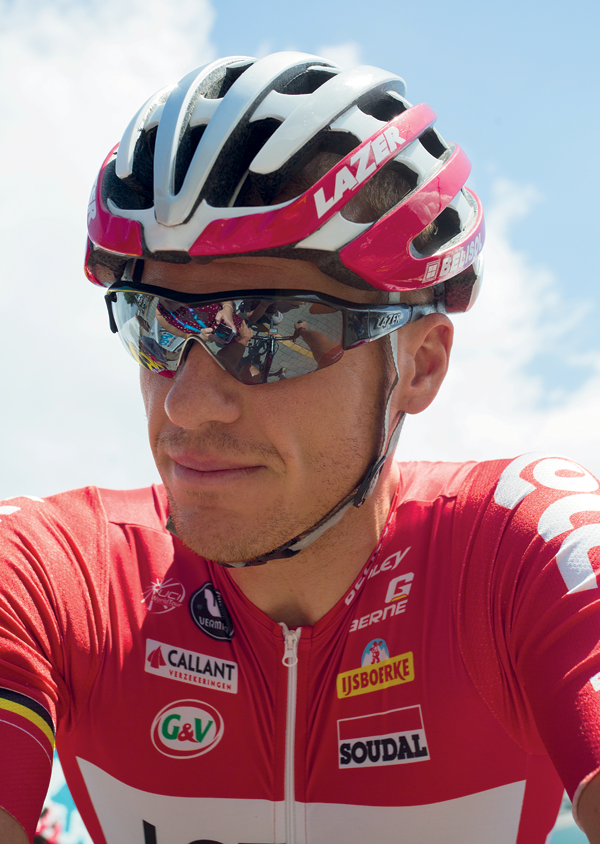 Adam Hansen is something of an unsung hero of the Pro peloton, and is the only rider of the current generation to have strung 10 consecutive grand tour finishes back to back.
World Tour hard man Adam Hansen is often to be seen at the pointy end of his powerful Lotto- Bellisol 'red-line' in the grand tours, usually hammering away in the trenches with his teammate and super sprinter Andre Greipel grimacing behind him as he prepares to launch from the ruckus and battle for a stage victory.
At other times he can also be seen pulling his GC leaders safely to the base of the final climb of the day, and then is often captured on spectators smartphones taking a 'moving five' to enjoy himself with the fanatical race supporters along the roadside.
Hansen is quite a contrast to his fellow countrymen, and to many of today's English speaking pro's. He is very much a self made rider, and not a bi-product of the national system.
After cutting his early bike-racing maulers in the infamously tough Crocodile Trophy mountain bike stage race (which runs at near grand tour stage lengths through the Aussie outback) he earned himself the repute of being something of an endurance animal; a real Aussie tough guy.
Yet, as highly regarded as it is, the Crocodile Trophy is a long way from the pro pelotons and grand tours of Europe – and could even be considered something of an extreme oddity, much as the RAAM is.
The highly intelligent Queenslander didn't quite see things that way, and despite the traditionalist stacked odds and a fair share of mocking he decided to take his own show to Europe and tough it out, assessing that his own logic and self-belief could go a long way towards making it as a pro bike rider.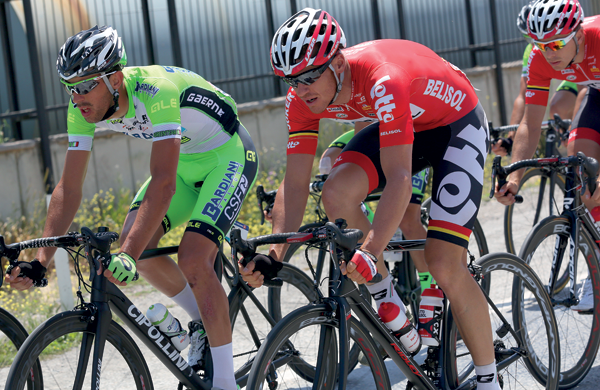 Just eleven years on from his last dusty win in the outback Hansen is a highly respected and well established workhorse of the peloton, and one of the most enduring riders around. He also notched up an impressive Vuelta a' Espana stage win towards the end of his 2014 season.
We caught up with him to chat about his inspirational and unusual yet logical approach to pedaling his own way through the storm to reach the summit, and about how he survives so many back–to-back grand tours.
BA: Stepping away from the Crocodile Trophy and into a pro road career seemed like a big ask back then. How did you manage to make the transformation?
AH: It wasn't too bad. Road racing is cleaner (in terms of dirt) but races are a lot longer, and there are a lot more races too. So, it's just different. Plus with all the travel and with grand tours and other road races it makes it very exciting.
BA: How similar are the demands of a race like the Crocodile Trophy when compared to a major stage race on the road?
AH: It's all the same in my view. Maybe on the road it can be more tactical. But they are both hard races with similar physical and mental demands.
BA: Could you ever see yourself heading back to riding mountain bike stage races and marathons at any point?
AH: Sure, and I plan to. I would like that very much.
BA: Do you think it's possible to mix in the odd MTB epic with a full time pro road career?
AH: I almost did the Crocodile Trophy two years ago. But it was a last minute choice and I had to get things organised too fast and couldn't manage it. But I don't see why I could not do some MTB races during the European off-season. It would be better and more exciting than some of the training camps I do.
BA: How did you end up based in the Czech Republic, which is a way off the usual radar for an ex-pat pro rider?
AH: I started my European road racing in Austria, and as Czech borders Austria it looked like a good country to invest and live in. I tried it and love it here. I live (I think) in one of the nicest parts of Europe.
BA: I hear you've invested in apartments and other non-bike related projects for life after racing?
AH: Ha-ha, I have my fingers in everything at the moment. Actually I have too much on my plate and things are getting a bit out of control. But I have some good staff members, and that takes a lot of the workload off me, so it's good. But I'm just one of those people that can't sit still and must do something or I go crazy.
BA: Famously you produce your own cycling shoes, how is the shoe biz doing? Do you physically make them yourself? We hear you have a new pair every few weeks?
AH: Everything I do myself. I just had a realization yesterday about it and the amount of time I put into them. It's taking up a lot of my time. But for me it's just not about the shoes. It's the full learning process. If you could see the progress from the beginning to now it is a pretty amazing feat that I have achieved.
I have tried everything, different materials, methods, and approaches. I have researched a lot and come up with personal ideas.
Making a part from carbon fibre is not that difficult. But making a whole shoe is extremely difficult. Everything made from carbon should be stiff and light; however a shoe must have these attributes but also remain flexible and comfortable on the top. It also has to be made in one piece.
There are four different epoxy resins used, depending on the area where it needs to be applied. I look at the whole project as a learning curve, and what I have learnt has given me a huge amount of experience.
For the Tour de France I went with one pair, weighing in at 64 grams per shoe. I have cut down the process a lot and can now put out a shoe in five days – or even five pairs in five days. This is not including making the first molds. And they are really looking 'Pro finish' now.
BA: Your route to the pro ranks was somewhat against the odds and the current trend of systemized and calculated career paths. How much did you have to fly in the face of adversity – and do you think this makes for a different character and style of rider?
AH: This is true. I just figured at the end of the day your legs have to do the talking. So if I reached 26 years old and could get good results, I can't see why a team would not hire me.
Whereas most riders believe that if you don't make it by the age of 22/23 you will never make it, I didn't. The one thing I also learned along the way was to stop caring about what other people think of you.
I got bagged and laughed at or called crazy for training too much. But I did it and believed that if you want to be a pro you must train like one. You don't become a pro and then train like one afterwards.
Now I am riding in the pro ranks, and those who said I was crazy or stupid for doing too much never made it. You just, must go your way and do what's best for you and not always do what others think is best.
BA: What advice would you offer up to young riders who are not AIS or British Cycling type riders but who want to make it as a bike rider?
AH: Treat it like an investment. If you only half try you will only get half returns. You must dive in and give it all if you want big returns. Make the sacrifices and never give up. There were a lot of riders better than me who stopped racing at the age of 23 or 24. If there is a will there is a way.
BA: How much do you think stats and figures count in these issues? Like Vo2 max etc, and how much of it is down to determination?
AH: These are good reference points for training and seeing your current level.
But these are just numbers. Don't take this wrongly; I'm a huge numbers guy and very strict with my training. But these numbers mean nothing if you go hunger flat or ride too much out in the wind.
In my mind they are very important for training, or pacing yourself on a long climb. But when push comes to shove it's your will power that will take over.
BA: Your bike set is pretty extreme – can you tell me about it? And have any experts tried to change your style?
AH: I have a huge handlebar drop from seat height. I use 180mm cranks, ride 38cm handle bars and have my cleats pushed back as far as I can.
It sort of goes against what everyone says, and against what the team mechanics tell me. Cycling is a very cultured sport and has a huge history, which is very special; but some people are a bit stuck in their ways too.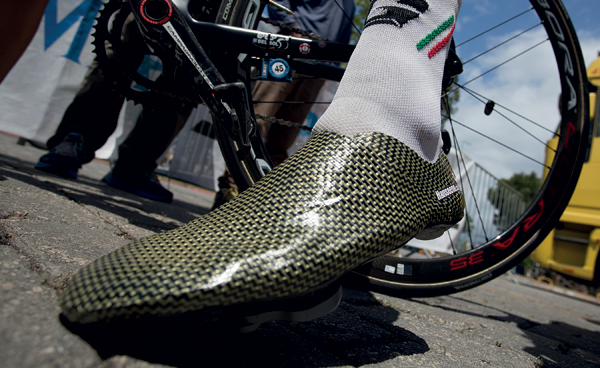 I love getting in to talks about crank length, and people will argue that mine are too long and that you spin slower. They think your leg speed drops – but in fact it's faster as the rotation gets longer. At 100 RPM on 180mm cranks, compared to 100 RPM on 172.5mm cranks, the leg speed is faster on the 180mm cranks.
You have more leverage too. Tell someone to take a nut from a car wheel with a 10cm tool. Ask someone to do the same with a 100cm long tool; which is easier?
The point of cycling is to be efficient, save your power for the final. Now look at it in this sense; I'm 186cm tall. If another rider is 156cm tall and we both use the same crank lengths, who has longer cranks based on crank length ratio to leg length? This little guy is on huge cranks compared to me. I don't understand how everybody thinks that riders should be using the same crank lengths.
Ok that's just about the cranks, and I will stop here because I could go on for hours on cleat position, seat position over BB etc.
BA: You've become "Mr. Grand Tour" in recent years – how have you matured as a grand tour rider, and how differently do you approach them now compared to your first tours?
AH: Experience makes you ride more wisely in the bunch. It makes you feel much more relaxed. I now know that even if I have a really, really, bad day that I will always be able to finish a stage. So I am far more relaxed with the whole process.
I think that I am still improving every year, and believe I will continue to do so.
BA: How do you manage to get through three big tours a year without getting seriously sick or run down, or just wiped out both physically and mentally?
AH: I'm about as healthy as they get. My diet is so good that I don't know the words on how to express it. I really do take very good care of myself.
While people think that I'm a beer drinker and that I joke and have fun, I don't actually even drink beer at all. I might have a total of five glasses of wine a year. Ok I drink a bit of whisky; but we are talking about 2.5cm in a glass late at night when I can't sleep, and this would be about once a month.
I rarely eat processed food; I cook 95% of the food that goes into my body when I am home, so I know exactly what I am eating. So, health wise I'm pretty good.
Physically I do take more rest then other cyclists. When I train, I train. When I rest I rest, and that rest is full recovery. There's none of this five days of two hours a day recovery after a grand tour for me. I will take a full week off after a grand tour.
Mentally, this is a tough one. I need my time at home and a grand tour is as long as it gets before it becomes all too much for me. I like my time alone, and during a big tour you are 24/7 with other people. I did the Tour of Turkey and then went directly to the Giro last year, and that was six weeks away from home. I was on my knees, and when I got back I did not leave my house for a full week. I even changed my mobile number so that nobody could contact me, and I just enjoyed the peace.
BA: How different are each of the major tours for you?
AH: The Giro – this is the most passionate one. The spectators know every rider in the race.
The Tour de France – it's business, and is huge, it's a circus, and is more geared for spectators to come and watch. The Vuelta – this is nice at the end of the season, more relaxed and usually with perfect weather.
BA: On the whole what is your starting strategy and role in a tour?
AH: I like to start a bit under done; so as to go in fresh. I always have time to improve and I'm always at my best during the final week. But, for last year's Tour de France the first stage was important. If Andre had won he would have had the yellow jersey. So it was more stressful for us, and I had to go in with more form than usual.
BA: You seem to enjoy yourself some with the fans on the climbs?
AH: Once my job and role for the stage is done with then I like to have some fun. Stir the fans up a little. Get involved. Give them a show. Why not?
BA: What is your average on-tour daily nutritional routine?
AH: Breakfast: eggs, plus oats with rice milk and honey. Energy bar before the race. Between 9-13 energy gels during the race.
After the race: Sprite, BCAA, Protein – in that order and within 45 minutes of the finish. Then I wait until dinner.
Dinner is usually vegies, and maybe some rice. I'm not a meat eater and I try to stay away from pasta. I don't actually eat so much outside of the race and fuel up more during the race.
Protein is taken just before bed.