Roof top racks from all brands have undergone significant transformations over the past few years upping their game on style and security, so we have gathered information on some of the top selling brands to assemble this buyers' guide.
There are of course mounting options beyond the roof; hitch, tailgate, spare tyre. All are valid and provide benefits for the user depending on the individual and their cycling preference. Given we're talking mainly about use with reasonably lightweight road bikes we'll focus on roof mounted bike racks.
Roof top mounts allow for easy access to the boot or rear doors and keep bikes out of the way of brake, indicator lights and also your rego plate. I can personally testify that obscuring these will get the constabulary offside, but now suitably chastened, I do also believe it presents a risk in traffic. If you do choose a towball mount rack you'll need to consider an alternative lights and number plate solution to ensure their clear visibility to remain 'legal'.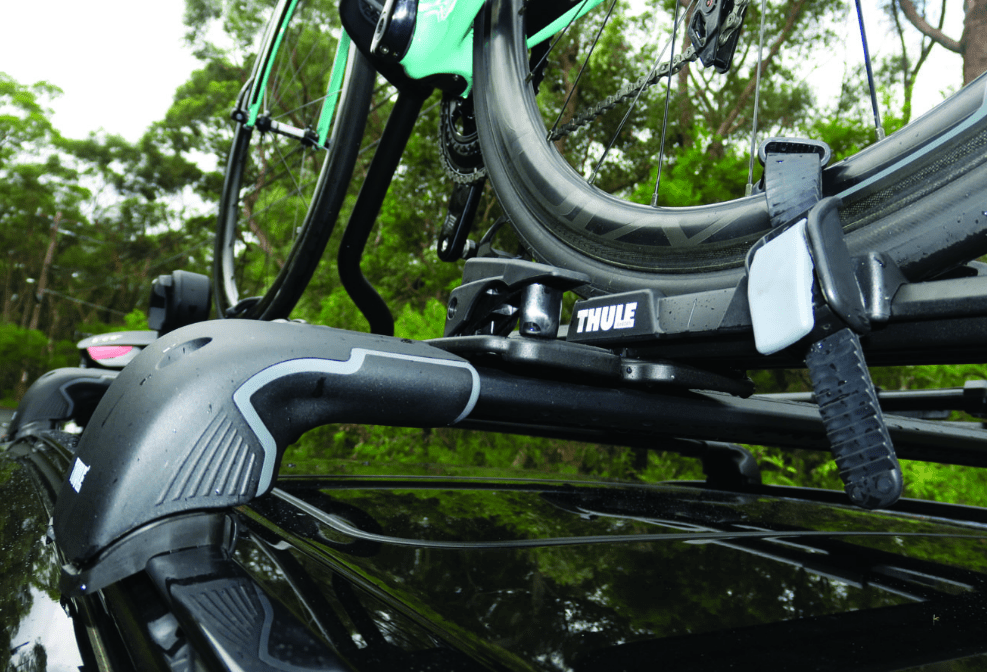 While roof mounted racks will get bike frames and deep carbon rims out of the way of your lights, they can be hard to reach for many people on tall vehicles like SUVs. They're also somewhat compromised for use with heavy bikes given the overhead lifting, but apart from these they're ideal for the typical carbon roadie. They also free up space in your car, keep greasy chains off the upholstery, and also provide simple means of carrying your bike to and from races or ride routes that begin with a long, unwanted, or dangerous commute.
Keeping Your Bike Safe From Prying Eyes
While most of us wouldn't leave our bike unattended on the car for long, some form of anti-theft measure is a good idea. Most bike racks use a T slot system to secure the racks into open channels on your roof cross bars providing quick and very solid fixing. But while the rack is secure on the roof rails and many racks have keyed locking systems built-in which render the clamping mechanisms inoperable, the reality is that a determined thief will probably succeed in making off with your pride and joy given enough time…and it may only take seconds. The reality is that racks are designed primarily for transporting your bike not stopping it from being stolen.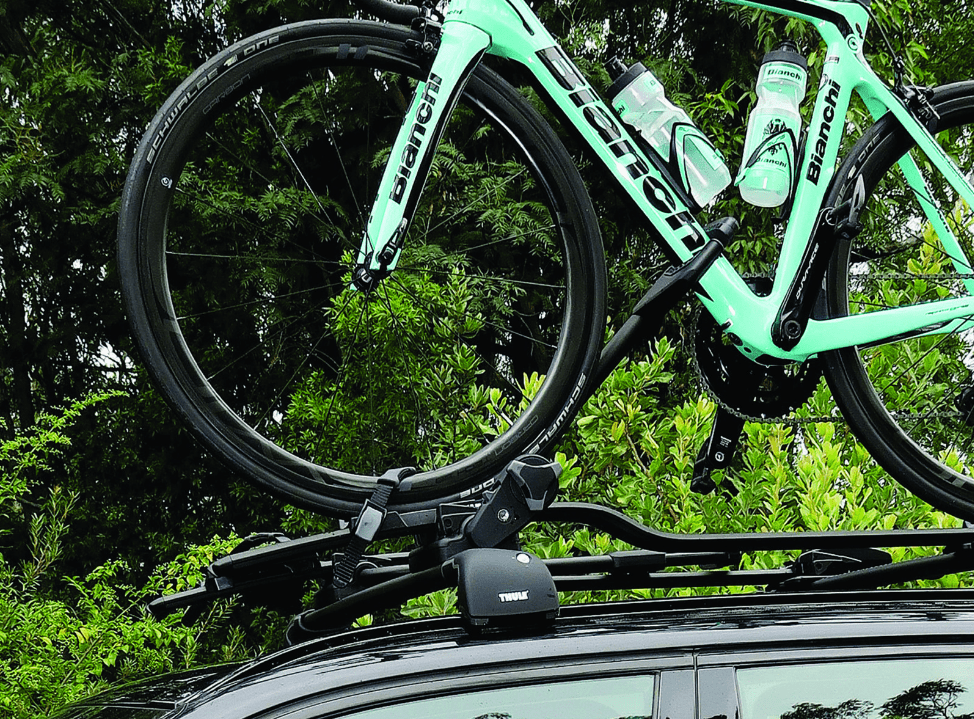 Therefore making your bike the least attractive option for stealing using something like a heavy (plastic coated) cable to loop around the bike frame and wheels secured around your vehicle's built in roof bars is probably the most effective. You can even buy locking cables which when forced open or cut—even partially through— will sound a piercing alarm. Again the idea is to make your bike obviously difficult to steal so any would-be bike bandit will move on to more inviting options.
A Look At The Latest Roof Bars
The wing-shaped aerofoil roof crossbars available these days virtually eliminate wind noise that was once a real bugbear with square tube racks, just make sure you keep the rubber infill strips fully covering any open space in the tops. The roof bars that span your vehicle are model and year specific and while online selection wizards can help you choose, I found they're not perfect, so you may need some help finding the right set for your vehicle.
Choices of roof mounted racks boil down to front wheel off, frame clamp or wheel clamp.
Front-wheel-off options are a little easier to load as they don't require you to lift the bike so high—and also the bike is lighter with the wheel off. While they've been a strong favourite with road cyclists since the advent of roof top racks, in some circles the fork-mount rack has also caught some bad press in the past.
The upshot of these arguments is that people think their fork tips might snap off when the bike leans while the car is going around a corner. The engineering defence of this notion is that the forces in action upon the fork are directly up or down the fork leg—pushing on one leg and pulling on the other, as opposed to a bending force trying to snap the tips off. Consider a 100kg rider tearing downhill at 80-90kph… the fork tips are clearly a very strong part of the bike.
Wheel On Of Wheel Off?
Removing the front wheel will mean either storing it in your car if you have if you have room, or on a separate wheel mount on the roof racks like the Yakima Wheelhouse or the Thule Wheel Carrier.
Keep in mind your axle type (QR or thru axle) if you go for a wheel-off style, and ensure you get the right adaptors to suit your fork.
If you prefer to leave the bike intact with front wheel on, there are two options; frame clamp or wheel clamp. Frame clamping may mean that any road grit stuck on your frame will be gouged into the frame paint while the bike is clamped, grinding back and forth as you drive. A quick wipe with a clean rag will help. The same thing may very well happen if you have a bike with external cables… I've gouged some paint doing this myself. Clamping via the frame may also have implications for frame warranty, so if this is a concern, check with your bike brand.
The wheel clamp style may be the solution here. Although the padded hook of the Rhino Hybrid for example may touch on your front rim brake calipers I didn't see any marks result while I used this rack, and there is an alternative. The pivoting arches of the Yakima HighRoad lock only onto the wheel itself.
If you want to minimise the number of keys involved in locking your bike to the rack you might consider matching the roof bar brand with the bike rack brand so you can have the locks keyed alike.
Worse Case Scenario – The Dreaded Garage Door
Finally there has been many a much-loved bike demolished as a driver sails merrily into their garage with the bike on the roof. During the course of writing this article I remembered $12k worth of bike stowed aloft just in the nick of time, and stopped short of an overhead obstruction.
People employ a variety of cunning reminders of the bike up there, from rear vision mirror swing tags to windscreen stickers, to programming their smart phone to alarm as they approach their home GPS coordinates, or hiding their garage remote to remind them.
I don't have an MTB or e-Bike, I'm tall enough to easily access a roof rack with my fairly light bike, and I prefer to avoid the inconvenience of alternative lighting and number plate arrangements as well as the chance of misadventure with a towball mounted rack, so the roof mount is my rack of choice.
Model: Thule FreeRide
Specifications
Weight capacity: 17kg
Clamp style: Frame
RRP: $189
This is very good value for money. It's a frame clamping unit that will transport your bike without complaint. It has a couple of design features worth noting. The clamping arm pivots freely, so it does not stay up while loading your bike so you need to hold the arm up, and hold the bike at the same time.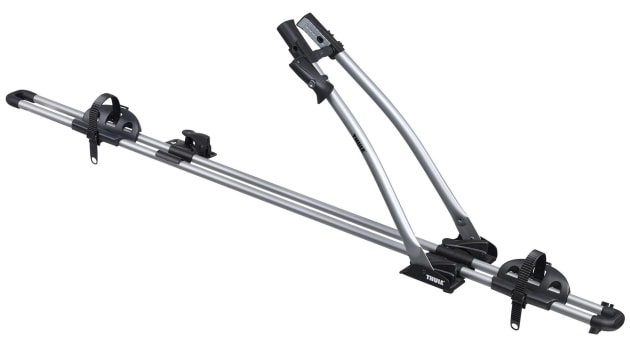 It is sturdy and will fit most bikes and will clamp frame tubes 22-70mm round or 65-80mm. If you plan on using your rack frequently it may be worth paying a little more but regardless this is a functional rack that will go the distance.
Model: Thule OutRide
Specifications
Weight capacity: 17kg
Clamp style: Fork
RRP: $269
One of the enduring models, some eight to nine years now, which is testament to its elegant design. A little more money than the FreeRide but still a very cost-effective, easy to use fork mount rack. Thule's one lock key system is very good with over 200 keys to minimise matches with other key holders.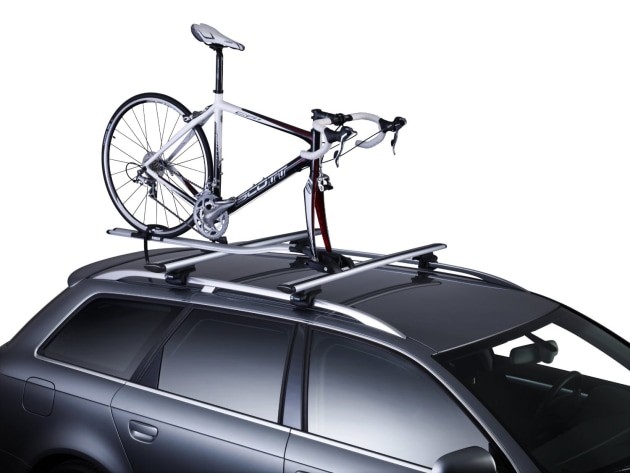 The mounting kit with this rack will suit virtually all roof bars, aero or square. The rear wheel tray is quite long so will suit large bikes, but if you have a hot hatch for example, it is also easily cut to size. Overall a good looking and very effective fork mount rack.
Model: Thule ThruRide
Specifications
Weight capacity: 17kg
Clamp style: Fork
RRP: $399
The ThruRide has streamlined bullet-like good looks. It's a fork mount unit so you will need to have a plan for your front wheel; perhaps Thule's Wheel Rack or the Thule Wheel Bags will fit the bill here. Its jaws clamp down securely on the axles—it will accommodate axles from 12 to 20mm in diameter without extra adaptors, and keep your bike wobble free and secure.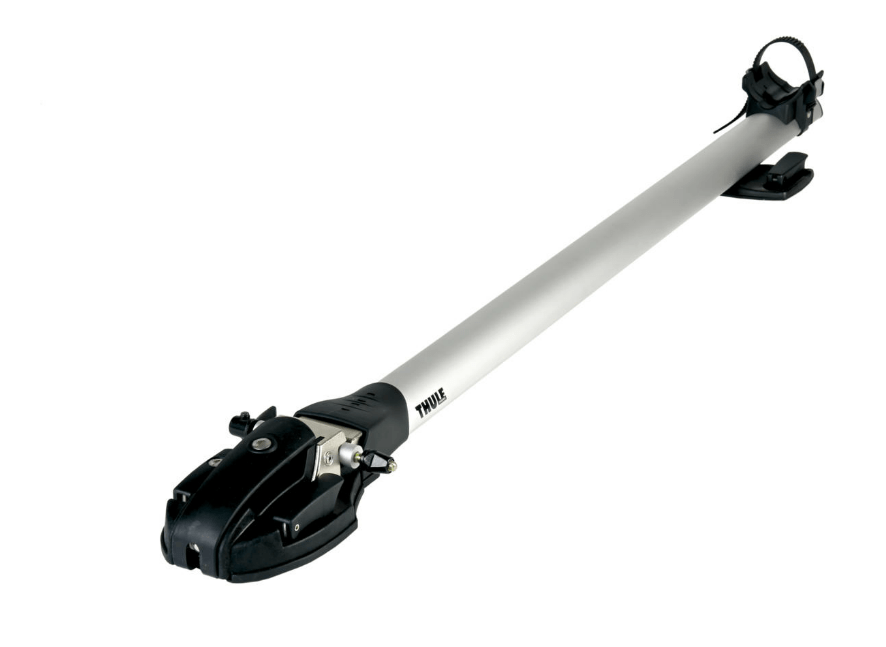 It's simple design makes it seem a little pricey at first blush, but it does bring the fork mount benefit of not clamping onto your frame, as well as being a very quick loading, minimalist design rack. It's rated for bikes up to 17kg which doesn't include your front wheel. This one only suits roof racks with a T-slot design. Included clamp locks make the ThruRide extremely good value.
Model: Thule ProRide
Specifications
Weight capacity: 20kg
Clamp style: Frame
RRP: $329
Thule's top line rack, their best looking model and one that will compliment your Euro-styled vehicle. Featuring Thule's excellent build and component quality the ProRide looks made to last. It's worth remembering when you go to buy a rack that it will last for 10 or 15 years with no trouble, so a matter of $50 or $60 will be very soon forgotten. Beyond adding a touch of style the 'S' shaped wheel tray has a functional purpose. When loading the front wheel into the tray the bike will tend to roll forward into the rack which will hold it in place while you lock it down.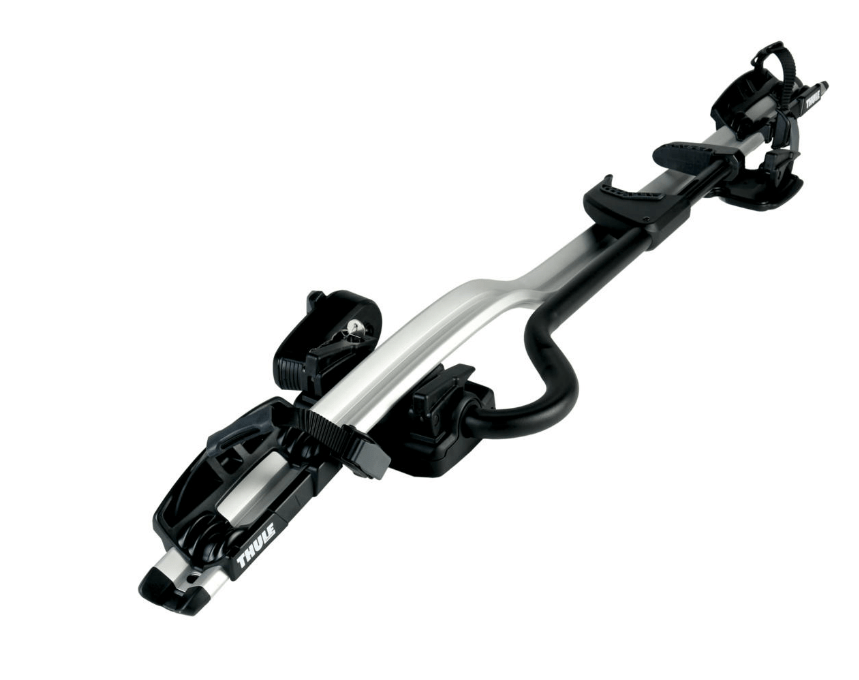 Unlike the Freeride, the clamping arm pivot is tensioned to stay in place. Previous models of the ProRide in a left / right pair would sit slightly offset on the bars, but the new model has been updated to be symmetrical when paired. The frame clamping jaws also have a softer padding to protect your frame, and the new model's jaw is hooked for better security and it will also help hold the bike while loading. The clamp locking knob is located down at roof level so easily accessible. The ProRide is design is appealing, and it has been thoughtfully designed to function very well.
Model: Yakima Highspeed
Specifications
Weight capacity: 18kg
Clamp style: Fork
RRP: $329
The gleaming black HighSpeed is a sleek, solid fork mount rack. It has a small set of powerful jaws that clamp down on the front axle adaptor, and a ratchet strap for the rear wheel. Like the High Road this rack has a broad stable front base that precludes the bike wobbling and has the benefit of not marking your frame's paint.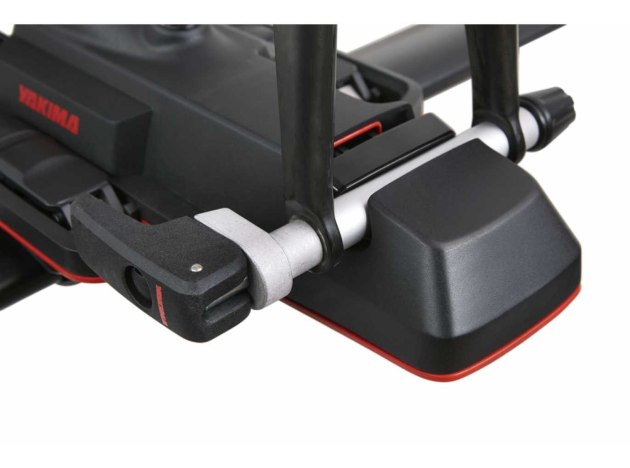 As with all fork mount racks, you'll need a front wheel plan…possibly the Yakima Wheel House. Yakima's optional Single Key System (SKS) means you can use a single key for bars, rack, wheel house and the included 'Tailwhip' cable (hidden in the end of the rail) if you so choose.
Model: Yakima High Road
Specifications
Weight capacity: 20kg
Clamp style: Front Wheel
RRP: $349
Sporting a very sleek and modern style in gloss black the HighRoad is a very solid and stable front wheel clamping rack, so there'll be no paint damage to your expensive frame. Its broad base is secured by either the rubberised metal straps or optionally by T-slot bolts, eliminating bike wobble while driving. The High Road makes loading very quick and easy; simply flip up the first arch, lift your front wheel in, flip up the ratcheting rear arch and tighten the knob.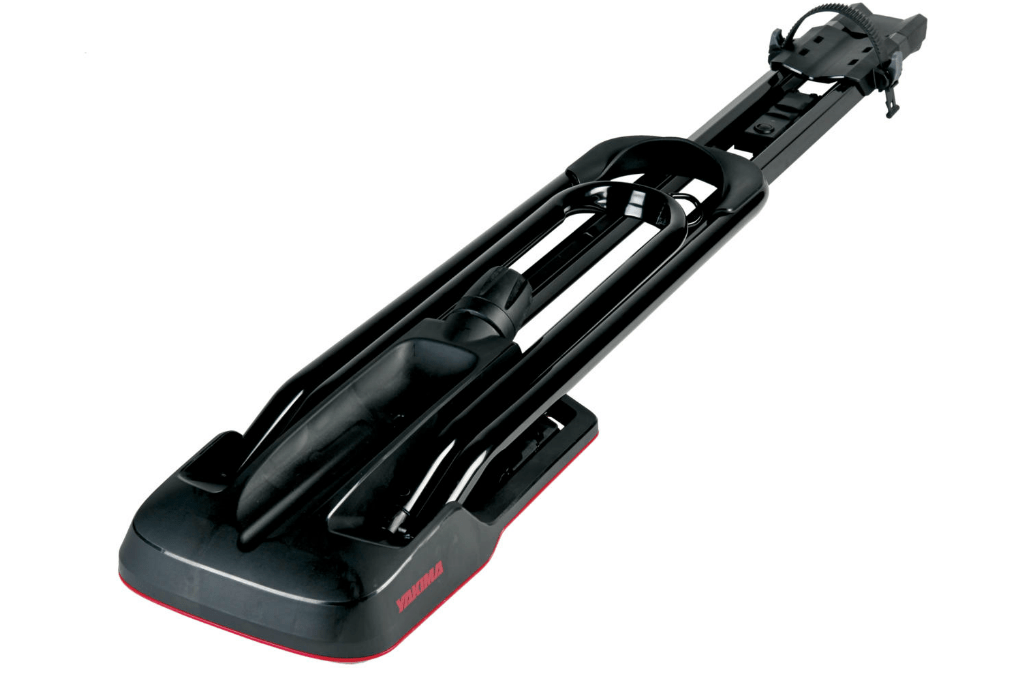 This rear arch is a quick release unit, pushing a button drops the arch for a quick getaway. There's a 'Tailwhip' lockable cable hidden in the rail of the High Road for extra theft protection. A very stable, easy to use wheel clamping rack with modern good looks.
Model: Rhino Hybrid Specifications
Weight capacity: 21kg
Clamp style: Front wheel
RRP: $319
Also known as the Brass Knuckles in he USA, the Hybrid is one of the most solid racks in this grough. Fitting is easy either via the rubberised metal straps with cam over locks which result in a tight secure fit, or you can drop bolts through the large cast metal plate at the front of the rack. This base plate provides a very stable foundation for the rack. With its sturdy arm folded down the Hybrid has one of the lowest profiles of the group.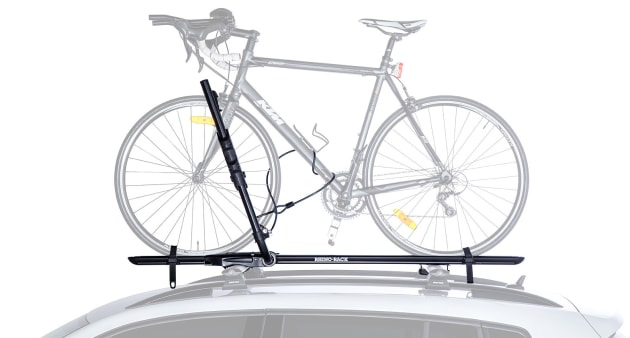 The arm can be easily switched to the other side if need be, and when not in use it slides neatly out of the way up against the nose of the wheel tray. This one comes with a built in locking cable that locks back onto the rack itself, and uses the Rhino Masterlock system so you can have one key for everything; bars locks and cables. The hybrid is built tough and rated for bikes up to 21kg; it looks like it will outlast both your car and bike.
How do you prefer to carry your bikes when travelling? We'd like to hear your thoughts on the various carriage sytems – have your say in the comments section below.
Many thanks to the team at Roof Rack World Artarmon for their help with product information and rack fitment for this article.
Roof Rack World Artarmon, Ph: (02) 02 8999 7286 Roof Rack World Haberfield, Ph: (02) 8999 7286