Bicycling Australia is saddened to report the passing of national cycling legend Brian Mansell, the first Indigenous Australian to become a State cycling champion and first Indigenous Australian to medal at the National Championships. During 2017 cycling journalist Peter Maniaty obtained a rare interview with Mr Mansell – we proudly re-publish it here with the blessing of Mr Mansell's family.
He retired from racing in 1979. He almost never does interviews. In fact, it took some time to establish if he was even still alive. But along with Opperman, Mockridge and Evans, every Australian cyclist needs to know the trailblazing story of Tasmania's Brian Mansell.
Born after 1970? Then chances are you've never heard of Brian Mansell. Even if you're older, the odds are still longer than Prince of Penzance you have the slightest clue who he is. This will not do. For while he never rode the Tour de France, wore a rainbow jersey or graced an Olympic dais, Mansell is, almost certainly, the most important Australian cyclist you've never heard of.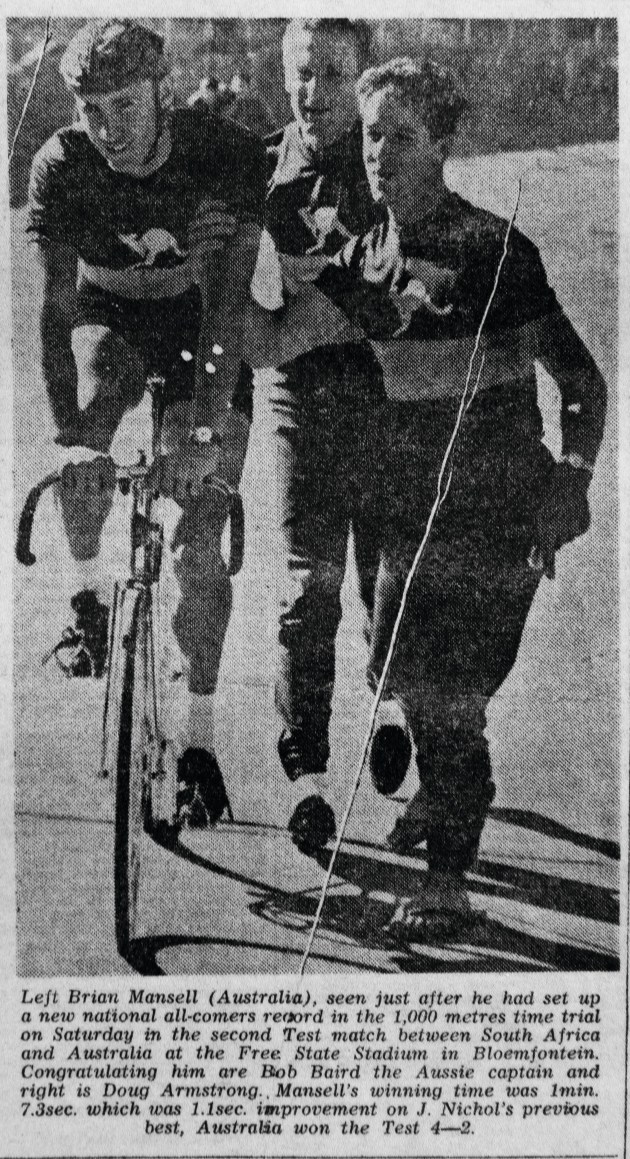 Brain Mansell was the first Indigenous Australian to become a State cycling champion. He was the first Indigenous Australian to medal at the National Championships. He was also the first Indigenous Australian to gain national selection in cycling when chosen for a three-month tour to South Africa in the late 1960s, somewhat ironically at the height of the Apartheid era.
Born in Launceston in 1949, and the older brother of prominent indigenous lawyer, Michael, Brian Mansell grew up in George Town, where he was part of a rich cycling nursery that, amongst many others, produced a prodigious young lad by the name of Danny Clark, who has little doubt Mansell was destined for the summit of the sport.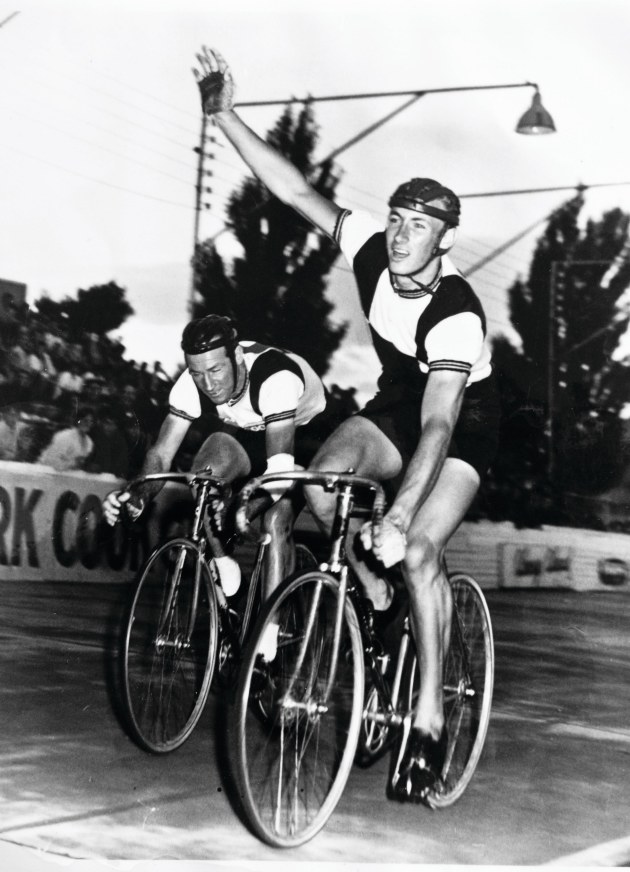 "Brian was the big gun when I was growing up," remembers Clark, speaking from his home on the Gold Coast. "I went to school with him, we trained together, I used to marvel at him. I was still a junior when he moved to Launceston. On weekends he'd ride back to George Town and I remember thinking 'shit that's a long way!' He just sat so perfectly on his bike, tall, long legs, his pedaling style was amazing, he didn't move a muscle, just his hips and his legs. He had that element of class.
"Then he asked 'how long have you been riding?' and I said 'this is my first ride'!"
"Vaughan Painting was another top rider at the time," Clark continues of what was a golden era in Tasmanian cycling. "They were just phenomenal riders, streets ahead. They were like gods. "
Coming from a five-time World Champion this is quite an endorsement. However for Mansell's part he remains far less effusive, preferring not to be drawn on what may or may not have been when reflecting on an elite career that was severely impacted by a serious car accident just months after he turned professional.
"Everybody said I had all this natural talent and (if not for the accident) could have achieved all sorts of things," he says. "But that's just bullshit. How can you say? I don't even think about it. I had a car accident. I accepted that. It finished my bike riding at a high level. I moved on."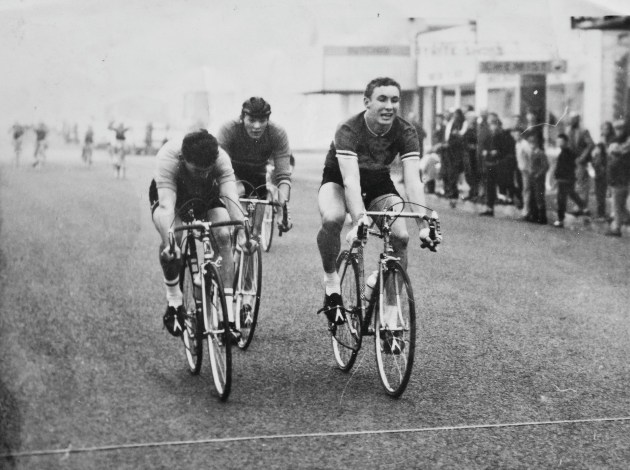 While his palmarès may never have reached the same rarefied heights as Clark's, Mansell's disarming humility masks what was unquestionably a cycling career worthy of its own lofty place in Australia's sporting consciousness. One of the finest amateurs of his era, Mansell won multiple National Championship medals on both the track and road.
He was twice named Tasmanian Cyclist of the Year in 1968 and 1969, won the Champion of Champions Award and also received Tasmania's most prestigious points trophy in 1969, The Malaysia Cup. (Franking the quality of this achievement, Mansell's win was bookended by Danny Clark who claimed the same honour in 1968 and 1970. The 2016 winner was Rio Olympian, Amy Cure.) While competing with the Australian team in South Africa, Mansell also broke the South African All Comers Record for the kilometre, 1 min 7.3 sec.
Collision Course
To those who saw Mansell race as an amateur, it seemed inevitable greater honours lay ahead. However after just three months on the professional Six-Day circuit racing with Australian sprint champion, Bob Ryan – Mansell won the Flying Furlong and Sprint titles at his first attempt at Six-Day racing – a serious car accident cost the 20-year old the best years of his career, and almost his life.
"I was originally taken to Launceston General Hospital," Mansell recalls of the accident. "But I had to be flown to Melbourne for emergency brain surgery. I also had a badly broken pelvis and all sorts of other things wrong with me. It was life and death for a while. I was in hospital for about three months, then on crutches for another three after that."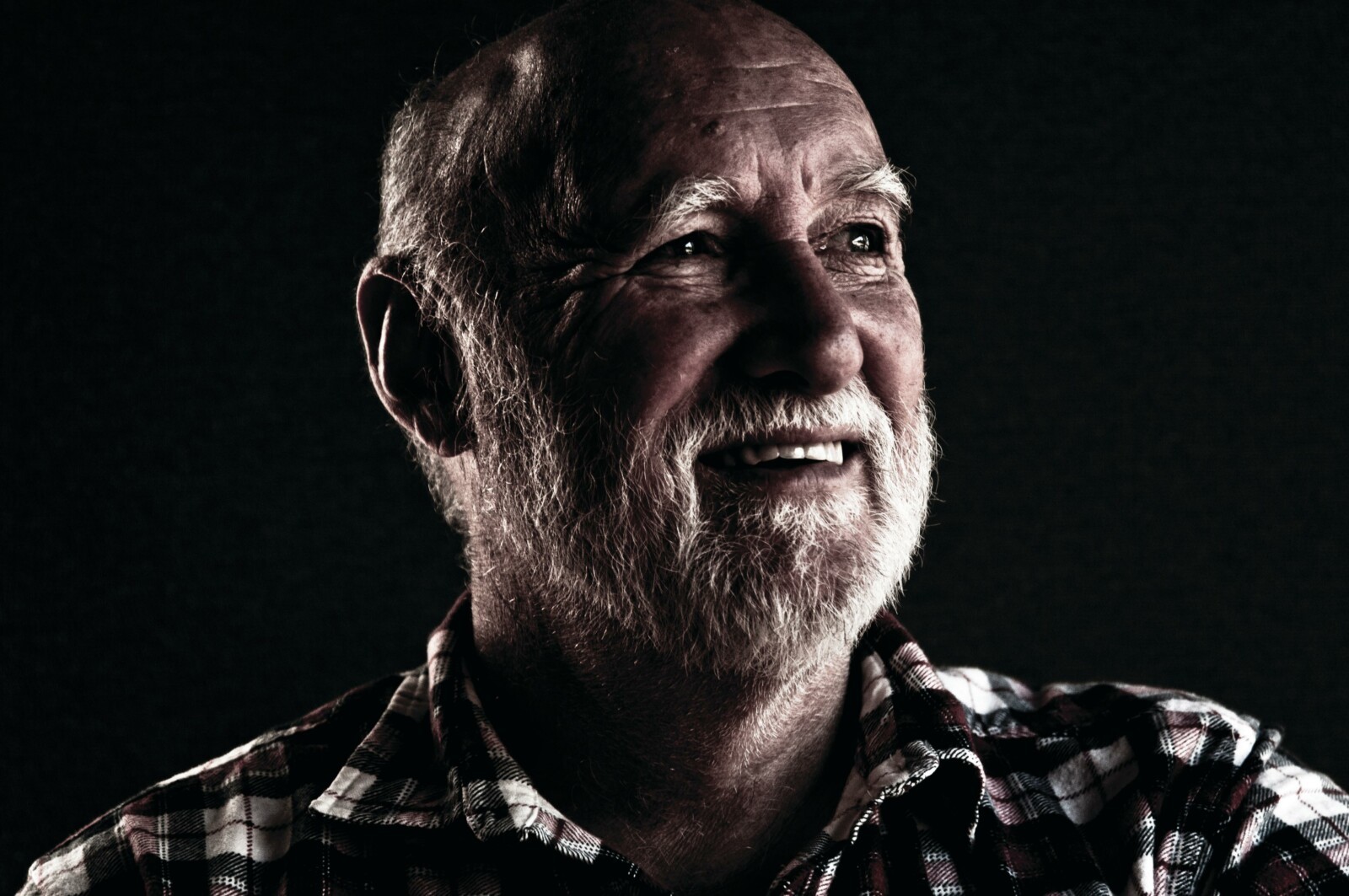 By the time he finally returned to riding the residual effects of his pelvis injury forced Mansell to alter his pedal stroke and riding position. "When I sat on the bike, as my right leg came up there was a bone protrusion. It kept hitting the saddle and I got severe irritation from that," he laughs. "So I grabbed a knife and cut a hole in my leather Brooks saddle. Problem solved."
Overjoyed to be riding once again, racing proved a very different challenge for Mansell, not due to physical impairments, but red tape. "They wouldn't give me a licence to race in Tasmania. They said my head injuries had been so severe that if I had another fall I might have died," Mansell explains.
"So I joined the Army instead. I was in the Dental Corps, I think that's where they placed people they couldn't put anywhere else. I was posted up in Townsville and that's where I actually started racing again."
The record books show Mansell indeed returned to racing in Queensland. While he was never the same rider, he was still good enough to win selection for Queensland on several occasions. By the end of his Army career he'd also represented NSW, making him part of a select group of riders to represent three different states at National Championship level.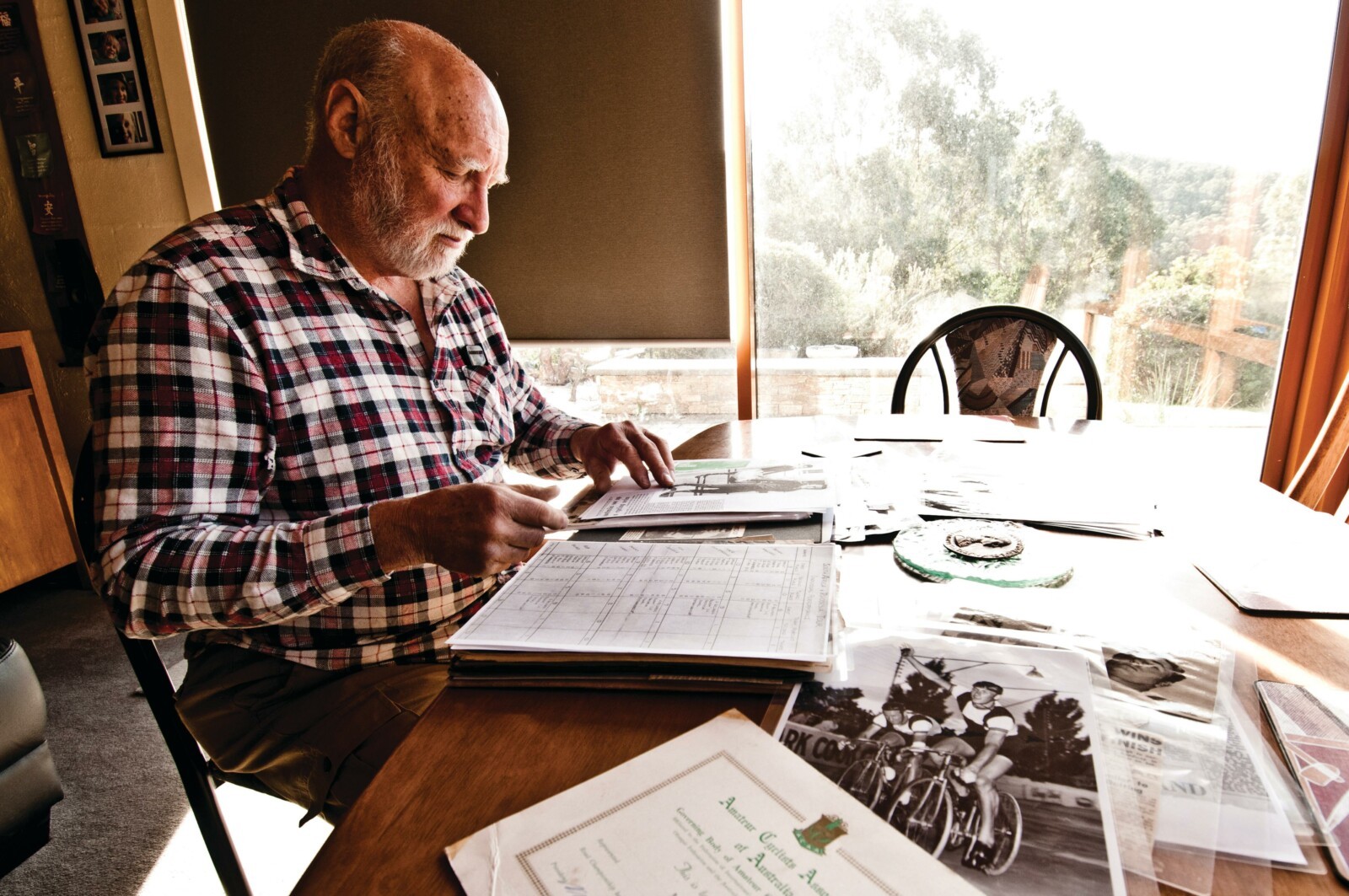 When pushed for results, Mansell admits to winning several Queensland Championships but is quick to add an asterisk.
"You didn't have to be a great rider to win those back then," he grins. "They're the wins you don't brag about, the competition was nothing like it was in Tasmania!"
In parallel with his Army duties, Mansell continued to gain State selection on a regular basis. But he never claimed a National title. Not that it bothered him. "I had a few seconds and thirds, but never made it to that top step. I accepted that though, because I was racing against two of the best riders I'd ever seen: Gordon Johnson and John Nicholson. [Both men would end their careers as dual Olympians and Professional Sprint World Champions]. They were fantastic bike riders, I was just someone who enjoyed riding and if I won or got a place, or even came last, it didn't worry me."
What did worry Mansell were the heightened expectations that came with being labeled a 'good bike rider'. "There was always extra pressure to win, I didn't like that," he offers. "Sometimes 
I wouldn't even try, I just felt it wasn't enjoyable, 
so I backpedalled, so to speak."
After a long career in the Army, a run-in with a superior officer in Victoria ultimately saw Mansell 'encouraged' to seek a discharge. He duly obliged and upon leaving became involved with the Tasmanian Aboriginal Centre established by his brother, Michael. Mansell retired in 2004 following the tragic passing of his 29-year old son, Stuart, in Hobart; an event that continues to haunt him. "My son committed suicide, I haven't really been able to do anything since," he says solemnly. "It happens to a lot of families, you wouldn't wish it on your worst enemy, it's a terrible, terrible thing."
Final Race At 29
Mansell was just 29 himself when he competed in his final race, a Six-Day in Launceston back in 1979. By his own admission he has little interest in riding nowadays. However even if he did, he explains he physically couldn't, due to the lingering effects of injuries suffered during his time in the Army. "I actually have no feeling in my feet these days," he says. "But I don't have the slightest interest in riding the bike anymore. I still enjoy watching the big European races, but no, I don't go to any of the local events. I enjoyed it when I was doing it, but that part of my life is finished, it's gone now."
For a man who spent many years trying to conceal his Aboriginality during his youth and riding career, it's heartening to hear how Mansell's stance has changed over the ensuing decades, emboldened by the enlightenment and confidence only experience can bring. He positively comes alive as we discuss his induction into the Aboriginal and Islander Sports Hall of Fame, an honour bestowed by an eminent panel of judges including the late Charlie Perkins.
"It was the proudest moment of my life," Mansell beams. "To be recognised by my own people like that. It was always such a wonderful event. I can still remember going to the Aboriginal and TSI Sports Awards in 1999. They were held in Hobart, it was a great night, I met a young Michael O'Loughlin and Adam Goodes, they'd both just been signed by the Sydney Swans. They were probably thinking 'who's this silly old bugger!' It was always wonderful to mix with so many people from different backgrounds and sports, it was like a big family – the blackest person never worried about the palest one, there was no crap like that. Everyone just enjoyed each other's company and achievements."
From Humble Beginnings
Brian Mansell's life is brimming with remarkable stories and experiences. Some good. Many not-so-good. One of the more curious episodes surrounds his introduction to the world of competitive cycling in 1965 after he'd moved to Launceston for work.
"School was a very painful and humiliating time for me. I decided to leave before I was kicked out and one of the teachers got me a job in Launceston when I was 16. One Saturday afternoon I saw a sign in the local butcher's shop window advertising the Examiner Six-Day Bike Race.
It had pictures of Barry Wadell and other top riders of the time. To me they were famous people and I remember thinking 'wouldn't it be nice to be someone like that?' The following Monday I called into Kevin McBain's bike shop and told him I wanted to take up bike riding. 
He did the right thing by me with gear and also gave me some ideas about training.
"I turned up to my first training ride the following Sunday. There was a big group of riders but I didn't know any of them. I was dressed in normal clothes, no-one spoke to me, so when they started riding I just followed about 10 metres behind, trying to keep up.
I was on a fixed-wheel bike, no brakes or gears, and they were on these amazing machines, which I later found out were road bikes. I had no idea where we were really going, but after about 20 miles or so the bunch turned around. I had to keep going because I had no brakes, so I was left to chase back after them! Before long I started catching one or two people.
'I Just Kept Going'
As I passed I asked 'is it a race to the front?' But no-one spoke so I just kept going. I ended up catching the front half dozen riders at the bottom of a pretty steep hill and noticed there was still one guy out the front. I asked 'do we chase him?' 
Still no-one would speak to me. I was feeling okay so I just rode away and caught the bloke. I asked him if we should keep going and he wouldn't speak to me either so I broke away from him as well.

I wasn't actually trying to break away, he just couldn't keep up. Anyway a bit later we were back together and he asked for my name. I reluctantly told him. Then he asked 'how long have you been riding?' and I said 'this is my first ride'!"
"The next time I saw Kevin McBain he told me I was the big news around town. I was terrified I'd done something wrong, but he explained the bunch was actually a combination of top amateurs and professionals at the time. Apparently the bloke I chased and caught was the current Tasmanian Road Champion." 
Words: Peter Maniaty
Images: Eamon Fitzpatrick