While on holiday in Tasmania, Peter Maniaty caught up with this jovial bunch at Launceston's Aromas cafe.
When? Most mornings, bunch meets at 6am.
Where? 35-40km, route depends on the day.
Coffee? Aromas Fine Food, Charles Street, Launceston.
Welcome to Launceston. Richie Porte country. Danny Clark country. Tassie cycling country. Nestled at the picturesque confluence of the South and North Esk Rivers, immediately adjacent to Cataract Gorge, the River Tamar winds its way north towards Bass Strait, while a quick 360-degree pirouette suggests there's plenty of climbing in most directions. Some of the juicier local rides include the Scottsdale Loop to the north-east (a favourite training ride of Richie Porte), Poatina to the south (frequently used in the Tour of Tasmania) and Ben Lomond National Park to the south-east, home to the spectacular Jacobs Ladder.
Of course, if you really want to go long and hard, you can make the 140km one-way trip up to Cradle Mountain via Sheffield, or even venture all the way to St Helens on the Tassie east coast, around 160km one way. Being a Thursday, today's bunch has covered a far humbler 35km out towards the wineries at Relbia and back. Time for a well-earned coffee at Aromas, where I'm told this bunch has been coming for well over 20 years.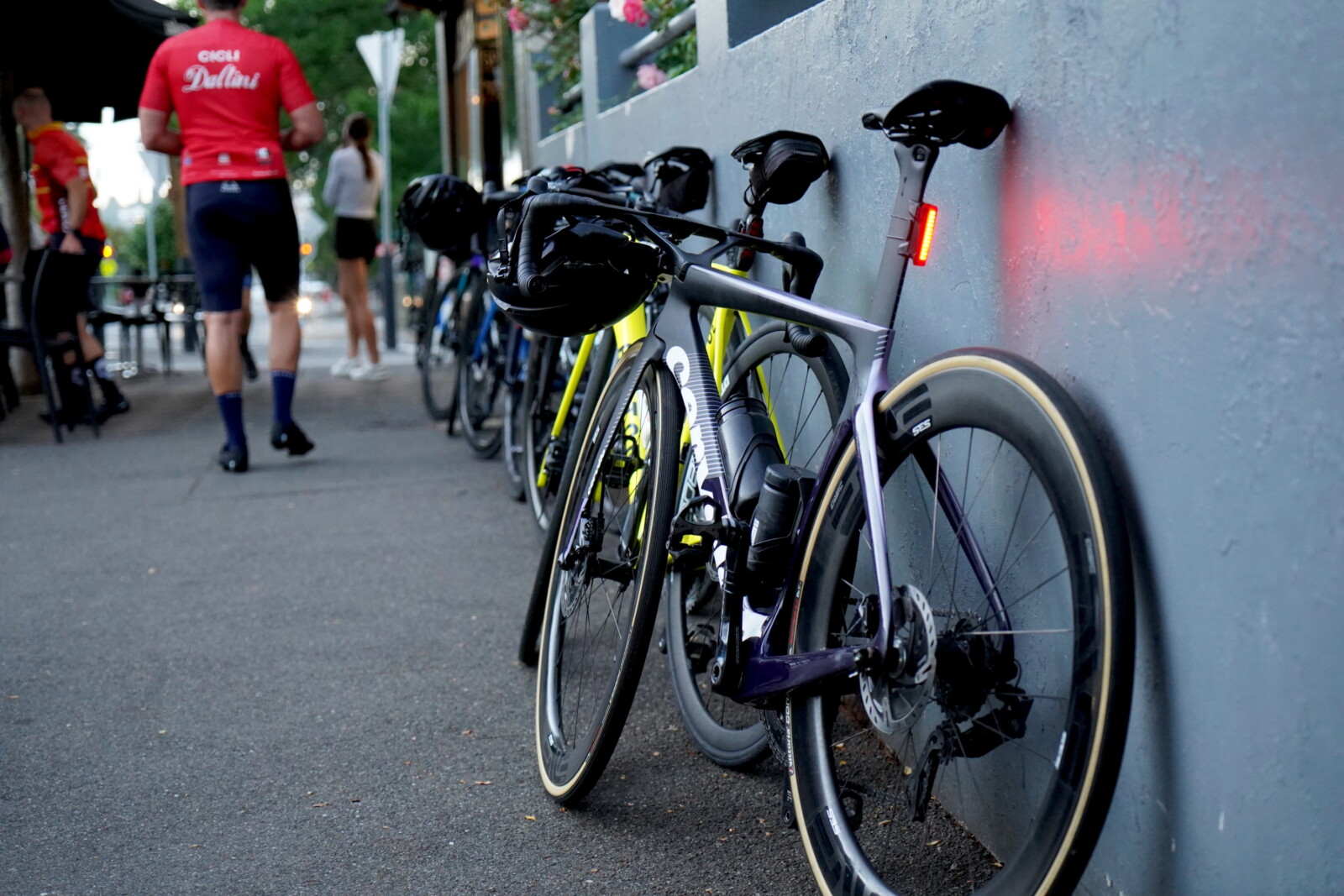 Nick Clark
What Launceston ride always puts a smile on your face?
The Sidling Lookout ride on the way to Scottsdale. It's about 90km out and back. The climb up the western side isn't too steep and the views from the lookout are fantastic. Then you get to do the descent coming back to Launceston. It's shorter with less climbing than the full 'Scottsdale Loop'. Climbing was never my forte.
What's the toughest Tassie ride you've done?
Tarraleah to Strathgordon. It was 160km with about 4,000 metres of climbing into a ferocious headwind and rain. I've ridden longer and faster road races, but the elements and terrain combined were next level. It was part of a three-day charity ride a group of us do each year, so we just kept pedalling for the charities—and the beer at the end.
Tassie winters can be pretty grim. Do you keep riding?
From June to September, I rarely ride with our 6am bunch. I'm getting a bit soft for the minus degree mornings and tend to ride more in the afternoons or on the trainer. It's much warmer in the garage!
Who's your all-time favourite Tassie cyclist?
The infamous Paul 'Tex' Turner, because he's the guy who cleans my bike! But, if I had to pick someone more famous, it's hard to go past Richie Porte. He's an example of what commitment can lead to.
Have you ever ridden up Jacobs Ladder?
Only on a mountain bike. It was in a race, so it hurt a lot. I think I was chewing the stem for most of it, so the view had to wait for when we all rode down Jacobs Ladder at the end of the race. That was a lot more fun.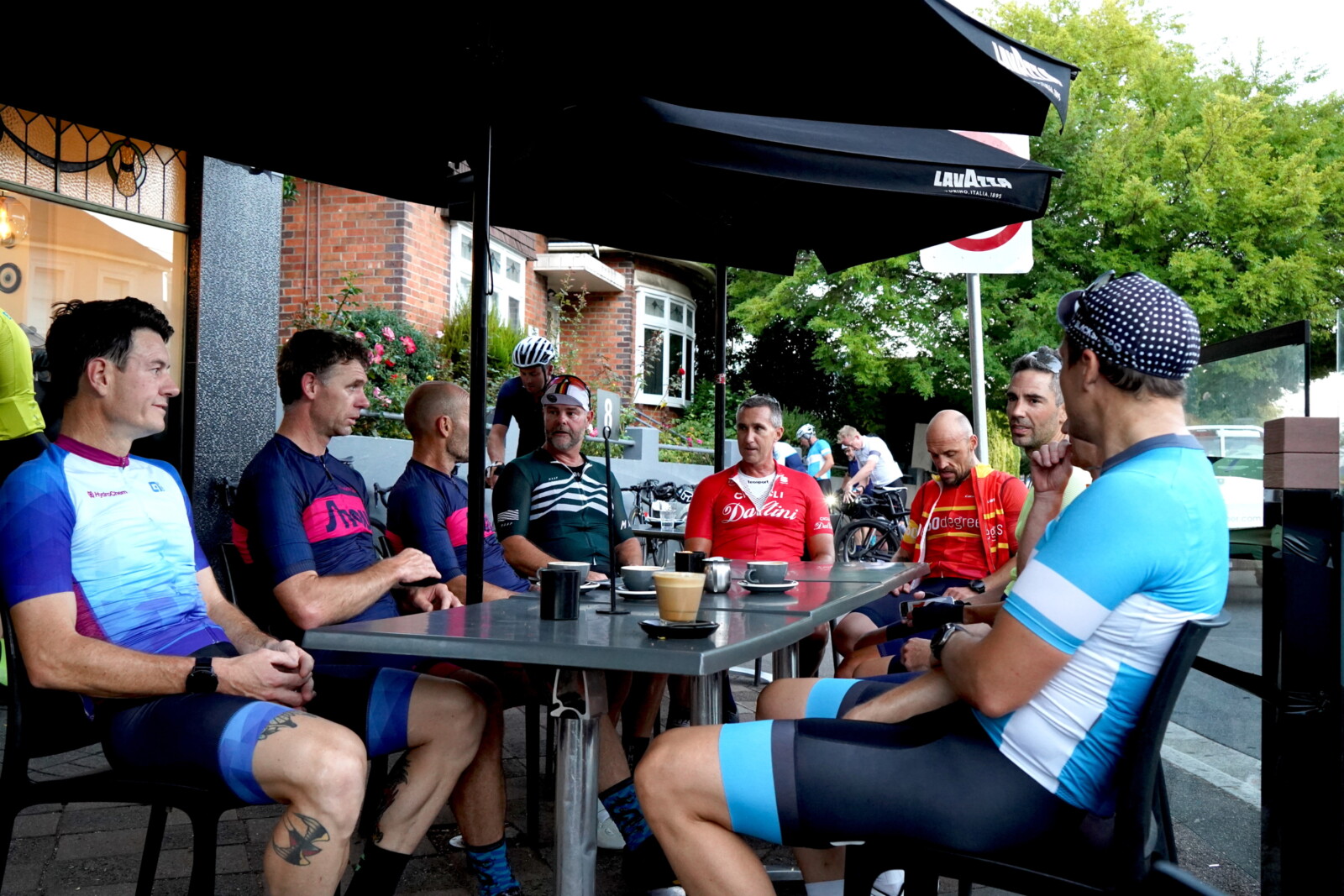 Pete Culhane
What ride always puts a smile on your face?
Our 6am weekday bunch is a great group, both for the ride and the banter. The classic 'Launie' ride is the Scottsdale Loop taking in a scenic and hilly route NW out of town and back with around 1,750m of climbing. Pick a summer's day and you're almost certain to be passed by Richie Porte and a number of other local hitters out stretching the legs and knocking down Strava KOMs/QOMs.
The Toughest Tassie ride you've done?
I'll give you two. First was my Everesting challenge on Kunanyi (Mt Wellington). That was 12 laps up and down over a 19-hour period—around 11,500m of climbing—to raise money for Lymphoma research inspired by local rider Zack Gilmore who was suffering from it at the time. My second was a training ride for my attempt at a double loop of the Alpine Classic ride in Victoria. I did a solo 330km loop around eastern Tasmania with 3,700m climbing in 12.5 hours. Luckily some of the boys came out and rode the last 50km home with me as I was not feeling great!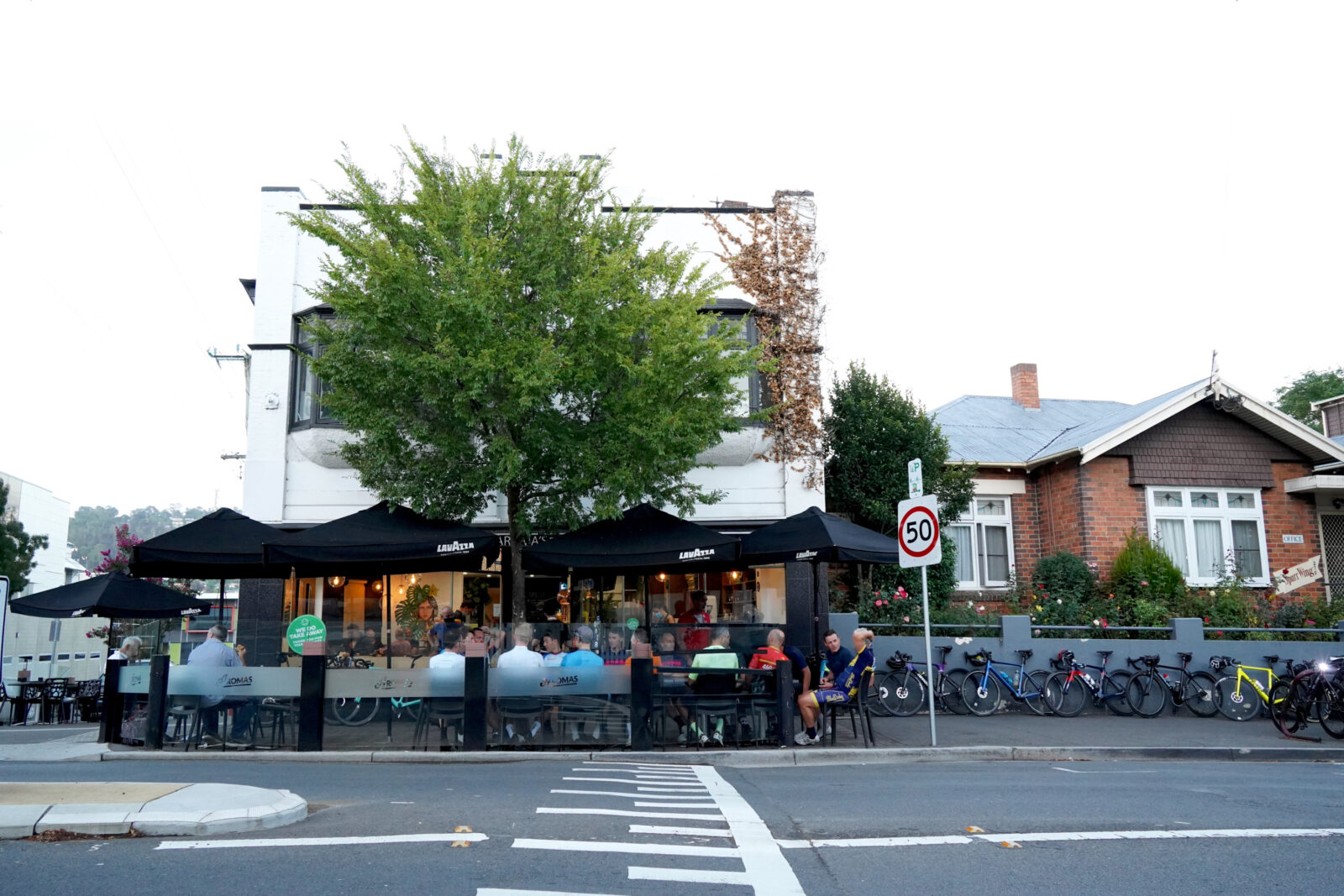 Riding through winter?
Yes, it's cold and can be foggy and wet at 6am in July and August. But it's better to do that and then have a laugh with some mates at the coffee shop than sit at home on a trainer staring at a screen.
Favourite Tassie cyclist?
There are some obvious current ones like Richie Porte, Zack Gilmore, Lauren Perry, Josh Duffy, Georgia Baker and Anya Louw who I love watching. I've also worked with a lot of cyclists over the years who have gone on to do amazing things, like the Sulzberger clan—Bernie, Wes and Grace—Matt Goss, Amy Cure and Mark Jamieson. Then you have the history of Tassie cycling in the Grenda and Gilmore families, plus so many others I should definitely know more about. I'm not going to pick one sorry!
Ever ridden up Jacobs Ladder?
Sure have, a few times. From the highway it's a long climb to even get there, but the way it's perched up on the escarpment it rightly has a special place in lots of people's bucket list.
Jason Cowling
What ride always puts a smile on your face?
A couple of hours out of Launceston on the East Coast is the Bay of Fires Trail. It's a 42km one-way trail starting at the Blue Tier and finishing in the Bay of Fires Conservation area. It offers thick rainforest, huge granite boulders and awesome views through to the finish at Swimcart Beach.
Toughest Tassie ride you've done?
The Tasmanian Police Charity Ride. A three-day event supporting local charities, run by a bloke who thrives on long days in the saddle with plenty of elevation.
Riding through winter?
If it's dry and above zero, I'll ride. We do have a trainer at home, but it lacks the socialisation and post-ride coffee which is an integral part of why I ride.
Favourite Tassie cyclist?
With the depth of past and present cyclists here in Launceston it's impossible to pick one. We have so many National Champions and World Tour riders across most disciplines. What makes them special is they still ride today, often within our bunch. They're happy to offer support and will always call Tassie home.
Ever ridden up Jacobs Ladder?
Yes, there's an annual event called King of the Mountain run by the Launceston Mountain Bike Club. It's a mountain bike race from the bottom of Ben Lomond to the Ski Village at the top and includes Jacobs Ladder. I've done it twice now and it's a great event to look back on once it's over.
The race record has been held since 2009 and a cash incentive has been offered each year for the person who can break it. It will take the right person on the right day with favourable weather to get near the record held by Ben Mather, who regularly rides with our bunch and is a big supporter of local cycling.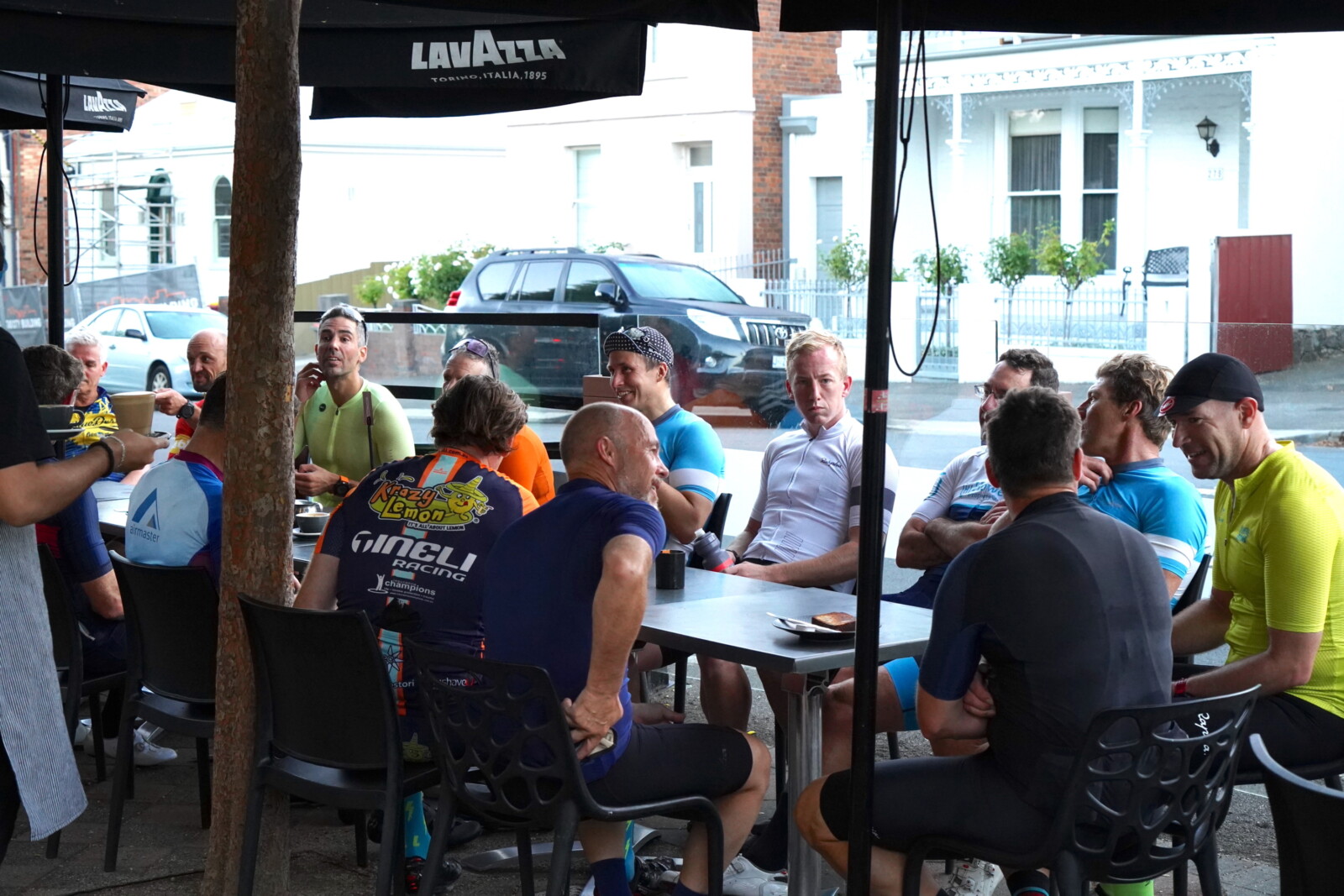 Gene Finn
What ride always puts a smile on your face?
The Scottsdale Loop. I don't get to do it as often as I'd like,but when the weather is good and with the right group it's just the best.
Toughest Tassie ride you've done?
I once did a 160km gran fondo where it rained constantly all day, so much so I had to replace the bearings in my wheelset!
Riding through winter?
I'm not much of a fan of riding indoors, but thankfully a core group of us ride all year 'round. The cold is just like when it's hot—correct clothing choice
is essential.
Favourite Tassie cyclist?
It's hard to pick a favourite as we have so many current and former champions who live and ride here. It never ceases to amaze me how one little region can produce so many great riders across all disciplines. It's probably worthy of a book!
Ever ridden up Jacobs Ladder?
Yes, several times, and each time I swore 'never again'.