One of the smaller players in the cycling shoe market, QUOK have been gaining solid traction over recent years. Here we test their new all-road offering plus a work boot!
Adventure shoes seem to be one of the fastest growing sectors of the cycling footwear market with more new offerings, better inclusions and improved features headlining each regular release.
Today we are riding and reviewing a new model from UK-based QUOK, their updated Grand Tourer gravel shoe.
Replacing the original lace up version, the Gran Tourer II now features a BOA style dial closure along with a stiffer sole, improved weather sealing and increased overall comfort. For traditionalists, the company still offer the lace up option in the new mark II, but for this review we are riding the dial up version.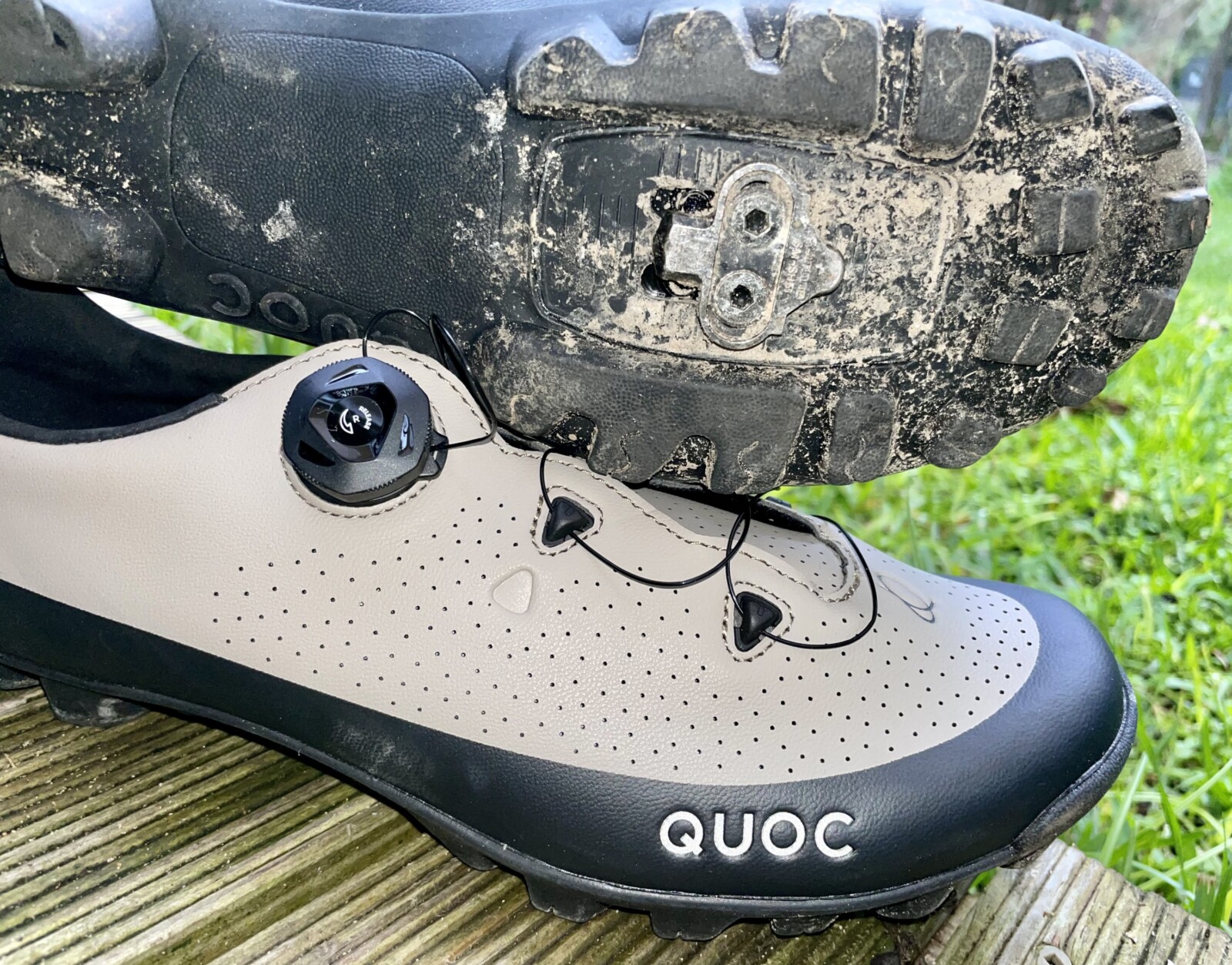 Unashamedly QUOC, the shoes are stylish and quite different to look at when compared to the increasing number of gravel and bike-packing options out there.
And similar to the companies Mono II road shoe, there's somewhat of a serious demarcation between the business-like bottom-half and comfort-oriented upper.
Starting from the underside, and the shoe features a rugged and aggressive tread constructed of a proprietary rubber compound the company call 'GravelGrip'. This, say QUOC, is designed for the multi-day rider keen to carry just one pair of shoes.
QUOC have gained a strong reputation for offering high-performance shoes with a surprising level of comfort. Having worn these shoes for the past few weeks we can attest to the company's design notes of 'a supple, foot-hugging upper that evenly distributes pressure'.
In addition to the soft and comfortable feel from what comes across as a tough-looking, heavy-duty shoe, we have found the shoe to be stiff and sturdy enough for efficient power transfer but supple enough to walk with ease when off the bike. Ever seen that parody video of riders carefully walking from bike to cafe? With the grip and walkability of the this shoe, that twinkle-toe hot shoe shuffle is a thing of the past with these.
In summary, this is a specialist gravel / bike-packing / adventure shoe with clearly each and every aspect of the design backed by real world testing, feedback and experience. We found them an impressive, high quality and very comfortable option. Gravel and adventure shoes are very popular these days and we see the Grand Tourer II as an impressive offering.
A Boot With Cleats?
QUOC, to their advantage, still seem small enough a brand to be able to closely listen to their audience and do their best to fill gaps in the market. And it seems they've done just that with the left-field release of a classic work boot that takes cleats!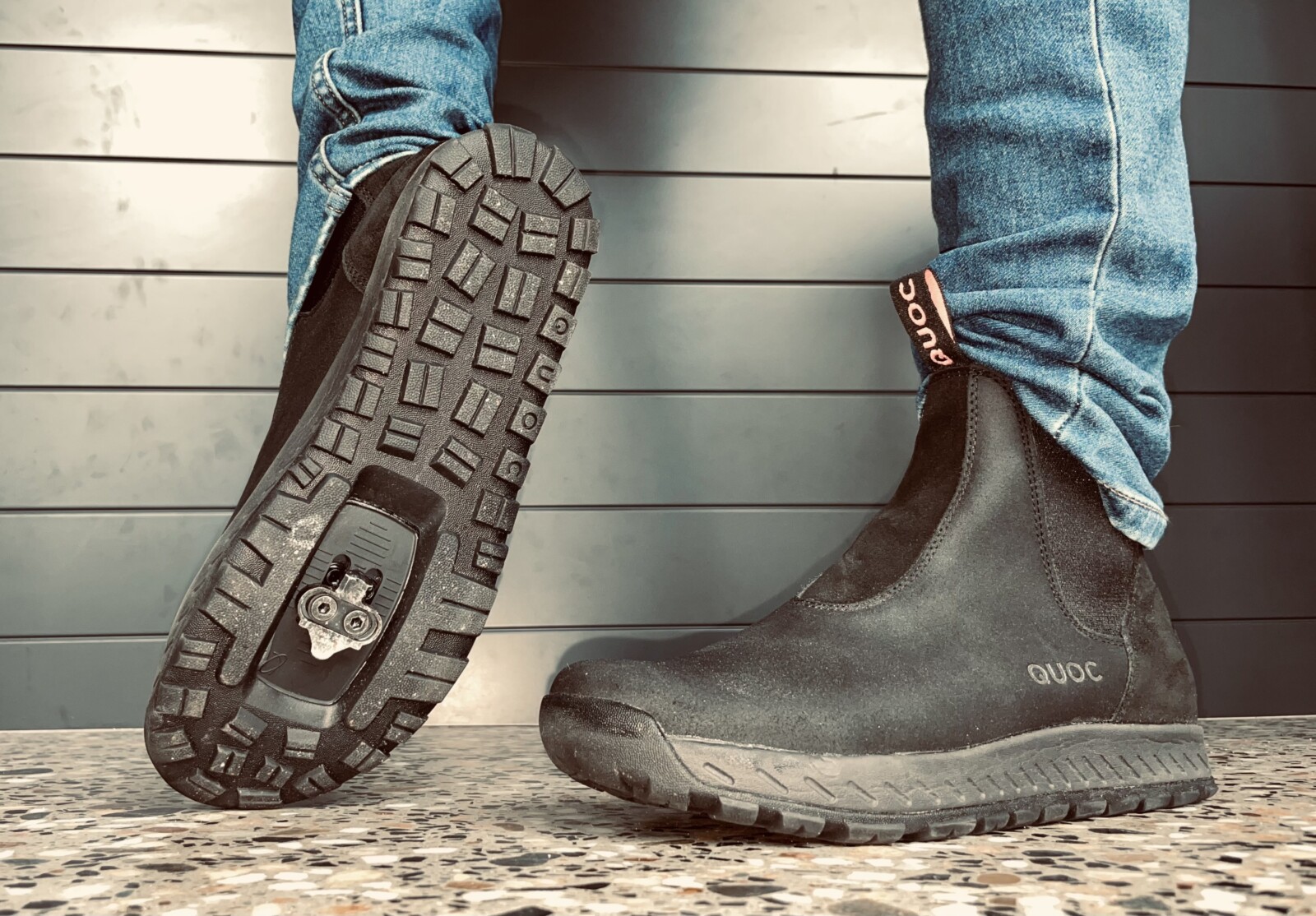 Bicycling Australia have recently been walking around in and riding the traditional, elastic-sided boot in black (yes, they are also available in brown). It slips on well, fits true-to-size, and feels surprisingly comfortable to wear.
Combining a boot and sole to suit both the flexibility required for walking and stiffness required for cycling is always going to be a big ask. So while you probably wouldn't want to spend a day walking around the city or country back blocks in these boots—or embark on a 100km bike ride in them—you actually could.
A rubber inset is fitted over the cleat mount, this is unscrewed to allow fitting of the MTB SPD cleats. Importantly there's enough recess for the cleats to sit below the rubber and therefore not contact the ground when walking.
We've found the boot to be surprisingly comfortable and indeed feels better on the foot over time. They have proven to be a great compromise between wearing a stylish-looking everyday boot and being able to clip in for that trip into town or commute to work.
The gravel shoe and boot are available via www.quoc.cc