George Hincapie is known as a gentleman of cycling and rightly so. If it weren't for a certain Lance Armstrong, Hincapie would have probably been the pre-eminent American rider of his generation. As it is, George seems content with what he has achieved, though it doesn't stop him wanting a bit more, specifically a certain cobblestone trophy. A member of eight Tour de France winning teams, George lives in Greenville, South Carolina after being raised in New York. He has raced the Tour deFrance 13 times and finished all of them except the first. He placed second at the 2005 Paris-Roubaix and has represented his country at no less than five Olympic Games. Bicycling Australia met with George for an exclusive interview at the Tour Down Under where, once again, if it wasn't for Lance Armstrong, he no doubt would have been the star attraction. But this doesn't seem to faze George at all. Despite his obvious jet lag and still being in the process of adjusting to summer in Adelaide, he was courteous and softly spoken. We ordered coffee and you can probably tell from the length of the answers when it began to kick in. He wasn't excited by the distant past, perhaps not wanting to be reminded how long ago it was, but there was never any sense of hiding anything. Rather his maturing of a cyclist was also the time of his maturing as a person who is open as well as honest. But the two things that ignite him the most passionately are talking about his family and of course, Paris-Roubaix.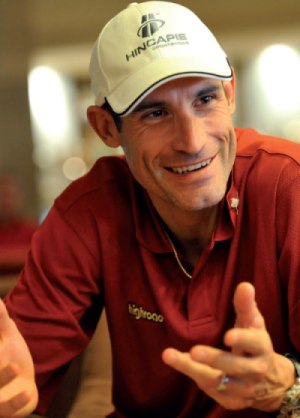 Bicycling
Australia:
Let's start with the early days. I've been told to say this in a Bronx accent and see if you remember. Are you ready? It's "Hey, Stay Outta da Joggers Lane!"
George Hincapie (Laughing), Yep, I sure do. That would be Prospect Park in New York. In the early eighties. There was always someone who would try to start something on the inside.
BA: That would be when you were racing with either TOGA or G.S. Mengioni?
GH: Probably both actually.
BA: I think you had something like a 50 race winning streak? And you had a rivalry with Jim Dougherty who later became a soignuer.
GH: Well, you know, I wouldn't call it a rivalry (laughs). We were training buddies and we rode together just about every day. So, of course we'd race. But I usually beat him.
BA: And the winning streak?
GH: (George looks down and sort of embarrassingly shifts his weight) Oh, you know, I don't know the exact number. Somehow I seemed to win most of the races I entered at that time.
BA: So growing up in America, who were your mentors and heroes at the time?
GH: Oh, Merckx of course, Hinault, all the classic guys.
BA: And in 1991 you went to the Junior Worlds but were a bit of a marked man. Tell us a bit about that race. I think Jeff Evanshine went on to win that race.
GH: Oh yeah, I was definitely marked. I had guys sitting on my wheel all day. Jeff Evanshine won. I had no chance.
BA: So in 1992 you did your first Olympics? What was it like to be representing your country for the first time?
GH: For me, that was the point where I realised what I'd have to do if I was going to make it as a cyclist. To race at the Olympics was a huge step up from where I'd been.
BA: So after that you raced the Tour de Trump in 2003. You won a stage but were later disqualified? Tell us what happened there.
GH: Well, it was a downhill sprint finish. We were going about 60kph and this guy started moving in on me from the right, you know, impeding my forward process. So I put my hand up to stop him and the judges said "You can't take your hands off the bars", so….that was it really.
BA: As someone who is considered a gentleman of the sport, is it something you regret.
GH: No, it's water under the bridge.
BA: Your first Tour was in 1996 where you DNF'd. That was with Motorola?
GH: Yep, that's the only one I didn't finish. I crashed and had to get stitches in my head.
BA: You mentioned the Olympics being a step up for you. Was that first Tour de France another step up?
GH: Oh yeah, I suffered like a dog that race. It was terrible. I think I might have even subconsciously been wishing I could crash, it was that bad. It was unbelievable.
BA: What was that Motorola team like to be in? Because along with from '7 Eleven', that was one of the ground breaking teams for America in Europe wasn't it?
GH: Yeah, it was really good. As a young American you don't get as much
respect as the other guys. Not as much as the Europeans. So that made it
a little more difficult. But as a team we earned that respect. We had Lance
on there and some other respected riders like Bauer and Sean Yates so it
helped me tremendously to grow up when I was in Europe.
BA: People say that Australian riders do so well in Europe because we
grow up without that cycling culture and it makes you tougher and more
ready to work. Is that the case for Americans too?
GH: Absolutely. For us to go there and do that it's a huge step and a huge
sacrifice. You have to leave your family and make a new life, basically. I think
that's why a lot of Americans tend to do pretty well once they get there too.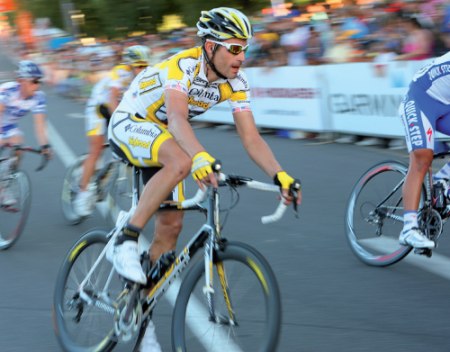 BA: Has the recognition that an American rider would get in America
improved a lot since then?
GH: Oh yeah, since Lance won those Tours, a lot more people know what
cycling is, they appreciate the sport a lot more. The crowds at somewhere
like Philly Week or the Tour of California are huge.
BA: Did you have a tough time when you first went to Europe?
GH: Well, I raced one more year as an amateur after the Olympics and we lived
in Italy for the first three years and yeah, it was tough. I was missing home and I
was always thinking about when I could go back. It was very serious.
BA: In Australia we have a stereotype that Americans don't know much
outside they're own country.
GH: Oh, yeah, generally speaking, that's true.
BA Do you think it helped coming from New York where there's a big mix
of cultures rather than say Texas?
GH: Ummm….no, it was still tough. Lance was there a year before me. He
had a bit of a head start and maybe had things a little more dialled. No
one knew who I was when I got there. So it was hard.
BA: Paris-Roubaix. You've come second, fourth twice, sixth twice, eighth
and ninth. Johan Bruyneel says he believes that Paris-Roubaix is somehow
wrapped up in your destiny. Do you still think you can win it? Is it as
much a goal for you at Columbia as it was at Postal?
GH: Does Johan say that? Well, it's all I think about when I'm training through the winter. I know I'm one of the best riders in the world for that race. I just need everything to go right on that particular day.
BA: Stuart O'Grady says that Paris-Roubaix is in his blood now. He says it's the only race he really cares about. Do you feel the same way? At this point George's eyes lit up and he sat forward in his seat.
GH: I got to touch The Rock last night! I was at Stuey's, having a glass of wine or so and I said, "I gotta see The Rock man, I gotta touch it." It was pretty cool.
BA: Do you use a different bike for Roubaix than you would normally ride? Alu steerer or anything like that?
GH: Yeah, last year we did. And I think we'll do it again this year. We used more re-enforced carbon and the frame wasn't as light and wasn't as stiff.
BA: OK, a slightly pointless question. For many people, if there hadn't been a Lance Armstrong you would have been THE top US rider for many years. However, you seem fairly contented with what life has given you. Do you ever wonder what you could have achieved if Lance had never come along? Could you have achieved more or do you think US Postal has allowed you to get as far as you have?
GH: Oh, no no no. I've been asked that before and I've done and been part of a lot more than I ever imagined. Sure, there's some races that I would love to win or I need to win, but otherwise I'm pretty happy with the way my career has gone. I don't really need all that attention. It's not something that I crave. So I'm totally 100% fine with it.
BA: So maybe you achieved more with Lance than you might otherwise have done?
GH: Absolutely, I might have achieved less. I mean I've been part of history. I've done something that no other cyclist has ever done and that's been part of eight winning Tour de France teams. Nobody else can say that, maybe nobody else will ever be able to say that.
BA: Speaking of the Tour, at Postal, Lance would target the Tour and you would be the team leader at other times. Was that an easy relationship?
GH: Oh yeah, totally. When you ride with someone like Lance, the team needs to be 100% focussed on the same goal. If you weren't they wouldn't even bring you. For me, it was never a question. What he could do on a bike was phenomenal. This was the standard. It was our job and we were happy to do it.
BA: With Lance being away during all the lead up races, it was amazing how tactically he was aware of other riders' form. Was that something that was part of your job?
GH: Ummm……yes. A lot came from Johan and a lot of the on the road stuff came from me. Lance and I are very different and we have a lot of different opinions. But the thing about Lance is he respects people and he respects my opinion. So it was good to have those different perspectives.
BA: How did it feel when you won the stage to Pla D'Adet in 2005? Were you surprised that you did it?
GH: Oh, it was awesome! It was a dream come true. Once we got an 18 minute breakaway I knew I had a big shot at winning. You know there's such a little difference between winning and not. Last year I was in a similar situation and I ended up getting fifth place. I was capable of winning, it was just one little error with my equipment and I didn't do the descent right. When you're in a situation like that there's so many things that can stop you from winning. But you always have the chance.
BA: Did it make you think you could go on and be a GC rider from that point?
GH: Yeah, well, it definitely made me think about it and in 2006 I tried to do a lot more training with that in mind. I just think the three weeks might be too much for me. You've got to be a really special athlete to podium at the Tour. But you know, I still think I can win stages. I'm still strong after two weeks but to go for the overall is difficult. Because you have to have that focus every day for the whole three weeks. You can't let up one day because you're tired. When I won that stage, there were other days where I would get to the bottom of a climb and go as easy as possible just to save energy. If you're going for the overall you can never do that. So that takes more out of you, you don't have that freshness and even then, you can lose it in a second.
BA: After the disbanding of Discovery, you moved to High Road, which is now Columbia. How did that come about? Who approached you?
GH: Well, I'd been talking to Bob (Stapleton) on and off for a while. I really liked the way that he wanted to run the team and I liked the diversity of nationalities, which was really like Discovery. I really just worked it out like that.
BA: And how different was it after so many years under Johan to have new directors and a whole different squad?
GH Oh, yeah, it was different. These guys are very organised, you know? Allan (Peiper), is one of the best directors I've ever had. He's awesome. He really cares about the riders and puts a lot of thought into their schedules. We have some of the best sprinters in the world, so we race so differently than we did at Discovery. So it's fun.
BA: Has your role changed a lot now? I'm told that you are the Grandpa of the team.
GH: Yeah. The younger guys look to me for certain stuff during the races.
They know that they can rely on me out on the road.
BA: One of the things I thought at the 2008 Tour de France was that out of all the teams, you guys looked to be the ones having the most fun. It was like you all enjoyed each other's company.
GH: Oh yeah, yeah. That's another thing. The big thing about this team is that we have so much fun together. Guys like Cav and Bernhard Eisel and these guys, they love to have a good time. Whether we're winning or losing, we're always having a good time in the bus and that's something that I really enjoy. I think it's going to extend my career.
BA: And that wasn't so much the case at Discovery?
GH: It was different, you know. When Lance left it was different for me. When he was there I had a certain loyalty for him. You know, we were on an American team and Lance and I, well we were Americans and we were doing a lot for the sport in the US. Sort of like trailbreakers. So when he left I didn't feel that same loyalty and I wanted to try other things. So all that year I started to look at other teams you know, to see how they operated
and keeping my options open. And I was really happy with my decision.
BA: Outside of racing you seem to have a lot of time for various causes,
obviously cancer victims, but also ring up people who have crashed and
so on. Is it something you try to make a point of doing, to keep aware of
general riders?
GH: Mmmm…I really enjoy that sort of stuff. One of the things that keeps
me going is the knowledge that we inspire other people. So if I can help
someone out by making a quick phone call or going for a ride, then I really
feel blessed that I'm in a position to do that. It's something that I don't
take for granted at all.