Malibu's not just for movie stars or a place where sexy lifeguards hang out. It's one of the top places in North America for year-round training and recreational riding.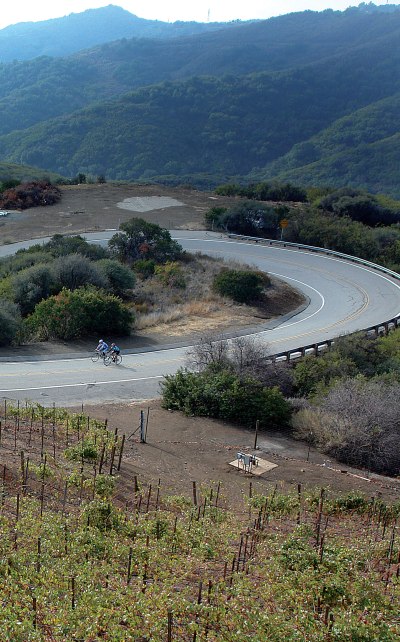 Ask Lance Armstrong or Bjarne Riis, both who have trained their teams in the Malibu terrain, how incredible the riding and weather is here. Malibu boasts 44km of coastline with beautiful views and great roads most of which have designated bike lanes. The Malibu Coast Loop will take you along the coast and into the Santa Monica Mountains, a national recreational area, to climb some of the best terrain this side of the Pacific, before taking you down a rip roaring descent returning you back to the coast for fresh ocean air. The ride starts in the heart of Malibu at Cross Creek Road and Pacific Coast Highway (P.C.H.). The Cross Creek centre has good parking, shopping, people watching and most important, a Starbucks coffee shop to caffeinate up before you head out. After enjoying a 'doppio con panna' you'll start your ride heading north on P.C.H. for a 7km warm up before turning right onto Latigo Canyon Road. Settle into a steady tempo and have the camera on hand. Latigo is a 13km climb with 803 metres of vertical gain with an average grade of 5.3% and some sections at 11.7%. This road has some of the greatest views of the Malibu coastline with plenty of opportunities to pull over and enjoy the view. Rumor has it, the climb up Latigo mimics stage 20, of the 2003 Vuelta Espana's individual time trial, a stage won by Robert Heras. Latigois a two-lane road, with a good riding surface and minimal traffic. After 50 to 75 minutes of climbing, depending on your fitness and time spent admiring the view, you'll reach Latigo's summit to overlook a panoramic view of the Pacific Coast.
From the summit of Latigo, take a winding 3km descent to Kanan Road and turn right. You'll continue to descend Kanan for six and a half kilometres, riding through two tunnels. Kanan is a quick descent for cyclists and motorists alike, as you may hit speeds up to 60kph. Although Kanan has no designated bike lane, the four lanes are wide and the surface is moderately smooth. As Kanan Road begins to flatten out, about 6km into the descent, you'll come to Sierra Creek Road where you'll turn right then an immediate left into the Rustic Canyon Grocery and Grill. Although you'll only be 32km into your ride, the Rustic Canyon Grocery and Grill is a great place to fill up and get a bite. The Rustic Canyon is complete with a deli, soda fountain, loo and mini market. Enjoy refueling under one of the many trees for shade and rest. This rest stop is in Agoura Hills, in the heart of The valley of the California Oak Trees. The locals in this area say, years ago this area was so lush with oak trees a squirrel could run the tops of the oak trees for the 21km stretch of the valley.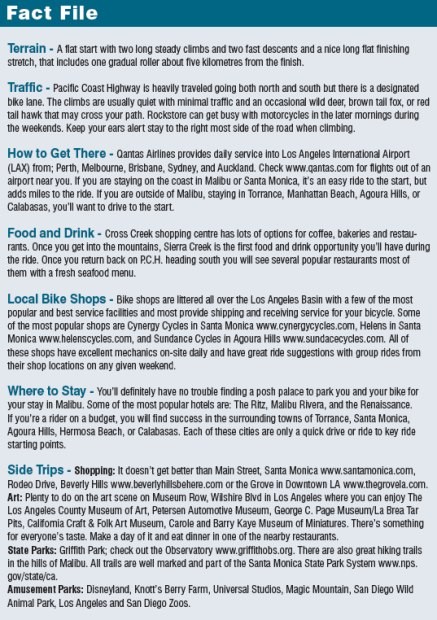 After refueling you'll continue on Sierra Creek for 1km and turn right onto Mulholland Highway. You are now about to start climbing the world famous "Rockstore" hill. This hill is named after Ed and Vern who stumbled across the building made completely out of Volcanic Rock in 1961 and turned it into a grocery store for the small town of Cornell at the base of the climb. The quirky volcanic structure and rustic setting is perched on the extremely popular Mulholland Hwy. Since then it has turned into a restaurant and 'pit-stop' becoming THE hot spot of Los Angeles for the 'who's who' of the motorcycle world. The Rockstore has been featured in several motorcycling magazines and even had a bit of air time on the Travel Channel. The Rockstore offers breakfast, lunch and beer. Take a gander and enjoy the eye candy on display but come back later to enjoy a BBQ tri tip sandwich when you're not on a ride, as it is not a bicycling friendly pit stop. Cleats are not allowed on the veranda or inside. For more about Ed & Vern Rockstore, www.rock-store.com Back riding, stay focused on the climb ahead as it offers some spectacular views during the 5km of climbing at an average of seven percent with 266 metres in elevation gain. At the top of Rockstore Hill you can regroup at the Seminole Overlook for a grand view with a photo opportunity and an informational kiosk about the history of the volcanic mountain formations surrounding you.
Continue on Mulholland crossing over Kanan Road, climb about three kilometres and stay left merging onto Encinal Canyon Road. From this part of Encinal Road you'll start heading over to the coast taking you up and down three large rollers before coming to a T- intersection. Turn left and prepare yourself for nine kilometres of a ripping descent to the coast. Descending Encinal is fun, safe, and minimal traffic. There will be no doubt where you are when you reach the bottom. You'll see a huge body of water (the Pacific Ocean), in front of you with hopefully, a refreshing breeze to guide you home. Heading back on PCH is a relaxing 20km with a handful of soft rollers to spin out the legs after 1135m of climbing. Stay alert in the bike lane and single file on occasion, as P.C.H. is a heavily travelled road for commuters and tourists. The bike lane can be a bit choppy and cars will wait in the bike lane looking for a parking spot to become available. Apart from a small section past some of Malibu's most popular beaches, the ride is beautiful. At 68km you're back at Cross Creek Rd, which, if you left early in the morning, will by now be bustling with shoppers and brunch goers. Change up and join the crowd, enjoy a fantastic breakfast at Marmalade Café, an iced coffee at Starbucks or drop some coin at Juicy Couture, Oliver Peoples or Shabby Chic. But however you end your ride, make sure to pick up a fresh baked sweet at Malibu Kitchen and Gourmet, you've earned it.