CADEX have unveiled two new performance road cycling products, the CADEX 50 Ultra Disc wheels and an aero tubeless tyre.
The CADEX 50 Ultra Disc wheels headline figure is a weight of just over 1300grams with they 25c tyres weighing in at 290grams a piece.
The company say the wheels have been designed for maximum aerodynamic efficiency, while also providing stability and control in all conditions.
"From the 50mm aero profile to the lightweight carbon construction, super aero bladed carbon spokes and new aero R3-C40 rear hub, the CADEX 50 Ultra is a complete system that is proven fastest in its category through extensive wind-tunnel testing," said a CADEX rep at the product launch.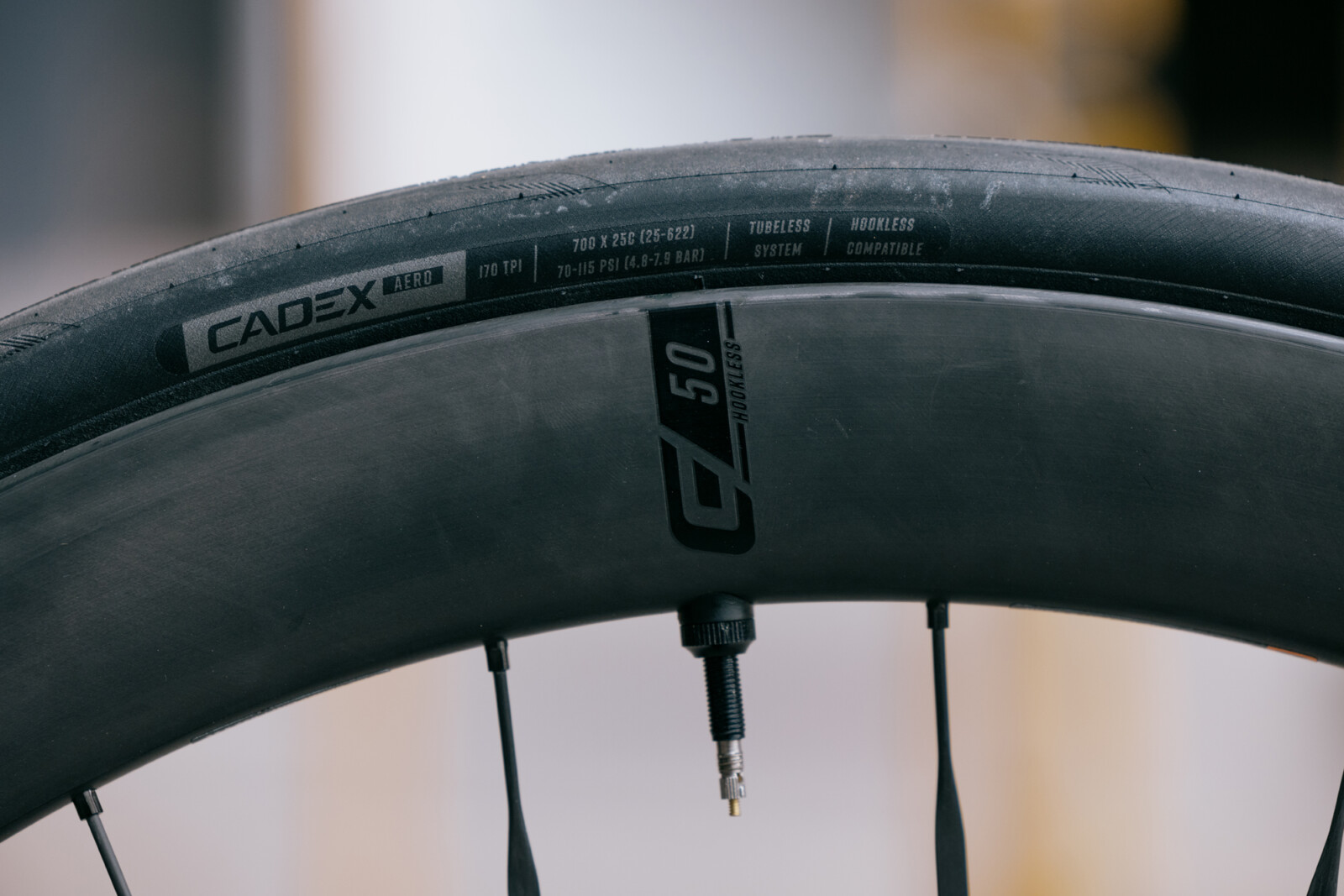 "The wheels have also been raced at the highest level of competition from riders of Team BikeExchange-Jayco including Simon Yates and Michael Matthews. Yates rode them to victory on stage 14 of this year's Giro d'Italia."
"What makes a fast road wheel is one that can best manage the various, ever-changing forces of road riding," said Jeff Schneider, Global Head of Product at CADEX. "In any road ride or race, riders encounter climbs and descents, fast flats and tricky corners, group dynamics and solo moves. The CADEX 50 Ultra Disc is engineered to account for all these factors—particularly drag at high speeds."
At 1349g, they are among the lightest wheels in their category. They feature directional aero spokes and the new R3-C40 rear hub with 40 point engagement and CADEX ceramic bearings to help minimise power loss.
Theirs a 22.4mm inner rim width and hookless bead provide ample room for high-volume tires.
New Tyres Released
CADEX have also announced a new 'Aero Tubeless' tyre.
The company say extensive CFD (computational fluid dynamics) and wind tunnel analysis were used to create a taller, oval-shaped profile with thinner sidewalls and thicker mid-sections to form a more streamlined, seamless interface with CADEX and other hookless aero rims.
The CADEX Aero Tubeless tire is available in size 25c and features the new 'RR-A' compound, a silica-based tyre compound.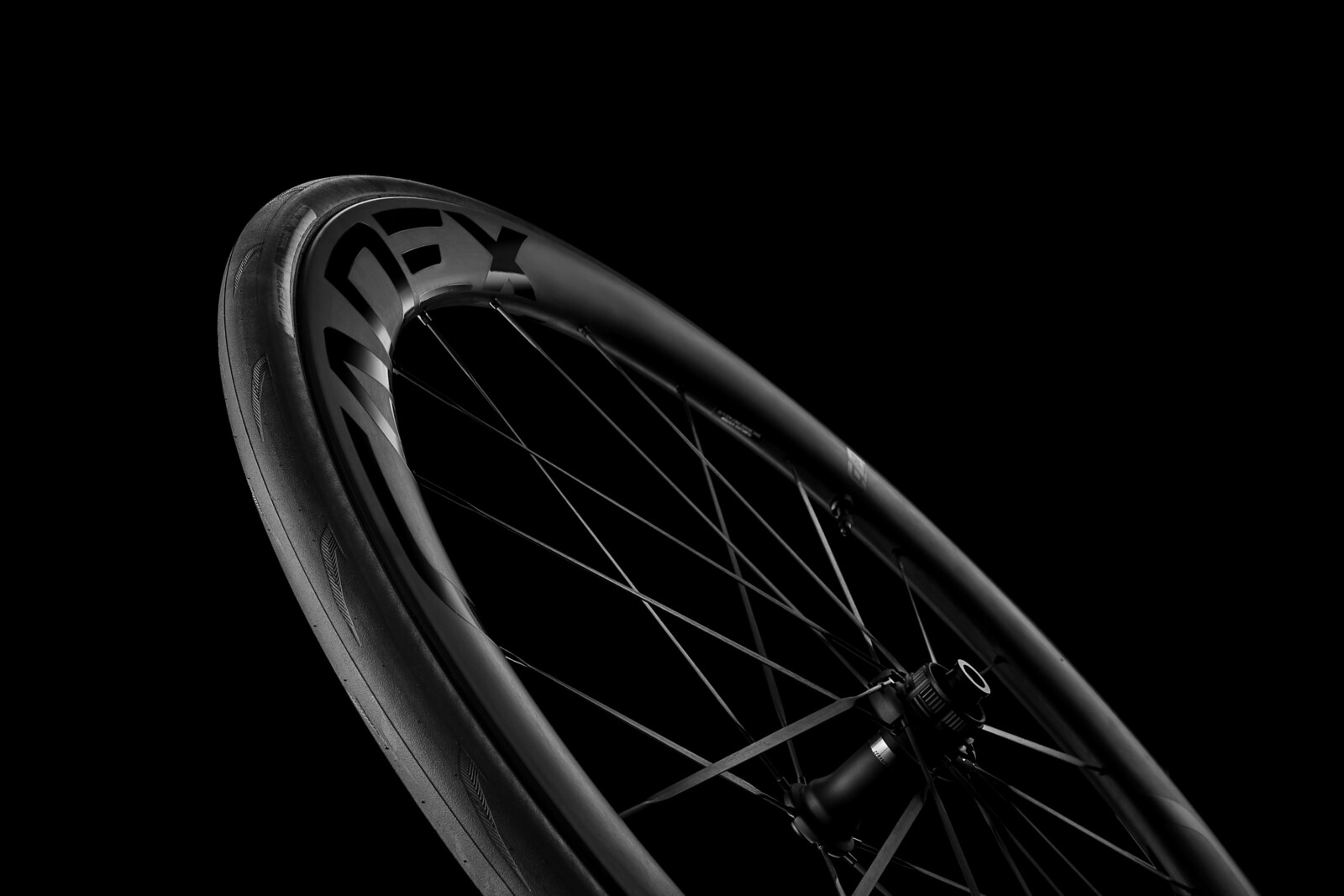 Key Points CADEX Aero 50 Disc Wheels
● CADEX R3-C40 Hub with DLC 40-tooth Ratchet Driver
● Aero optimized hub features 3rd generation CADEX Low-Friction Hub with CADEX ceramic bearings and 40-tooth ratchet engagement.
● Precision machined R3-C40 aero rear hub reduces aerodynamic loss and virtually eliminates bearing load.
● CADEX Super Aero Carbon Spoke
● Ultra-lightweight high tensile-strength CADEX aero carbon spokes minimize lateral flex for more efficient acceleration and climbing and feature a purpose designed aero shape offering class-leading aerodynamic characteristics as well as superior stability in shifting winds.
● High-tensile-strength Super Aero carbon spokes minimize lateral flex for efficient acceleration and sprinting.
● Hookless Rim Technology
● Hookless rim technology features a continuous carbon fiber structure with an increased rim bead width of up to 3.8mm on each side to create a rounder tire shape for superior support, grip and handling.
● 22.4mm Inner Rim Width
● Designed for higher volume road tires, the 22.4mm wide inner rim width creates an increased tire contact patch, resulting in better grip and a smoother ride.
● CADEX Ceramic Bearings
● Durable, ultra-hard ceramic bearings further increase hub rolling efficiency with lower rolling resistance and 1.5x smoother action than steel bearings, resulting in improved action and minimal power loss.
● Technical Specifications:
● Rim Height: 50mm
● Rim Outer Width: 30mm
● Rim Inner Width: 22.4mm
● Front Hub: CADEX R3-C Aero Hub, Centerlock
● Rear Hub: Low Friction CADEX R3-C40 Aero Hub, 40T Ratchet Driver, Centerlock
● Axle Spacing: 12x100mm Thru (Front), 12×142 Thru (Rear)
● Spokes: Super Aero Carbon Spokes (Front & Rear)
● Lacing: DBL, 21H (Front), DBL,24H (Rear)
● Recommended Tire Width: 700 x 25c – 700 x 32c
● Weight: 1349g (Pair)
● Weight: 595g (Front)
● Weight: 754g (Rear)
CADEX Aero Tubeless Tyres Key Features
● RR-A Compound
● A state of the art silica-based compound for total speed. RR-A has decreased lower rolling resistance by 15% and boasts confident grip when cornering, especially in wet conditions.
● CADEX Race Shield Puncture Protection
● With an exclusive ultra-lightweight and cut-resistant Kevlar® material incorporated into the casing, Race Shield provides superior puncture protection without compromising speed or road feel.
● CADEX Supple Race Casing
● Single-layer Supple Race Casing (SRC) delivers an incredibly supple and comfortable ride with superior rolling efficiency at a super low weight.
● Micro File Tread
● A new micro-file tread on the tire shoulder provides cornering grip and effective water shedding in wet conditions.
● Aero optimized profile
● Taller sidewalls create a more oval tire shape to integrate seamlessly with hookless CADEX rims and deliver class-leading aero performance.
● Optimized aero profile improves the overall aerodynamic performance of many commercially available wheels.
● Technical Specifications:
● Size: 700x25c
● Max Pressure: 115 PSI / 7.9 BAR
● Min Pressure: 70 PSI / 4.8 BAR
● Casing: 170 TPI Supple Race Casing (SRC)
● Compound: RR-A Low-Rolling Resistance Compound
● Puncture Protection: Race Shield
● Weight: 290g
Learn more about the all-new CADEX 50 Ultra Disc WheelSystem at www.cadex-cycling.com/50Ultra and Aero Tubeless tire at www.cadex-cycling.com/aerotire