2013 has been a big year for Colombian cycling. After a very brief but noticeable hiatus, the Colombians have bounced back to the top of the mountain with a clear spring in their pedal strokes. Grand tour podium finishes, classification titles and epic stage wins as well as some very close calls in the classics. The laurels are mounting up in a way not seen for many years, maybe not even since the glory days of Lucho Herrera and the Café de Colombia boys.
It's not that they've really been away; it's simply that there's been a lack of doors opening up to Colombians in recent years.
But that's all changing and right now there's a pack of hungry young Colombian climbers beating at the doors of the major European teams – teams who have been re-acquainted with the Colombian mountain magic thanks to the new generation. Men such as Rigoberto Uran, Sergio Henao, Carlos Betancur and Nairo Quintana – riders who between them could well rule the mountains of pro bike racing for the next decade, and steal the odd grand tour win along the way.
With their never say die, brave riding styles in the mountains, the Colombians have been lighting up the grand tour mountain stages for may years. But in 2010 there was not a single Colombian rider on the start line for the Tour de France; the first time that had happened in 27 years since the very first Colombian team rode the great race.
Bike racing is a hugely passionate affair in Colombia and has a great following. Races were first recorded as far back as 1899 in Bogota and around the same time, two velodromes were built to accommodate this new and thriving sport.
It took more than 50 years for the first Vuelta a Colombia to be established. The race has taken place every year since 1951 and is known as one of the toughest and most mountainous stage races in the world.
Being far from affluent, Colombian riders rarely had the chance to ride outside of their homeland apart from in other Pan-American events. This changed in 1970 when a young pursuiter and climber named Martin Rodriguez made his mark on the world stage. 'Cochise', as he was known, was already a Pan-American track and multiple Vuelta a Colombia Champion, but in 1970 he turned heads by breaking the world hour record in Mexico City. One year later he took the World Amateur Pursuit title in Italy (Colombia's first ever cycling world title) and two years after that was signed to the illustrious Bianchi team of Felice Gimondi, whom he partnered to victory in many leading two-up time trials.
Cochise won two Giro d'Italia stages during his short pro career and in 1975 became the first Colombian to ride the Tour de France, where he finished 27th overall. After that he returned to race domestically in Colombia.
Five years later a Colombian national team made their way to Europe and earned a start in the Tour de L'Avenir; a virtual Tour de France for amateur riders. The team won the race through Alfonso Florez, who would go on to become the first Colombian to wear the polka dot jersey in the Tour de France. He was assassinated in 1992 – the reasons for which are still unclear, although it is known that high profile cyclists were often used as both willing and enforced drug mules by the cartels and some eventually paid with their lives if they crossed them.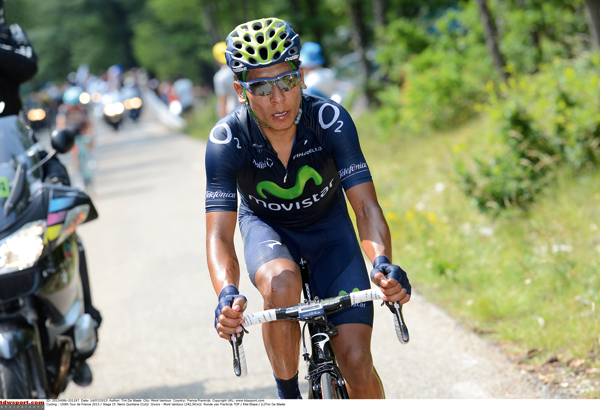 During this period there was still a clear distinction between amateur and professional cycling. In 1983 the Tour de France organisers made the unthinkable move of declaring the race as 'open' and invited the Colombians along to the race. The team took a real beating on the pave and flat opening stages, but handled the climbs well – the five surviving riders that was.
Their best placed finishers were Edgar Corredor and Patrocinio Jimenez (who was also second in the KOM) in 16th and 17th overall. Unfortunately when it came to descending it was carnage – many of the other teams took issue at the Colombians' lack of downhilling skills.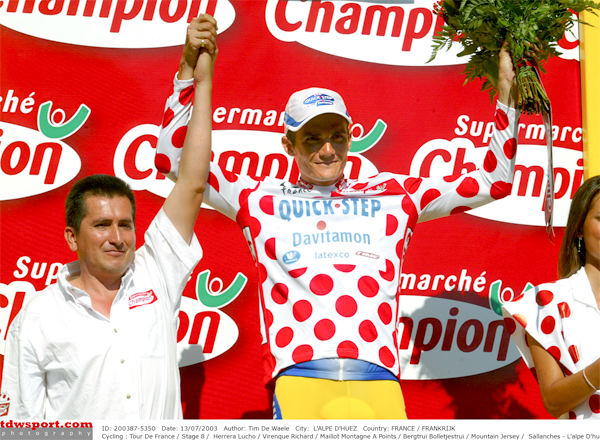 Even so, these scrawny amateurs had made their mark and won a fair few hearts and fans along the way, which lead them back to the 1984 Tour with battery maker Varta as co-sponsor and Lucho Herrera duly went out and won the stage to Alp d'Huez, still riding as an amateur.
The following year they became a 24-man professional team – Café de Colombia Plias Varta-Mavic and took two Tour stage wins and the mountains title amongst other major victories; the Colombians had well and truly arrived in Europe.
Two years later, in 1987, Lucho Herrera took the team's greatest ever victory – the Vuelta a Espana. By this time its management had changed, riders had been signed to European teams and in 1990 the plug was pulled; a sad event for Colombian cycling.
The Spanish Kelme squad became the main port of opportunity for Colombian riders during the 1990s, with riders such as Santiago Botero, Felix Cardenas and Libardo Nino all racing in their historic lime-green strip. When Kelme begun to crumble, it was Gianni Savio's Selle Italia team that bridged the gap for Colombian riders. Savio also took on the role of advisor and manager with the Colombian national cycling federation but has since moved affections to Venezuela.
Mauricio Soler seemed set to steal the show and start a revival a few years back when he took the Tour de France mountains title in 2007; unfortunately he suffered an horrific crash in the 2011 Tour de Suisse and was forced into retirement.
Thanks to the efforts of these pioneering racers, many individual Colombian riders and trade teams now get the chance to compete in Europe. In 2012 the Colombia-Coldeportes Continental team (now Team Colombia) was launched; an Italian managed and Colombian registered team which is very much picking up the mantel left in the dust by the original Colombian team of the 1980s.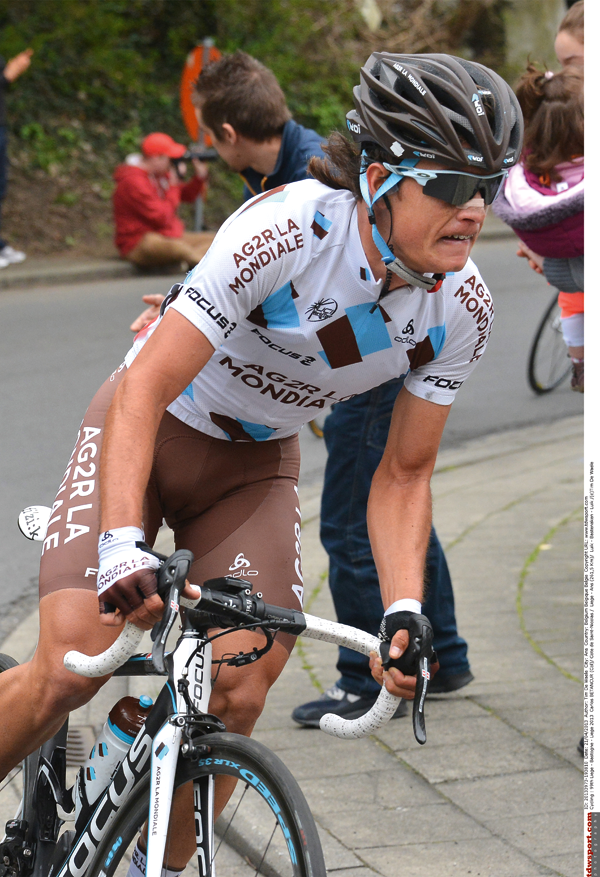 The second coming of the Colombians is already here.
Legends – The Stolen Ones
At one time, kidnapping was a major issue in Colombia and kidnap for ransom of sports stars and personalities was a major source of exposure and revenue for the rebel FARC guerrilla group.
In 2000 there were a number of high-profile kidnappings by the group – one being ex professional cyclist Oliverio Rincon. In response, Lucho Herrera and Jose Bayaert (the French 1948 Olympic Road Race Champion, a past winner of the Vuelta a Colombia and former Colombian national coach) joined a mass protest march to appeal for the release of Rincon. Two months later Lucho was abducted from his mother's home and then blindfolded and force-marched deep into the mountains.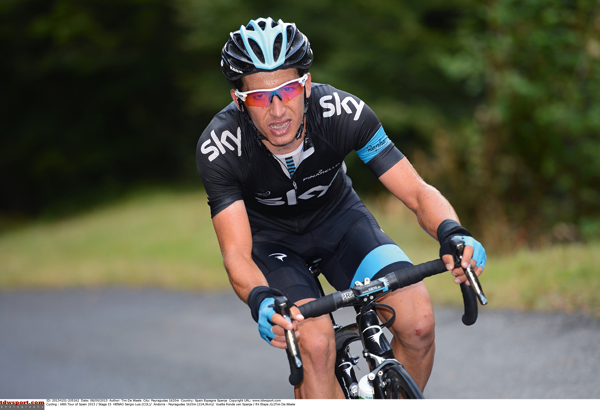 Fortunately for Lucho there was a national outcry, as he was very much considered an all-Colombian treasure and a national hero. It looked set to become a bad PR move by FARC and he was released within 48 hours. Rincon, who had been in captivity for some time, was released shortly after this.
Bayaert sensed that he was being followed as the next potential target and fled over the garden wall with a plastic bag full of his belongings, leaving behind the country he had called home for 50 years.
Alto de la Linea
Along the road from Cali to Bogota is Colombia's most famous and highest road pass – the Alto de la Linea. Climbing starts from a lofty 1,653m above sea level and the pass tops out at 3,265m. The road is a twisted and spectacular one; much like the Stelvio Pass but higher.
The average gradient of the 21.7km climb is 7.62%, although it does snare 13% pitches in places.
The climb has been a regular feature of the two great Colombian tours and has also seen its fair share of tragedy during races, with riders and officials having fallen to their death on occasion.
Alto de Letras
Starting out at just 468m above sea level, the Alta de Letras climbs on for a staggering 80km to its summit at 3,187m, making it amongst the longest paved road climb on earth.
The average gradient is just 3.95%, but in places it hits the 11% mark. The climb has featured in almost every edition of the Vuelta a Colombia.
The 'non-Strava' record for the climb stands to Santiago Botero with two hours, 52 minutes.
Puerto de Minas
Just to the south of the cycling-crazy mountain city of Medellin looms the Puerto de Minas; another monster of a classic Colombian climb.
In all, the climb lasts for 42km and rises from a starting point of 1,819m to its 2,466m peak, with an average grade of just 4.3%, but slapping at 11% in short sections.
The climb is a regular feature in major races and is a classic training ride punctuation for many of the country's top pro riders.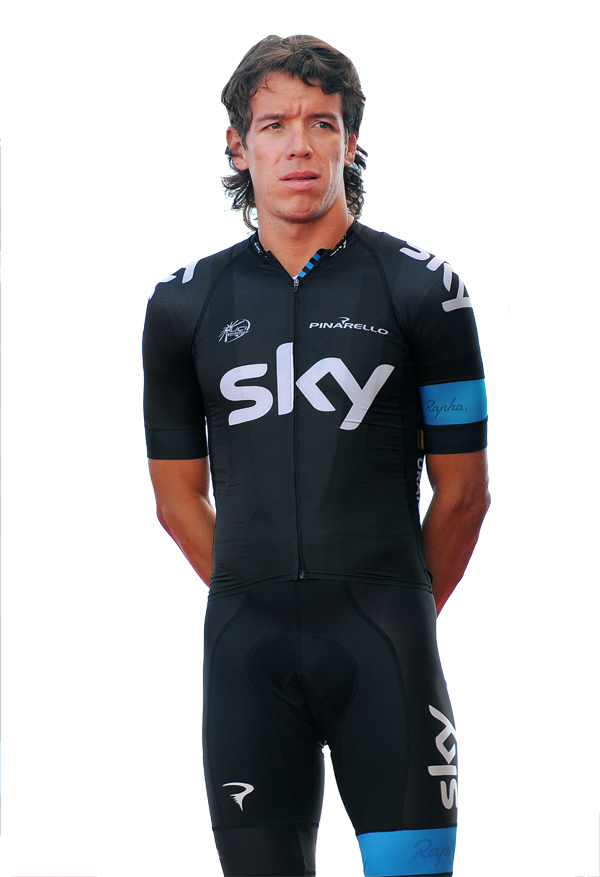 Vuelta a Colombia
Currently listed as the nation's only UCI America Tour ranked race, the Vuelta a Colombia is of course also its national tour and a race widely considered to be one of the toughest stage races outside of the main European grand tour arena. This is largely due to its epic mountain stages and the depth of home-grown quality climbers all looking to make their mark.
The race had been planned for many years but finally came to be in 1951.
There have only been three foreign victors in the race, one being Oscar Sevilla in 2013 (who now lives and races in Colombia) and most of the great Colombian climbers have won the race in the past.
Clasico RCN
Many Colombian riders will rate the Clasico RCN as even tougher and more important than the Vuelta a Colombia.
The race started out in 1961. It is run on a similar mountainous format to the Vuelta a Colombia and during the 1980s it attracted the cream of Europe's pro peloton. Riders including Sean Kelly, Laurent Fignion, Bernard Hinault, Charly Mottet and Claudio Chiappucci have all won stages in the race, but the GC has almost always fallen to a Colombian rider.
The Dynamic Dozen
Luis Herrera – 'Lucho' Herrera truly epitomises the classic Colombian climber and was an inspiration to generations or riders around the world. Lucho is perhaps the most loved of all Colombian racers.
Herrera won the mountains titles in all three grand tours, plus numerous stages and the overall GC in the 1987 Vuelta a Espana.
Fabio Parra – Hunched and gritty in every way, Parra was a superb climber and long-time teammate to Herrera. They were the original Colombian double act. During his career Parra took five grand-tour stage wins, the Tour de France white jersey and finished third on GC in the 1998 edition – still the best ever Tour de France overall placing by a South American rider.
Oliverio Rincon – Scoring stage wins in all three grand tours, the super climber Rincon was tipped by many of his compatriots as a star of the future. Unfortunately his promise was never fully realised and he retired after eight pro seasons.
Santiago Botero – Well educated and neatly groomed, Botero was a huge talent. He took out the 2002 World Time Trial Championship, the 2000 Tour de France KOM title and six grand tour stage wins during his career, which was tainted after implications of involvement in the Operation Puerto doping case.
Martin Rodriguez – Nick named 'Cochise', Rodriguez was one of the very first Colombians to make his mark in Europe. A multiple Vuelta a Colombia winner and Americas pursuit Champion, he broke the World Hour record in Mexico in 1970 (with 47.566.24km) and then became World Pursuit Champion in 1971. He turned pro with Felice Gimondi's Bianchi team in 1973 and won two Giro stages before returning home to race in Colombia at the end of 1975.
Victor Hugo Pena – Although not a significant winner on the scale of his climbing counterparts, Pena was a long standing and respected member of the pro peloton. As part of Lance Armstrong's US Postal team he wore the Tour de France yellow jersey in 2003, the first Colombian to do so.
Pena was also an accomplished swimmer and is still racing domestically in Colombia.
Men of the Moment
Rigoberto Uran – Perhaps the brightest hope to become Colombia's next grand tour winner. Uran is superb all-rounder; as hard as nails, having been forced by tragic circumstance (his father's assassination and the need to provide for his family) to turn pro at the tender age of 16.
Sergio Henao – Making his pro debut with Team Sky in 2012, Henao soon made a name for himself and has become a valuable aide and back up to teammate Rigoberto Uran.
He is a quality climber and strong all-rounder with a huge future ahead of him. His younger brother looks set to join him at Sky in 2014.
Fabio Duarte – The 2008 Under 23 World Road Race Champion has been making a slow but sure career progression and often shows glimpses of brilliance; he is a rider very much in the mound of Santiago Botero.
Nairo Quintana – One of many great Colombians to strike his name on the Tour de L'Avenir winners trophy (2010). Placing second in the 2013 Tour de France plus KOM and Best young Rider, Quintana has been using his phenomenal climbing prowess in the services of his Movistar team to mark him out as one of the great young climbers of the current generation.
Carlos Betancur – Having finished third in Fleche-Wallonne, fourth at Liege, fifth overall and best young rider in the 2013 Giro, the AG2R rider is clearly a great prospect for both the hilly classics and grand tours in the near future.
Jonathon Millan – Hugely talented, a complete racer and a born winner, that's Millan. In 2013 he notched up two stage wins and finished fifth overall in the Vuelta a Colombia. He's been racing for the local GW-Shimano club team, but is destined for bigger things soon.