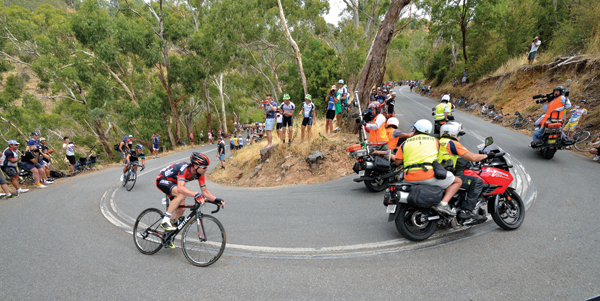 On Stage Three of the 2014 Tour Down Under the most accomplished road cyclist in Australian history, Cadel Evans, flew up Corkscrew Hill like it was a false flat. It is not.
About four hours earlier on that hot January day, I found myself climbing the same stretch of bitumen; although I'm a little loathe to use the word 'climbing'. For just as German sprint ace Andre Greipel so eloquently put it before the stage, I don't actually climb; rather I ride my bicycle up hills and suffer. Oh, how I suffered.
Situated little more than 5km from the fringes of suburban Adelaide, Corkscrew Hill is possibly the hardest climb this rider has ever undertaken. I knew it would hurt of course. But at just 2.4km, how hard could it really be? The answer in a minute. But first, let's set the scene of a day in the saddle I won't soon forget.
Wednesday 22 January 2014. Not simply my first ride up the infamous Corkscrew. My first ride in Adelaide. Ever. What a way to start. Earlier in the day I rolled the short distance from my hotel to East Terrace, where I rendezvoused with around twenty club-mates, all down from Sydney for the first UCI WorldTour race of the season. As tends to happen in such testosterone-charged environments, the pace was on pretty much from the outset as we headed straight for the Adelaide Hills. Our route took us up the well-known Greenhill Road towards the Mt Lofty turnoff. At 7.2km with an average gradient of 7%, this was certainly no gentle warm-up.
(For those not familiar with the riding around Adelaide – which included me before this year's TDU – unlike cities such as Sydney and Melbourne, you don't have to travel far to reach the foot of some serious climbs. This is both good and bad news. Good because it's close. Bad because you don't get the usual chance to fire up the pistons. You start riding and only minutes later the gradient on your GPS starts rising, as does your heart-rate.)
Despite being grossly ill-prepared for such an early ascent I surprised myself by finishing comfortably in the bunch as we regrouped on a gravel nature strip adjacent to the Mt Lofty turnoff; so far I was shooting well under par based on my admittedly modest expectations. Of course, Greenhill Road was but the entrée. The main course on this day's riding menu was Corkscrew Hill. Which is where we were soon heading at considerable speed as the road continued to undulate, taking in kilometre after kilometre of classic South Australian countryside.
The next 30km or so was swift and hugely enjoyable, peppered with several twisting downhill sections to test the cornering skills and taking in quaint country villages such as Piccadilly, Oakbank and Lobethal where we paused for a quick refuelling stop. To that point we'd only made one wrong turn which, considering none of the bunch had ever ridden this exact route before, was remarkable in itself.
Rolling out of Lobethal towards the innocently-named Cuddle Creek, I'd be lying if I didn't say I was increasingly apprehensive as we drew ever closer to the left-hand turn that would signal the start of Corkscrew Road. The nervous laughs of those who'd done it before did little to comfort me; particularly given several possessed far superior climbing skills to yours truly.
As we sped along the now forebodingly named Gorge Road the first lonely blue and white KOM marker appeared innocuously by the roadside. This was rather deceiving, almost a cruel joke, as the initial 2km of the 5km KOM to Corkscrew is actually downhill, running alongside the Kangaroo Creek Reservoir. Inevitably, of course, with about 3km to go you swing left off on to the noticeably narrower Corkscrew Road. You have about 400m to gather your thoughts; then the festival of pain begins. Average gradient 9%; pushing above 23% at times amongst the four switchbacks waiting for you in the middle section of the climb.
The first 1km was tough yet manageable. Somewhat problematically, however, unlike the bulk of the climbs I've done in the past year – including far longer hauls in the Alpine regions of Victoria – it became clear there would be no respite on this one. No gentle inclines to catch your breath. No false flats to stop your heart from jumping right out of your mouth and on to the ever-escalating road before you. Save for perhaps the final 200 metres at the very top, Corkscrew Hill just keeps rising, which invariably leads to that horrible moment when you tell yourself 'just get to that next switchback and you'll be okay' – only to find there's another brutal stretch immediately after it. Closely followed by another.
Looking back, it wasn't just the climb itself that broke me. We arrived at the base of Corkscrew Hill just before midday, some 75km into a 110km ride on a warm Adelaide day. For the strong riders amongst us it was a testing ascent. For the not-so-strong riders, myself very much included, it was a gilt-edged guarantee of lung and leg-busting pain. By the half-way mark I knew I was in real trouble. I'd started to cramp in my right leg (something which has never happened to me before or since) and I was moving so slowly that twice I actually had to unclip to avoid falling off. As I tried to look inconspicuous amongst the fallen branches and leaves, it was a huge lesson in roadside humility.
After several deep breaths, an energy gel and some much-appreciated words of encouragement from fellow sufferers and a few hardy souls walking up to the summit, I somehow made it under the inflatable Skoda KOM kite more than twenty minutes after starting. As a cheerful optimist pointed out at the top I was even still smiling – or at least I was until my waiting club-mates broke the bad news.
Whereas the pros would be turning right and heading straight back down the adrenaline-charged Monacute Road decent to the finish line, we were heading left and had to keep climbing over the ridge and back towards Adelaide via Norton Summit. It wasn't steep. But the extra climbing nearly finished me off completely. I rode the return leg alone in purgatory, stopping on several occasions, far beyond caring about the sniggers from passing riders in considerably better shape than I was. A grunting koala even mocked me from his tree as I rested on a guardrail, accepting ice-cold water from a passing motorist who felt sorry for me. Another kindly couple stopped and gave me a banana.
I continued to limp along at snail's pace and after spending over an hour far beyond my physical comfort zone, I eventually managed to haul myself to Norton Summit, where the final decent into Adelaide would mercifully begin. My club-mates were enjoying lunch at the Summit Hotel. I was in no mood to socialise and simply kept riding.
On the way down to the Stage Three finish line in Campelltown the pain finally began to subside and my spirits started to rise. Later, as I sat in the crowded media centre watching the pros tackle the very same climb on television, it brought their supreme physical skills into razor sharp focus. The top riders don't climb up Corkscrew Hill. They soar. According to that bible of GPS ride data, Strava, Robert Gesink took just six minutes to reach the top. Cadel Evans would have been even faster, of course, given he blitzed the entire field to seize the Race Leader's Ochre Jersey from Simon Gerrans, only temporarily as it turned out.
It had been a long, tough day. But it came to a truly wonderful ending as, quite by accident, I found myself amongst thousands of riders as we headed back into the Adelaide CBD in one enormous paceline; a rolling sea of humanity. I high-fived an excited old lady at a bus-stop. I was cheered by local kids playing cricket in their front yard. I even saw a guy on a flat-bar hybrid with bare feet and a ZZ Top beard, tucked in for the commute of his life getting sucked along at 38km/h. My legs were shot but I'd already started to love cycling again. Maybe even Corkscrew Hill.