As Coronavirus or COVID-19 continues to disrupt the world, Mitchelton-SCOTT have announced a novel way for fans and supporters to ride with the team. Join them online.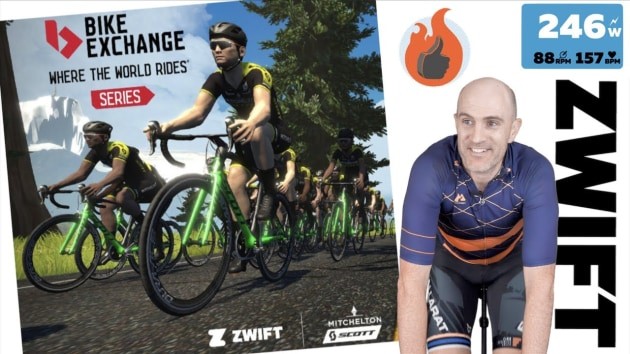 Joining a number of other teams in taking the unprecedented step of not racing until at least later this month, Mitchelton-Scott have been training hard on Zwift.
A successful opening event saw more than 1,300 fans join 30 of the team riders on Zwift, with several more virtual rides announced for upcoming weeks.
The events will give fans the opportunity to ride virtually alongside and interact with pro's from the men's and women's squads – riders including Michael Hepburn, 2018 Vuelta a Espana winner Simon Yates, double New Zealand time trial champion Georgia Williams, Australian road race champion Amanda Spratt and recent Vuelta a Andalucia stage winner Jack Haig.

Schedule of Mitchelton-SCOTT Training Rides
| | | |
| --- | --- | --- |
| Date: | Time: | Event: |
| Wed, 11 Mar | 5pm CET / 3am AEDT | |
| Thu, 12 Mar | 10am CET / 8pm AEDT | Mitchelton-SCOTT Pro Workout |
| Thur, 12 Mar | 5pm CET / 3am AEDT | Mitchelton-SCOTT Pro Workout |
| Sat, 14 Mar | 9am CET / 7pm AEDT | Jack Haig's Mountain Goat Challenge |
| Sat, 14 Mar | 5pm CET / 3am AEDT | Georgia Williams' Pace and Race Challenge |
| Sun, 15 Mar | 9am CET / 7pm AEDT | Mountain Chop Challenge |
| Tue, 17 Mar | 9am CET / 7pm AEDT | Tour of Watopia Stage 2 – MTS Takeover |
| Tue, 17 Mar | 5pm CET / 3am AEDT | Tour of Watopia Stage 2 – MTS Takeover |
| Wed, 18 Mar | 10am CET / 8pm AEDT | Mitchelton-SCOTT Pro Workout |
| Wed, 18 Mar | 7pm CET / 5am AEDT | Mitchelton-SCOTT Pro Workout |
| Thu, 19 Mar | 10am CET / 8pm AEDT | Amanda Spratt Mountain Goat Challenge |
| Thu, 19 Mar | 5pm CET / 3am AEDT | Simon Yates' Pace and Race Challenge |
| Fri, 20 Mar | 10am CET / 8pm AEDT | Mitchelton-SCOTT Mixed Team Race |
| Sat, 21 Mar | 9am CET / 7pm AEDT | Exclusive Mitchelton-SCOTT Fan Race |
| Sun, 22 Mar | 5pm CET / 3am AEDT | Flat Chop Challenge |