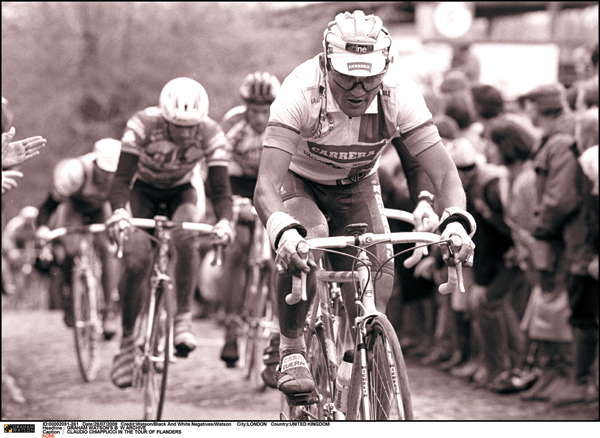 Claudio Chiappucci was a rider who inspired a whole generation of cyclists with his defiant and brave racing style. They called him El Diablo, the Devil, and to his rivals he was just that; a defiant and unpredictable devil of a bike racer, a man who would inflict pain at any given, or even stolen moment. There was simply no answer to Claudio Chiappucci's eternal attacking. There was no predicting, and often seemingly no rhyme or reason to his attacks, yet as often as not they would work, and usually against all odds.
As an amateur the Varese native had earned himself the most coveted tricolore jersey as Italian champion, and soon progressed to the professional ranks, where he was so serve many years as a gregario (domestique) to riders such as Stephen Roche. But one day in July 1990 the loveable underdog finally got his day, and ended up in a lucky breakaway during the opening road stage of that year's Tour de France. That opportunist move had put him into contention to take the yellow jersey during the early part of the race, although few, if any, actually believed that he would be able to stay with the big guns when the going got tough. As the result boards show, he did just that. And not only did he fight like a lion to take the jersey, he battled it out with Greg Lemond for the final victory, clinging on by his ground-out track mitts to take second place overall – some 79 places up on his debut in the previous year's Tour.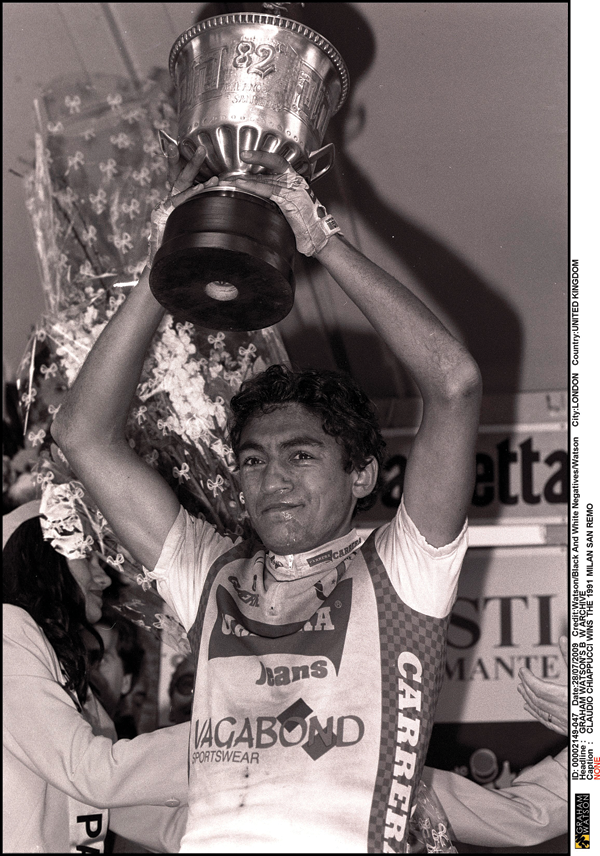 Claudio Chiappucci had arrived, and his life would never be the same again; "It was the greatest day of my life, an amazing experience. My whole life changed after that day – the day I took the yellow jersey, the first Italian to do so since Gimondi." He told me, reflecting on the kind of moment we all hope to find in our lives; "Until then I'd been always just a small rider, and overnight that changed. Suddenly everybody wanted to know me, it changed how people saw me, well, and most didn't even know me. It gave me a huge confidence boost, and suddenly I became a team leader."
It was his incessant attacking and fighting against the odds, and the apathy of the eternal underdog who finally got his day and made the most of it that won the hearts and minds of his new found followers; "I'd always been like that (attacking), but was a worker and not a leader until then, so didn't get many real chances. I found myself battling against riders like Lemond and Indurain. I knew they would beat me in the time trails, so the best chance I had was to keep attacking them in the hope that I could take time here and there."
Arguably it was the time trial stages that lost him that 1990 Tour, when Lemond once again used tri bars and technology to win the Tour, why Claudio was seemingly years behind technologically speaking; "It made a difference, yes, but time trails were always my weak point. Lemond and Indurain were superb time trialists. There was no way I could match them."
When you went into the Tour, up against riders such as Indurain, how did you handle it and did you ever think he could be toppled?
"It was always my motivation, to try and match him. He was so strong, and had a strong team behind him. But I never knew if he would be on top form or not. The only thing I could do was to be very attentive and look for weak moments and opportunities, and to attack him inside the final kilometre in the mountains." On occasion he did of course leave the great Spanish champion in his wake to take stage victories, but never managed to dislodge him in the overall standings.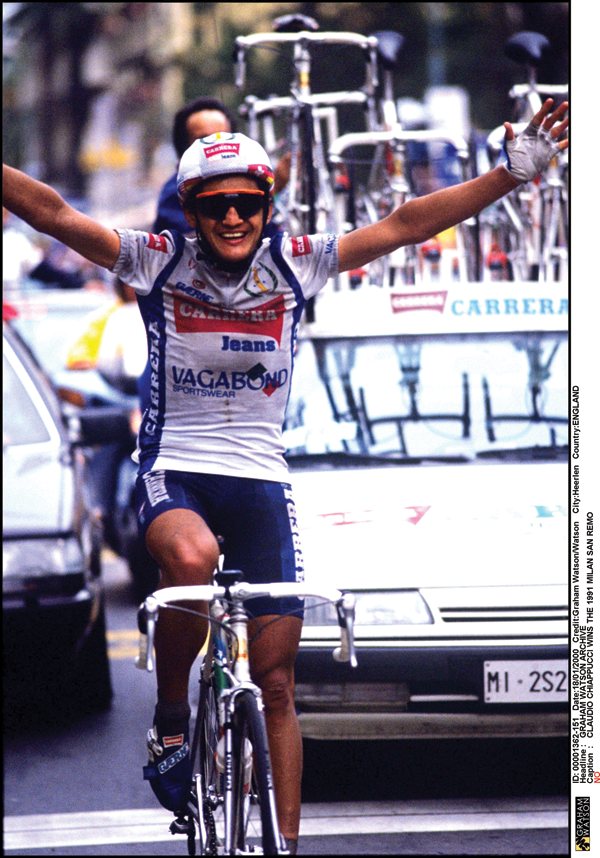 Traditionally Italian riders always focused on the Giro, yet Claudio always seemed to side with the Tour de France, and in recent years many top riders have switched their attentions to the Giro; how does he view this? "Italians always focused on the Giro, yes. But most of the other riders only really rode it as preparation for the Tour. Now, when I see riders like Wiggins saying they're focusing on the Giro I find it strange. It's not at all the same as the Tour, and I think the only rider out there who could win it in preparation for the Tour is Contador. Nibali could maybe win the Giro and Vuelta, but not the Giro and Tour."
Every year the Giro organisers seem to add in more rough and obscure roads and climbs, does it add to the race? "It does often make for spectacular TV, but when they try to make climbs impossible it doesn't really make things more exciting, as the riders just ease off and ride 'piano' – the Giro is pure business. These things are great for single day classics, but I think not for grand tours."
Why did he pursue the Tour over the Giro? "Many Italians have won or finished second in the Giro, but not many have won the Tour. Personally, especially after I got that first taste of the yellow jersey, it was all about the Tour, everything. There was nothing to match it."
The best years of Chiappucci's career were spent with the iconic Carrera team, which featured names such as Stephen Roche and Marco Pantani. In 1989, a year before he himself hit the big time, Roche had incurred the wrath of his team and the Italian tifosi when he famously took the pink leader's jersey from teammate and darling of the Italians Roberto Visentini.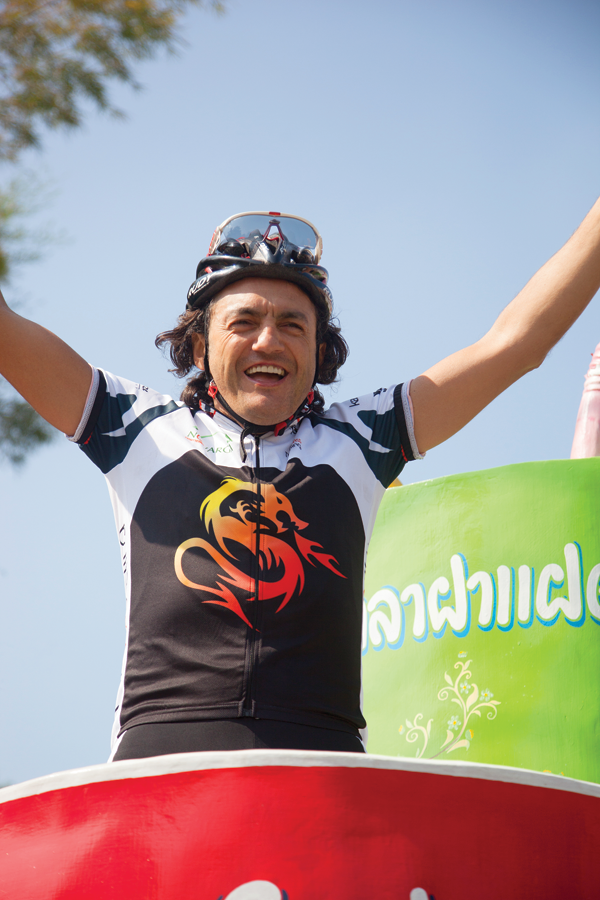 Roche had few allies during that race, and most of his team turned against him. He was of course to go on to with the Tour de France and the World Championship that year too, while Visentini slithered into obscurity. Claudio was riding with the team during that Giro, a tough position for an Italian gregario to find himself in; "Roche is a very good friend and a great person too. When the team had the problem, for me it had to be Roche; no question. But, I was just a small rider, and was not really important in the equation at the time, although being an Italian, and when all of the Italians were for Visentini, it was not easy. I didn't really have much of a role to play in things."
If Roche had played by team orders, what would have happened? "There was no way Visentini could win the Giro that year, but Roche was a great and classy rider, and he showed just how much by following up with the Tour and the Worlds. He was physically superb and mentally strong too – 110% supreme, very strong. He even asked for me to go to Fagor with him when he left the team."
Having ridden and battled it out with the greats of the era, which riders really stand out? "Indurain, no question! He was the rider I have the utmost respect for. The classics, the tour; he could do anything, and he was a true and humble gentleman with it. He was quite simply superior to the rest, in every way."
In his breakthrough 1991 Tour it was Greg Lemond who beat him to the top of the podium; "I never really liked his style that much, and I really did not like Lance Armstrong and his attitude, his whole character, which seems to be in many of the American riders. They were nothing like Indurain, Delgado and Roche, who were great characters and very correct."
Former teammate Marco Pantani was a rider with a similar racing style to Chiappucci, yet was a very different character; "He was a great rider, but also a very difficult rider at times, and very methodical, a perfectionist. His bike, everything had to be perfect. He was very difficult to be close to as a friend (at least for me). He achieved great results and became number one, and a lot of people made great business around him; but he was very fragile, it was just his character. The day things turned was very difficult for him, and it was a tragic outcome for a great champion."
Perhaps Claudio's greatest single day victory was the 1991 Milan-San Remo, La Primavera; a race that holds a very special place in the hearts of every Italian cyclist and cycling fan; "Ever since I was a small boy of six or seven years old I'd watched the race, and like every Italian cyclist I dreamed of one day winning the race, perhaps more than any other race."
As a renown climber his chances of outwitting the sprinters were slim, but there are of course two comparatively small climbs towards the end of the race; the Cipressa and the Poggio, offering up a small window of opportunity; "I wanted to win the race so much, and knew there was only one way." He grinned with dreamy and content eyes; "It's a very long race, people get tired, so it had to be a hard race and a decent sized break away for me to stand a chance, and that's what happened."
As the race entered the closing chapter, the double whammy of the Cipressa and the Poggio awaited. The attacks came and with just the Poggio left to go he was out front with Rolf Sorenson, a minute clear of the chasers; "When we got to this stage the manager came up and told me that it was possible now, as long as we didn't ease up and play around."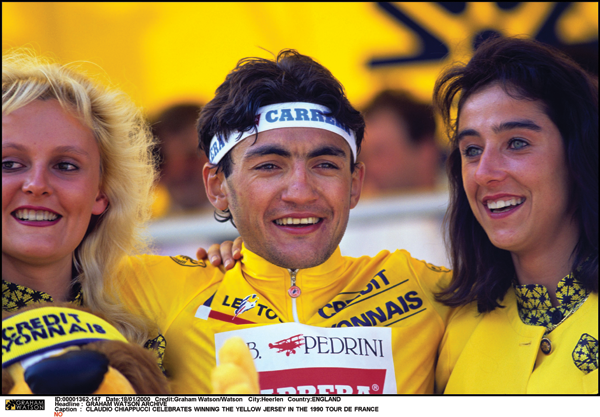 The fastest sprinters of the era were breathing right down their necks as El Diablo danced with fury over the Poggio, attacking and dropping Sorenesen on the second half of the climb; "My only real chance was to open a gap, and then really pile on the pressure on the descent. If I could do that, maybe I could hold on for the final run in to the finish."
Doing just that he crossed the line 45 seconds ahead of Sorensen, who held off the sprinters by just 12 seconds. It was his greatest ever single-day race victory.
The face and colour of cycling has changed a lot in the past decade; "Yes it's changed a lot, it's opened up a lot, which is good. But what I don't think is so good is how the racing schedule has changed. Now it's a full year, not a season. Riders are signed and prepare just for the classics, for a tour, or for specific races. Before we rode everything, all season long – from the classics to the tours, and in the off-season six days and cyclo cross. Today I think the riders and the sport have less character; it's all about the results, and only results. Before there were the great champions who could win anything. Today it's difficult for rider to do that, it's too specific."
There is one of the current day champions stands out to Claudio; "Contador, but only Contador during the past few years. He can perform in the classics, the Giro and the Tour. I think he could win anything he wants to, but is very controlled by the team and manager."
Of the Italians? "Ahh, it changed a lot, and the Italians are not having their best days. The only one that really stands out is Nibali. Times have changed, and I don't see too many riders following him through.
The entire UCI grading system for teams and riders has changed in the past few years too, and the days when teams were constructed around traditional rider roles have all but gone, something that many see as damaging for the sport; "Before you were a professional or an amateur, not a pro-continental rider or a continental rider. There were gregarios and leaders, and the emphasis was more on the overall result and not on individual riders having to earn points. At the grand tours the teams with contenders were selected to ride, and riders had jobs to perform – these days that has all gone, which I think is not good for the sport or the riders themselves."
Surprisingly I'd scored my first meeting with Claudio since 1992, when he was riding the World Cyclo Cross Championships in the UK. This time around we were in northern Thailand, where he was leading a group of Swiss-Italian cyclist on a training camp, and was looking to be in great shape; "It's my first time in Thailand, and old friend asked me to come along. I'm on my bike most days at home, some days it's a few hours – when I have a gran fondo or event like this coming up."
The days of riders earning huge sums of money and being able to retire in comfort before they reach the 'big 40' didn't really come around until the mid-Armstrong era, and many have gone on to a life in the team car as managers, but not Claudio; "It wasn't easy as a bike rider, it takes a lot out of you. These days I just want to relax, ride my bike and enjoy life. As a manager there's a lot of hard work and stress, which I don't want – you have to be a perfectionist, and it doesn't really fit with my character. I want to lead a more normal life. There's a big world out there, it's not just about the bike, and I want to be part of it, not just wrapped up in cycling."
But, of course the 'afterlife' is not all without work; "I have personal sponsors that I work with, I get involved with events, and help to run some cyclo tourism events in the Canary Islands (Gran Canaria, Spain)."
It's easy to sense that this is one ex-pro who sees himself fortunate to have been granted the life he's had; "I had a great career, a lot of ups and downs, but I would not have changed a minute of it." He concludes, a man happy with his lot, and every bit as amiable as he always was.