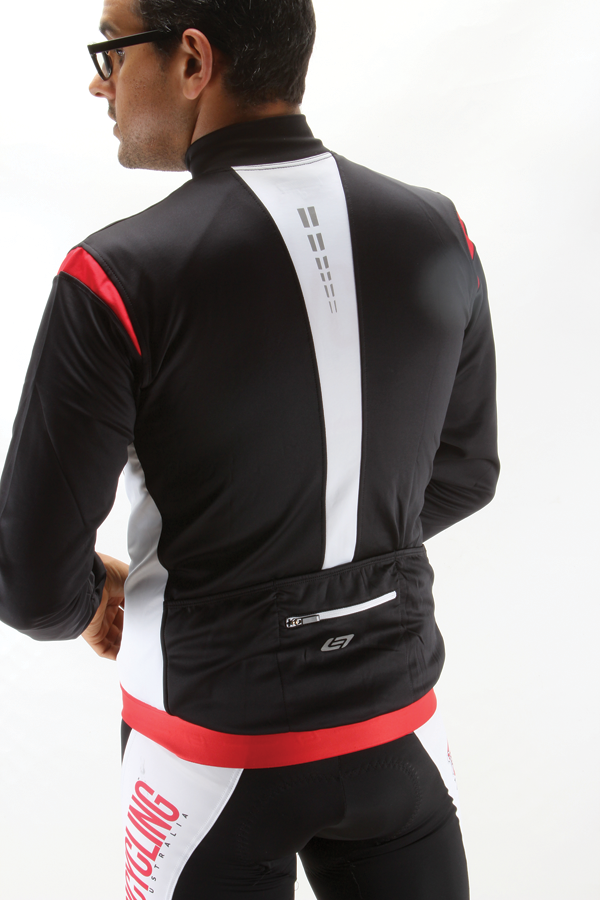 As the light fades and the temperature drops the temptation to stay in bed in the morning grows and we often find ourselves riding less in winter. Bicycling Australia contributor Peter Maniaty recently blogged about the winter sirens on his blog Carbon Addiction calling you stay in a nice warm bed. Having declared that I won't be pulling back on riding this winter I have been busy equipping myself with an arsenal of gear to overcome the cold. A gillet, arm warmers, full finger gloves and shoes covers are staples that should be all riders kit to help overcome the call of the sirens.
This year I have had the opportunity to try out the Bellwether Thermal Long Sleeve Jersey
just as the temperature started to drop. Described by Bellwether as a semi fitted jersey it seemed to be designed as a jacket to go over a short sleeve jersey. At least that's how I used it. Around the torso the jersey fits snugly while a little more room is provided in the arms. A standard three pocket layout offers plenty of storage and the addition of a small zip pocket proves to be a nice feature for keys or cash. A full length zipper is the natural choice for this type of jersey and the zip fitted opens and closely easily.
Bellwether uses a proprietary 'Microloft' material which is "stretchable, tightly knit fabric". 3m reflective logo's and a reflective design on the back of the jersey offer a stylish bit of additional visibility while out on the road. The material is soft and combined with flat seam construction very comfortable against the skin. A high collar offers a little more protection from the elements than a regular jersey.
When the jersey first arrived it was barely cold enough to warrant a long sleeve jersey but this soon changed. When first putting on the jersey it immediately felt warm. While photographing the jersey indoors it quickly got quite hot. On the first couple of rides with the Bellwether jersey the temperature was cool and a regular jersey plus arm warmers probably would have done the job. I expected that it may heat up a little bit during these rides but the temperature underneath the jersey remain consistent, warm and dry throughout the ride. This kind of weather carried on for a few weeks till I could test in on colder and harder rides. Autumn came to the party and the jersey didn't disappoint. On cool morning rides I found myself going straight for the Bellwether as it was just so warm and comfortable. On harder riders there was no build-up of sweat underneath the jersey. I didn't feel clammy or overheated when going all out, finishing the ride warm and dry. Of course it was cold, but flat out efforts showed the strength of this jersey lies in its breathability.
Bellwether says this jersey offers "Optimal insulation, moisture transfer and breathability to keep the wearer warm and comfortable in colder conditions" and it has met its brief in this regard. This jersey is great for cool easy rides or colder hard rides when you don't expect the temperature to rise too much. It's not a versatile piece of clothing for changing weather like an early morning spring chill until it heats up a bit.
In a size medium the jersey it was a very snug fit when folded and stored in my jersey pocket. So while it can be done I would say it's designed to stay on all ride if possible. It's not waterproof as I discovered getting caught in one particularly heavy downpour, so if that's what you are after look elsewhere.
Now any time it's a little cold I find myself going for the jersey rather than any other piece of clothing. The warmth and comfort is far superior to other pieces I have. On rides when speed is a priority then you might want to go with other more tightly fitting options but when warmth and comfort comes first this is your jersey.
RRP: $ 139.99
Distributed by Velo Vita