Back in the 1970s and 80s, long before the emergence of names like Porte, Goss, Flakemore, Earle, Wurf, Sulzberger, Cure and Stewart, the feisty lad from George Town, 50km north of Launceston, was lighting up the tracks of Australia and Europe on his way to becoming one of the most revered and successful six-day riders of all time.
A talented Australian Rules player and diver in his youth, Clark began bike racing as a 13-year old and claimed the first of a remarkable 62 Tasmanian titles when he was just 15. He won multiple National Championships as an amateur, highlighted by 1973 when he became the first man to win the 1000m time trial, the 1000m sprint, the 16km and the 4000m pursuit in the same year.
You can subscribe here or get it on tyour iPad
Clark announced his arrival on the global stage in 1970 with a silver medal in the 4000m individual pursuit at the Edinburgh Commonwealth Games, where he also placed sixth in the kilo. It may seem hard to believe, but until he claimed another silver two years later at the 1972 Games in Munich, Tasmania had never produced an individual Olympic medallist. Not one.
Munich would be Clark's only Olympics, however. In 1973, shortly after being selected for the following year's Commonwealth Games in Christchurch he turned professional – not so much for money as in protest when his father, Terry, was omitted as a team coach.
Clark moved to Gent with his then wife, Christine, in 1975 and lived in Belgium for the best part of two decades. With no team, no contract and little money, his early existence in Belgium could be best described as humble. But before long the opportunities came his way and as they did so did the wins. His star quickly rose and before long Clark had become a crowd favourite, especially in Gent. While his attacking style was hugely popular with fans, he was far less popular with rivals. "I'm not social," Clark once explained at a local track carnival in Shepparton. "I don't want to have beers. I come. I conquer. I go."
The history books show Clark conquered a lot. By the time he retired he'd won an incredible 74 six-day events everywhere from Gent and Berlin to Launceston and Buenos-Aires. His winning record remains the second highest in the history of six-day racing behind only Patrick Sercu (88 wins).
His feats in Europe undoubtedly made him famous, but as a professional Clark also enjoyed considerable success at home, including three victories in the Austral Wheelrace in 1977, 1986 and 1990 – each time off scratch. Just last December he lined up as a starter once again for the 117th edition of the Austral at Melbourne's Hisense Arena. Starting off 160m he bowed out in the heats. At 63, he could easily have been the father of most of the field.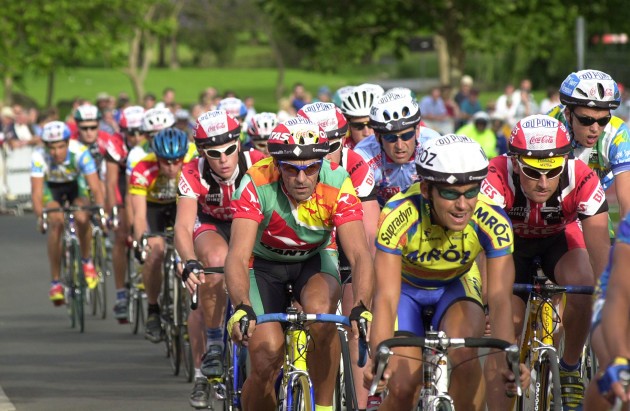 If the 1970s were good, it was the 1980s that saw Clark secure his place as one of the world's finest ever six-day riders. In a glorious European season in 1987, Clark won a staggering nine of the eleven six-day races he entered and was named the European Rider of the Year. In 1988 he won five consecutive six-day races teaming with British Cycling Hall of Fame member, Tony Doyle. In fact, between 1983 and 1988 their partnership delivered a world record 19 six-day wins, still the most ever. Yet their unprecedented success ultimately led to their downfall as some of the sport's most powerful promoters refused to let them race together, considering them too strong for their rivals. Prior to 1983, Clark also won 16 six-day races with fellow Australian, Don Allan. He even won the Bassano del Grappa six-day with Italian great Francesco Moser.
You can subscribe here or get it on tyour iPad
His achievements throughout the 1980s were all the more remarkable given he was involved in a crash at the Frankfurt six-day in 1983. He had a plate inserted in his hip and continues to be troubled by the injury even today.
Beyond dominating the six-day scene, Clark won four professional World Championships with his last coming in 1991 at the remarkable age of 39 years and 21 days. This made him the oldest cycling World Champion in history. Along the way he also won five silver and two bronze World Championship medals.
One of the more interesting stories about Clark surrounds his use of equipment. While confessing he would have loved to compete on the carbon weapons used by today's riders, he was never one to make too much of a fuss. "I rode what I was given," he told PEZ Cycling News in 2010. "I could have gone faster, but I wouldn't pay for the best, new equipment. Guys would be on Campag Shamal wheels and I was still on my old wheels." That said, one piece of equipment Clark was renowned for was his guitar – something he reportedly used to serenade crowds trackside on occasion, further endearing himself to adoring fans.
Clark continued to work as a derny rider for several years after he retired from professional racing. He won his last major six-day race in Noumea in 2000 with Graeme Brown, and also went on to become a multiple World Champion at Masters level. Even on the wrong side of 50, he continued to race competitively and see off talented riders half his age.
He was awarded the Medal of the Order of Australia in 1986 and inducted into the Sport Australia Hall of Fame in 1987. Nowadays Clark calls Queensland home. He still rides regularly.
PALMARES
1970 Silver, Edinburgh Commonwealth Games, Individual Pursuit
1972 Silver, Munich Olympic Games, Kilo
1975 Bendigo Madison Champion
1976 Gent Six-Day (also won in 1979, 1982, 1986, 1987, 1990, 1994)
1977 Austral Wheelrace Champion (Scratch)
1978 European Omnium Champion (also won in 1979, 1984, 1985, 1986, 1988)
1980 World Professional Champion, Keirin (Besançon)
1981 World Professional Champion, Keirin (Brno)
1981 Bendigo Madison Champion
1981 Australian Sportsman of the Year
1982 Bendigo Madison Champion
1986 Bendigo Madison Champion
1986 Austral Wheelrace Champion (Scratch)
1986 Michelin Grand Prix Winner (England)
1986 Order of Australia Medal
1987 USA Omnium Champion
1988 World Professional Champion, Motor-paced race (Gent)
1990 Austral Wheelrace Champion (Scratch)
1991 World Professional Champion, Motor-paced race (Stuttgart)
You can subscribe here or get it on tyour iPad