Five years ago, Deborah Makin was not a bike rider. The former swimmer, horse rider and squash player was a married working mother of two (to a then seven year old boy and a five year old daughter). She was 12kg heavier. And she had only ever ridden a bike as so many of us do, as a kid.
Now, she rides a very nice Trek Madone for up to 350km per week. Has won the Three Peaks Challenge. Ridden around Italy twice. Regularly hammers the boys (including Bicycling Australia owner James Yaffa) on her Strava Club BMC (Beer Mates Coffee) rides. Has shown some more than decent results 
in Vo2 max testing. And has joined the Turramurra Peleton Sports cycling club and started road racing.
There's no doubt about it, Deb, as she known to family and friends, has been well and truly bitten by the cycling bug.
"I guess I am proof that any woman can get into cycling," she says. "I just love it. I am hooked".
You can subscribe here or get it on your iPad
Bicycling Australia: So how did it happen?
Deborah Makin: "In 2009 I joined a company team to ride the Fitz's Challenge in Canberra, for the Kids Cancer Project," she says. "I was 39 and rode the 50km ride. It was hard! I am a swimmer and horse rider, and was a squash player so I wasn't a stranger to sport. But I was about 75kg when I did and I am only five feet six tall and there are hills…
"I kept on riding because I really loved it and over time I have lost a fair bit of weight. It's almost like I have found the sport that suits me."
She met the BMC club members through her brother – all school dads – and now rides with them a couple of days a week.
She has done Three Peaks three times, and returned for the Fitz's Challenge six times. She has just returned from her second trip to ride in the Italian Alps.
We interviewed Deb just as she was packing to leave for Italy.
BA: Where did you grow up?
DM: South Africa and emigrated with my family when I was 16. We used to move every four years with my Dad's work, so I finally went to boarding school from age 10-16. We spent four wonderful years in Swaziland on a sugar estate where we used to race around on our bikes – all dirt roads of course and I was the only one on a racing bike – was fast but got lots of flats!
BA: Were you born into a 
cycling family?
DM: My Dad cycled while at university. And now rides mostly when they are down the south coast but not much in Sydney. My brother cycles. He used to do triathlons.
BA: What kind of racing did 
you do at first?
DM: Haha – have only done two races, both D grade this year.
BA: How did you go?
DM: I won both, however the second one, I got caught up in the A grade bunch as they passed me (they were doing three laps and us one) and I was disqualified for drafting. Because there was a scratch in the bunch, I was granted third place. It was a good learning experience.
BA: Did you have a cycling hero? Who and why?
DM: I have a few at non pro level which I refer to as mentors. I used to work with them, but still ride with them now. These guys have a world of experience behind them; they have raced for many years, done challenge rides and just continue to get stronger as the years pass! They got me into cycling, looked after me, encouraged me and always graciously welcomed me on their rides. They kept including me in discussions to take up new events and help me to work towards them. They continue to support me.
Amongst the pro's I've got to say Cadel. I saw him on the start line at Sarnonico, Stage 16 of the Giro last year. He was so cool and focused giving nothing away. Very powerful. Then he smiled when we called out to him on the final climb to Val Martello even though he was working so hard…. made my day and left me with an enduring memory!
BA: Do you ride full time or study or work as well?
DM: Definitely not full time as I am a mother of two beautiful children and I run my own business.
BA: Have you ever had any sports testing done (vo2 max/haematocrit/muscle fibre etc) and if so what were the results like?
DM: Yes, I did a VO2 testing in 2013 after being coaxed into it by a friend who thought I had some talent and the results were solid. I wish I had discovered cycling when I was a lot younger!
BA: What is your favourite ride in the world and why?
DM: Italian Dolomites. They are so rugged and majestic. Passo Giau is probably my favourite ride. Riding with a wall of 10 foot high snow on one side and the stunning view on the other. At one stage we got lost and were riding along unpaved World War two service roads finding our way back towards Cortina. I was watching the weather close in, wondering if I was going to have to break into a hut and stay the night! Snow and wildness all around. A wonderful experience that I will never forget. I haven't told my mother that part of the story!
BA: Do you have a coach and if so what is their name?
DM: I have a friend who I call Coach, he has been around from the start and encouraged me, challenged me and ridden with me on most of my long endurance rides. He has helped me and worked with me to achieve my goals and developed me as an athlete.
You can subscribe here or get it on your iPad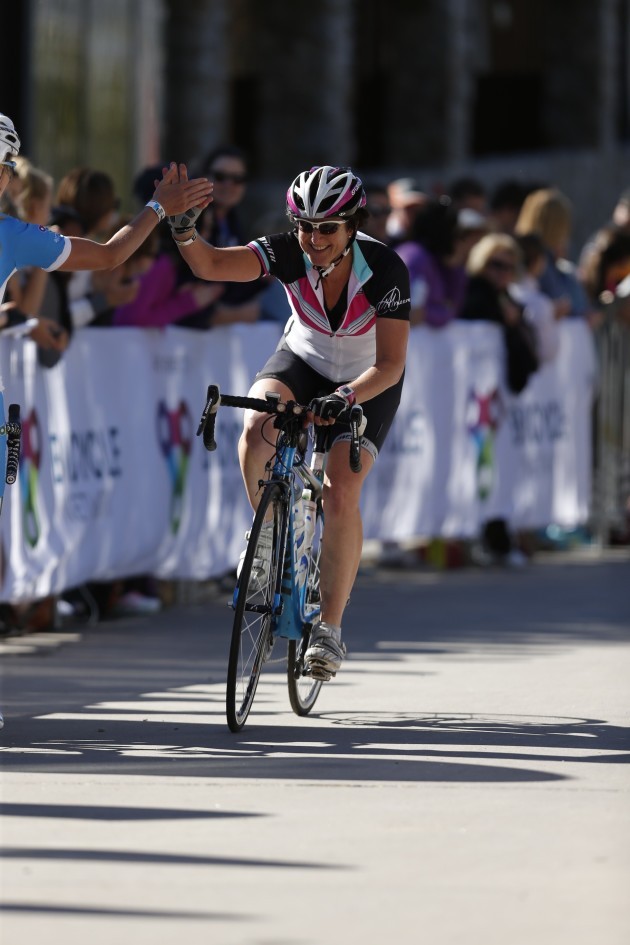 BA: Why did you decide to 
get a coach?
DM: It wasn't a conscious decision to go out and find one. I sought advice and wanted to learn more since I came so late to the sport. I started taking on challenges and kind of realised that I was being coached. My fitness improved and I started doing work off the bike and taking a broader view of fitness, training and nutrition. I have seen a reasonably constant improvement over that recent years and I am now at a point where I am happy with my performance and confidence to take on almost anything. Of course you always want to get better however I do have family and business commitments as well. It's been good for me, I've learnt a lot and benefited from having someone to talk to and work with to achieve my goals.
BA: What's the best thing your coach (if you have one) ever told you?
DM: Everything you need is within you!
BA: What does a typical training week look like for you?
DM: It depends on the event and time of year but for example when I focus on Three Peaks I ride around 350km a week, do gym and interval sessions and of course focus on nutrition, stretching and recovery. Generally it's a 5-6 day per week program. Last year I was training for a 13 hour time limit not 10 and struggled with a bad back all the way through.
BA: How much of a role does diet play in your cycling career?
DM: It's become an integral part of what I do. I'm not perfect but I must say that my eating and drinking habits have changed over the last five years.
BA: How do you stay motivated when you have to take time off the bike, eg when sick or injured?
DM: I can be quick to slip back into bad habits when I am out of routine so I stay in contact with my coach and keep reading my cycling training books to maintain enthusiasm. "Coach" is good at keeping me motivated too so we look at other new exercises and activities to keep things interesting. I enjoy being fit and being able to stay with a bunch of strong guys on a weekend ride.
BA: Are you a sprinter or a stayer?
DM: I think I am a stayer; however that is because I have always only trained for long distance events. I know in the pool when I swim I am a stayer!
BA: Have you ridden overseas? If so, where and what was it like in comparison to Australia?
DM: I rode the Santini Stelvio GranFondo last year in Italy. I did the 138km course climbing 3053m. I saw a few more accidents than I have here, however, the event was brilliantly organised, from marshals to the food stations and the post ride event with awesome food and a beer! We also received a beautiful Santini jersey, all part of the relatively small entry fee. The Italians know how to lay it on and run a fantastic event.
BA: What is your goal for this year?
DM: I have achieved one of my major goals already for the year and that was to ride sub 10hours in the Three Peaks Challenge. I did 9:52 so I am very happy! My next goal is to get some racing experience under my belt.
BA: What is your ultimate goal?
DM: To be fit and strong enough to do it all!
BA: And finally, what is your advice to women who are thinking of taking up cycling?
DM: Do it and get the support of your partner as you will get hooked! 
You can subscribe here or get it on your iPad