The chequered career of arguably the greatest sprinter of our time will formally come to an end later this year, with Mark Cavendish officially announcing his retirement from the sport.
Having famously equaled Eddy Merckx's record of 34 Tour de France stage wins, along with winning 16 Giro and 3 Vuelta stages plus endless palmares on road and track at WorldTour, Commonwealth Games and Olympic level, 38-year-old Cavendish will finally step down from the top-level of cycling. 
12 years ago 'the Manx Missile' won the Road World Championships in Copenhagen, Denmark. The following year, in July 2012, he became the first rider to win the final stage of the TDF four consecutive times and also became the first rainbow jersey holder to win the final stage into Paris.
And this year, his 18th as a pro, he aims to win a stage of 'the grand boucle' with current team Astana. In doing so he will finally claim Eddy Merckx's famed record.
Speaking at a press conference on the second rest day of the first Grand Tour of the year, the Giro d'Italia, Cavendish sat behind a table and was flanked by his family, wife Peta and their children.
"I've absolutely loved racing every kilometre of this race so far, so I feel it's the perfect time to say it's my final Giro d'Italia and 2023 will be my final season as a professional cyclist," Cavendish said.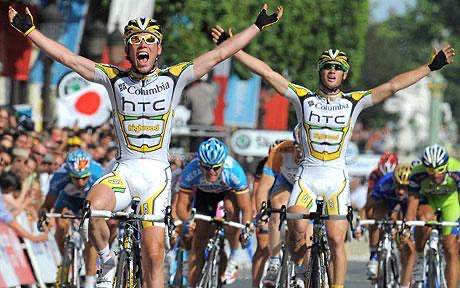 "Yesterday I celebrated my 38th birthday," Cav continued.
"Like many others I've been struggling with sickness during the race as well as the effects of some unfortunate crashes. To get me through, I can't thank this group of friends enough."
"Cycling has been my life for over 25 years," he said. "I have lived an absolute dream and the bike has given me the opportunity to see the world and meet some incredible people. It's taught me so much about life – dedication, loyalty, companionship, teamwork, sacrifice, humility and perseverance – all things that now, as a father, I can show my children."