A popular and prolific cyclist, Julie-Ann Hazlett's passion and love for the sport is infectious. To "JA", cycling is more than pushing her limits and riding further or faster – it's about equality and seeing the return of a Women's Tour de France.
Bicycling Australia: Thanks for speaking with Bicycling Australia – first up, in 2019 you and a group of women rode the Tour de France course ahead of the men's race. Can you tell us how that came to be?
Julie-Anne Hazlett: The concept started back in 2015 when three French women rode one day ahead of the male pro peloton. Their aim was to raise awareness for gender inequality in cycling and to campaign for a female Tour de France. The team became known as Donnons des Elles au Velo and has continued every year since then with a growing number of female cyclists taking up the challenge.
In 2019, an international team of cyclists was put together via the internet by a French journalist, Nicolas Morteux. The team, known as the InternationElles, with cyclists from Australia, UK, Netherlands and America joined Donnons des Elles au Velo to help spread the word further.
BA: What other ultra-endurance events had you done prior to this?
JA: In 2015, I did Race Across America as part of a four-person team called the Veloroos. That's a 5000km non-stop race that starts in Oceanside, California, and finishes in Annapolis, Maryland. We did it as a relay race so there was always one person racing on the bike, day and night. Each shift was between six and eight hours long and we would take it in turns to time trial for about 30 minutes before tag teaming the other person in our pair for them to go as fast as they could for 30 minutes, too. This continued for the entire shift.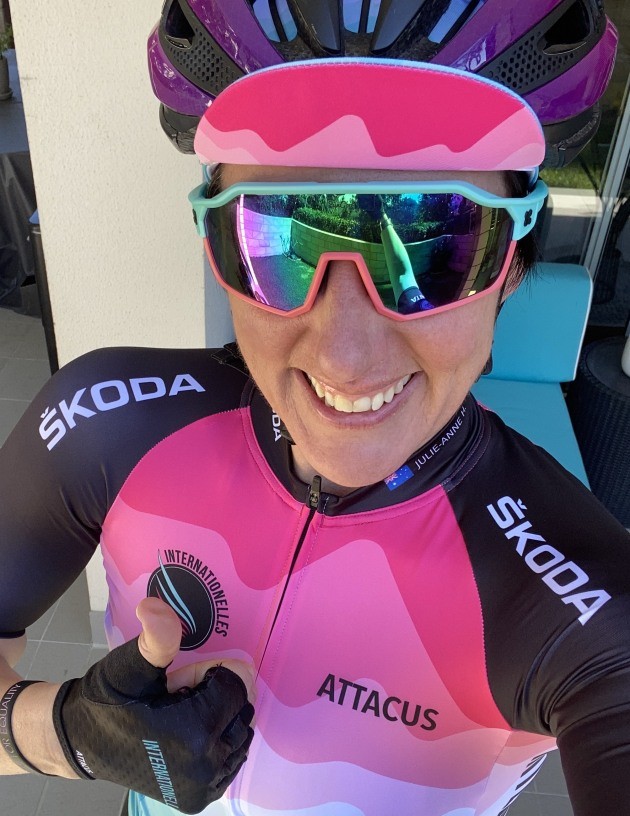 Our crew picked up one rider and dropped them up the road for the other rider to race to. After the shift, the other pair would swap and do the same thing. We did that non-stop for six days, 13 hours and 27 minutes. We won and broke the record for a female team of four.
In 2017, I headed back home to Ireland, where I was born, with the Veloroos to do a similar sort of race. As the name suggests, Race Around Ireland is another non-stop race around the coast of Ireland. It starts in Trim, County Meath, with the Castle that was used in the film Braveheart in the background.
From there, cyclists head off around the country taking in some of the most amazing scenery and historic sites in Ireland, such as the Causeway Coast, the Dark Hedges from Game of Thrones, Malin Head, Cliffs of Moher, Ring of Kerry, Mizen Head and Wicklow Mountains before coming back to Moynalty in County Meath. Although that race was shorter than Race Across America – only 2200km – the navigation was more complicated and the roads more diverse so we made a few wrong turns.
Despite our mistakes, we were delighted to win and break the record for a team of four females, completing the race in three days with an average speed of 30.42km/hr.
I've also done events here in Australia such as Revolve24, a nonstop 24-hour race at The Bend Motorsport Park in South Australia.
BA: When did you start cycling, and why?
JA: I've always loved spin classes at the gym, but I first bought myself a bike and started cycling outside about 10 years ago. A friend asked if I'd do a triathlon and I've never looked back. Cycling was always my strongest leg in triathlon and took priority over my run and swim training until I started doing more cycling and less triathlons.
BA: Jump ahead to 2020 and you and the team were planning a second Tour de France?
JA: The plan was to head back over to France at the end of June, then it got pushed back to August and finally at the beginning of August when travel restrictions hadn't improved, we decided to come up with a plan B that didn't involve travel from each of the different countries the team is based in.
"…a global pandemic couldn't
stop them shining a light on
the continued inequalities
in cycling…"
BA: Tell us about the the Tour de France relay?
JA: The Tour de France Relay was set up for us on the RGT Cycling platform. RGT created an InternationElles road in France and an avatar with our team kit. So cool! We each had a shift of 2.5-3 hours on our smart trainers and rode it as a relay race. Five of the girls were in Wales together as they are all based in the UK, two in Texas, one each in Holland and LA, and myself here in Australia so we covered all the time zones.
Our race started at the same time as the beginning of the men's Tour de France. It started with the girls in the UK then over to USA, on to Australia, back over to the Netherlands and finally back to the UK. We did this until we had ridden the entire distance of the Tour de France. People could join in for free and ride with us virtually which was awesome.
BA: 3500km in 99 hours is impressive – then you all linked up for a virtual Everesting?
JA: We had a day of rest and then some of us did a virtual Everest – some even did it outside.
I chose the virtual option as that was the toughest challenge I could think of that was socially distant yet brutally challenging. That's 8848m of climbing in one position on the same hill. I decided to do one repeat for each of my InternationElles teammates – nine of them – on Alpe du Zwift which helped me achieve a second goal of riding 10,000m in a single ride.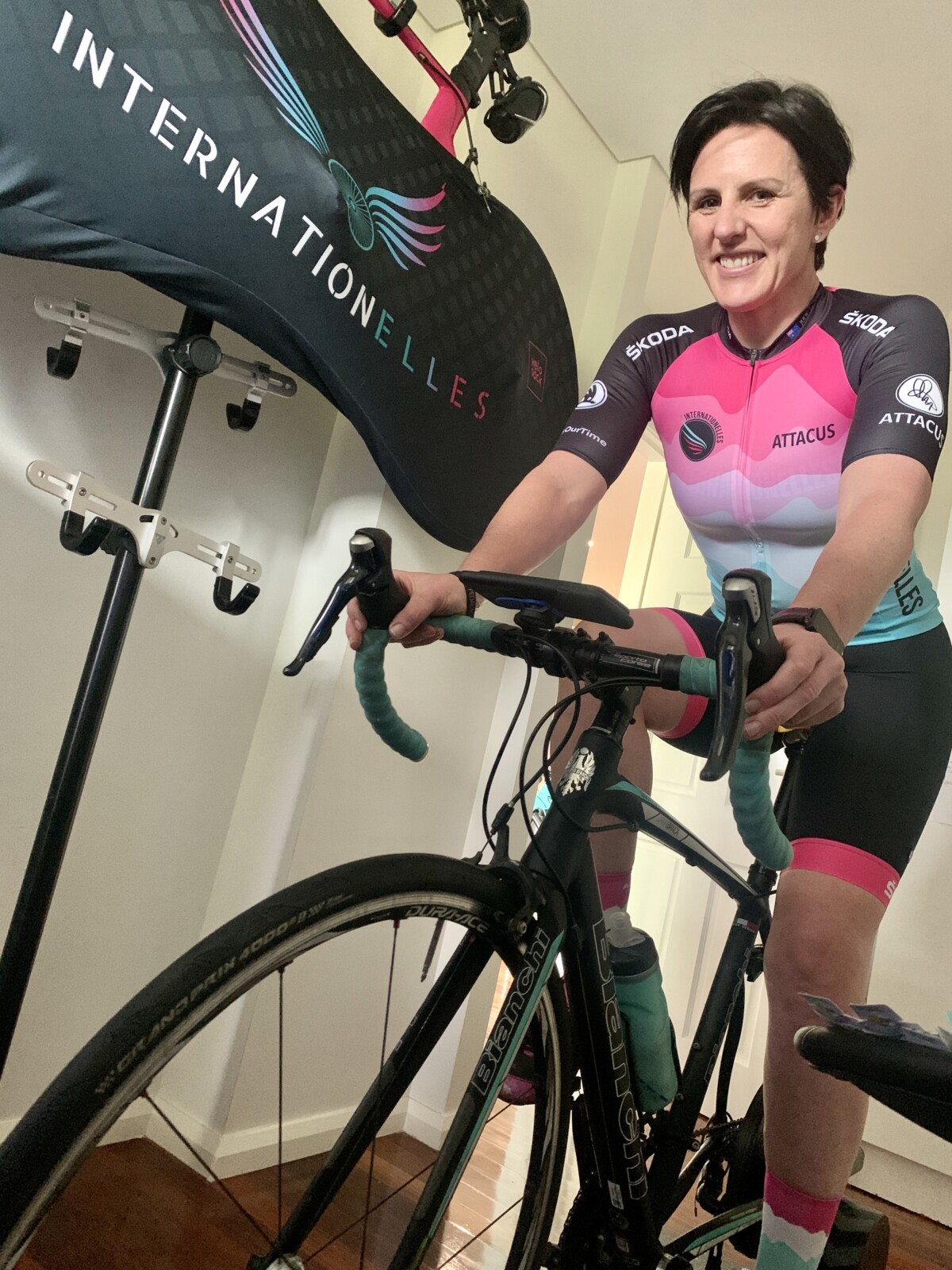 BA: How did you feel after climbing 10,006m in less than 14 hours on a stationary trainer?
JA: Knackered! My knees were killing me and my body ached, but apart from that I was fine. I had a couple of friends join me virtually on Alpe du Zwift from time to time and that really helped to keep me focused. Thank you!
BA: Many would think a long rest is next on the agenda, but we suspect not. What do you have planned?
JA: It's a bit more difficult than usual to plan racing adventures as most things have been cancelled or postponed, but I'm heading to the snow to do some snowboarding and then I have a couple of gravel bike weekends with friends coming up so I can explore some off-road terrain for a change.
…I'd love to see as
much coverage of the
Giro de Rosa as there is of the
Tour de France…
BA: You ride with, meet and encourage a lot of women – what is your advice for those interested in getting into the sport or taking their cycling to the next level?
JA: Just do it. You will never look back. Join a local cycling club as they will encourage and support you to ensure you meet your goals. If you want to give something a go, just do it. It's so easy to talk ourselves out of so many things but when it comes to cycling, I've rarely looked back and thought, "I really wish I hadn't done that." I just wish I'd started when I was younger.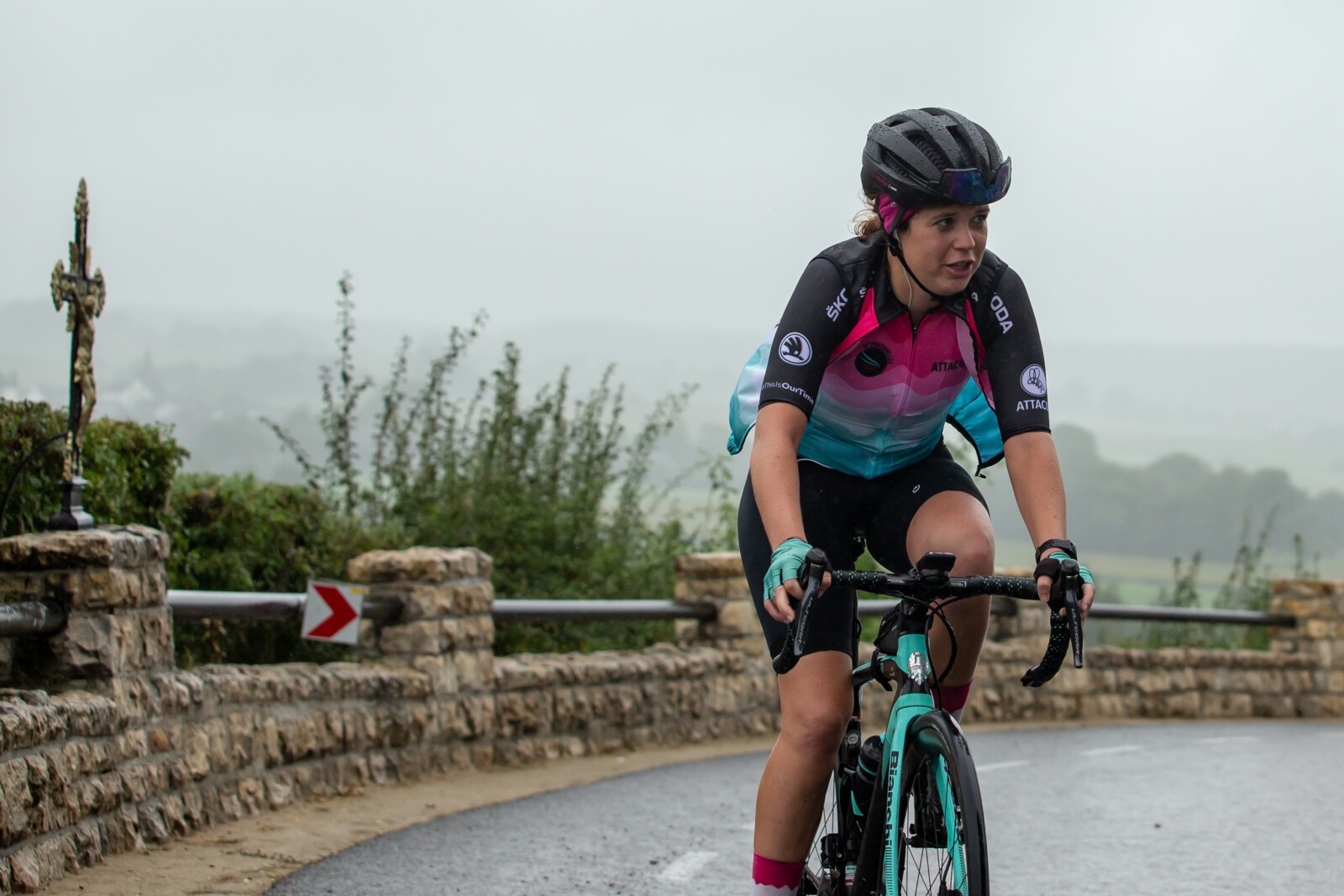 BA: Are there any obstacles for women getting into the sport, and how can these be overcome?
JA: When you are new to something it can be a bit daunting to join a club where you know no-one. From the outside it may seem it's mostly men but most of the official cycling clubs now offer female specific rides and are actively encouraging women to join. If you don't want to go alone, ask a friend to join, too, but don't be afraid to just turn up. You'll be sure to meet lots of likeminded people in no time. If you don't want to ride on the roads, try mountain biking or gravel. There are so many options and places to explore.
BA: Anything you'd like to add?
JA: After all the excitement watching the men's race this year, I can't wait to see a female multistage race being televised to the same extent soon. I'd love to have seen as much coverage of the Giro de Rosa as there was of the Tour de France. Hopefully that day will come very soon. It is 2020 after all.
3500KM And The An Everest
The InternationElles recently rode the Tour de France distance and "climbed" Mount Everest to raise awareness of gender inequality in cycling.
The 8848m Everesting was completed in only 18 hours with some riders on the Bwlch climb in South Wales and others at home on smart trainers.
A team relay of the 3484km 2020 Tour de France route was completed in under four days.
Cumulative figures represent the total distance and elevation that the professional peloton covered during 21 stages at this year's Tour de France.
The team wanted to reinforce the point that a pandemic will not halt the campaign for a women's Tour de France and to close the gender gap.
The InternationElles, an international group of amateur women cyclists, have juggled full-time work, family lives and extensive training regimes to complete an epic six-day challenge to raise awareness of gender inequality in cycling.
The 10 riders, who are spread across the UK, Netherlands, USA and Australia, were prevented from travelling to France by the COVID-19 pandemic to ride the Tour de France one day ahead of the men and quickly required a plan B.
8848m … Straight Up
They first completed a four-day, non-stop team relay of 3484km at home on static bikes. The five UK-based riders then took on the infamous Everesting challenge, climbing the full 8848m of Mount Everest in just 18 hours on Friday, 4 September to join a group of only 446 female riders from around the world who have successfully completed this incredible feat of stamina and perseverance.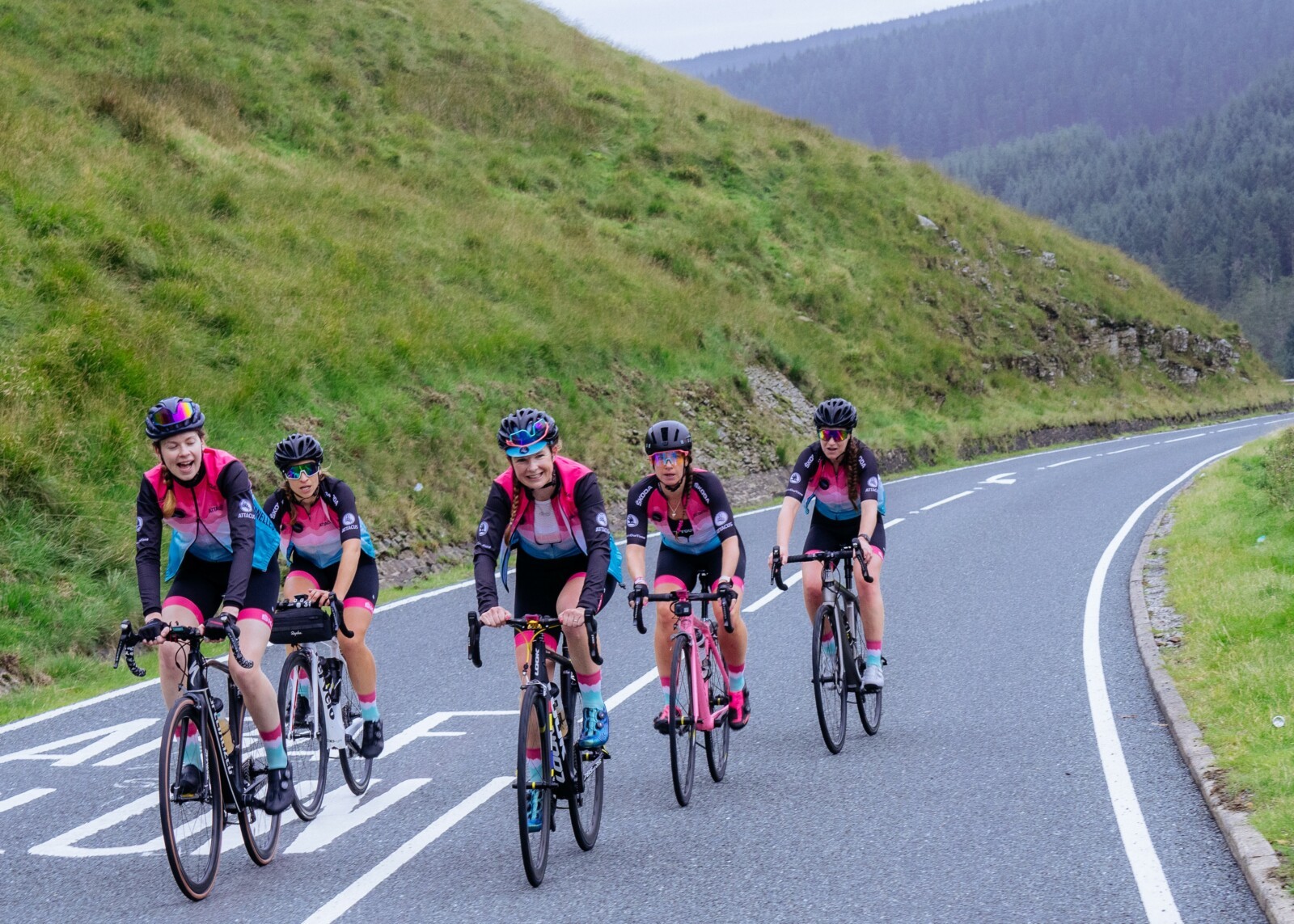 The rules of Everesting are that you must reach the total elevation of Mount Everest by riding up your chosen climb in a single attempt, with strictly no sleep allowed. The ascent of Bwlch, Rhondda Valley's second-category climb, represents 339m of elevation at an average gradient of five per cent, and each rider climbed it a staggering 27 times.
InternationElle's Louise Gibson said the team was thrilled to have completed the challenge.
"The Tour de France distance relay was tough, but we were able to complete it as a team," she said. "The Everesting was one of the most incredible days I've had on my bicycle and I'm so proud all five of our UK-based riders managed to complete it together. The climb was amazing and the weather was on our side. I'm delighted that even though we weren't able to go to France, we were able to keep the conversation going about the inequalities that exist in cycling."
Gibson said the challenge coincided with exciting indications that a women's stage race will take place in France in
2022. The team awaits a full announcement with great anticipation.
"While it is certainly a step in the right direction, the InternationElles campaign has always been more than just a women's Tour de France and we will continue to keep the pressure on for more developments within women's cycling to try and close the gender gap," she added.
Louise, a global events manager from Marlow, was joined in Wales by Lucy Ritchie, a business opportunity manager from Aberdeen, and Jess Fawcett, a communications freelancer from Edale in the Peak District. Rhian Denton, a talent acquisition manager, and Jules Cass, a physiotherapist, who are both from South West London, completed the Everesting team.
InternationElle's Carmen Acampo successfully Everested in The Netherlands with 66 repetitions of the Camerig, a fourth-category climb. Julie-Anne Hazlett, in Australia, and Heather Sawtelle, in the USA, both Everested from home with eight repetitions on the Alpe du Zwift, a virtual hors categorie climb.
A global pandemic couldn't stop them shining a light on the continued inequalities in cycling.