The NSW State Government has announced a major easing of COVID-19 restrictions as community transmission rates remain at zero.
The news is a green light for major cycling events including Bicycling Australia's Classics series Gran Fondos, with four of the events cancelled through 2020.
Gatherings for organised public outdoor events will have a limit of 3000 people provided the 2 square meter rule is adhered to.
The announcement means the Mudgee Classic, the next major Fondo event on the calendar, is scheduled to take place on Sunday 2 May, 2021.
Premier Gladys Berejiklian said the timing is right to ease restrictions and replace the 4sqm rule with the 2sqm rule, except at gyms and nightclubs.
"We are grateful to the people in NSW for their patience and understanding over what has been an incredibly difficult year," Ms Berejiklian said.
"The rolling back of restrictions across the State is only possible because of the excellent work of the community who have followed social distancing guidelines and continued to come forward for testing."
Green Light For Rural Recovery
James Yaffa, founder of the Classics series events, said given the news he was excited to confirm the Mudgee Classic will be able to proceed in May with sister events to follow.
"We are looking forward to delivering unmissable, COVID safe events for our valued riders," he said.
"These are much more than cycling events. They are enormous economic stimulants for the towns and regions where they are held," he added. "Rural Australia has been hit hard over the past year or so and we really look forward to getting back to help bolster local communities."
Mr Yaffa thanked the many riders who had deferred their registration to 2021 and said organisers will be in touch early next year with more details.
"Limited entry positions will still be available and we suggest using this time to secure your accommodation, as it is sure to book out fast," he said. "While this has been a tough year for everyone, things are looking positive for 2021 and we can't wait to bring on the new year."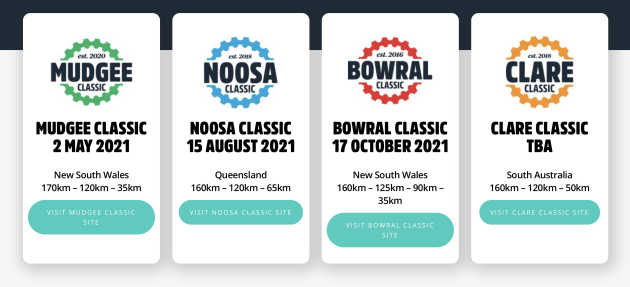 On Monday, 7 December, the NSW Government will ease the following restrictions allowing:
Venues including hospitality venues, retail and places of worship:
1 person per 2sqm (with 25 people permitted before the rule applies), except for:
Gyms and nightclubs (1 person per 4sqm, with a maximum of 50 people allowed in gym classes or on the dancefloor at nightclubs)
Stadiums and theatres:
Outdoors: 100 per cent seated capacity, and 1 person per 2sqm rule for unstructured seating areas.
Indoors: 75 per cent seated capacity.
Gatherings in outdoor public spaces:
Up to 100 people for outdoor gatherings (up from 50).
Up to 5,000 people for outdoor events that are fenced, ticketed and seated
Up to 3,000 people for other organised outdoor events i.e. community sport and outdoor protests (subject to the 2sqm rule).