With three talented kids, one of whom has just won the U23 Road Championship and another already a professional in Europe plus two parents who race, cycling is truly in the blood of the Sulzberger family.
Shane Goss paid them a visit in Tasmania.
There must be something in the water along the West Tamar Highway in Northern Tasmania, because the small, tight-knit community of Flowery Gully and surrounding hills breeds the state's most talented crop of cyclists. Perhaps it has something to do with the roads that provide lung busting training, or maybe it's the scenery from pinot growing vineyards to the picturesque Tamar River that inspires a rider to rise early and stay in the saddle for hours at a time. Whatever it is, if you could bottle it, you would be on a good thing with any cycling coach around the country. The region recently provided Tasmania with its first European ProTour rider contract when Matt Goss joined the world's number one team, CSC, to ride alongside countrymen Stuart O'Grady and Luke Roberts.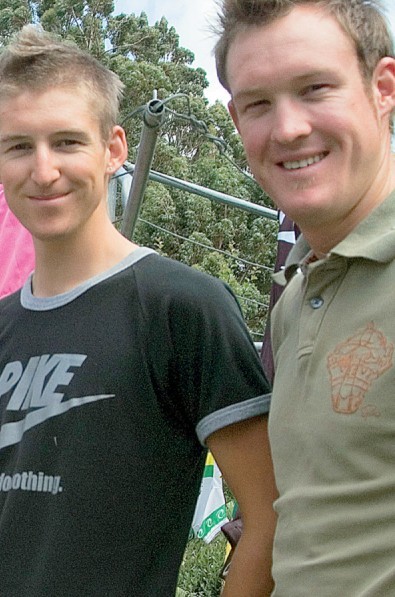 Two Wheeled Passion
In fact, Wes, 20, isn't the only Sulzberger with talent on two wheels— the whole family rides bikes and not just for fun. Wes's dad Michael, or 'Moose' as he is affectionately known, Mum Linda, older brother Bernard (23) and younger sister Grace (18) all have cycling in their blood. The family farm is a 45 minute drive north of Launceston down the Tamar Valley and is hidden away off a dirt back road. The paddocks are scattered with cattle, sheep and a few goats, and there is plenty of room to cause havoc on a mountain or trail bike. When 'Moose', 56, isn't greasing chains or cleaning rear derailleur's downstairs in the garage he can be found moving sheep into the top paddock or mending a fence on the outskirts of his property. Linda, 46, is nicknamed 'Esme Watson' by the kids after the character in Australian soap 'A Country Practice'. "She likes to fuss over all of us," Grace smiles. Adorning the hallway wall inside the house are photos of Bernard, Wes and Grace in action, and I couldn't help but think with the rapid development of all three Mum and Dad would soon run out of wall space. The Sulzberger's are as down-to-earth as they come in Tasmania and even their dog Morty, a scruffy little white terrier, was happy to see me the day I was there. Having a best mate and neighbour like Matt Goss has been the driving motivation for the Sulzberger's. Bernard, Wes and Matt have been mates for years and rode motor bikes around the expansive farm for hours on end. "I had a little pee wee 50, Bernie had the hundred and Matty had an eighty and I would always get left behind," Wes recalls.
"We'd hoon around on them and then go out on the mountain bikes the next day; on the farm, running round like crazy critters." Of course, growing up on a farm isn't always fun. The kids were all given daily tasks, such as marking the lambs, helping fix the fences, herding cattle, or drenching sheep. As I peered out into the backyard I thought to myself it couldn't be all that much fun for Linda either with a clothes line drooping under the heavy weight of Lycra from a recent wash. Dinner too was hard work, preparing huge meals for a hungry family after another tough training ride. That's all changed now though as 'Moose' has bought a house in suburban Launceston for the three kids to share and use as a central base for their training and work when they are back in Tasmania. The overflowing washing machine with Lycra is now restricted to a once a year tradition over Christmas when all are at home on the farm.
Ballet, Footy and Cycling
Australian cycling is fortunate to have the talent of the three young Sulzberger's on the road. Wes and Bernard had been playing mini league football with Exeter (Matt Goss had also pulled on the boots) before cycling changed their lives. Grace had tried her hand (or feet) at Ballet before taking up riding. "I had a ride and thought, 'no this is what I want to do'," she says. Bernard was the first of the Sulzberger's to ride a bike in anger. The Exeter school newsletter had put the call out for anyone interested in cycling and invited them to take their bikes to the local track for some training and coaching with Paul Manion. Bernard responded by taking his mountain bike along one night. "On the first night he crashed, and I thought that would be the last of him," Michael explains. "He said, 'No I really like that; I'd like to do it', so I bought him a bike and that was it." After leaving school Bernard rode to work in Launceston from Flowery Gully to his job as a part-time apprentice jeweller and then back home again at the end of the day, covering around 150 kilometres and arriving home in the dark.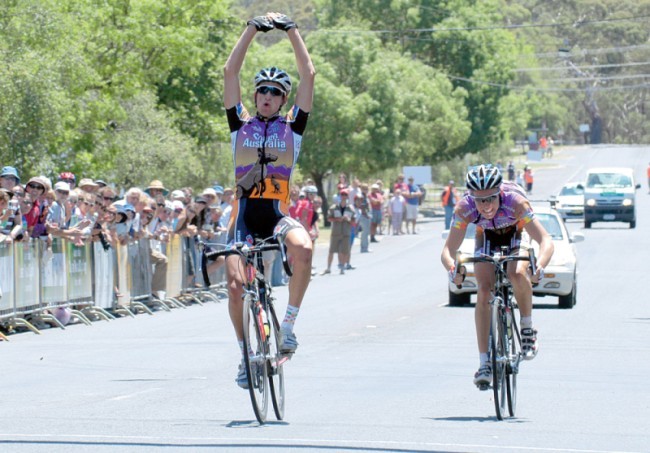 Bernard has been through the ups and downs of life away from home competing in Europe from a young age, an experience that he says made him grow up and gain a new perspective. "It's a big culture shock; you have to do everything yourself," says the 23-year-old former Tour of Tasmania stage winner and U19 Australian World Road representative. "I hardly spoke to Mum and Dad the first time I was away. "It's hard when you can't speak their language, so you can't tell them what you really want." Bernard is happy with his arrangement with Professional Continental Team DFL/Cycling news and is looking forward to his second year as a European-based pro, one step below the ProTour and old mate Goss. "Matt Goss has set the standard; there is no other Tasmanian who is in the ProTour," Bernard adds admiringly. "He has set the standard at 20." Wes needed to make a career decision in 2005 while holding down a job at Becks Hardware in Launceston, working around 33 hours each week and covering almost 1000 km in training. He was rising at 6:30 each day to get to work and train after each shift, often arriving home at nine for a quick meal and then heading straight to bed. "I was just working and riding, that's all I ever did," he says. In 2005 he wanted to do a building apprenticeship but with none on offer he applied himself to cycling. "I thought, if I can't do the apprenticeship, I need to put my time into something, so I kept training harder to get better and better," he says. Signs that Wes could make a career out of the sport first emerged in the Under 19s. He raced against his mate Matt Goss and together they took turns winning races every week.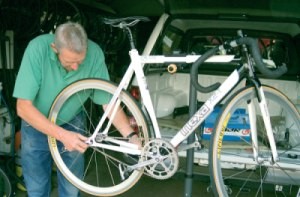 In October 2005 some brotherly assistance from Bernard helped get Wes into the Herald Sun Tour. Simon Gerrans of the French Ag2r Prevoyance team had a start in the Tour and needed another rider for the squad. Gerrans contacted Bernard in the hope of placing him on the list but he had other engagements. Bernard said Wes was available and that he would be a more than capable member. Gerrans quizzed Bernard about what Wes was like on the 'Bergs', a term riders' use in Europe for mountains or hill-climbing. After a few quiet words Gerrans was convinced and drafted Wes into the squad…it turned out to be his first breakthrough as he played his part in helping Gerrans and the team take out the race's overall classifications.
Mum's Care
With Bernard already spending a long time away from home and Wes soon to follow, Linda's care for her children's affairs goes up a few notches when they're all in the same place and at home racing. Linda makes sure Wes is fully prepared for his races and won't let him
leave the house without the appropriate gear. She makes sure all three have their drinks made up the night before a race and snacks at the ready in the morning. Wes smiles as he recalls the many times Linda has reminded him to 'remember his helmet, shoes, or leg and arm warmers because it could be cold!' Brotherly advice is taken on board as well. "Bernie always says it's not easy going away and to make sure you keep your head on the whole time," Wes smiles. But that filters down too, with Wes advising Grace to train harder or 'hold that wheel in front'. "Wes gives me a bit of a rev-up every now and then," beams Grace, who says she also gives Wes a dig about his meticulous preparation. "He wouldn't even have a piece of my birthday cake because he was in training," she scoffs. "He puts his bread in the toaster and leaves his cereal in the bowl before he even goes to bed!"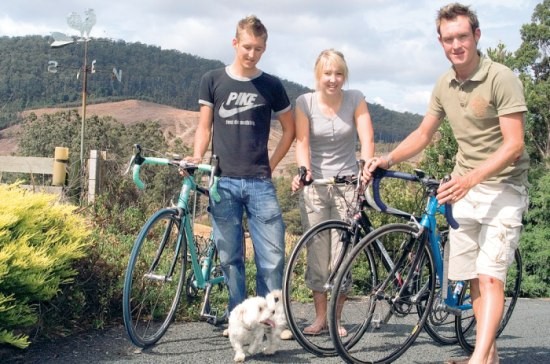 Grace is often tucked away in a fast moving bunch, the only female amongst a group of blokes, but taking on the lads doesn't faze her. Combining both her long hours training under the guidance of the Tasmanian Institute of Sport and a full-time job as an apprentice hairdresser confirms her dedication and commitment. When the family were all together at Flowery Gully, Grace would ride the 100km round trip to and from work, often arriving home in darkness just like her brothers. When she first started training with the rest of the family she was doing her best to stay in touch with her competitive brothers and was simply 'hanging on the back trying to stay on'. But she also has serious talent and ambition and like Bernard has already represented Australia at World U19 level. "If she could leave her apprenticeship tomorrow, she would," Michael says. "Her goal in life is to ride for a women's team."
Domino Effect
Spurred on by their children's enthusiasm for cycling, Michael and Linda were soon hooked on cycling. Michael had a couple of arthroscopes on his knees and was recommended to ride an exercise bike to strengthen them and stay fit. But he found this too boring and bought himself a bike so he could train with Bernard on the roads around home. It wasn't long after that Linda got the bug. "I got sick of being left behind, so I got a bike as well," Linda adds. Linda and Michael spent three years competing at Open level with the West Tamar Cycling Club while Michael worked at the Longreach Woodchip Mill as an electrician. Not long after this they bought the farm at Flowery Gully and soon work and racing became too much so they joined the local veteran's cycling club.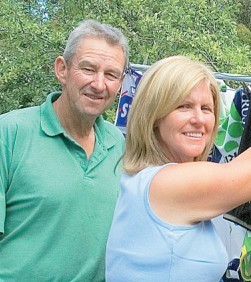 "That suited us because to be able to ride competitively in the Open required a lot of miles and I was trying to do the farming too…it was just too hard," Michael says. When everyone is home at the farm in Flowery Gully you can be sure a family training ride is on the cards. On one family ride 'Moose' even left his teeth behind on the bitumen near Flowery Gully, raising many a laugh. With Wes, Bernard and Grace all of a similar build, it has been common for bikes and bike apparel to be shared or 'passed on' over the years. "I had a heap of stuff that I stole from Bernie and after I went away this year Grace just stole that," Wes laughs. "I had Bernie's blue Avanti Dad bought through the TIS and then Grace had it after me. Another TIS bike we had went through the same cycle!" They say there are only two certainties in life—death and taxes. But there is another one in Northern Tasmania; that a Sulzberger will be rolling round in the Northern Veteran's Cycling Club for many years to come.
Just as mum and dad thrash it out against club rivals, Bernard, Wes and Grace will no doubt one day journey to the back roads of Launceston on a Sunday morning to keep the Sulzberger name at the front of the Peloton. And there's every chance they'll all be doing it with a hearty smile…